In the fast-paced digital landscape of 2023, maximizing ad revenue has become a top priority for online publishers and content creators. As the competition grows fiercer by the day, it's crucial to explore new avenues and platforms that can unlock the true potential of ad monetization.
One such platform that has been making waves in the industry is Ezoic. In this article, I'll provide an honest review of Ezoic and delve into the limitations of AdSense, shedding light on how publishers can harness the power of Ezoic to take their ad revenue to new heights. So, let's dive in and uncover the secrets to unlocking ad revenue potential in 2023.
I decided to write this Ezoic review since the platform helped me increase my ad revenue by 358%! That is huge! After I switched from Adsense to Ezoic in December 2020, I started treating my small blog as a business.
In a nutshell, Ezoic is a Certified Publishing Partner of Google that makes it easier to optimize website ads and augment user experience. Ezoic is entirely free. However, in 30 days of using Ezoic, they add a tiny Ezoic ad at the bottom of your webpage.
It's so small that I didn't even notice it. But before we analyze that, let's start by exploring the details of my blog story.
The Story Behind Onedesblog
Let me get started with a short story about myself. My name is Nancy Young. I'm a copywriter with over eight years of experience. Mostly, I write about web design, photography, and marketing.
These last few years, I have been working on well-known blogs like Hongkiat, Photodoto, and Web Design Ledger. I wrote hundreds of articles for popular websites. 
One day I decided to start my own blog about web design because I love the niche, and I have an eye for beautiful content. I launched Onedesblog in December 2018.
Back then, I had no clue how to grow my blog and how SEO works. I published five articles and called it a day. I had zero visitors and zeroed motivation to move forward. 
Six months later, in June 2019, I spoke to my husband (who is a back-end developer) and asked if we could sell Onedesblog and get at least $200 for that.
But I opened Google Analytics and could not believe my eyes. I saw that my blog with five articles had almost 4k visitors per month.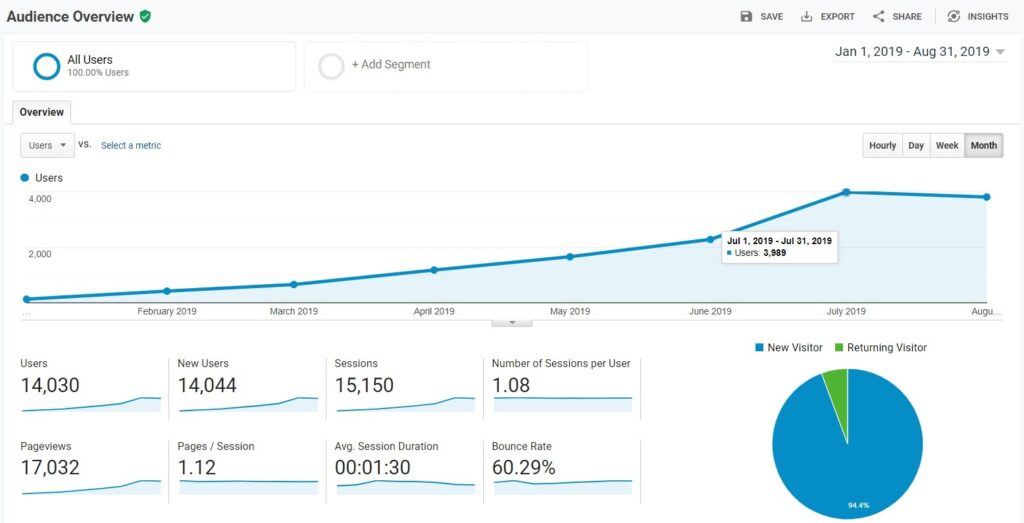 At that time, I didn't know about Google Sandbox. In simple words, you need at least six months to rank as a young website on Google. 
Then, I used a Website Cost Calculator and realized I could earn $25/month with that traffic using Google Adsense. It was a turning point for me. After giving it some thought, I decided to grow my blog. 
I published a few more posts and applied for Google Adsense. It took almost two months to get approved, but I did it.  It's not that easy to get your blog approved there for those of you who are not familiar with Adsense.
On the flip side, Ezoic is much easier to enter. 
After that, I started watching videos about SEO and came up with a strategy for my blog. What I decided to do was pretty simple: to create more content and work on backlinks. 
Three months later, in September 2019, I earned $25/mo from ads on Onedesblog. I kept publishing some more posts.
My traffic was growing slowly (I got about 25-30k visitors per month), and in November 2020, I got $250/mo from Adsense. At that point, I was pretty happy with the result and didn't even think about any other ad partners.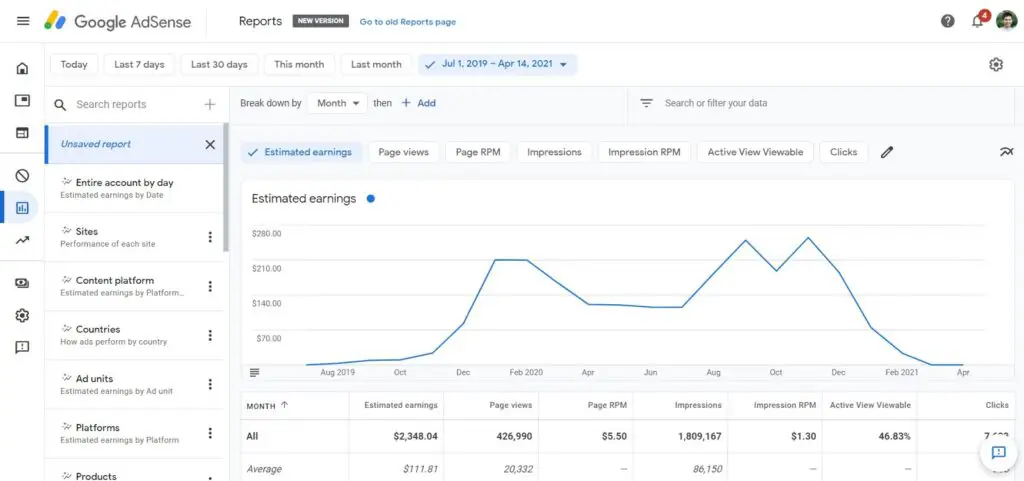 However, my husband Ivan (who was also curious about SEO) watched Morten's video on Youtube and learned about Ezoic. He asked me if I want to switch from Adsense to Ezoic. 
I was pretty skeptical about this, but after some research, I agreed to give it a shot. 
Ezoic uses AI to scan your website, improve user experience and test different types of ads. It takes some time (usually a few months) to get the best possible revenue results. My EpMV increased from 8.33 with Adsense to $24.54 with Ezoic for the last 30 days. 
My husband chatted with Ezoic customer support. They helped him to set up everything and answered all our questions. (Below, I'm going to tell in detail how to set up Ezoic to your site). 
From that time, my revenue from ads boosted up to 358%!! In comparison, I earned $250/mo in November 2020 with Adsense and $895/mo in March 2021, with almost the same amount of traffic! This is huge.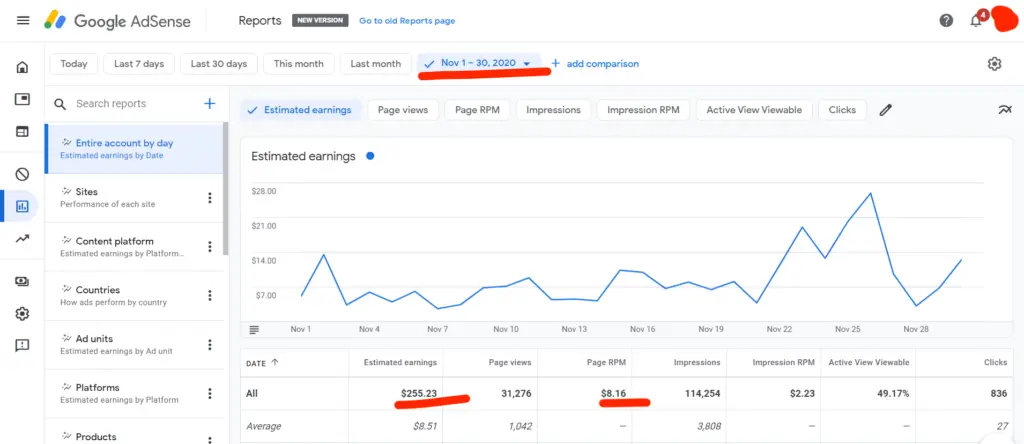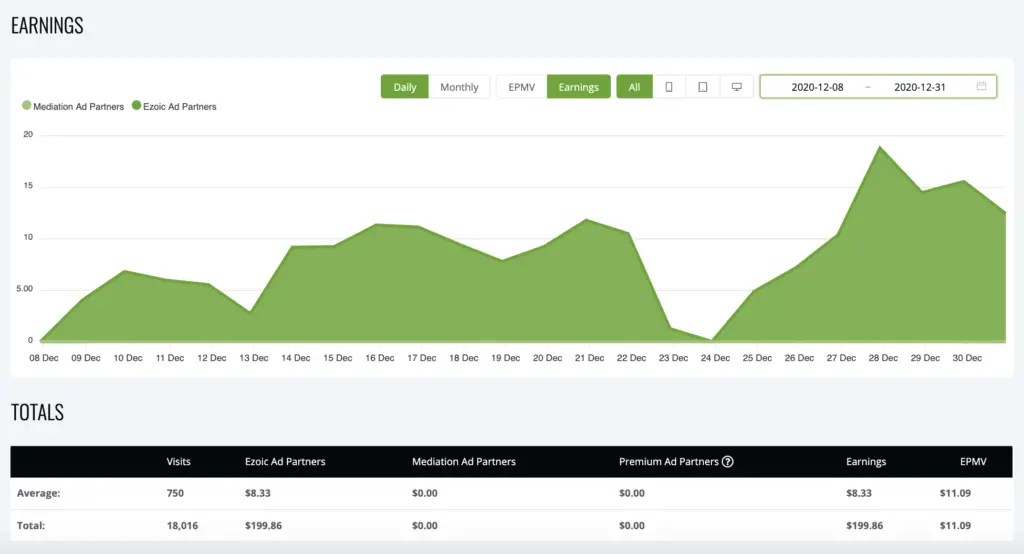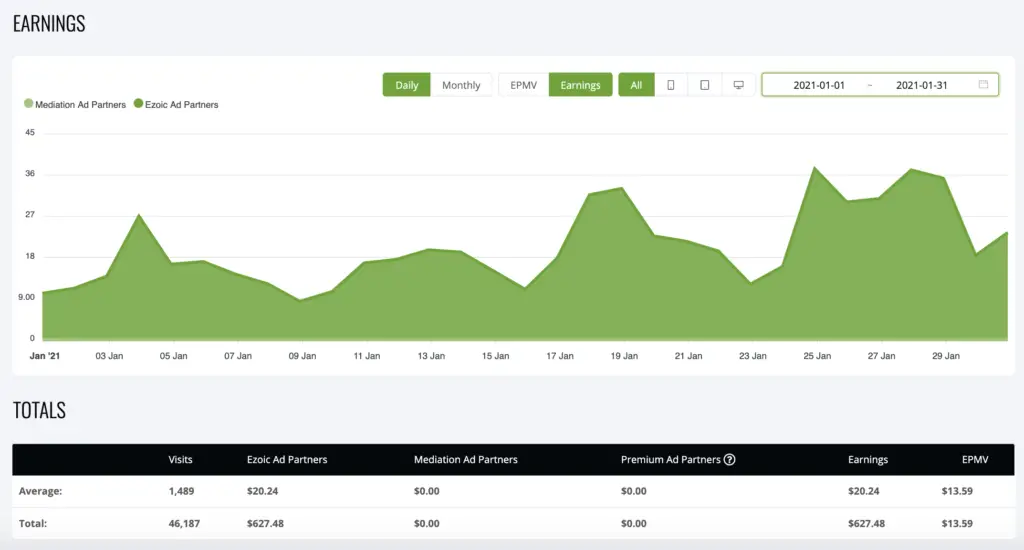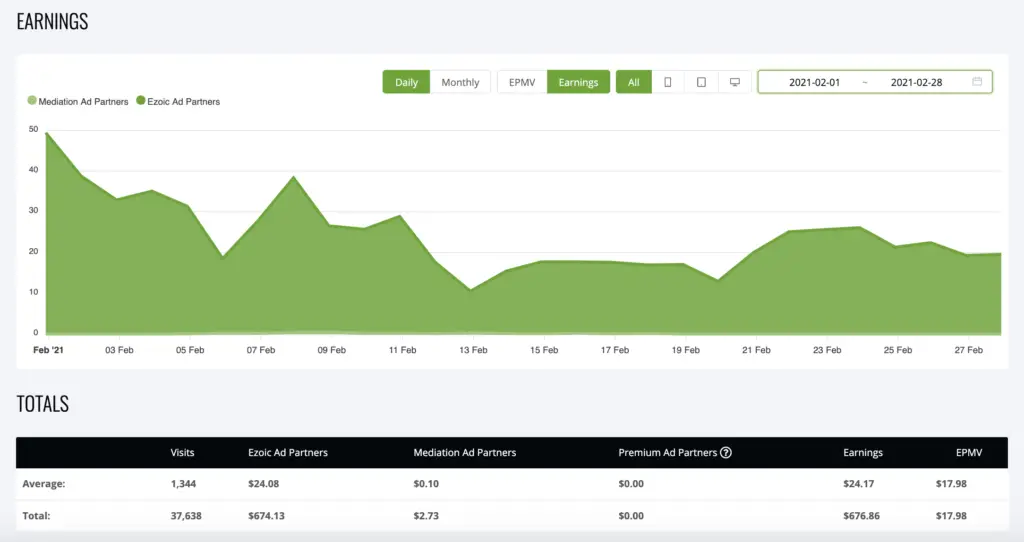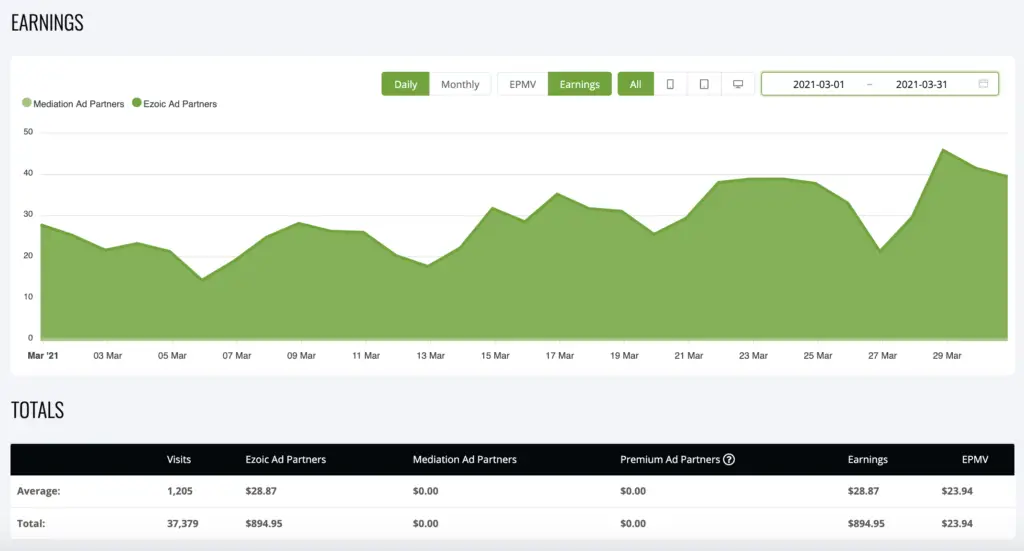 See the screenshots yourself. Ezoic's AI machine keeps learning and adapting to our audience. This has a direct result: our ePMV is constantly growing. Of course, ePMV depends on your niche, traffic quality, etc … but, from my personal experience, it keeps growing all the time. 
What websites can join Ezoic? (Ezoic requirements)
There are no specific acceptability requirements when it comes to using the main features of Ezoic. Although every site can use Ezoic, there are a few requirements for Monetization features, such as:
You need to have a minimum of 10,000 sessions per month.
You stick to Google's Ad Policy.
You should have unique original content on your site.
If you already have Google Adsense or Google Ads manager account, they should be esteemed by Google.
Ezoic vs. Adsense
In my opinion, Ezoic is much better than Adsense in terms of earnings. It becomes evident through my screenshots that I earned 3x times more with Ezoic, even though my blog had the same amount of traffic. 
Still, let's explore all the reasons why Ezoic is a better solution than Adsense:
Ezoic runs best-performing ads from different networks, while Adsense runs ads from Google Adwords only. Besides that, Ezoic pays per view. That means you get paid for displaying the ads and not only for ad clicks (as with Adsense).
Even though Ezoic requires you to have at least 10k sessions per month, Adsense proves to be way harder to enter.
With Ezoic, you have complete control over the display ads on your website. On the flip side, Adsense's auto ads just fill any free space. In a few words, your site may look cluttered with Adsense.
You need to earn a minimum of $100 on Adsense to withdraw money, while Ezoic allows you to reach a $20 threshold to get paid.
Adsense's auto ads usually result in a slower user interface for your site. On the other hand, Ezoic offers caching and Cloudflare apps that increase your site speed while improving the SEO at the same time.
Ezoic Features
That being said, let's explore the best Ezoic features that helped me boost my blog's revenue.
Ad Tester
Ezoic Ad Tester is simply the best feature! It is a unique automated tool that uses artificial intelligence to show the most optimal ads to provide the highest revenue without hurting the user experience.
For that to happen, Ad Tester considers numerous parameters such as user location, device, browser, screen size, traffic source, season, and even time of the day. 
Based on that data, it tests millions of different ad combinations by changing their positions, colors, sizes, density using dozens of ad networks.
You can use the Ezoic Ad Tester Chrome browser extension to conveniently add possible ad locations on your different pages. The more placeholders you add, the more possible combinations Ezoic AI will test.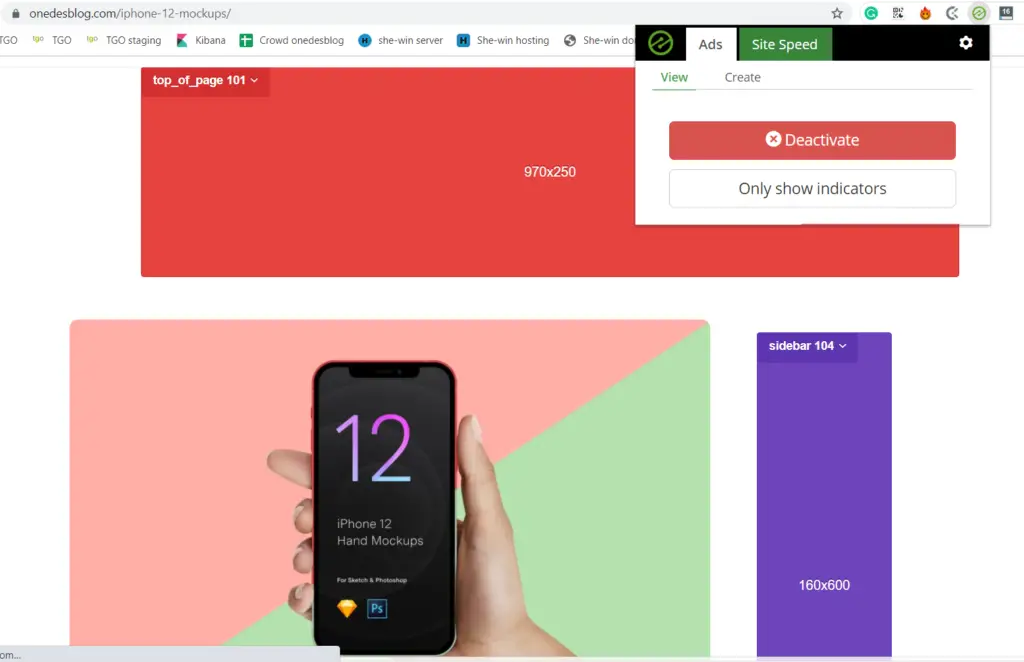 Ezoic also allows you to apply a set of options for each placeholder. You can choose in what format and sizes each particular ad will be shown. Also, you can limit it by device type.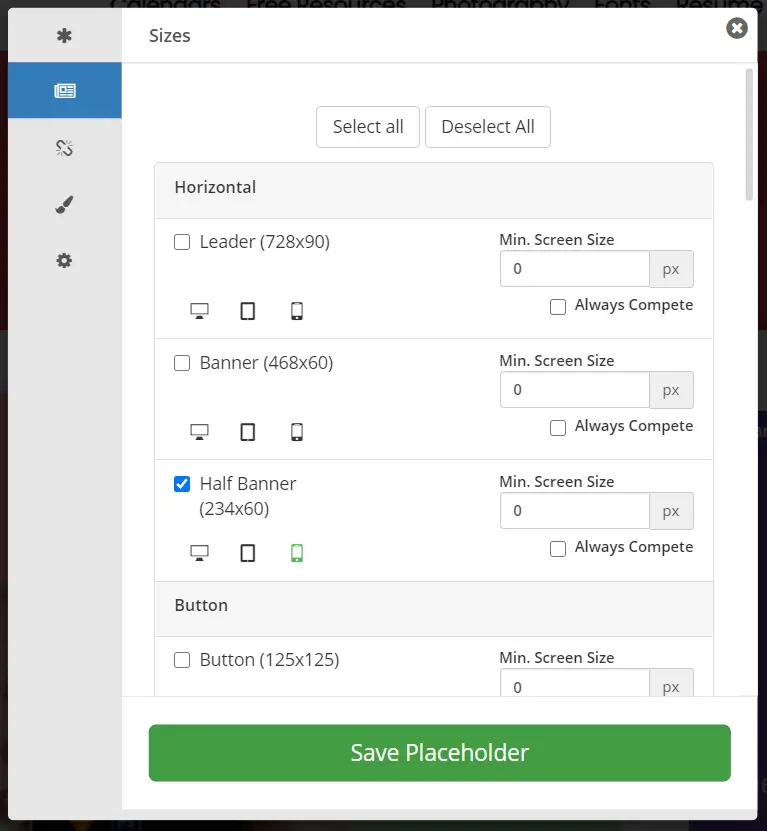 Read more about Ezoic Ad Tester
Big Data Analytics
Big Data Analytics is an extremely useful intelligence insight reporting tool with a lot of advanced capabilities.
It provides a massive amount of data reports that you can use to upgrade your content strategy to increase user engagement and website revenue. 
Ezoic Blog – How to find high-value pages using Big Data Analytics
There are some unique reports that provide you data to analyze:
Content performance by pages
It allows you to understand what pages users like the most and bring you the highest revenue.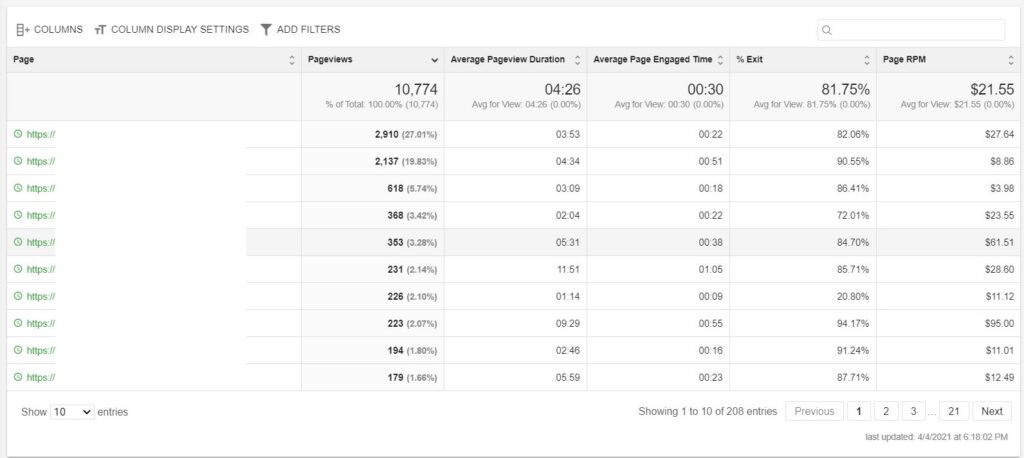 Content performance by category
It allows you to understand what topics perform better and bring you the highest revenue.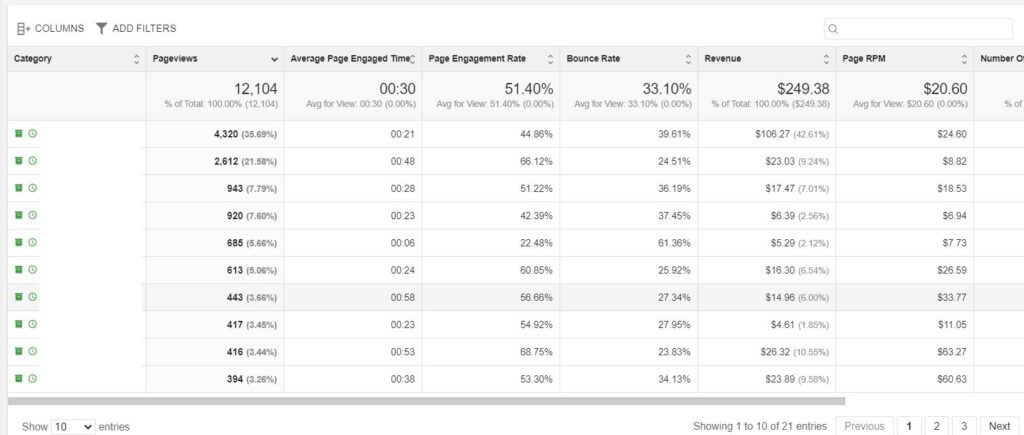 Content performance by the author
It allows you to understand what authors perform better and bring you the highest revenue.

Content performance by word count
It allows you to understand what article length in words brings you the highest revenue.

Layout tester
This is a feature that I personally found extremely useful. Layout tester allows you to test different website layouts and choose which one delivers the best user experience and revenue.
It applies the themes from over the 30 themes library one by one and picks the best one. 
Also, it can switch the locations of the website sections.
For example, is it better to put a sidebar on the left or the right side or maybe even hide it at all? Is it better to add an image gallery carousel at the beginning of your page?
Moreover, it has a fantastic possibility to test new mobile UI frameworks like AMP (Accelerated Mobile Pages) or PWA (Progressive Web Apps) on the fly.
Then it provides a detailed report with outcomes on user behavior statistics and, that is more important, on the website revenue.
Read more details about the Layout Tester.
What is Header Bidding?
Header bidding is an essential Ezoic feature, as it allows you to increase your revenues dramatically. First of all, Ezoic is not an ad network. It is much more than that. 
It would help if you remembered the Header Bidding term because it became a buzzword in the ad tech industry. 
Ezoic is an ad management system that fetches real-time data from hundreds of other ad networks and performs an auction in real-time to show the most expensive ad.
The idea is to use many demand sources on the same ad inventory for publishers to increase their crop and get more money. Who does not want to earn more money?
Mediation
Mediation app allows you to connect your existing ad network accounts like AdSense, Media.net, or Revcontent.
Ezoic will automatically use the connected accounts to find the most effective ads between all networks and show them on your site. In this way, it will increase your ad profit.
Ezoic Site Speed Accelerator
This is an all-in-one site speed optimization tool. It will automatically change the structure of your page on the fly to get the best performance. It contains the following built-in features:
Remove unused CSS
Intelligent caching for static files
Pre-connect domain origins for your static assets
Lazy load iframes
Optimize external fonts by asynchronous loading
Critical CSS rendering
Lazy load images to reduce initial page load time
Auto image conversion to the next-gen formats like WebP
Auto-resize images to fit a screen size and minimize download times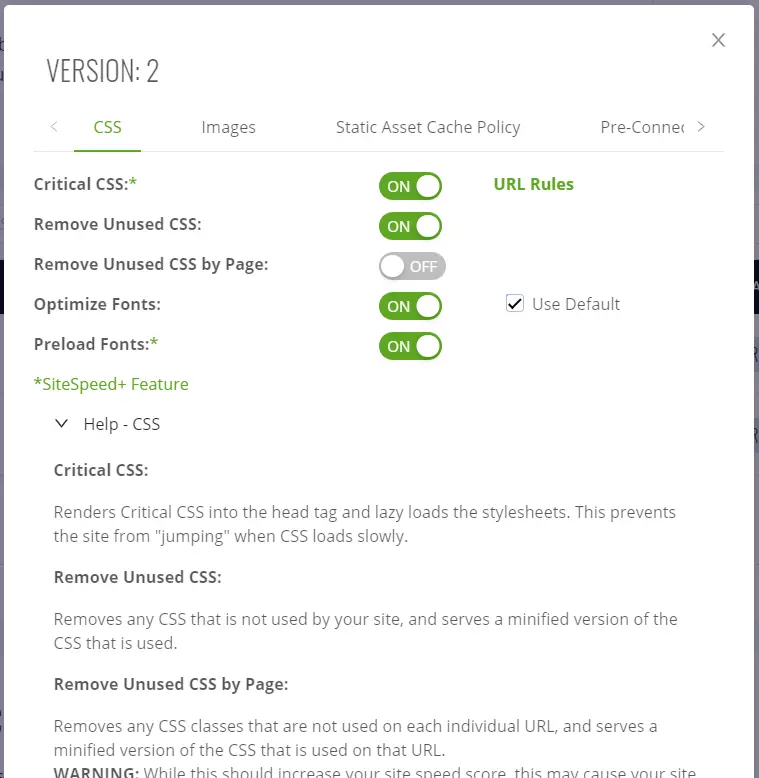 Ezoic Leap
Google announced that the website performance and user experience metrics called Core Web Vitals would be included in the ranking factors list.
The Ezoic team decided to make an effort and announced a new feature release is coming. 
The existing Ezoic Site Speed tool will be deprecated and replaced by a new tool Ezoic Leap.
It will be released before the Google update and will take into account the three key metrics of the Core Web Vitals for the site optimization: 
Largest Contentful Paint (LCP)
First Input Delay (FID)
Cumulative Layout Shift (CLS)
Ezoic Blog – How I Made A Fast WordPress Site With Ads Using Ezoic Leap
Ezoic Premium
After exploring all the features Ezoic offers, let's dive deeper into the platform's premium plan, its features, and if it is worth the investment.
Ezoic Premium is an invite-only program that allows publishers to earn more money because they access higher-paying ads. 
Ezoic Premium works pretty simply: it's a subscription plan program where bloggers pay Ezoic a monthly fee so that they can earn more revenue from ads.
Ezoic has pre-negotiated deals with big household name brands. These advertisers are interested in high-quality publisher traffic.
Since these wealthy advertisers are interested in showing their ads on high-quality sites only, Ezoic does not hand out invitations to everyone. It takes time for your website to be verified and approved to suit the program.
How much does Ezoic cost? 
Well, it depends on how much traffic your site gets. However, what this means is that you ensure that the cost you pay will be much less than premium revenue.
You need to contact an Ezoic representative to learn in detail. Here is the official Ezoic pricing plan.
Conclusion
As you have already noticed, I'm a huge Ezoic fan for good reasons. The platform helped me to earn much more money from ads than Adsense. I highly recommend Ezoic.
The tool is free. Bear in mind that it's essential to give Ezoic time, and you shouldn't wait for quick results. The Ezoic AI machine needs a few months to show its full potential. 
If you have over 10k unique visitors per month on your blog but still hesitate to switch to Ezoic, you can write an email to their customer support, and they will help you to set everything up.
I hope you enjoyed reading my Onedesblog story. Have you tried Ezoic? What were the results? I'm curious to know. Let's chat in the comments.