When it comes to online business, website design can both drive visitors to buy and repel them. As a result, this will lead either to an increase or to a drop in sales. Despite the usual desire to quickly build and launch an online store on Shopify, you first need to choose a suitable theme.
In this article, we will show you an attractive, fast, and multipurpose theme from a trusted provider. It's called Multifly.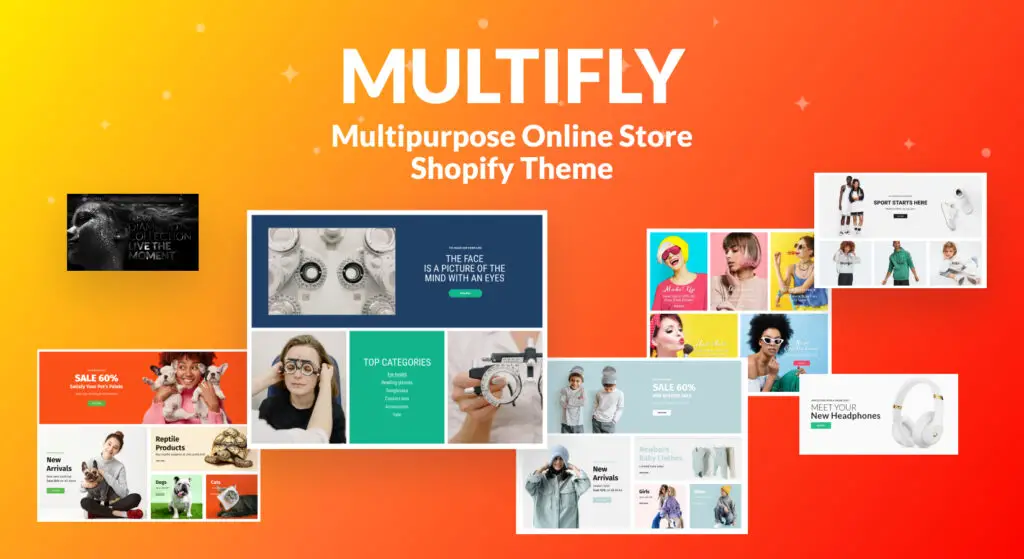 Your Multipurpose Online Store Shopify Theme
Multifly is a representative of a new Shopify theme generation. It's developed and designed to facilitate the workflow with Shopify even more. Plus, this theme is timely updated and enhanced with diverse useful tools, like official apps, for example. 
Also, the author of Multifly has loaded it with modern, clean, and elegant skins for any purpose. They all are easy to use and customize. To do this, just choose and upload a layout you prefer, then edit it in the Shopify Visual Builder.
So, there are special demos for selling:

fashion and sports clothes or shoes;
pet care products and food;
electronics and fare more.
In addition to merging with your corporate identity, Multifly shows off a number of important features that will help your website impress your visitors.
For example, the Multifly Multipurpose Online Store Shopify Theme is also:
compatible with all browsers;
coded with SEO in mind;
timely updated;
social integrated;
WPML-ready;
adjusted for blogging;
and more.
The Best Shopify Theme for Not Tech-Savvy Users
If you want to avoid coding while launching a new shop, rely on Multifly. This multipurpose theme is fully based on the Shopify Visual Builder which guarantees one-click drag-n-drop editing. 
Plus, as you may have understood, the Multifly flagship Shopify theme by Zemez is a jam-pack of versatile eCommerce, UI, and other page sections, like:
blog articles;
pre-designed headers and footers;
product listings, wishlists, grids, and shopping carts;
pre-styled banners and pop-up windows;
slideshows and galleries;
testimonials, subscriptions, and other web forms.
The Responsive and Retina-Ready Design
The days when mobile phones were used only for communication are over. Modern smartphones are almost full-fledged computers, sharpened for a variety of tasks.
Therefore, today, website developers prefer a responsive design that allows them to make a page that will look good on any device. Responsive design is very user-friendly because it allows you to automatically adjust the entire content of a site and all the elements inherent in its design for any gadget. As for today's guest, the Multifly Multipurpose Online Store Shopify Theme is absolutely responsive and retina-ready. By applying it to your ideas, you can create a real online megastore or a small shop. Yet, in any way, your eCommerce project will perform the same flawlessly on any screen resolution.
And, even if someone says that responsive websites can slow down on tablets and smartphones, please don't believe them. Or, being serious, we hurry to explain to you that a steady design with clean coding will work great on any device. Luckily, the Multifly Shopify theme is not only mobile-friendly but also speedy, as it's shown below.
It's Time to Install the Multifly Multipurpose Online Store Shopify Theme
Step #1. To download Multifly, login and supply your Shopify URL. After, you will be asked for permission to your store and all its data.
Step #2. In this step, the Multifly theme must be downloaded. And, you will be asked to enter the name of your shop and other crucial details.
Step #3. Once you get redirected to the Shopify store, confirm the installation of Multifly, as it's a new tool in the library.
Step #4. At last, you can enjoy working with the Multifly Multipurpose Online Store Shopify Theme, as it must be fully installed. Don't hesitate to activate it and add your edits. 
Backed by Technical Support and Instructions
Even if you have never installed and customized Shopify themes before, there is nothing to worry about now. No jokes!

In addition to innovative functionality, Multifly also comes with detailed documentation and professional support. In a word, anything you want to find out about this product and its peculiarities is always at hand. As for the technical support, it's available in live chats or per email.
So, give a try to the Multifly Multipurpose Online Store Shopify Theme!