Are you looking for a way to help you become more organized? Are you tired of heaps of sticky notes and half-used journals? If so, bullet journal systems might just turn your world around!
Take note-taking/list-making to a new level that is totally customizable and flexible. In this post, we share some of the coolest Bullet Journal Fonts to help you splice up your personal bullet journal!
How to Learn Bullet Journal Lettering?
So, you want to learn how to start Bullet Journal Lettering? The first thing to do is gather the necessary supplies. Please see more on this in the section below. Basically, all you really need to get started is a pen and a notebook, everything else is just extra.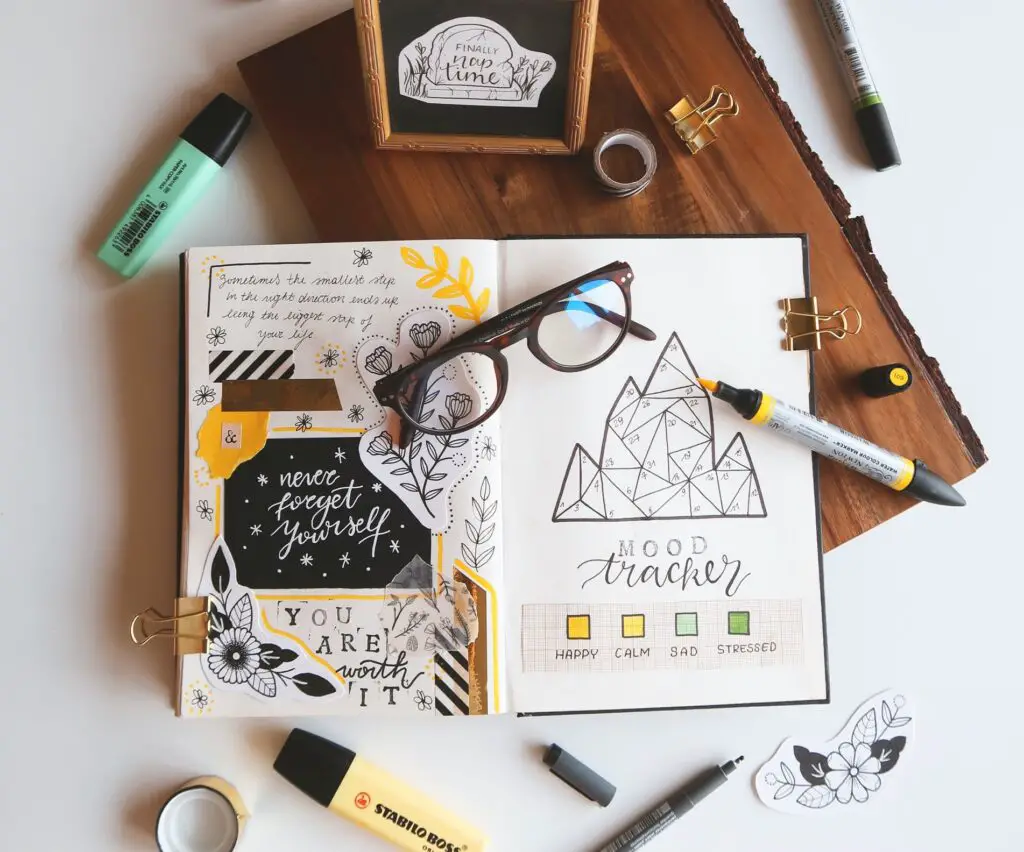 With that said and done, it's time to create an index. Create an Index. An Index simply allows you to0 keep track of all of the pages you include in your bullet journal.
Bullet Journal Supplies
Various stationery items can be used for your bullet journal, ranging from markers, stickers, washi tape to watercolor paint.
What you decide to acquire and use for the purpose of Bullet Journaling is completely up to you, however, you don't really need a lot of fancy things in order to write awesome and beautiful-looking hand-lettered headings. Create the most beautiful hand-lettered words using just a single black pen and a journal.
So, in addition to a single black pen and piece of paper, you may decide to additionally acquire some waterproof fine liners such as the Staedtler Pigment Liners.
These are a must if you intend to coloring over the top of your work, either with watercolor, brush pens, or felt pens.  Using a fine liner that isn't waterproof will result in smudging.
Then, there's Gel Ink Pens. The ink of these pink is thick and opaque – hence, more vibrant than your standard ballpoint pen ink.  It does take a bit longer to dry, so you need to be patient and careful of smudging with this one.  Gel ink pens are available in many colors.  Why not try out the Muji Gel Ink 0.5 pens – they're really cool!
You can also add Mild liners to your Bullet Journaling artillery. With one thick end, angled tip and the other end with a thin tip much like a standard felt tip pen – you can substitute these with any felt tip pens you have on hand.
You will also need a pencil, eraser and a circle Maker. The latter is a really cool tool that's like a protractor and a compass all in one.  It's great for drawing large circles and sectioning them off.  It can also be used as a stencil to draw small circles, so you can just substitute this for a stencil with small circles or a trace around a small coin.
18 Best Bullet Journal Fonts
---
Header & Title Fonts
Cursive handwriting can be used in a very elegant manner to create amazingly good-looking dividers. The Cursive Divider font is easy to do but can add a significant sense of style to your bullet journal.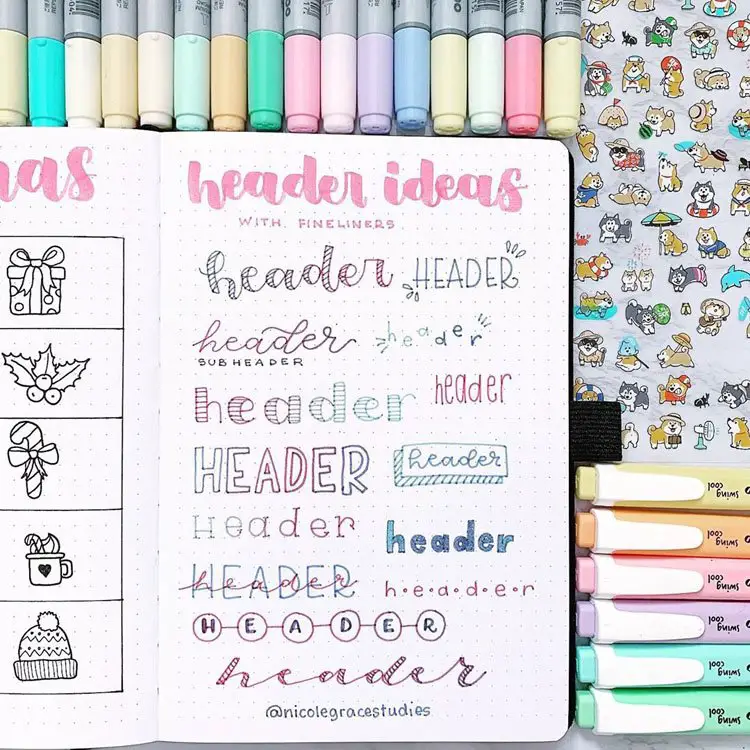 image source: @nicolegracestudies
Basic Serif Font
Serif is probably the most popular font that you can see on any given computer screen today. Once you grab the grasp of it, it has the potential to look great in your bullet journal.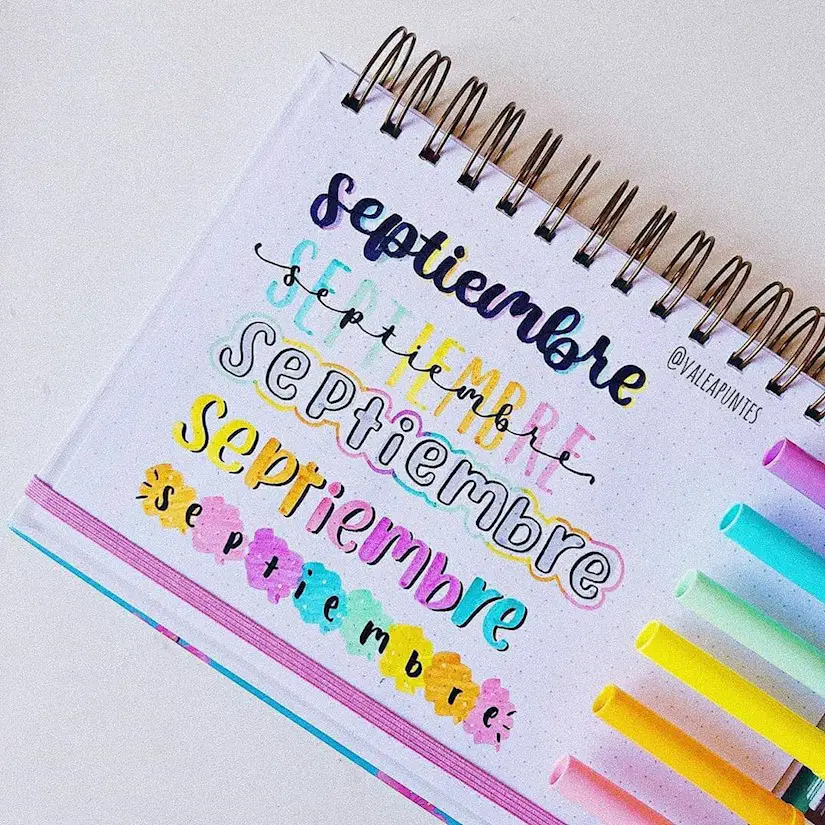 Image source: @valeapuntes
Block fonts
Undoubtedly, one of the easiest fonts when doing Bullet Journal spreads is the Tall and Skinny style.
Image source: artprojectsforkids.org
Cursive fonts
Even though Cursive fonts are slightly outdated according to some, they still look great alongside some of the bold fonts that are also on this list. If you want to keep things classic as opposed to modern, then classic cursive writing is the best bet.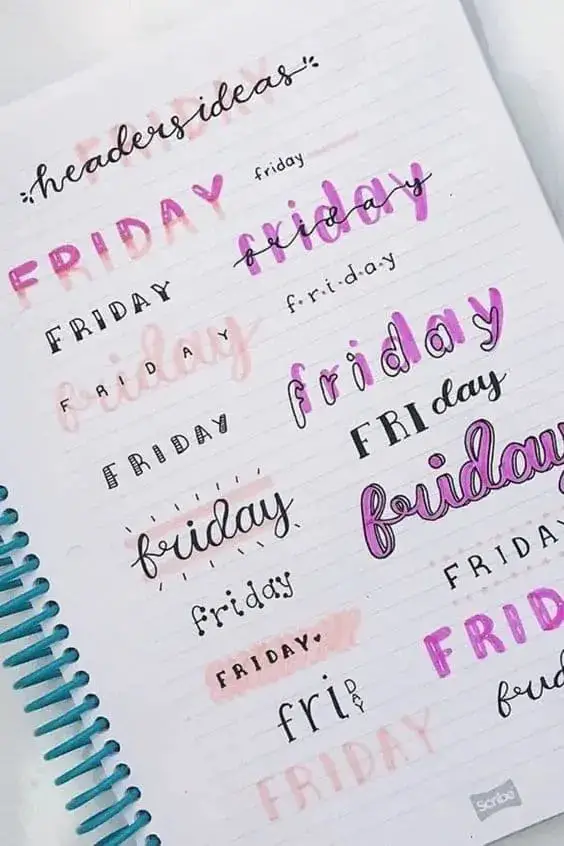 Image source: wellella.com
Date Headers
Uncial is a bit different from traditional cursive fonts in the way that the letters aren't joined together as much as some other fonts' letters are. If you're looking for something simplistic and clean in essence, the uncial is an easy way to make bold statements without having too many lines in your writing.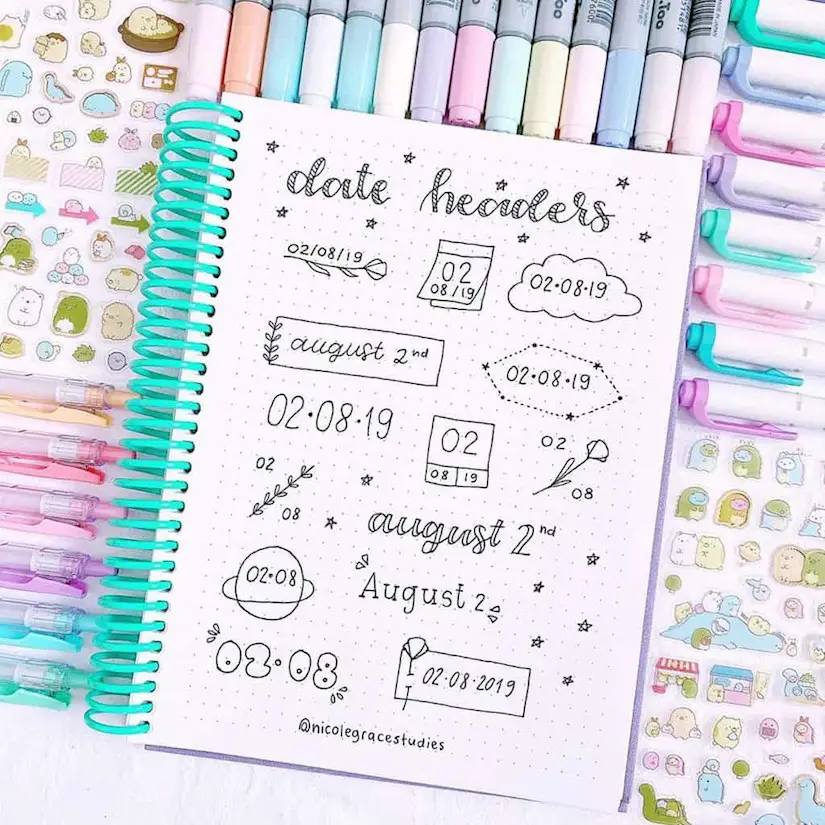 Image source: @nicolegracestudies
3D Title Fonts
3D lettering is really simple to do: Just add an outer outline from the right side of your cursive letters and see the magic happen before your very eyes!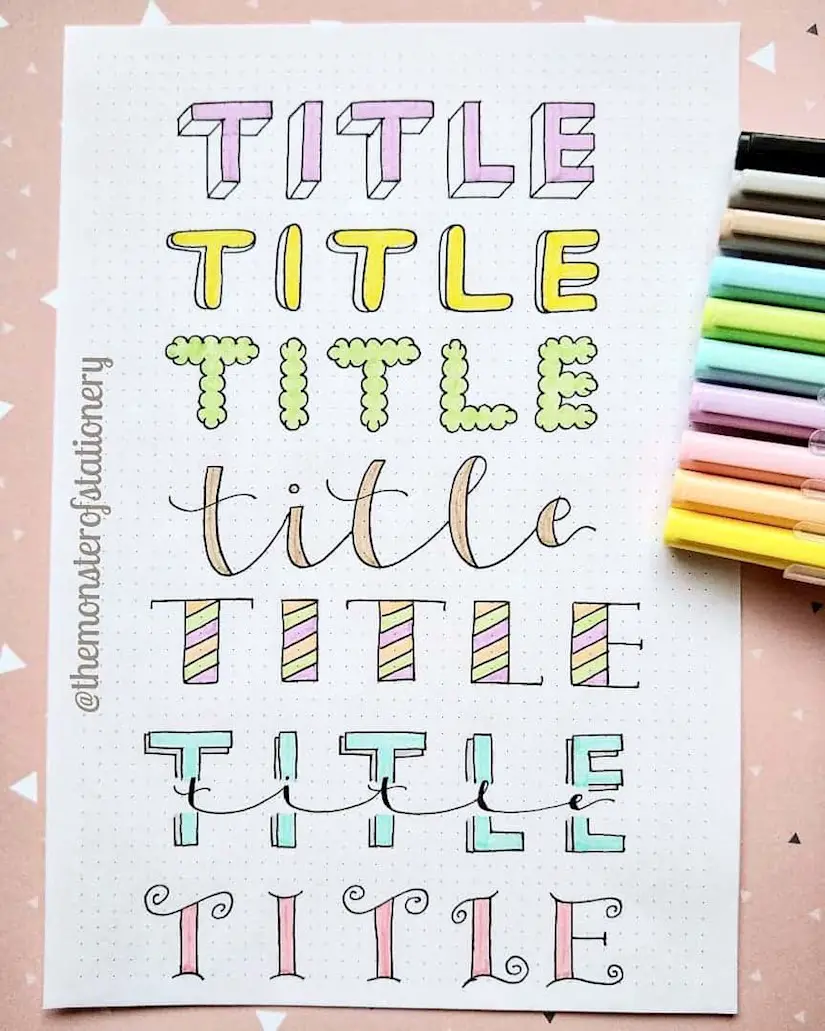 Image source: @themonsterofstationery
Rainbow Title Font
Rainbow letters is another great way to add a boost of colors to your bullet journal.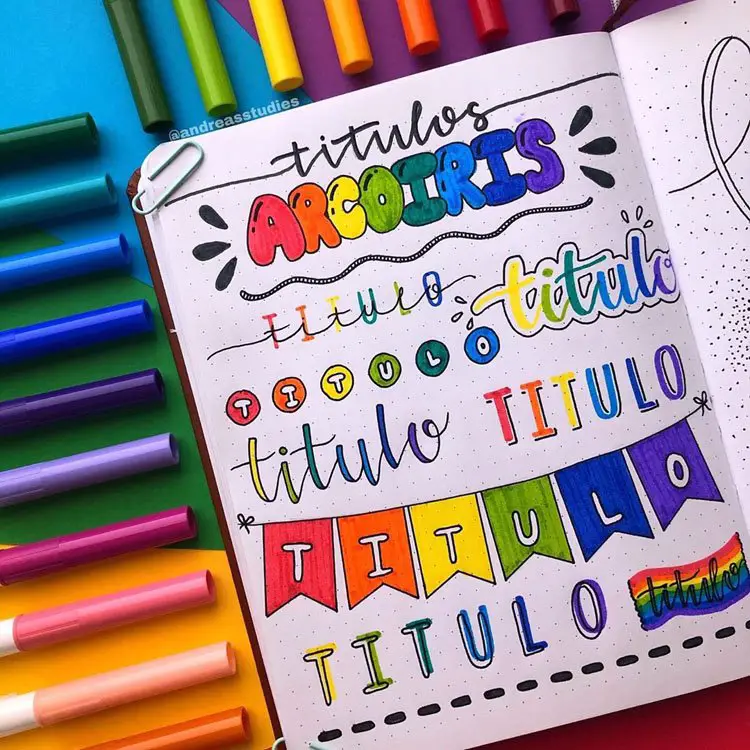 Image source: @andreasstudies
Skinny Caps
Skinny uppercase is perfect for headers and banners inside one's bullet journal and also for making fun planner fonts such as monthly titles and calendar headers. Add a little detail, a box, or a banner, and there you go!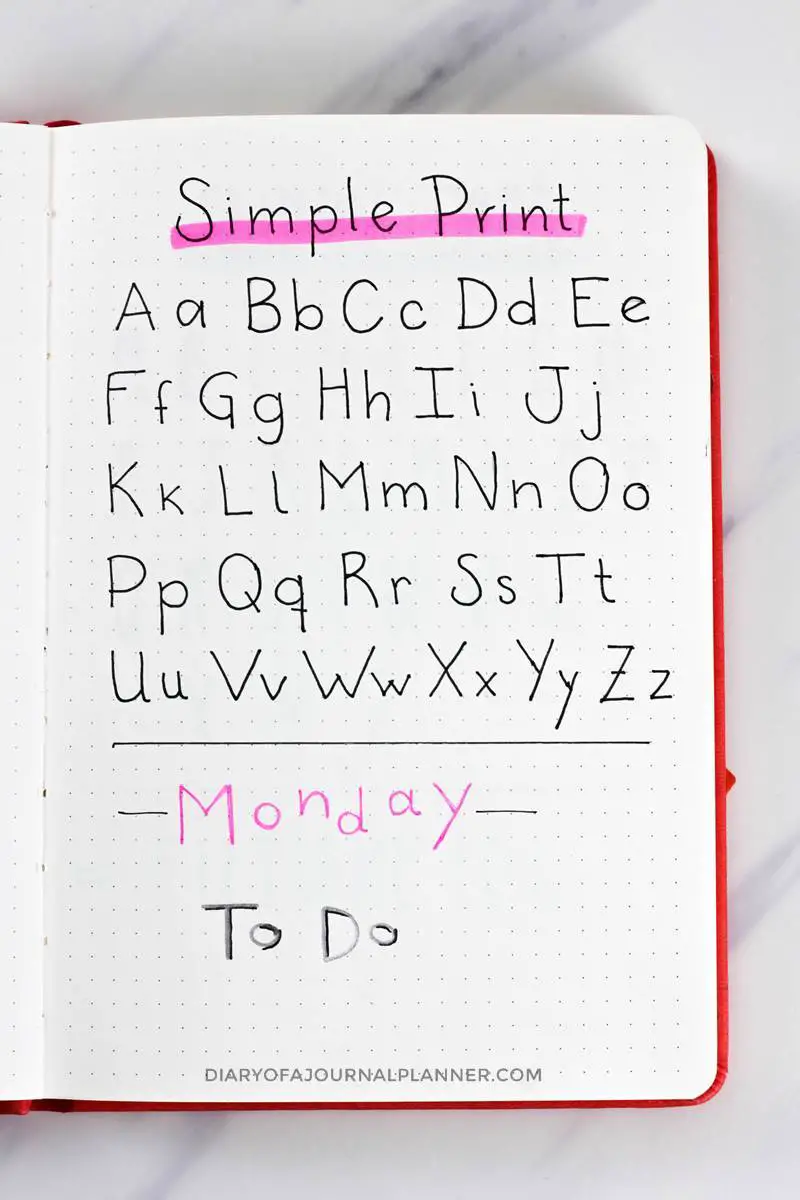 Image source: diaryofajournalplanner.com
Faux Calligraphy
Having its origins back in the 1800's, and created by Platt Rogers Spencer, this old-fashioned font provides the bullet journal writer with that authentic vintage look!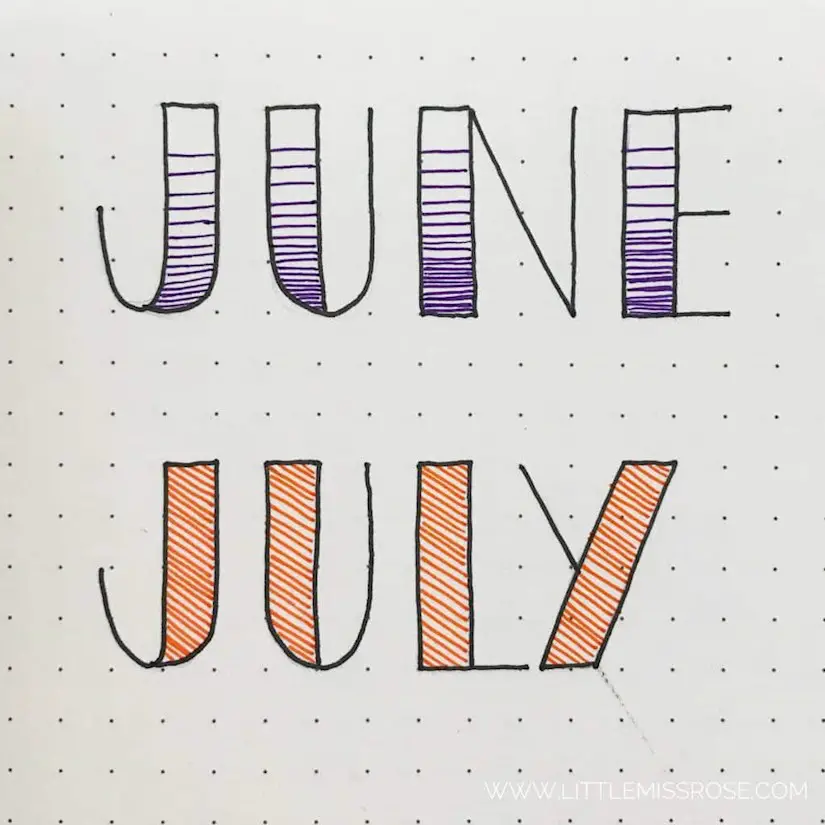 Image source: @littlemissrose
Drop Shadow Lettering
Drop shadow is a special technique that can be used to make a simple handwriting font much more enticing.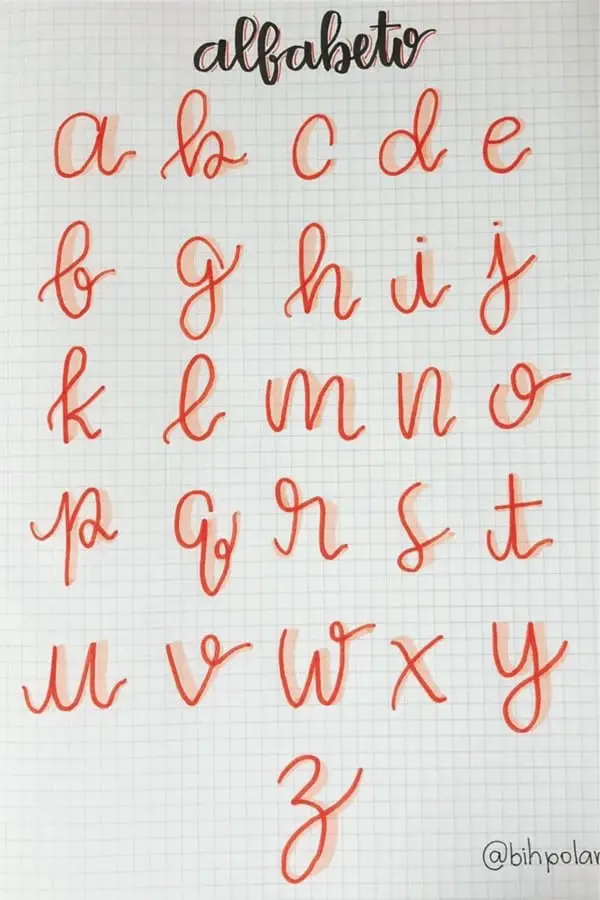 Image source: Lettering Da Bianca
Bold Colorful Header
Achieve the amazing Ombre font by writing in any chosen font. Then, create a gradient using various colors to achieve the Ombre effect.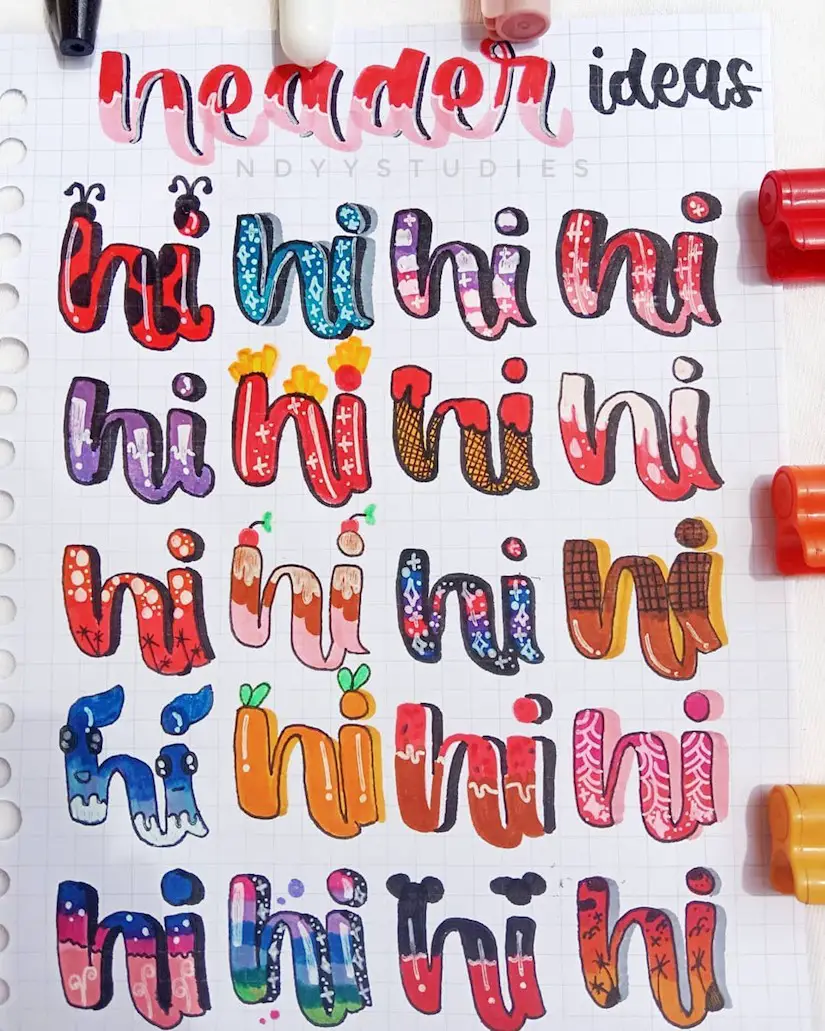 Image source: @ndyystudies
Detailed Floral Bullet Journal Font
The Floral bullet journal font can be used and modified in conjunction with either cursive or block letters.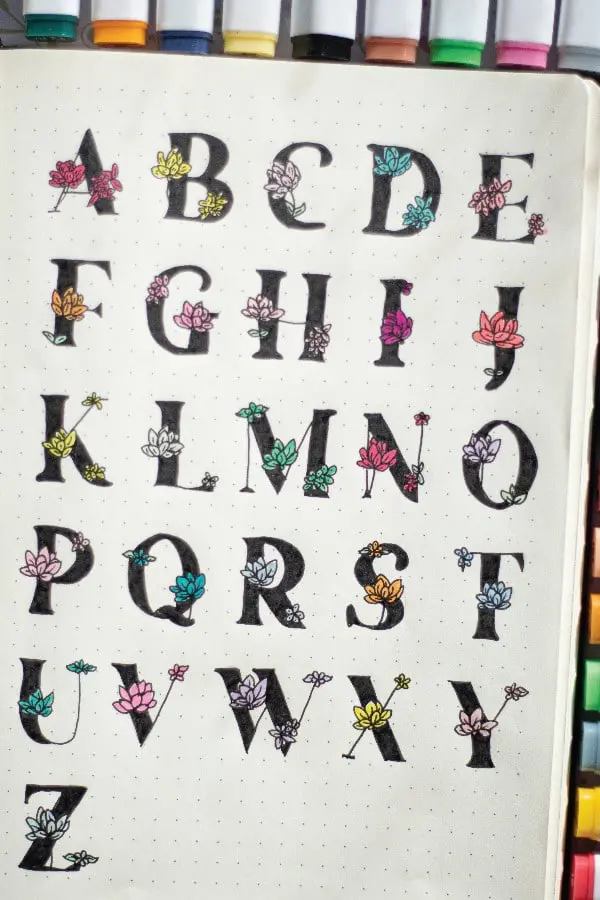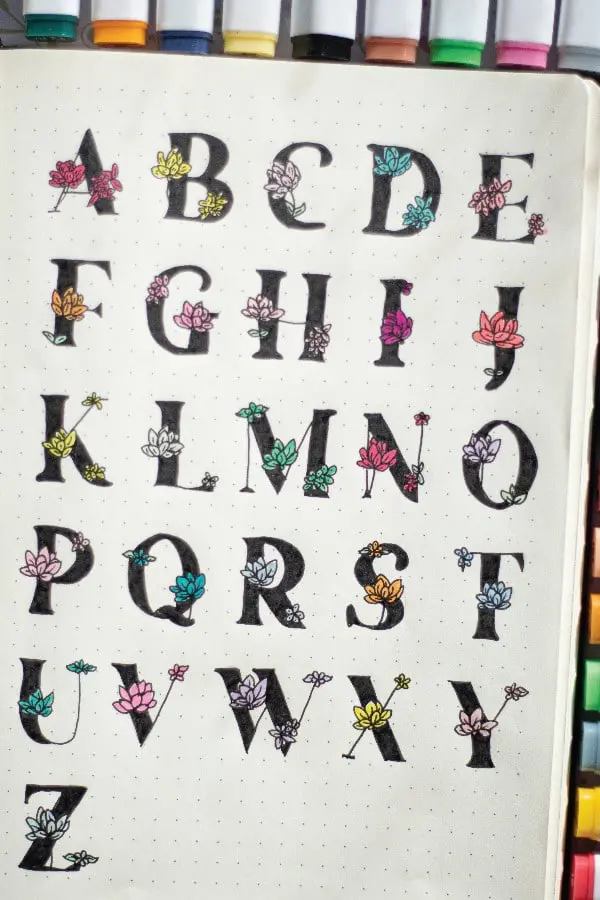 image source: worldofprintables
Quirky Print
This style is said to give Bullet Journals some extra character. Basically, you write all letters with the same height.
image source: @katies_bulletjournal
Beautiful Calligraphy Font
Another modern take on the handwriting font category is this dotted script style – which is something between real human handwriting and computer typing.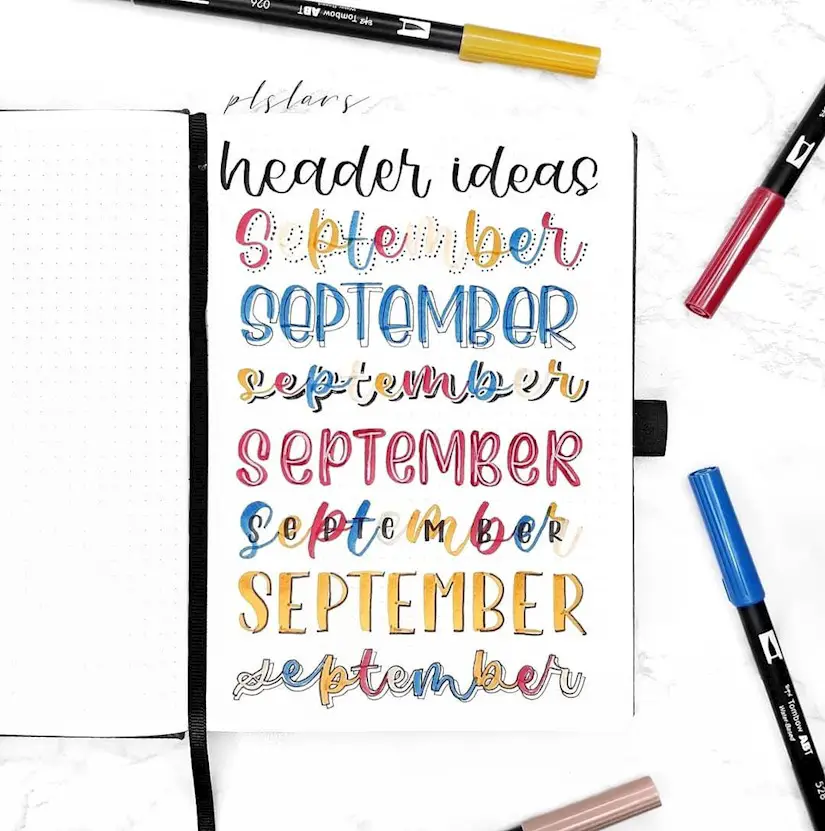 image source: @plslars
Half Block Font
Making fake 3-D letters can be really fun – and simple too. Consisting of a simple combination of print letters and blocks, the Faux Block Shaded font for bullet journaling is a real modern crowd pleaser!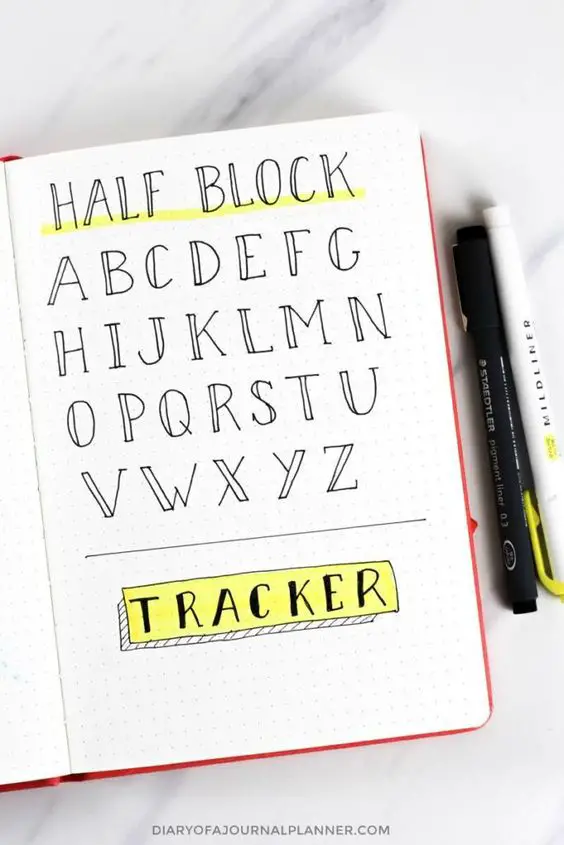 image source: diaryofajournalplanner.com
Handlettering
The Brush Script font for handwriting is one of the most popular of all the fonts mentioned in this list – and for some valid reasons, too! If you're looking for that authentic hand-written look, Brush Script will serve you well with its lovely classic style.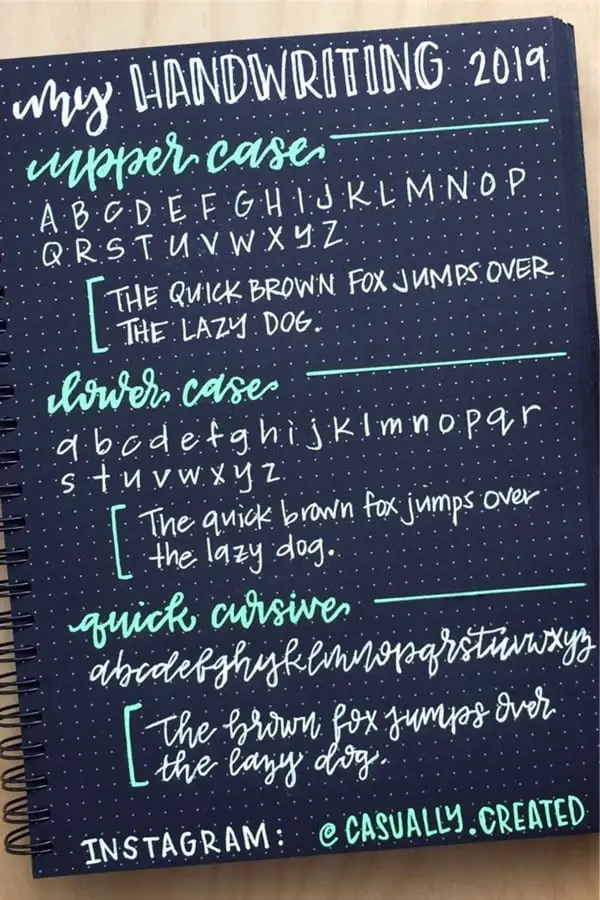 image source: Casually Created
Bubble Letters Bullet Journal
You don't need to keep it clean and straight, block letters can also be sassy and curvy! You can make either bubbles or balloons with this fun font by Camila Notes.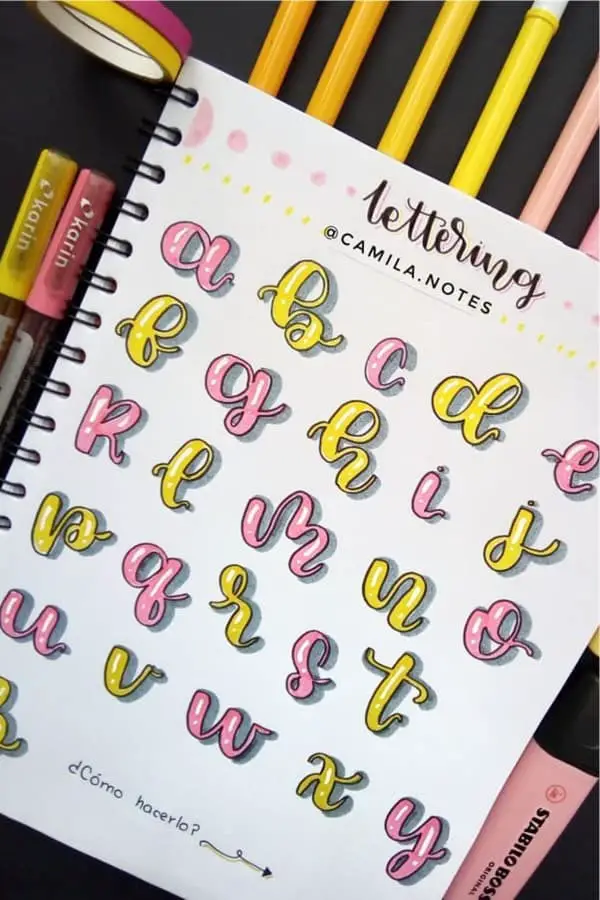 image source: Camila Notes
The Freestyle Script font style is once again suitable to more modern looks in bullet journals. As a super fun font to work with, this one is different from traditional styles and is thus helpful to incorporate into a variety of writing endeavors. The Freestyle Script font style is known as one of the most beautiful bullet journal fonts because of its versatility of use.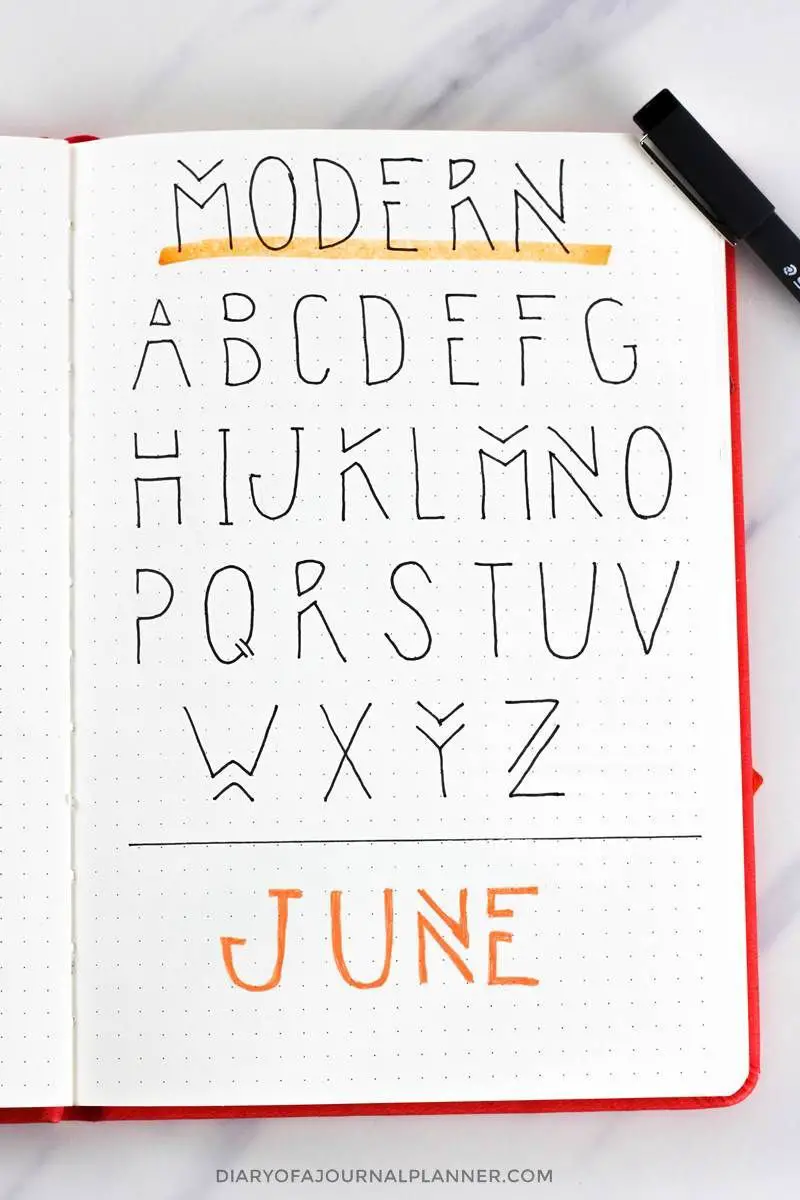 image source: diaryofajournalplanner.com