Software as a service (SaaS) is a method of providing a wide variety of applications via the Internet as a service. Rather than downloading and installing software, which you must maintain and update, you can use it on the Web. The best SaaS sites all offer multi-tenant architecture, on-demand scaling, optimal security standards and top-tier performance.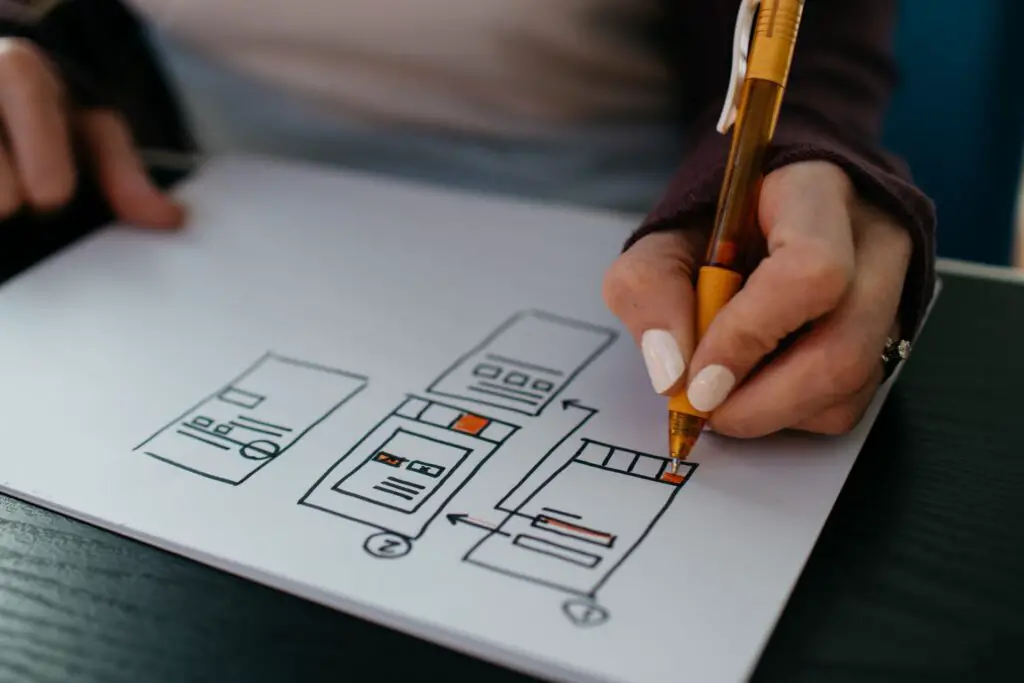 This web-based software is also referred to as "hosted" or "on-demand" software. Since these applications operate on a SaaS provider's server(s), the provider oversees access to and management of the software. This includes all issues related to availability, security and overall software performance pertaining to website design for SaaS.
SaaS Today and in the Near Future
As a SaaS user, all you need is a good Internet connection. Your SaaS provider safeguards the privacy of every customer and ensures dependable and secure service. With large providers, this service may be on a massive scale.
Currently, more advanced SaaS applications and SaaS design patterns are being developed. SaaS is predicted to move forward in the near future, becoming a platform for specific goal-focused applications.
Best SaaS Website Designs
Top-rated web design SaaS today is displayed by the following popular sites, which all provide simple steps for using their software:
This website helps you organize both your work and your lifestyle. The Evernote site includes quality written content that explains the website's purpose and offered value with compelling headlines. It also displays some engaging positive review excerpts concerning the software from leading media sources like Inc. Magazine, Forbes and Entrepreneur Magazine.
This site's clean, concise page design includes minimal textual content and attractive streamlined graphics. This website combines unique SaaS product design features with a pleasing, simple and clear layout.
Semrush Statistics:
Authority Score: 82/100
Estimated Organic Visitors Per Month: 1,932,462
This site is your digital office headquarters. It provides a place for virtually anything and everything in terms of data that you need close at hand for running your business. The presentation of written content, images and graphics is attractive, simple and direct. Site visitors can quickly grasp the features and offerings of this website.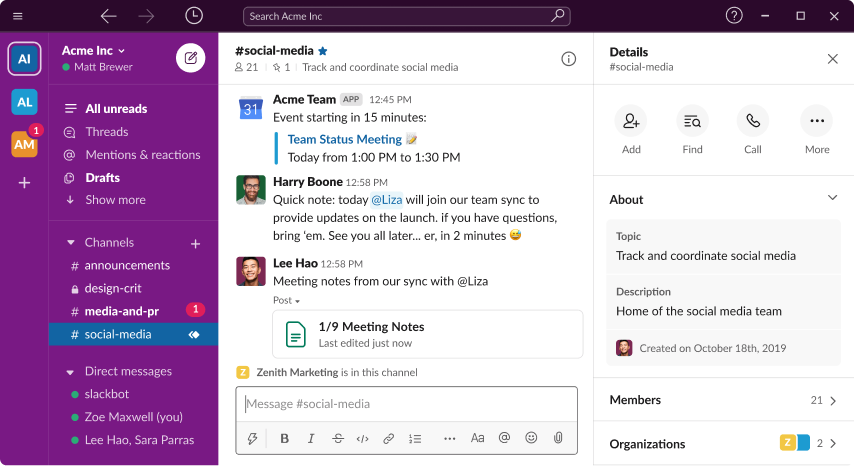 This site displays multiple videos explaining the valuable features and functions of the software. The content reveals the simplicity and ease with which you can start using the product. It also includes a persuasive explanation for choosing to use Slack rather than email to outperform your competitors.
Semrush Statistics:
Authority Score: 81/100
Estimated Organic Visitors Per Month: 5,860,290
This empowering website can simplify and enhance your workday by offering contemporary forms with conditional logic. These forms provide options for processing payments, issuing reports and automating the general workflow. Each step for using a form is fully and clearly explained on the Jotform site.
On this site, you can sign up instantaneously to access and use a form quickly with the free version of the software. Right away, you can produce and publish your forms as needed. With the use of this software and SaaS company examples, you can save valuable time, effort and money.
Semrush Statistics:
Authority Score: 84/100
Estimated Organic Visitors Per Month: 2,444,451
This website offers newbies to eCommerce an innovative selection of ideas and tips for creating a dynamic business site. It also includes a compelling call-to-action that motivates even hesitant visitors to open a new online store.
The WooCommerce site also focuses on common issues and concerns that often confront first-time website creators using the best SaaS website features. At the same time, this site convincingly expresses its trustworthiness, offering excellent customer support and a great easy-learning platform. Each feature and application is fully and concisely explained, step-by-step.
Semrush Statistics:
Authority Score: 82/100
Estimated Organic Visitors Per Month: 1,125,286
This stunning website is a genuine example of this software's beautiful web design. Using a combination of state-of-the-art mockups and highly appealing wireframes (screen blueprints), this creative site showcases many essential features.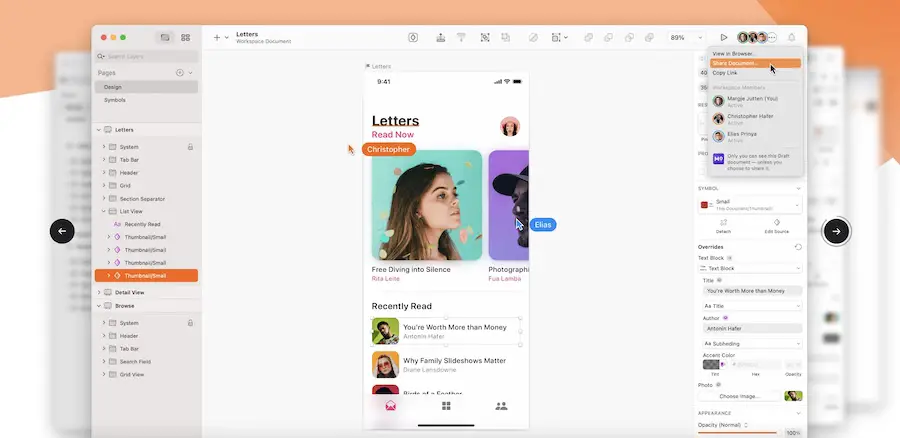 These features include speed, prototyping, a variety of plugins and more. You will find the last call-to-action located at the bottom of the homepage highly attractive, engaging and compelling. The Sketch website also provides easy steps for creating your own winning web page designs for a successful eCommerce domain.
Semrush Statistics:
Authority Score: 67/100
Estimated Organic Visitors Per Month: 1,307,372
This website promotes thrifty shopping with its attractive cash-back offers from participating online merchants and marketplaces. The Rakuten homepage clearly explains that this offer is, indeed, both valid and valuable with the aid of SaaS website design.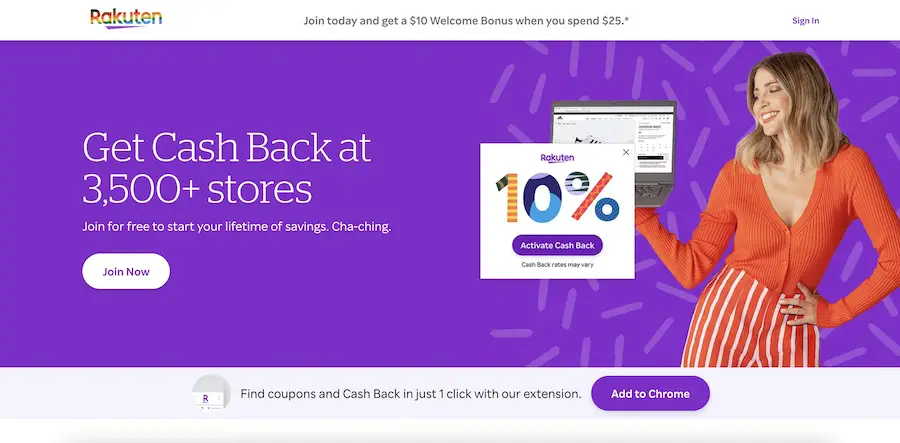 This site includes simple steps to understanding exactly how the service works for you. The site pages also offer statistics and review sources that endorse Rakuten's services and operations. The website also clearly presents the participating stores along with the cash-back percentages of purchases that you can receive when you join Rakuten.
Semrush Statistics:
Authority Score: 79/100
Estimated Organic Visitors Per Month: 11,855,540
The outstanding SaaS web design of the Mailchimp site includes highly engaging illustrations of the software features. Also included are clear explanations and steps for using each one. You can join this site free of charge, which should help you decide to become a user.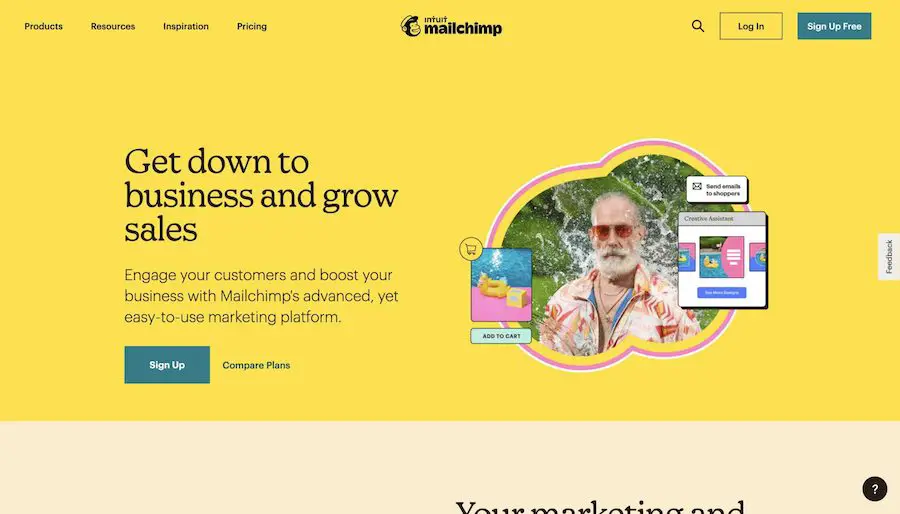 The unique fonts, colors and layout of this website give it a strong online presence. Mailchimp has advanced from its first slogan of "Send Better Email" to its current one of "Build your brand. Sell more stuff." This makes the site increasingly attractive to owners of eCommerce websites today. The steps to using every feature and function in this savvy domain are clear, concise and compelling.
Semrush Statistics:
Authority Score: 81/100
Estimated Organic Visitors Per Month: 4,800,000
Conclusion
Software as a service (SaaS) in today's competitive world of eCommerce is highly cost-effective and time-saving. It is a great convenience as well as an ideal choice for increasing your target market, conversion rates and overall online business success. Create SaaS application with Yalantis to start enjoying greater eCommerce success.