Fiverr is one of the most popular platforms for freelancers, for good reasons. It is a great place to earn a side-hustle or a full-time income and one of the most helpful online platforms for beginner freelancers. 
The big difference between Fiverr and other platforms like Upwork or Freelancer is that you get to create multiple gigs. That means you can build a gig for each one of your talents and make them attractive to potential clients. You can retouch photos, edit videos, proofread texts, translate articles, create Instagram content for clients on Fiverr. After completing different gigs, how can you determine which one attracts more people?
Fiverr has created one of the most advanced statistics systems, where you can monitor each gig's performance. For this reason, we have created the ultimate guide for Fiverr gig statistics.  
We will explore all the statistics you can look at on Fiverr, like gig views, clicks, and impressions. Then, we will answer the critical question of how many gigs you should create to ensure you receive more orders. By the end of this article, you will have everything you need to know about Fiverr's gig analytics.
What is Gig Statistics? Fiverr Gig Analytics
Gig statistics are a handy Fiverr feature for both beginners and experienced freelancers. Accessing your analytics is very easy, and you can do it quickly. 
However, viewing your gigs' analytics isn't enough to improve your profile and attract new clients. Thus, it is essential to understand what those statistics mean. Let's start by exploring where you can find your gig statistics on Fiverr.
How Do I See Gig Statistics on Fiverr?
As mentioned above, accessing your gig statistics on Fiverr is very straightforward. Although Fiverr has a great mobile app for freelancers, you can only view your gig analytics from your computer.
From your desktop (or laptop), all you have to do is:
Log in to your Fiverr account.
If you logged in as a buyer, click Switch to Selling (top-right)
From the top menu: press Gigs.
There, you will be able to see all the gigs you have built and their statistics (Impressions, Clicks, Orders, Cancellations).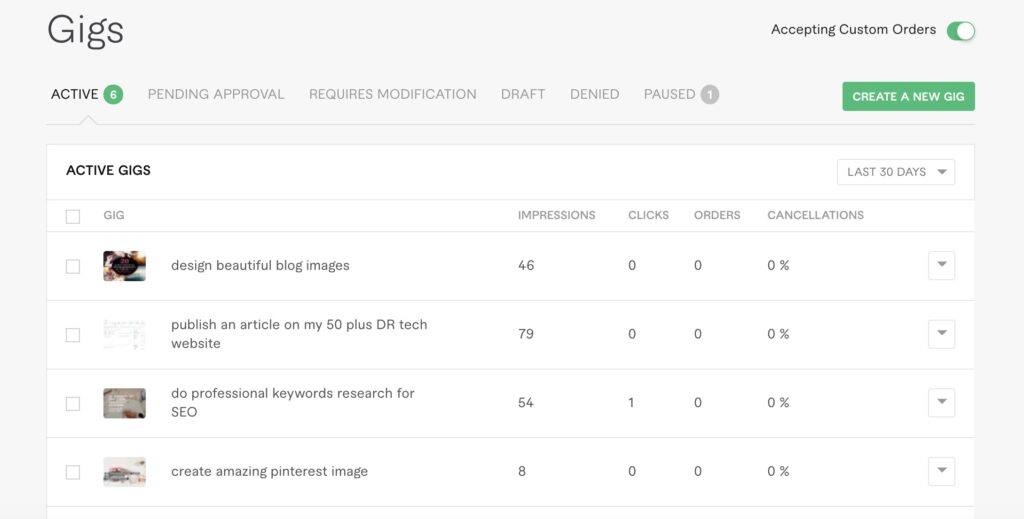 How does Fiverr Gig Statistics work? 
When you enter the Gig menu on Fiverr, you can access your gigs' analytics for the past days. You can change that from the top-right menu and look at your statistics for the periods between the last seven days and six months. 
As it concerns the statistics, you will see four different numbers: your gigs' Impressions, Clicks, Orders, and Cancellation percentage.
Let's first explore the clicks. With clicks, Fiverr lets you know how many people have clicked your gig after sawing it once on the homepage, category page, or user page. 
By clicking at one of your gigs, you can also access the more detailed graph view. There, you can explore how your gig performs during a specific amount of time (i.e., last month).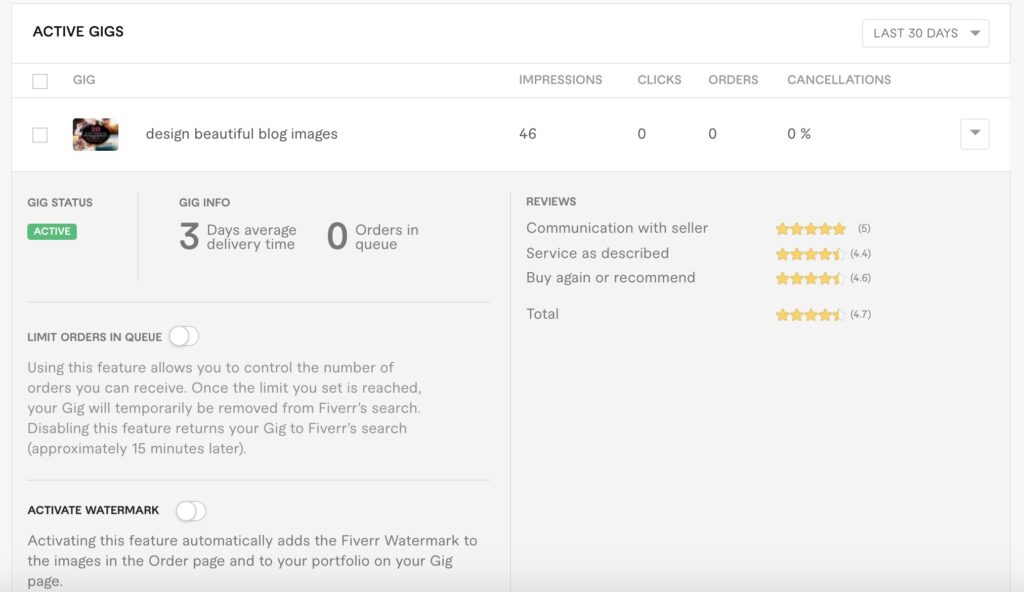 By clicking on the graph's right side, you can change the graph shows: Impressions, Clicks, Orders, and Conversion Rate (your gig's Impressions divided by orders).
Impressions are a unique Fiverr feature. For this reason, in the next section, we will analyze what impressions are and how they can help you improve your gigs.
What are impressions on Fiverr? 
According to Fiverr, impressions are when your gig appeared to other users via Fiverr's thumbnails (homepage, search, etc.). Thus, when a client sees your gig, this becomes an impression for your gig.

If your gig doesn't have many impressions, that means your ranking is very low, and your gig doesn't attract enough attention.
But how are Impressions influenced, and how can you make sure you improve the number? The first thing to do is add the correct (relevant to your talent) Keywords in your gig. 
There are other ways to raise the number of impressions you get, like adding your main keywords at the gig title and the start of your description. It becomes evident that Impressions are beneficial to understand how the platform works and how your gig is performing in it. 
How Many Impressions are Good on Fiverr?
Thus, if your impressions are low, you should change your tags, do more promotions, or find other tactics. But, how many impressions are enough for a successful gig? That depends on many things, such as your expertise, the competition, etc. 
In any case, with relevant tags and research, you can quickly get around 100-200 impressions (last 7 days), which is an excellent number. Then, as you build your reputation on the platform, you will see that this number will keep growing. 
For this reason, it is crucial to focus on converting this traffic (to orders) and gradually build an excellent reputation.
How do I know if my gig is active on Fiverr?
If you have just created a gig and are not sure that it is active, you can easily make sure of it. All you have to do is go to the Gigs page (from the top menu).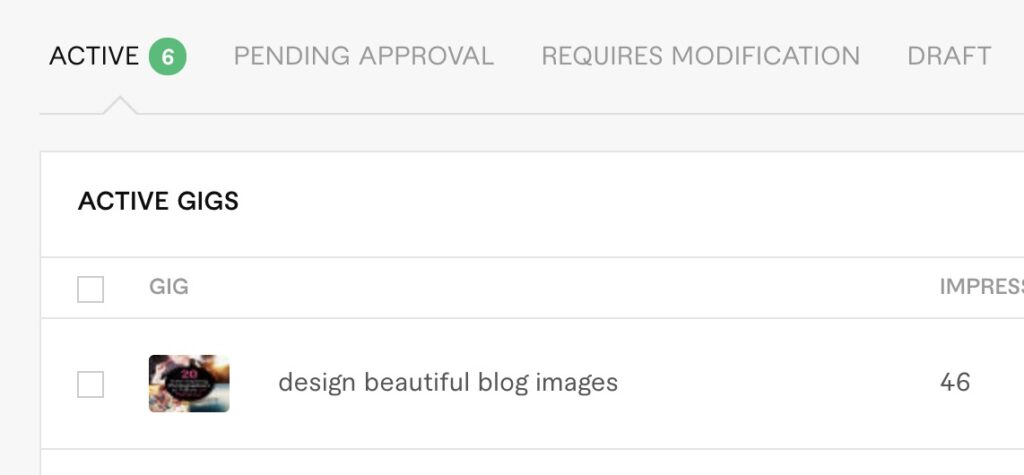 There, apart from your gigs' statistics, you can see their status. If your new gig is under the 'Active Gigs' tab, then it is up and running.
How Many Gigs Should I Create on Fiverr?
If you are a new seller on Fiverr, you can create up to 7 gigs on your account. Of course, you have to make sure the gigs you create are all unique and don't offer the same service. 
When it comes to the number of gigs you should create, there is no definite answer. Some people initially create three to four, while others create only one. Many people succeeded on the platform with only one gig. Thus, it all comes up to your skills and different talents. 
For this reason, we suggest you create gigs for things you are proficient in, and you love doing.
Wrap Up
To summarize Fiverr is one of the best freelance platforms, and the gig statistics it offers can help you improve a lot.
During this guide, we explored how those analytics work and had a look at how impressions can help you manage your performance. In the end, we analyzed why the number of gigs you create has everything to do with your personal preference and skillset.