Job hunting in the 21st century can be tasking and competitive. Regrettably, a good number of persons never manage to make it through the first stage. This can be attributed to the poor presentation of their resumes.
As the saying goes – the first impression matters a lot, and your resume happens to be your first professional profile/impression to recruiters. So it is imperative that you present a well-structured CV/Resume.
Thankfully, there are a good number of well-designed resume templates that can easily be edited to suit personal requirements and tastes. But you can save your time and use online resume builder Canva which has a lot of easy-to-use predefined assets. Take a look at similar articles:
Let us take a look at some of these creative graphic designer resume templates and ideas.
Graphic Designer Resume Templates
Below you'll find the best graphic designer resume templates that you can download and customize as you like.
This template allows you to effectively communicate your professional profile/prowess in the simplest way possible. Its plain background makes it formal and mature; not everyone likes colors and extreme graphics.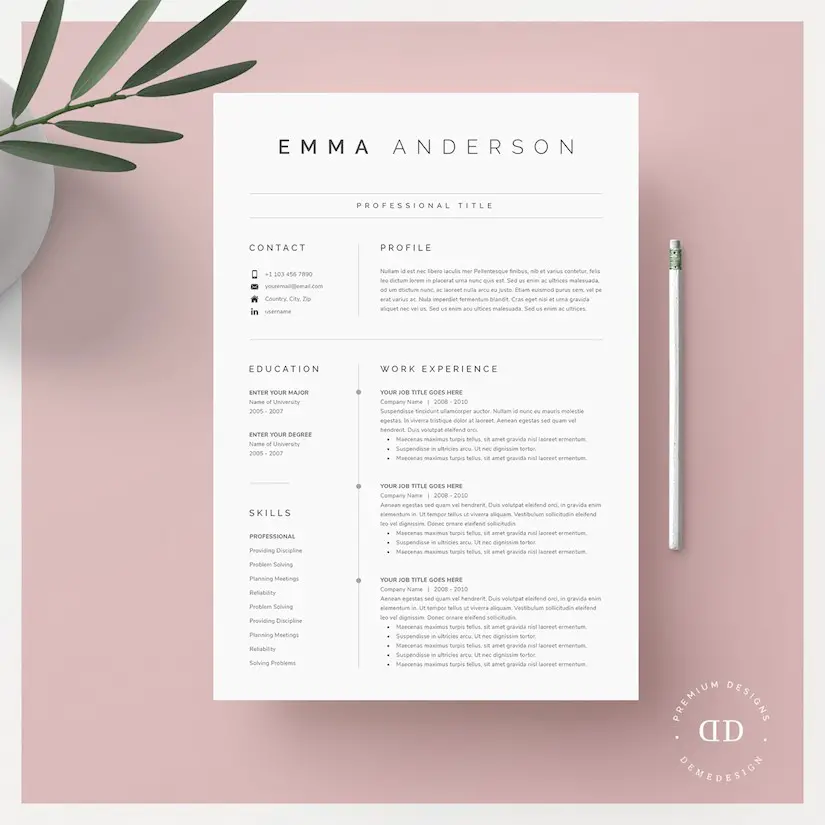 A top-notch CV template, it is applicable for managers and individuals seeking to attain higher professional positions.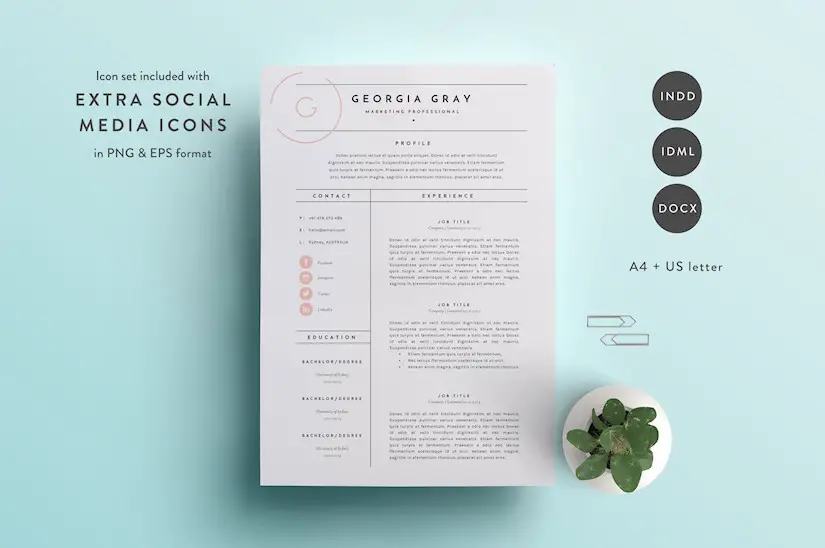 This is a modern and proficient CV template. It is the type of resume I will encourage anyone seeking a professional job to present.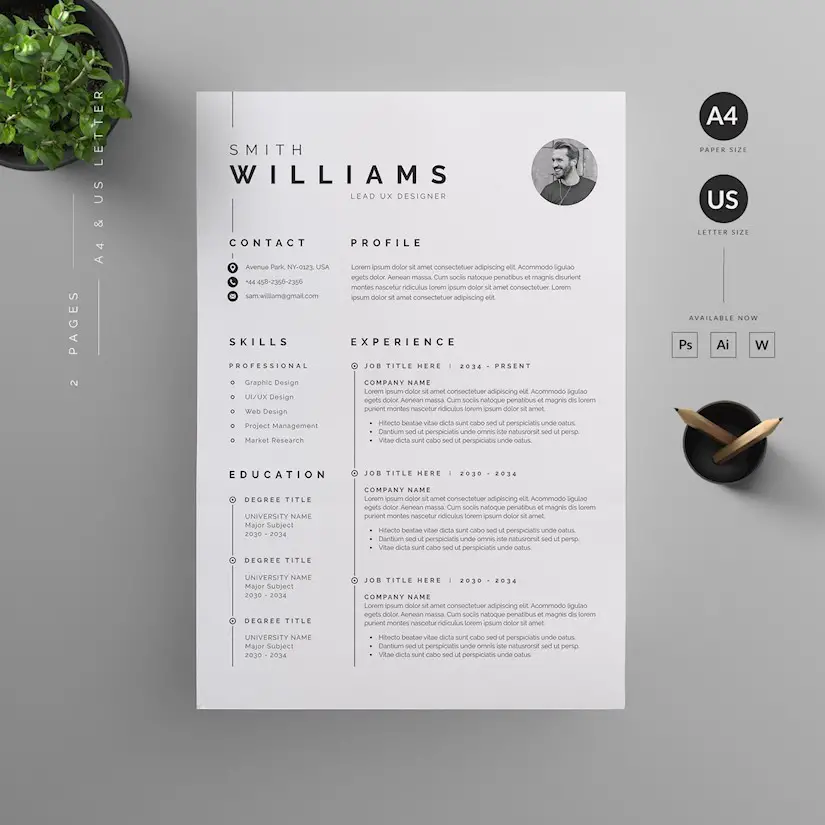 If your intention is to make a long-lasting impression in the minds of your recruiters, then this template is a must-have.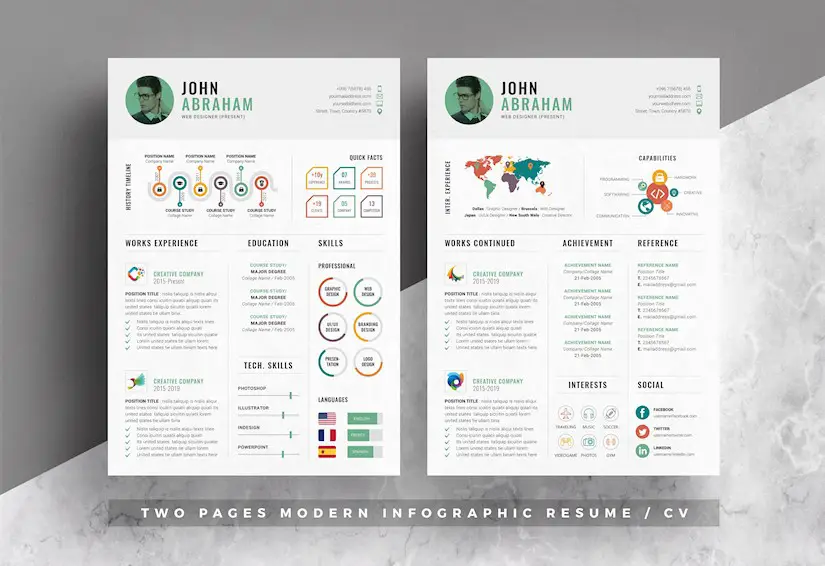 This is a highly versatile template that can easily be edited to suit any job requirement.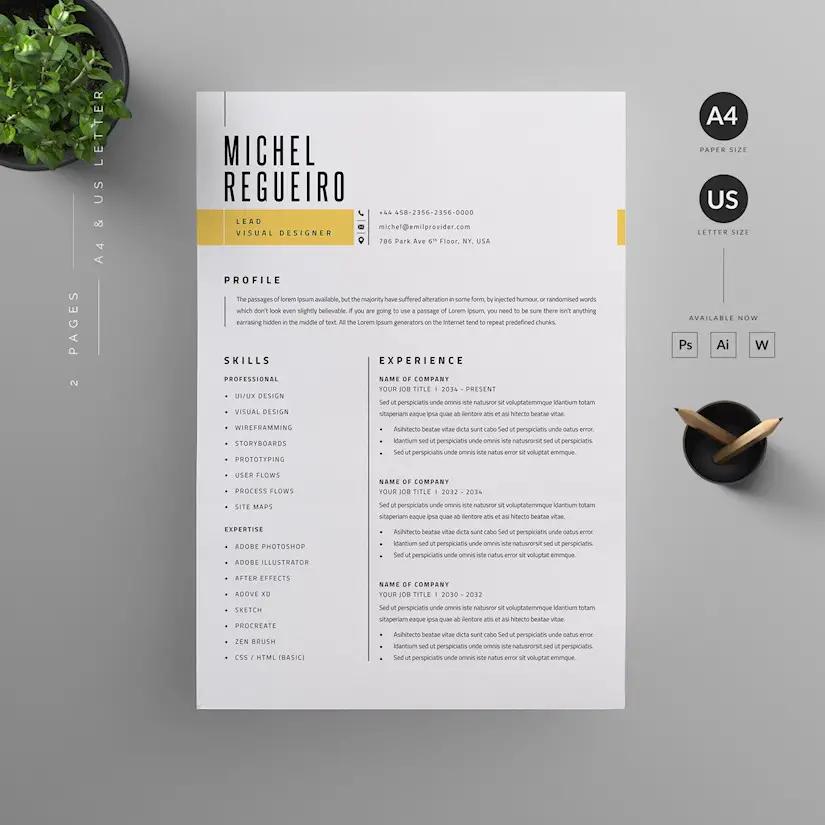 This is a most refined, practical and seasoned template. I have no doubt that it will scale through any ATS evaluation in flying colors.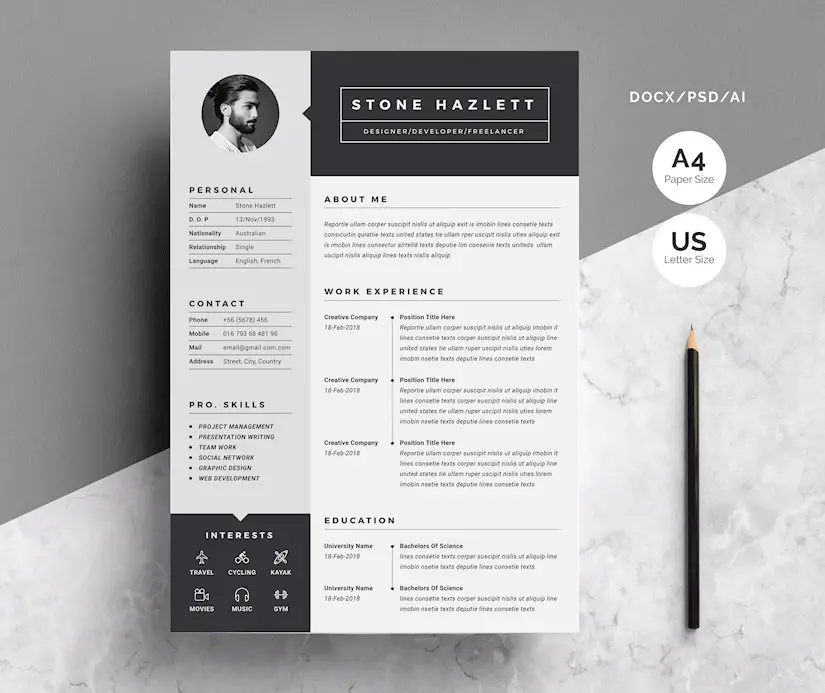 This PRO template is the best solution to adopt in updating your outdated resume. It is ingenious, upscale and professional.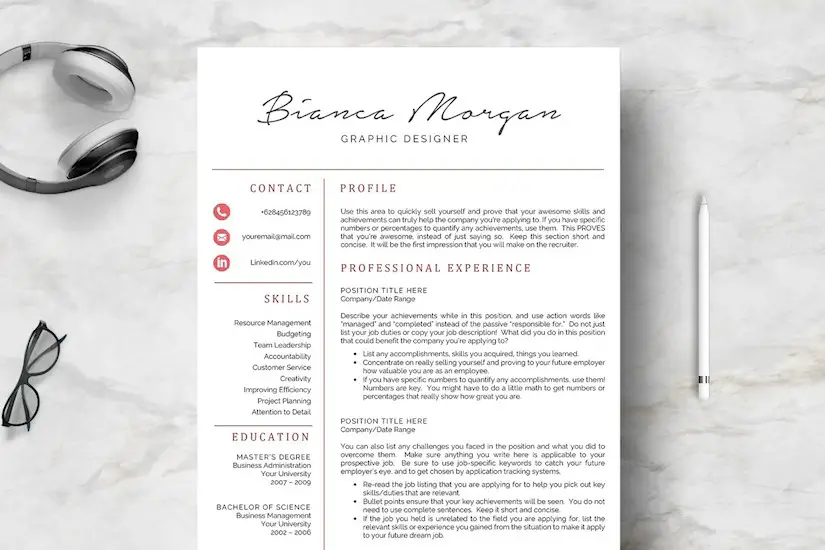 This single-page resume/ cover letter and business card template is one of it's kind. It is well-ordered and easy to customize. With little adjustments, anyone can own it.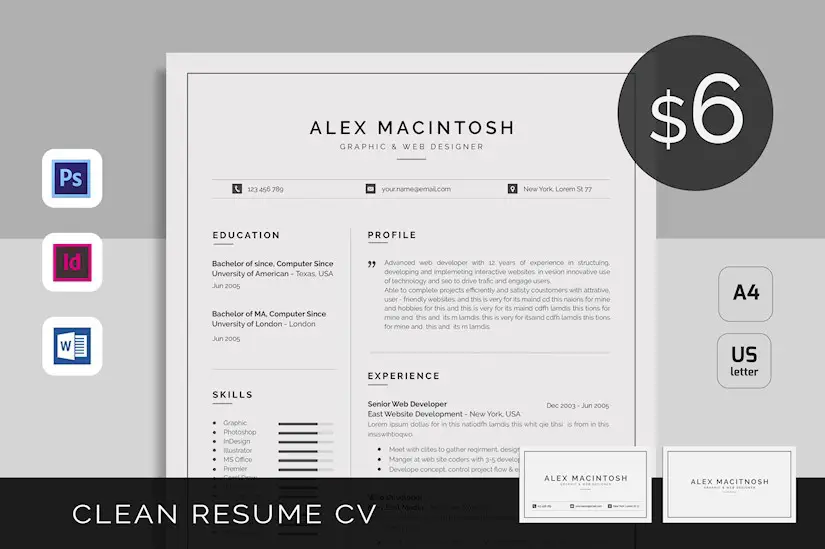 The highlights of this resume template are its versatility and compatibility with various applications such as adobe illustrator, photoshop, Ms. Word, etc; making it easy to customize color and font type/style.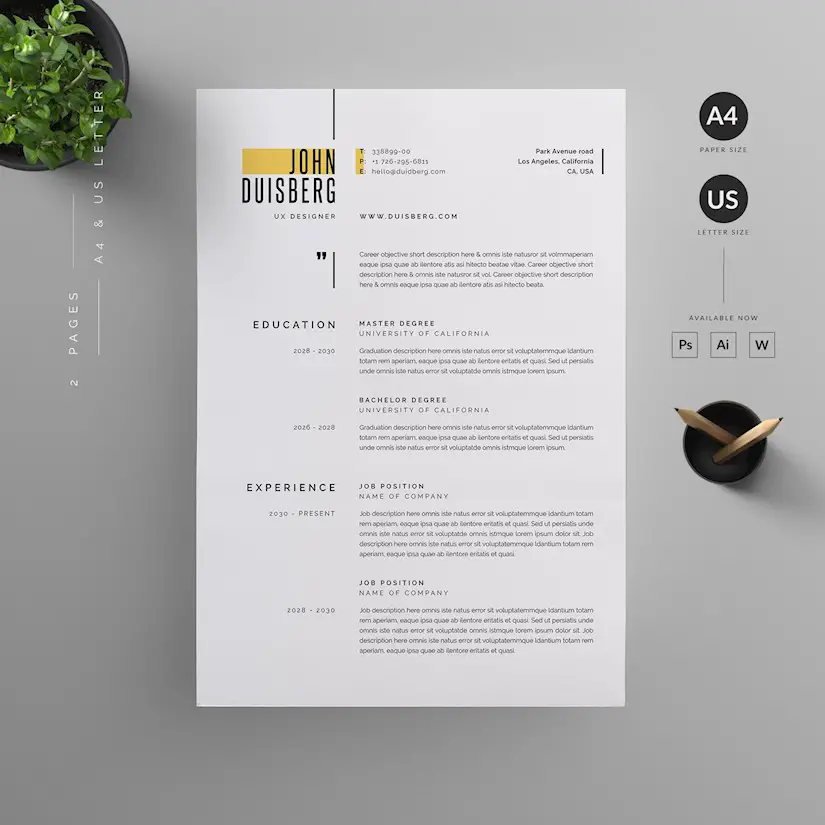 This is an adequate resume for anyone seeking a career in the fashion industry. Although, it can also be used for other purposes. It has a neat appearance that will impress any recruiter at first glance.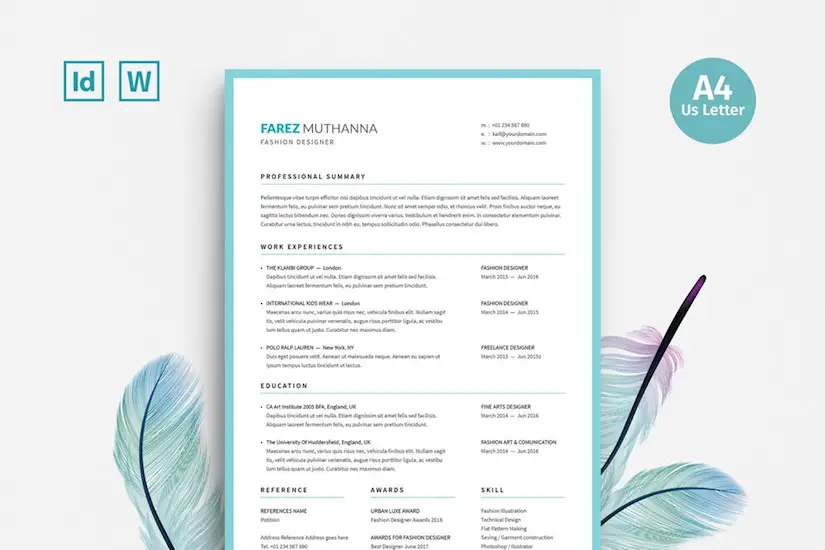 This resume template is well-layered, user-friendly and easily editable. It is in portrait form and was designed on a US letter paper.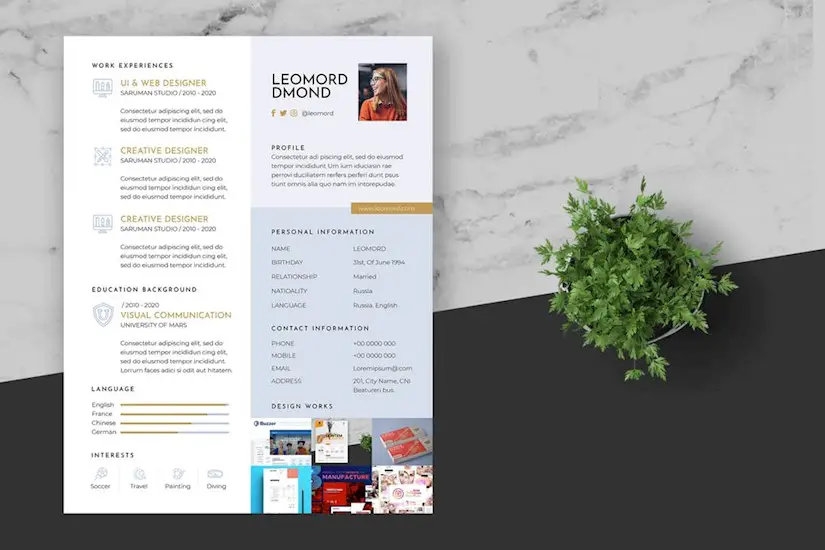 A most creative and professional-looking resume. With a well-designed layout that can be customized to suit any purpose.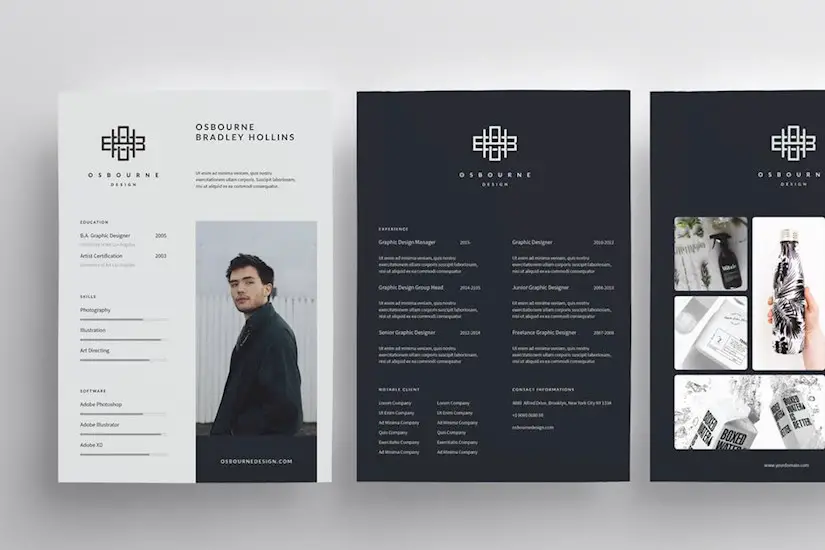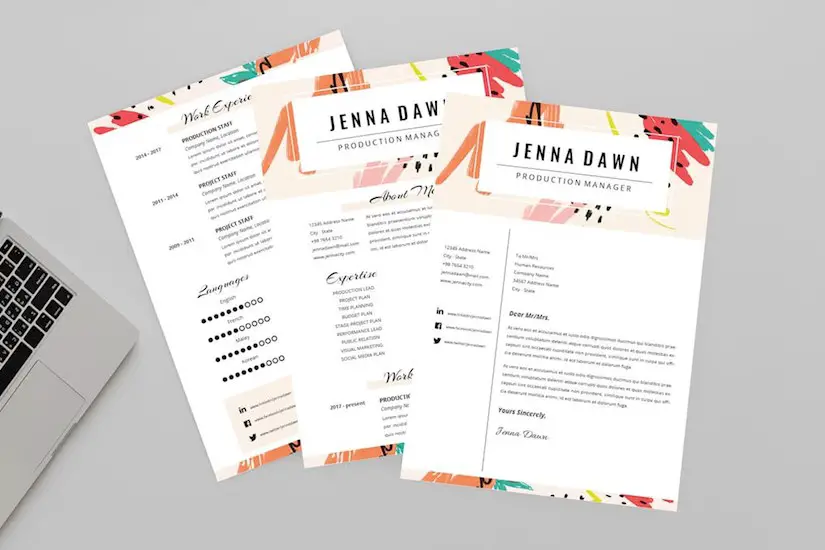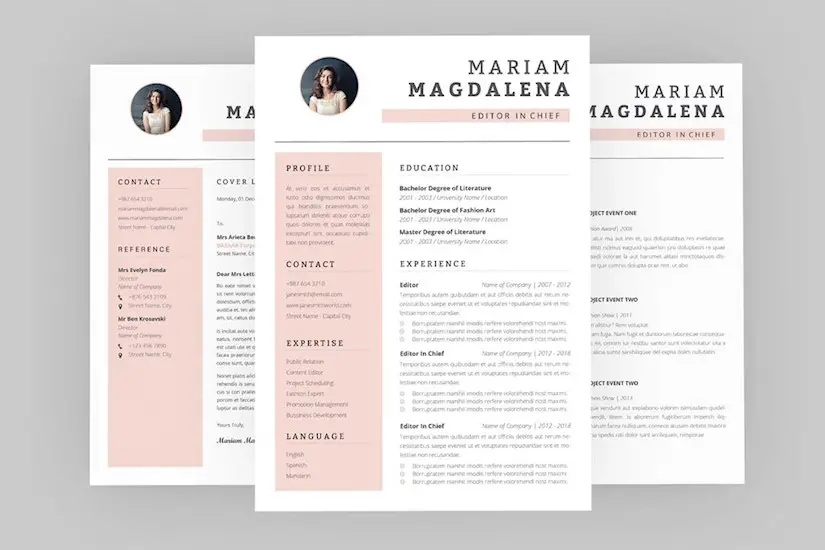 Graphic Designer Resume Ideas
Scrutinizing a resume can sometimes be boring due to the extreme formality adopted by most writers, especially in cases where it isn't necessary. This particular template is a deviation from the traditional concept. Every reader's interest will be stirred at first glance.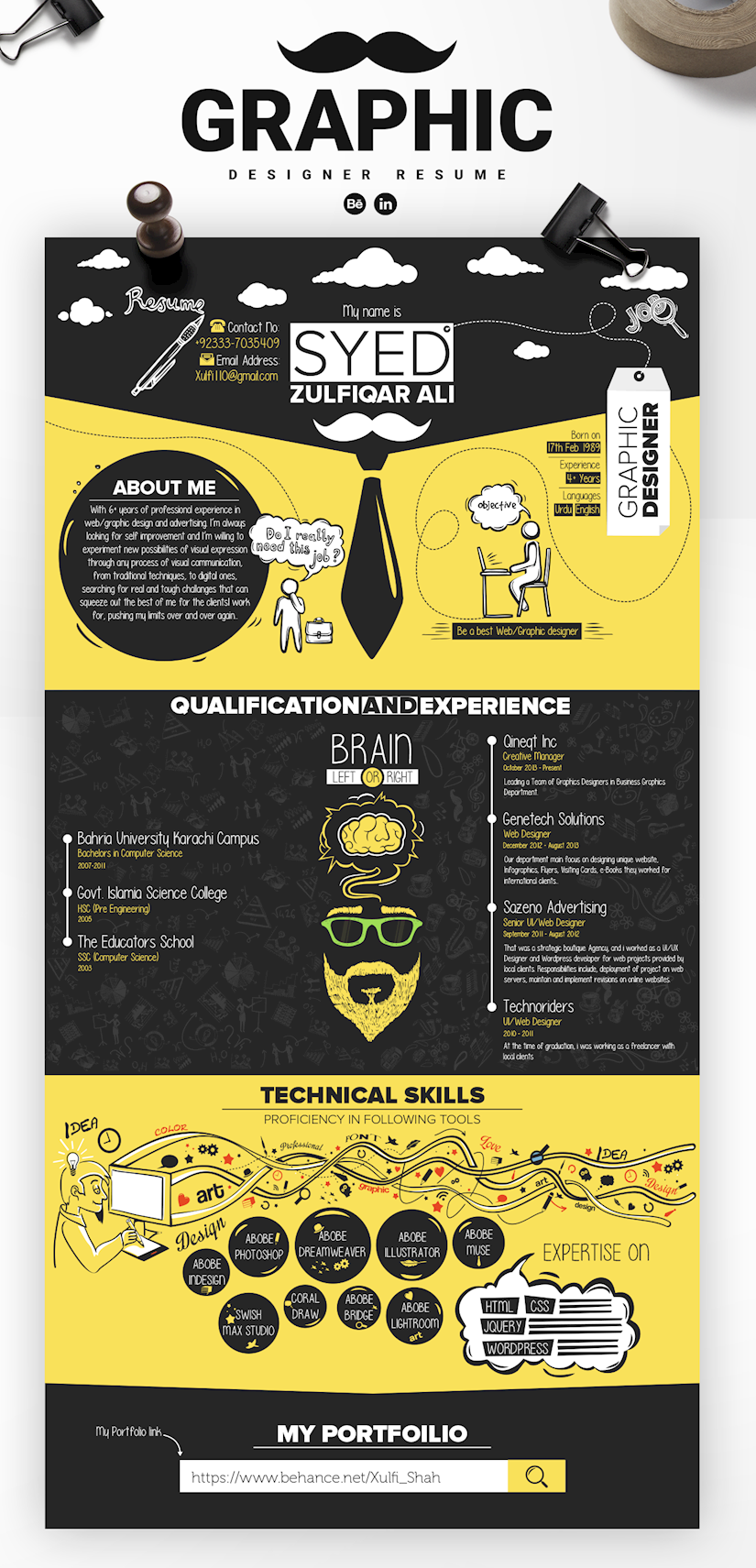 This is a definition of simplicity, uniqueness, and professionalism. From the color schemes, writing pattern to the graphic detailing.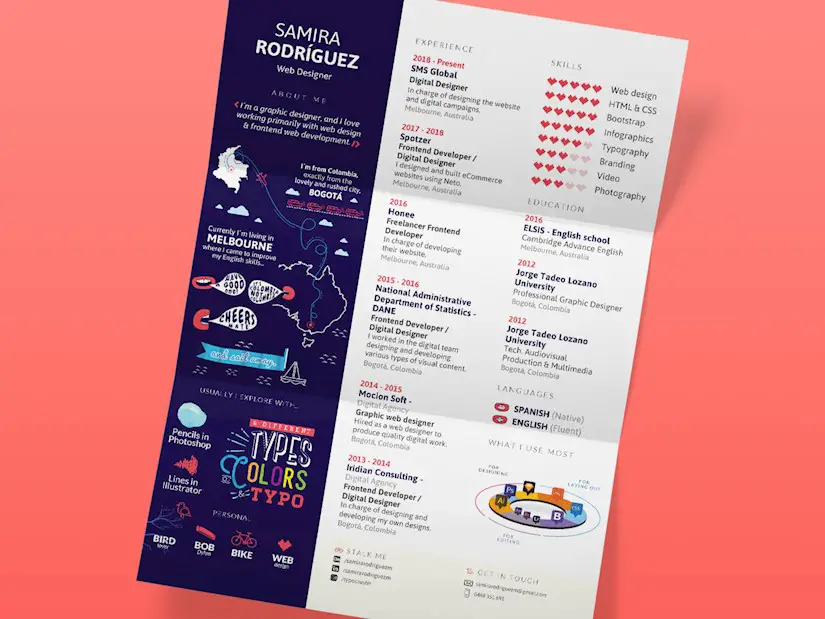 This template has an attractive background. It is also simple, straight forward and well-organized.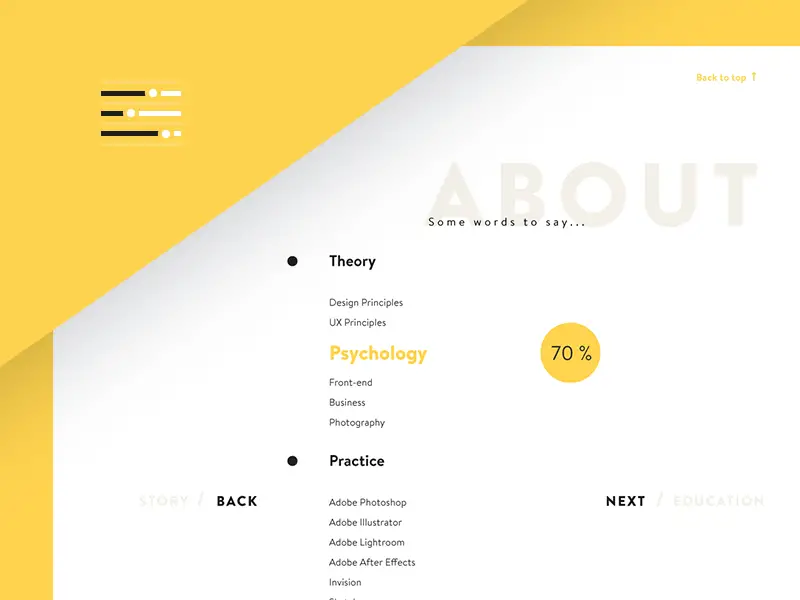 This is the perfect resume for anyone seeking a career in architecture and design. It has a good structure and it is easy to customize.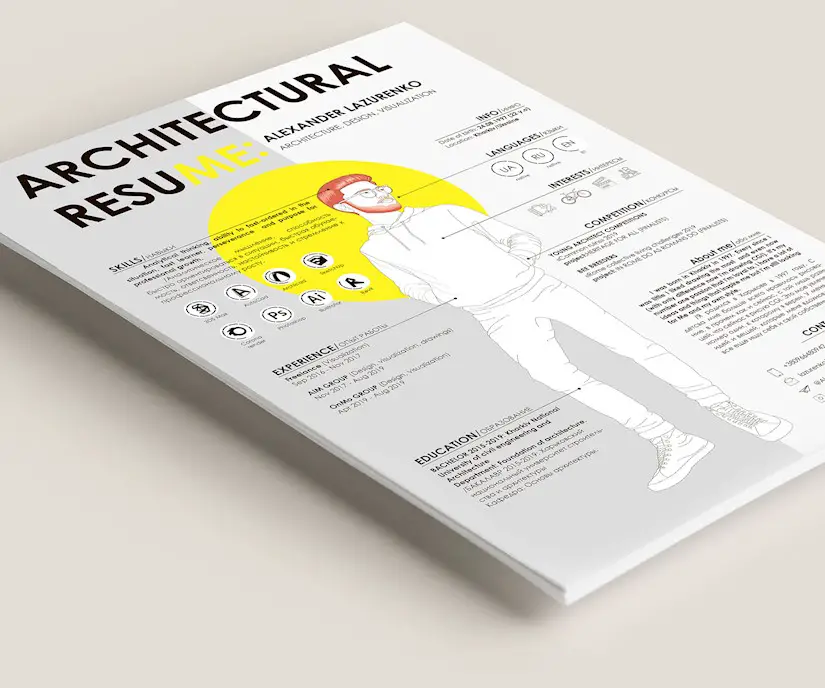 This template is on a whole new level. Every recruiter will be captivated by how articulate and organized it is.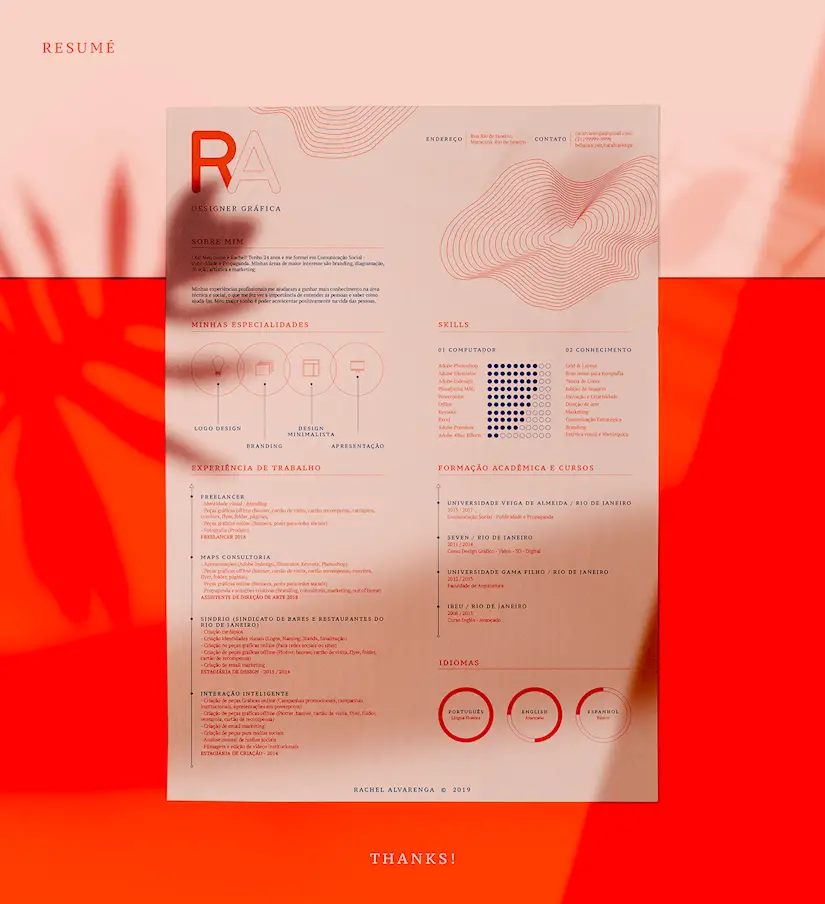 This resume simultaneously speaks formality and informality in a most admirable blend. The colorful graphics improve readability while also effectively passing out a detailed profile.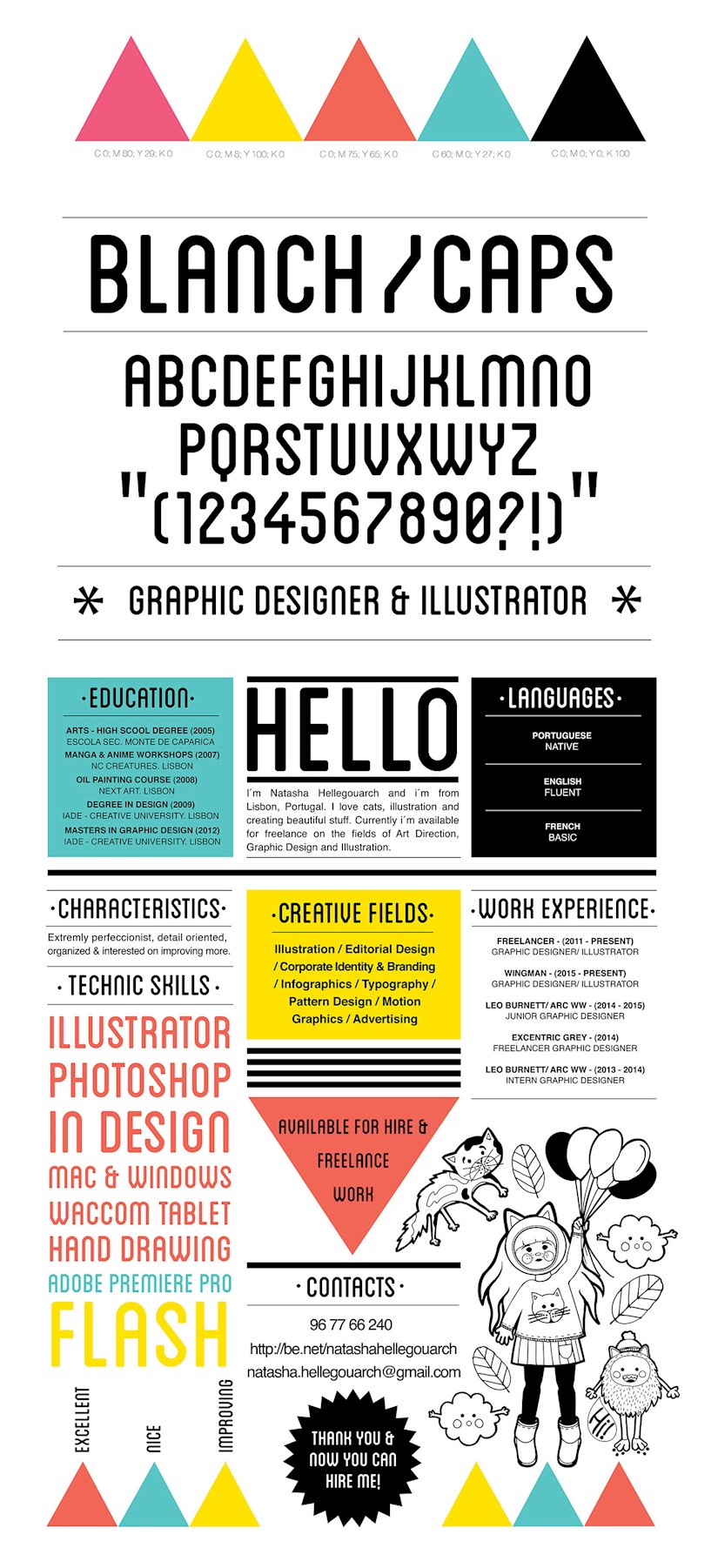 This is a good multi-purpose resume template. It will be suitable for almost any job application.

This template provides a platform for you to showcase your graphic designing skills.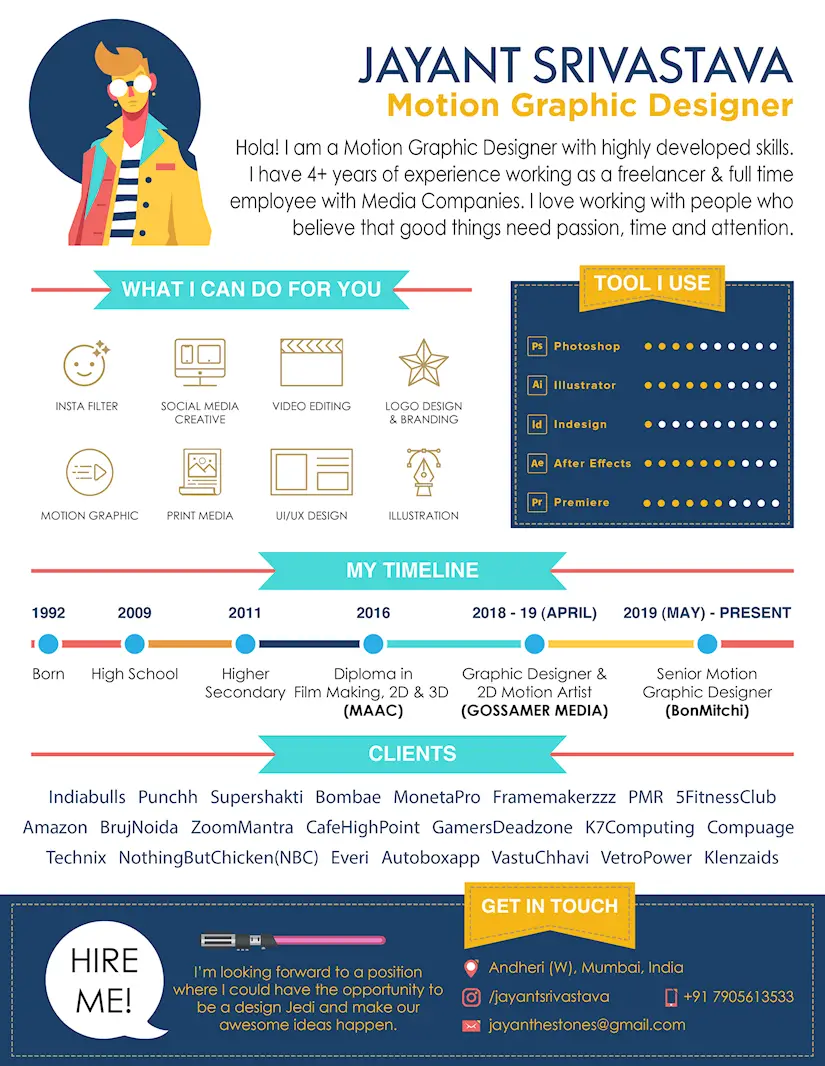 A top-notch resume template that speaks uniqueness and creativity. It is suitable for a variety of purposes.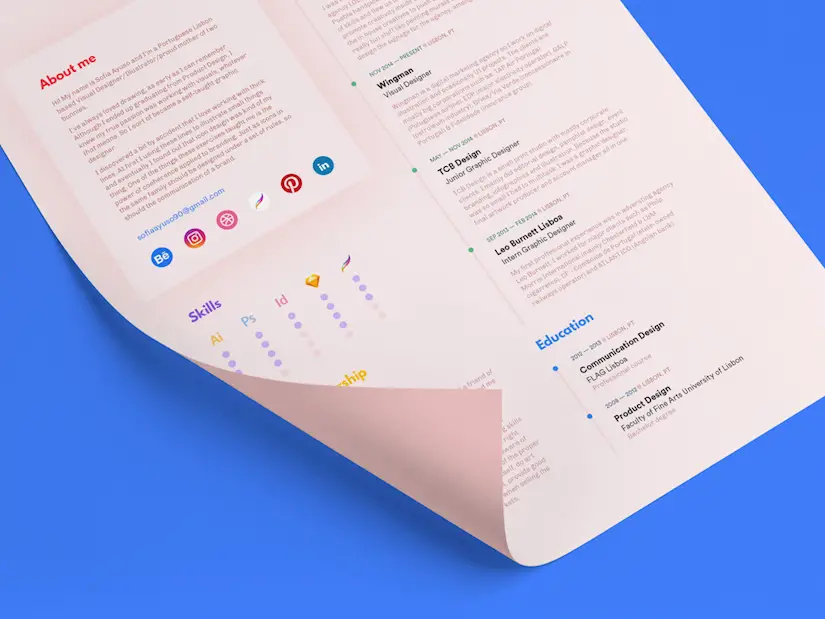 Anyone with eyes for detailing will appreciate how comprehensive this template is. The background, font size, colors and structure are all on point.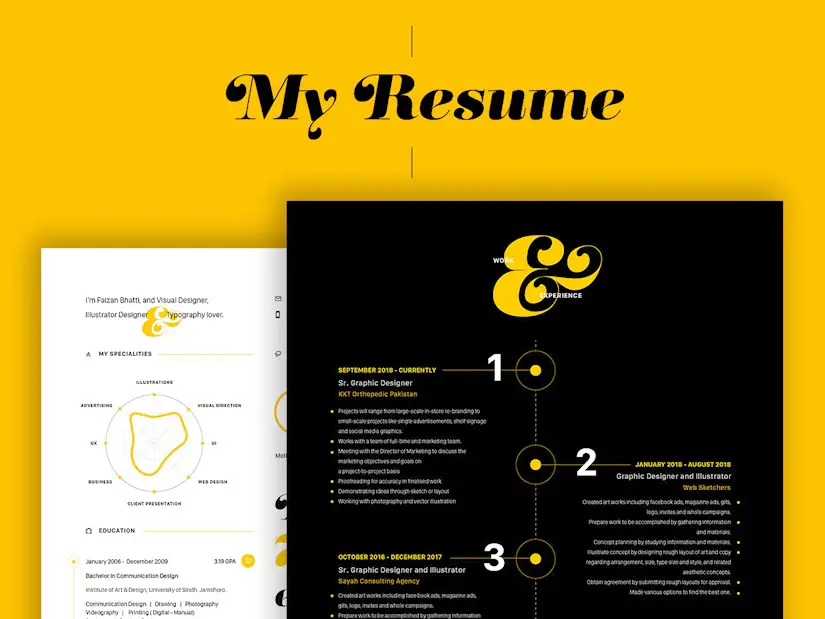 This resume was designed to specifically meet and surpass ATS standard.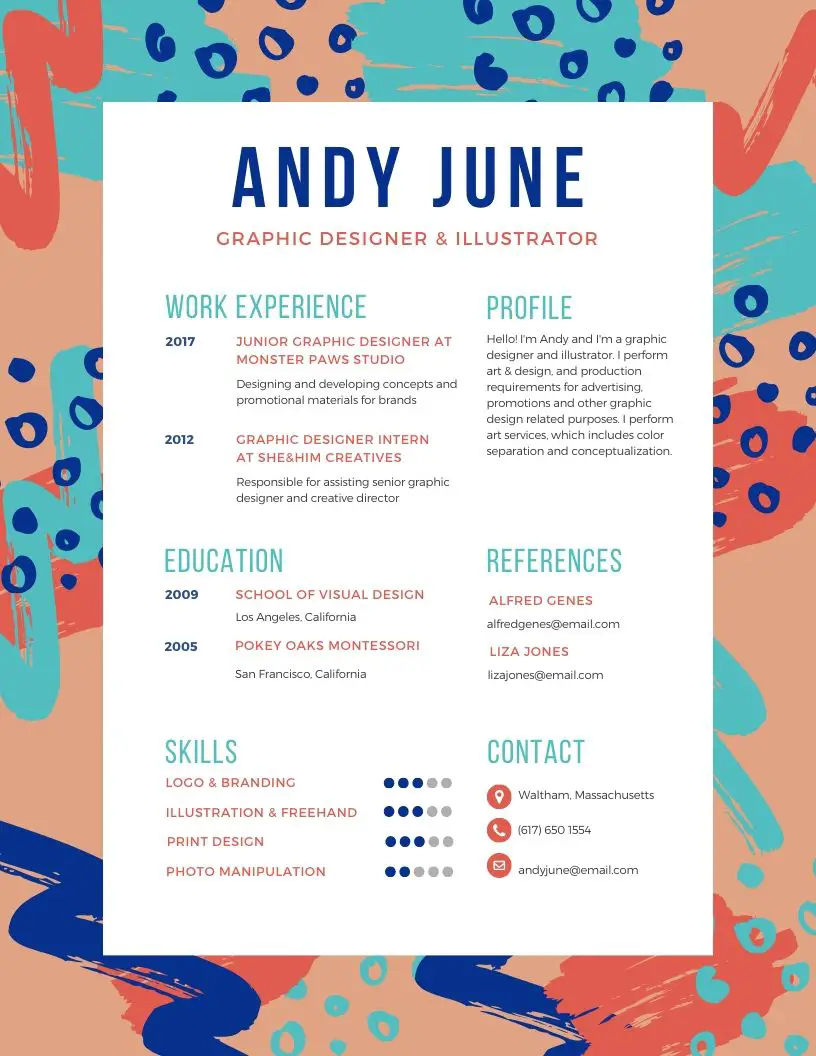 This resume proves that a resume can be informal and yet sophisticated. It is creative, captivating and fun-filled. The combination of colors and various icons makes it stand out. Quality information can be passed out with few words and more illustrations.
This is a bespoke and versatile portfolio resume template. It has a nice layout and will accommodate an extensive profile.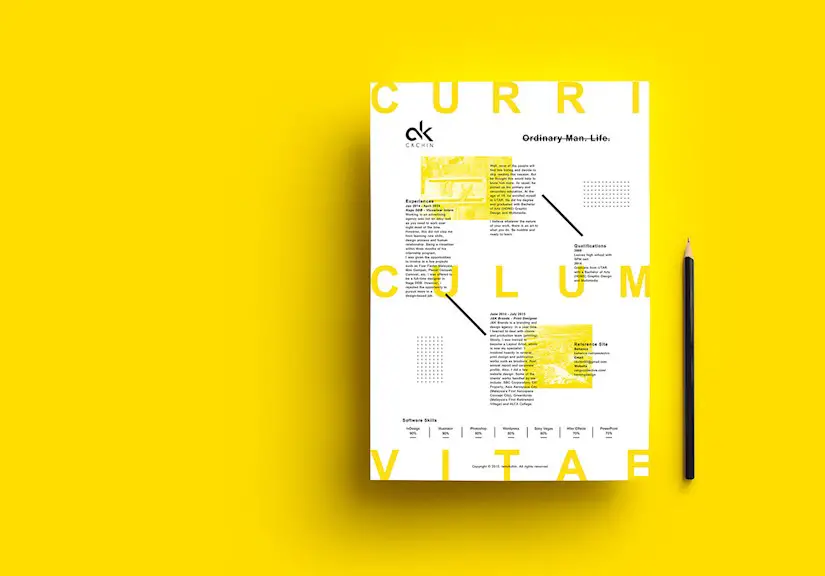 Sometimes, less is more; and this template proves that beyond any doubt.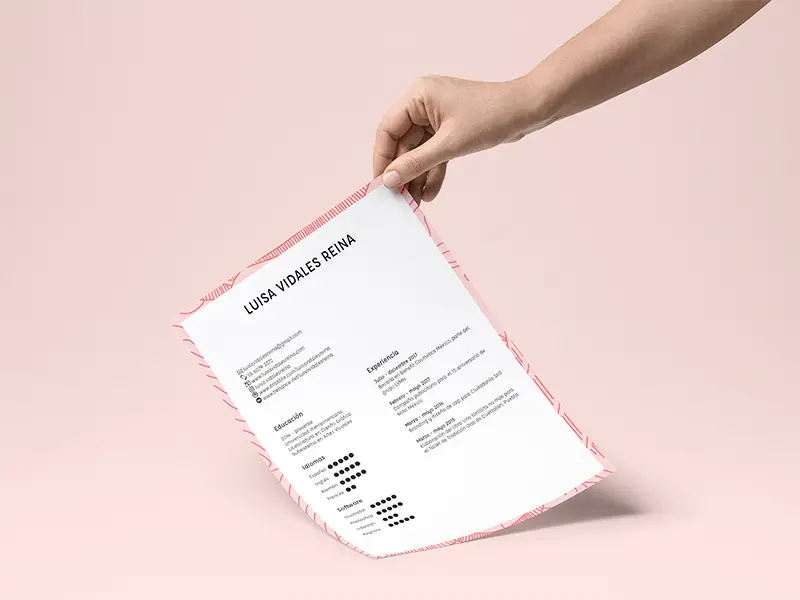 The peculiar header design brings this template to life. Although it is nothing too different from regular resume templates, its versatility complements what it lacks in creativity.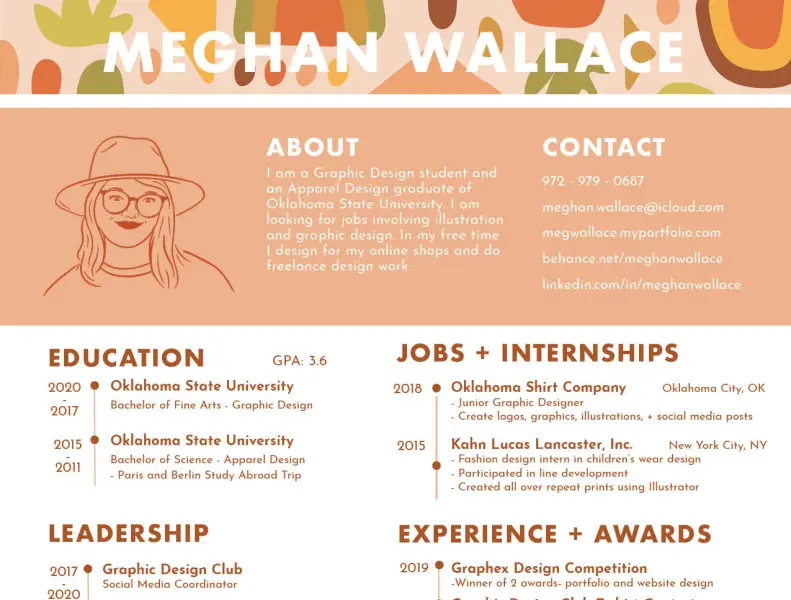 This template comprises of one simple graphic picture. It is quite restricting and may only be suitable for graphic designers.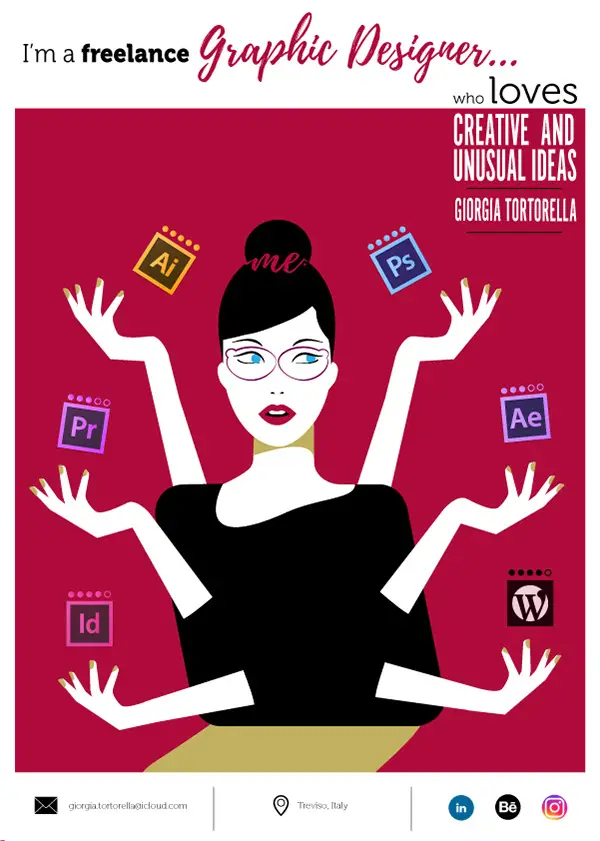 You can never go wrong with a blue and yellow color combo; the colors are awesome. It is a two page resume and it contains all necessary information.

This resume/business card template will be suitable for an individual seeking a career in the fashion industry or a less formal environment. It screams beauty, imagination, and clarity.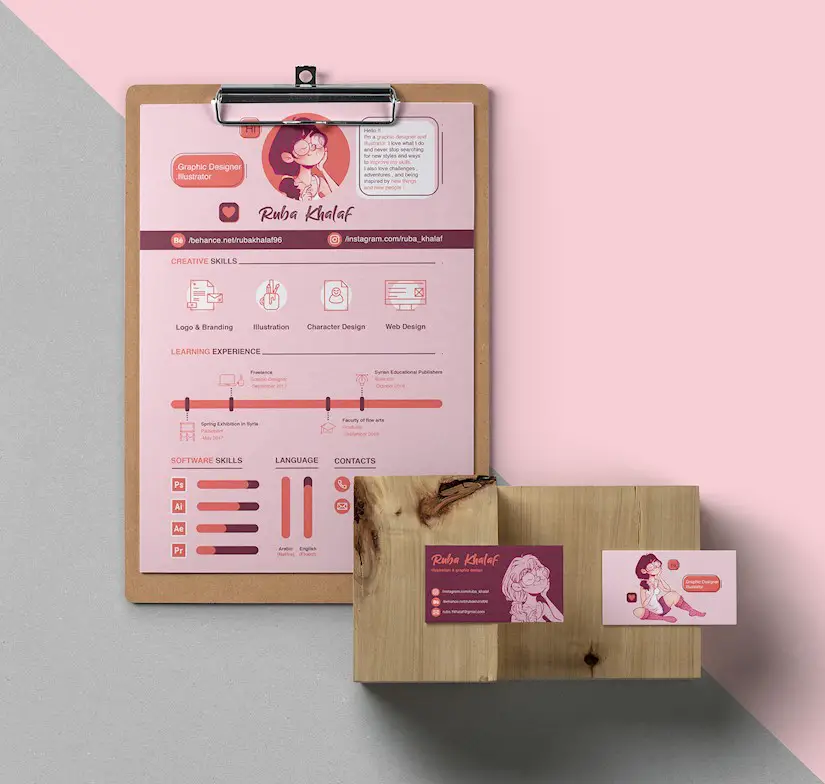 The yellow color used in this design is quite stunning. The template comprises a good number of pages, so you have the opportunity to write as much as you desire. It is more suitable for a curriculum vitae (CV).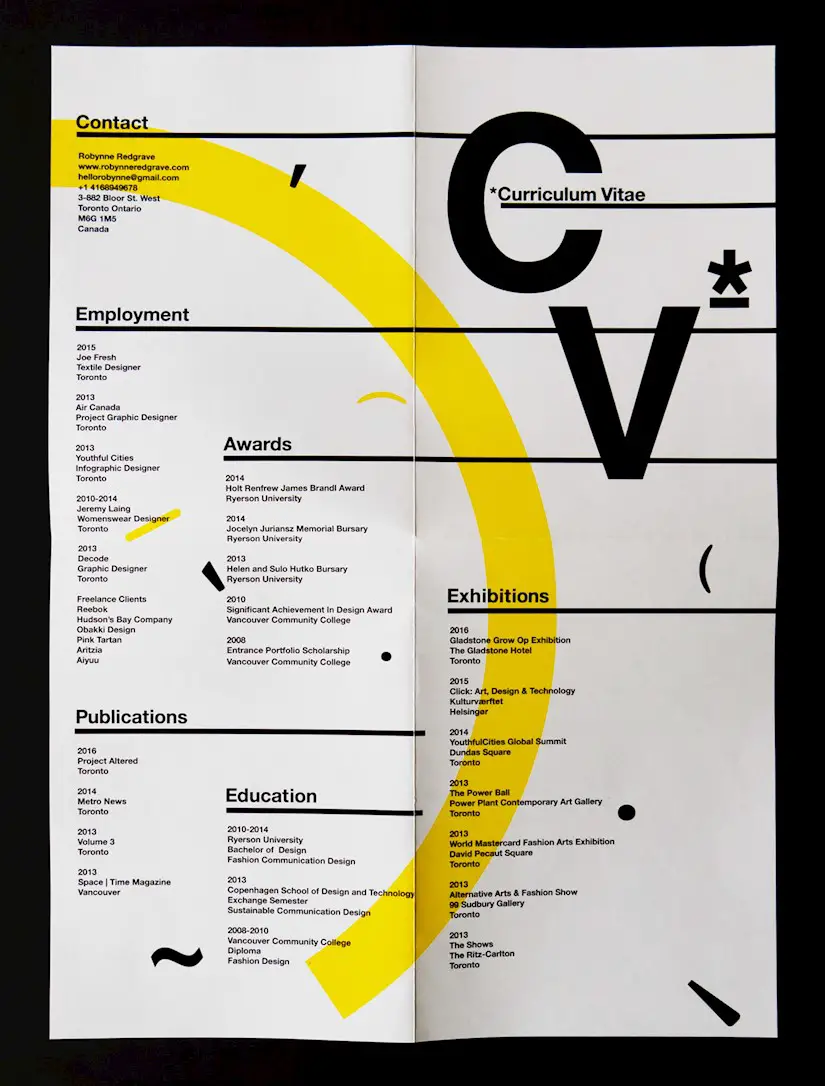 Beautiful animations, perfectly matched colors and a touch of deeply embedded personality are the best ways to describe this template. The font style and size are polished and modern looking.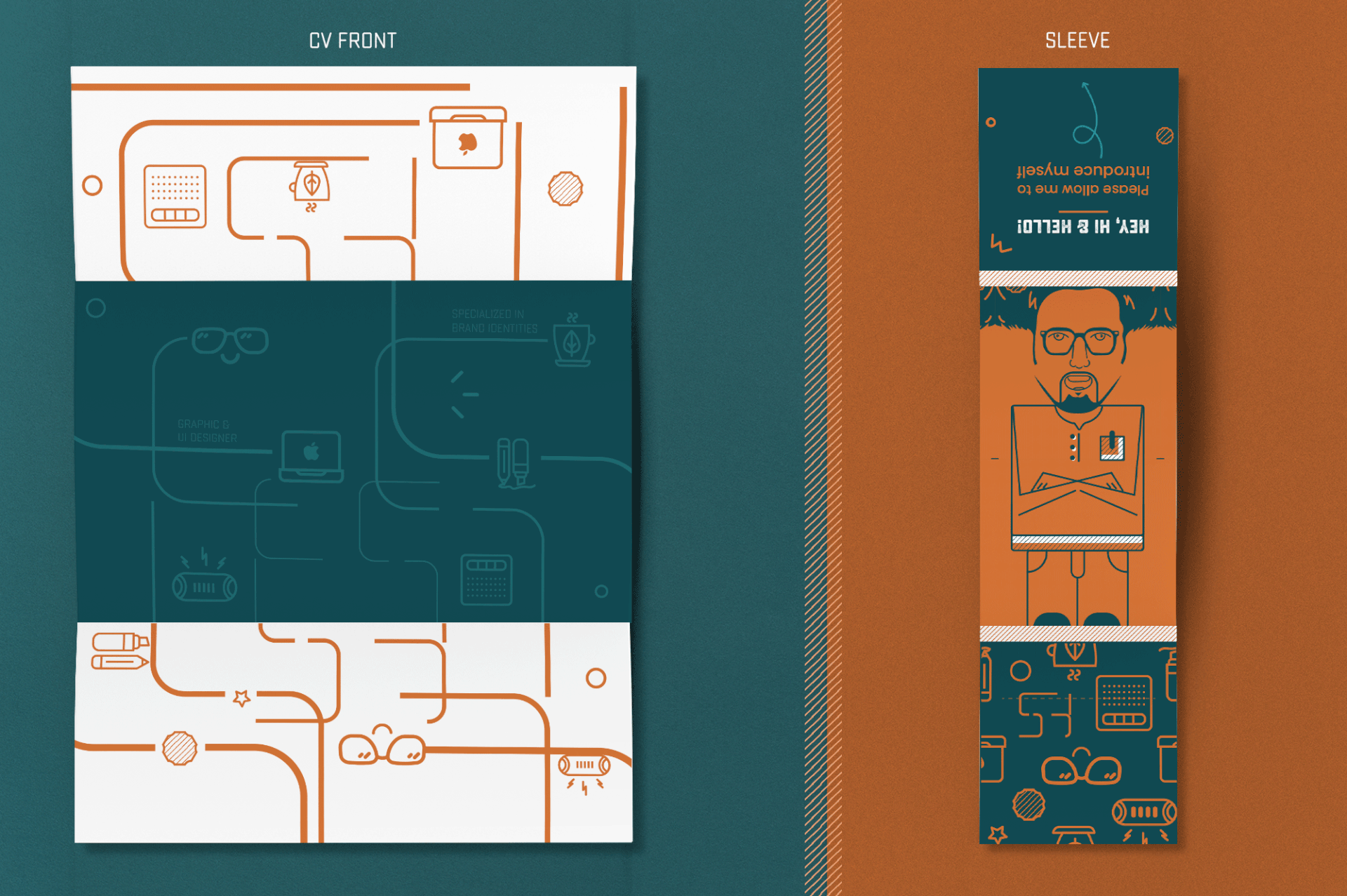 If you want to write a resume in Portuguese, this should be your go-to template. It contains all the attributes of a traditional resume.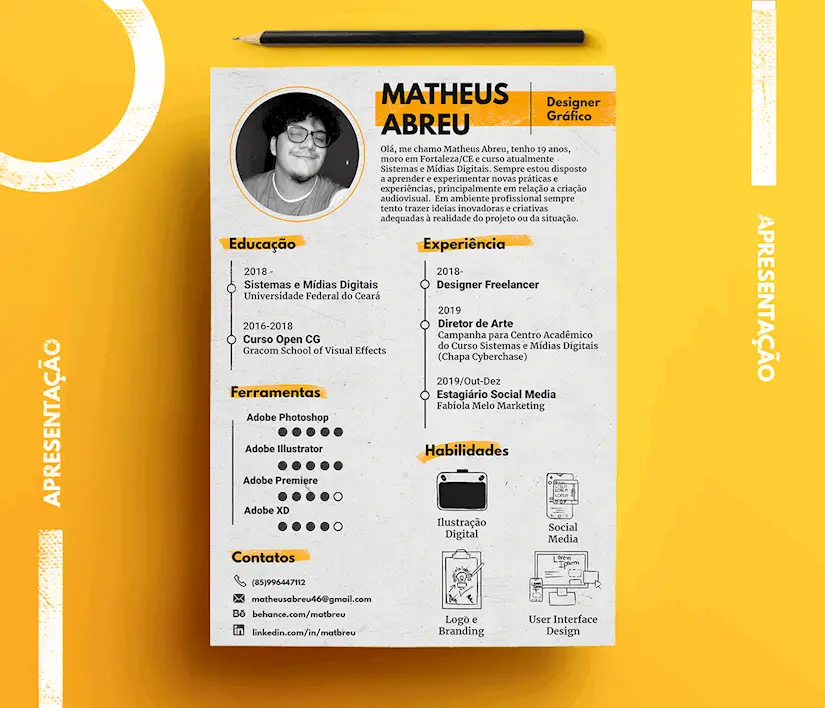 The designer of this template obviously put in a lot of work. It is expansive and well ordered.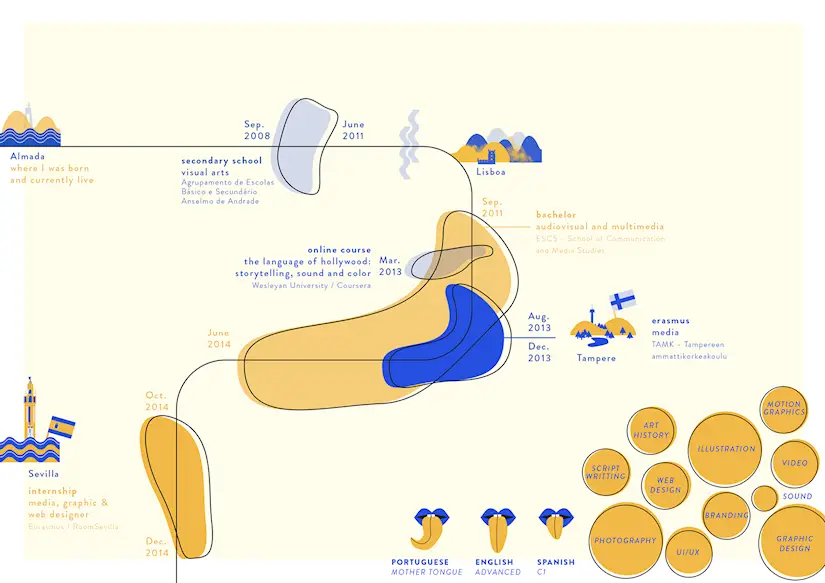 There is no better way to give life to any written document than adding pictures and illustrations; and this is the attribute that makes this particular template exceptional. It is also extensive and appropriately structured.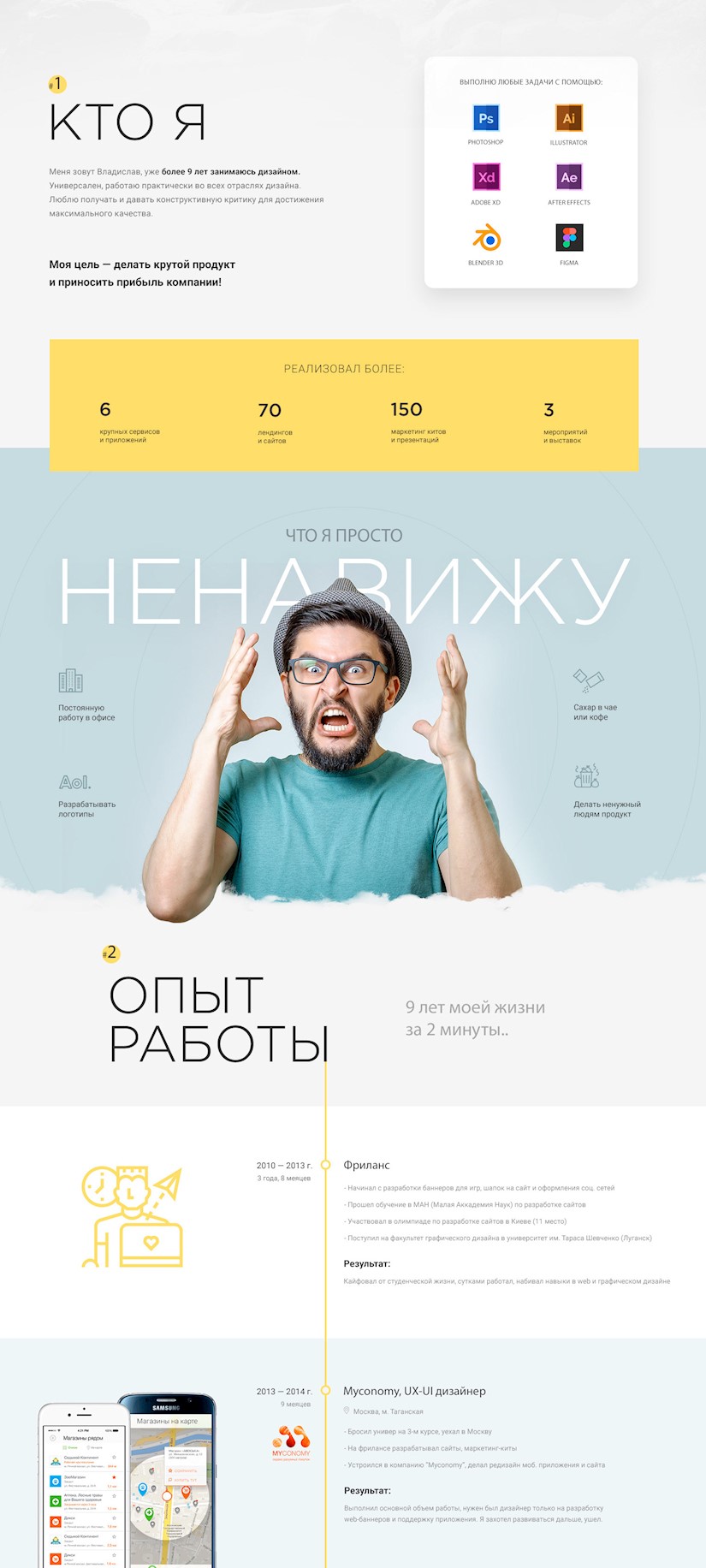 Nice personal portfolio and branding concept. It comprises of just one page that contains all required data.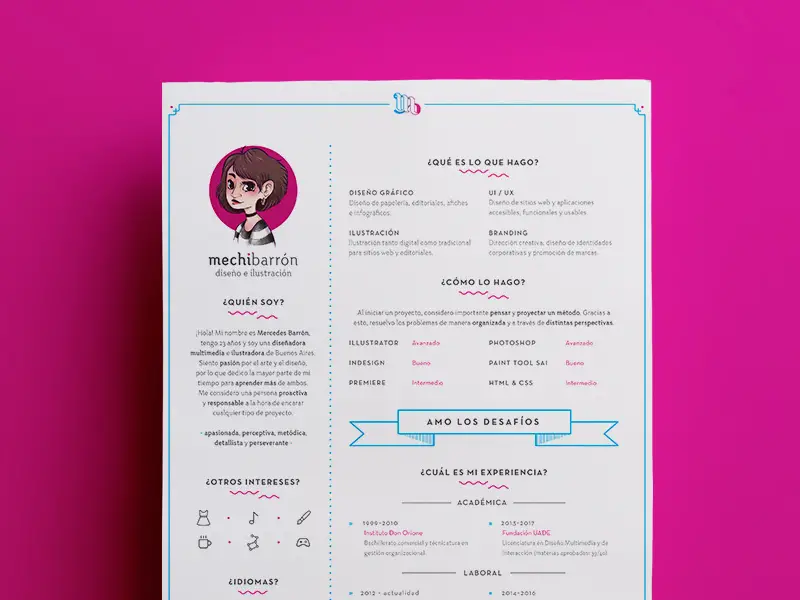 On a scale of 1 to 10, I'll rate this template a 50. The designer sure didn't spare anything on it. Creative, beautiful and properly arranged.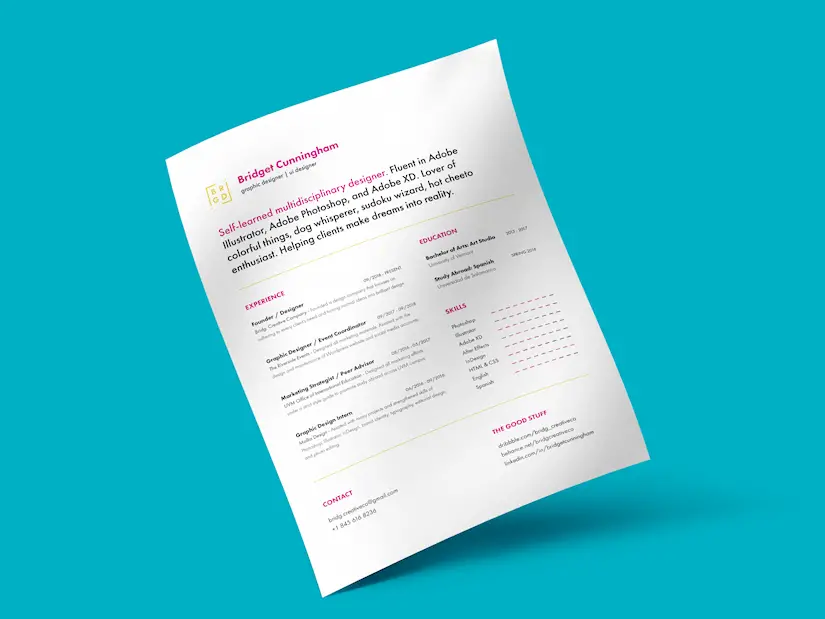 This template is similar to the regular traditional CV. It contains all the necessary headings and descriptions.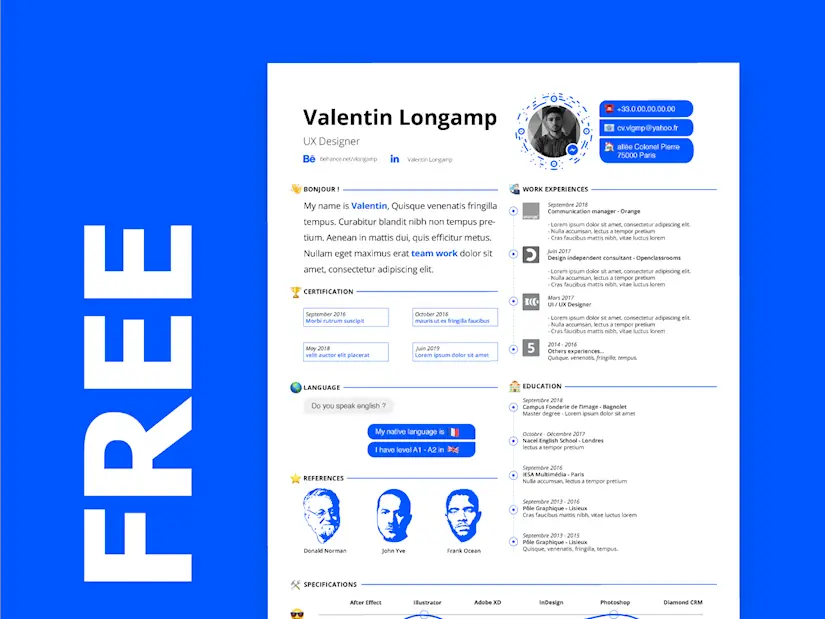 You can't help but love this beautiful orange-themed resume template. The designer carefully encompassed all required details into a single-page resume. It will be adviceable to present this resume for less formal applications.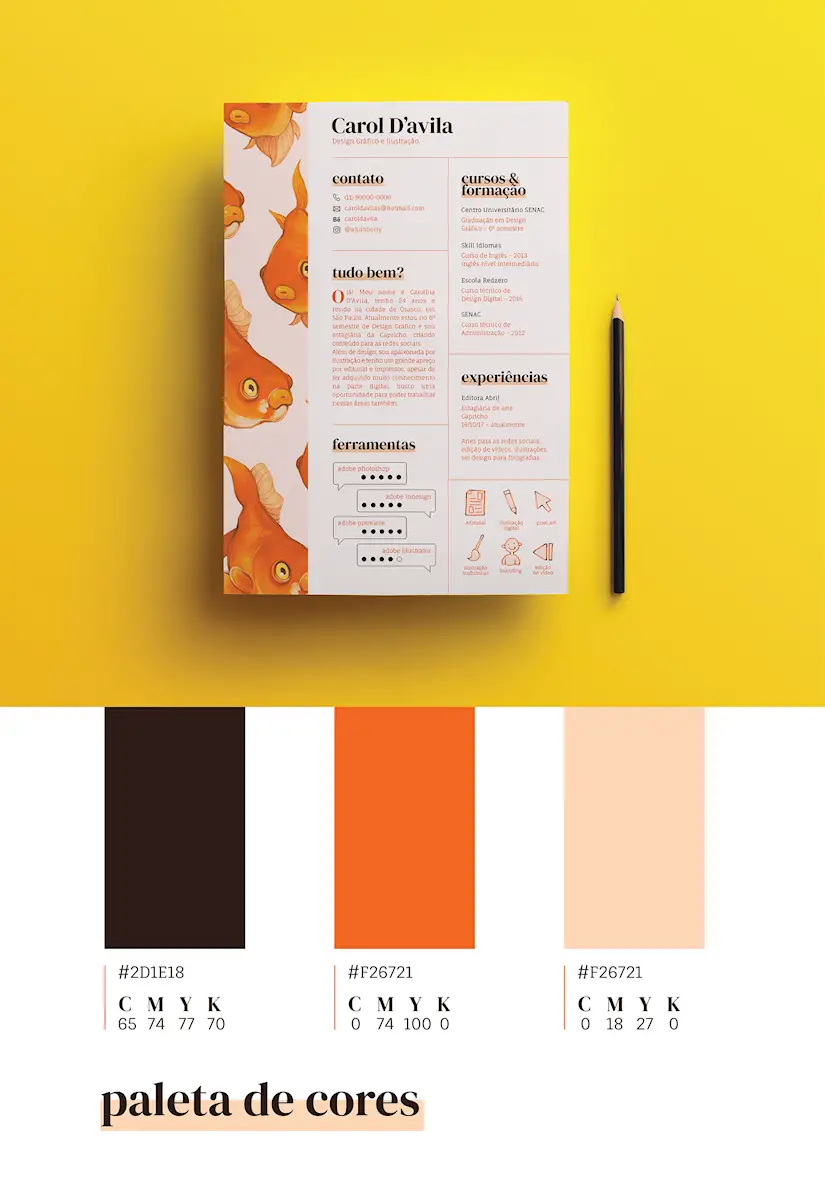 This is a playful and fun-themed resume. A major advantage of this template is that it effectively passes out its intended message while keeping things less serious.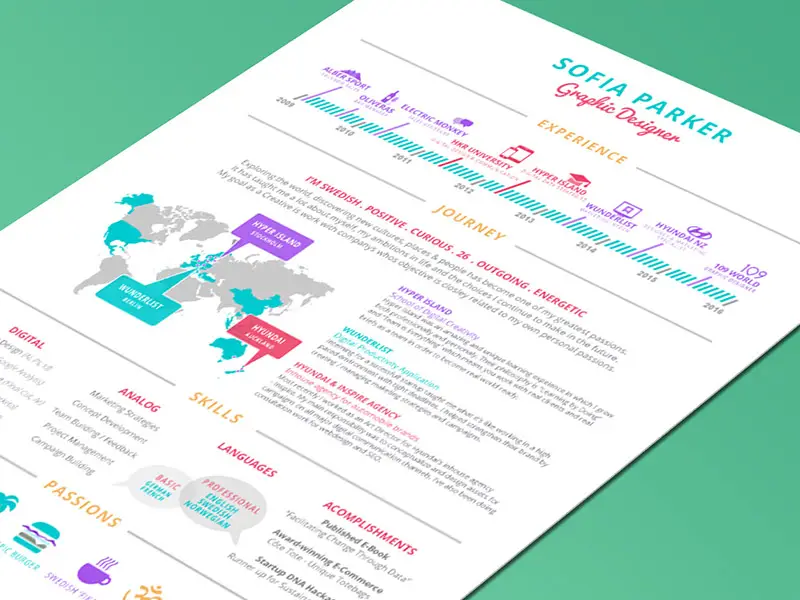 What I appreciate most about this CV is how clean, modern and well-finished it looks. It is one of those resumes you simply can't fault.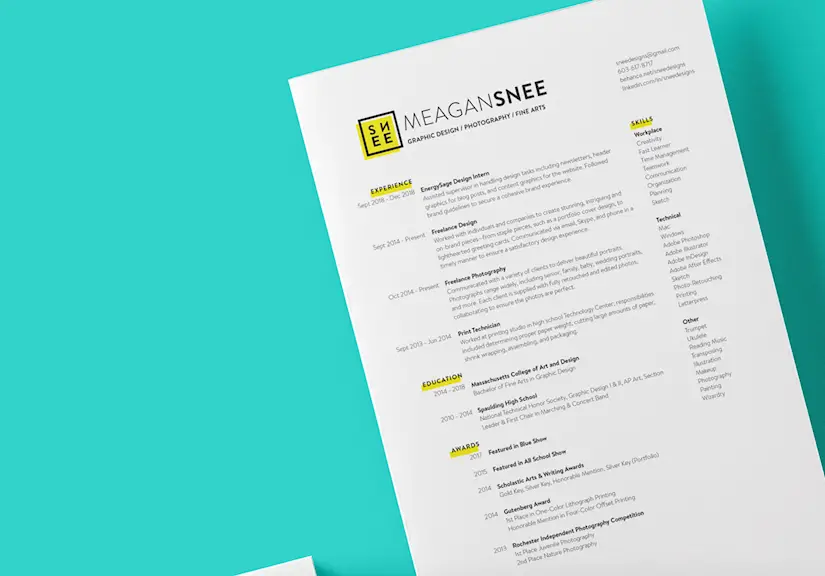 The text above may contain affiliate links that allow me to earn a small commission for every sale I make. It helps me to keep posting free high-quality content on this blog.
By the way, if you've already chosen a template and created your perfect resume, you can find lots of graphic designer vacancies here.