As you know, video content is the latest trend on social media. Of course, everyone can create a video and share it on Instagram, but music definitely makes it more engaging.
In this post, you'll learn how to add music to Instagram post, Stories and Reels in many different ways. So, without further ado, let's get straight to the point!
Where to Find Music for Instagram Videos?
It's pretty obvious, but the iTunes library is one of the best places to find Music for your Instagram posts and Stories. 
You can choose and purchase any song you like to use in your videos. After that, you still need to use a video editor to add the music to your footage or photo background.
1. iTunes Library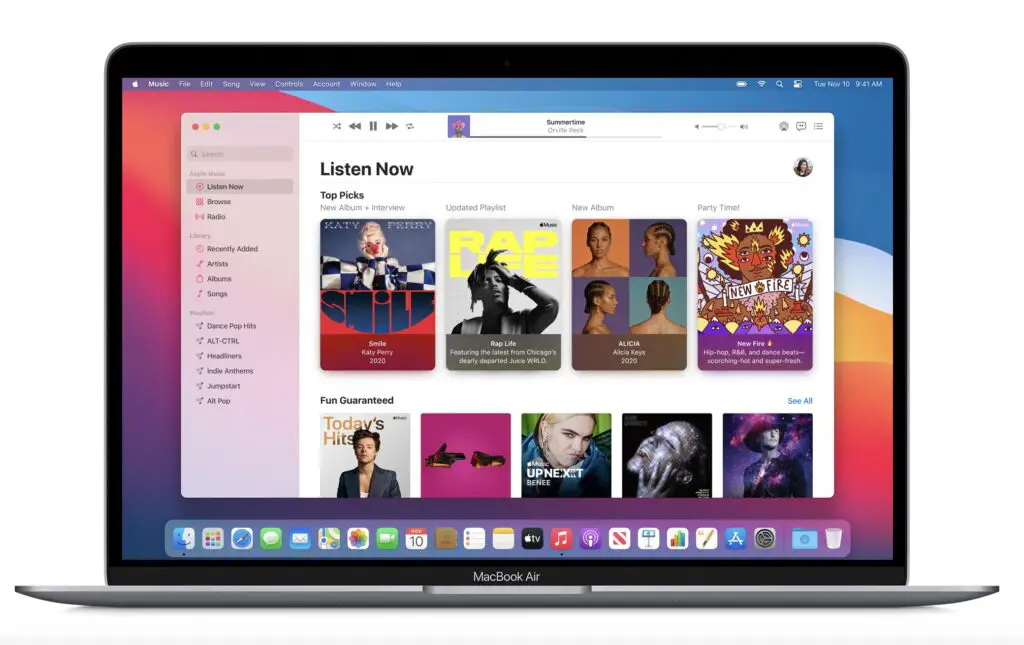 However, purchasing a song on iTunes does not guarantee that Instagram won't ban your Story. Likewise, buying a song does not mean that you have a proper license that allows you to use this track on Instagram. Read the official Instagram guidelines on including music in videos. In a nutshell: 
"​​the greater the number of full-length recorded tracks in a video, the more likely it may be limited."
This means that Instagram recommends using shorter music sounds so that your video is not banned or limited on Instagram.
2. Epidemic Sound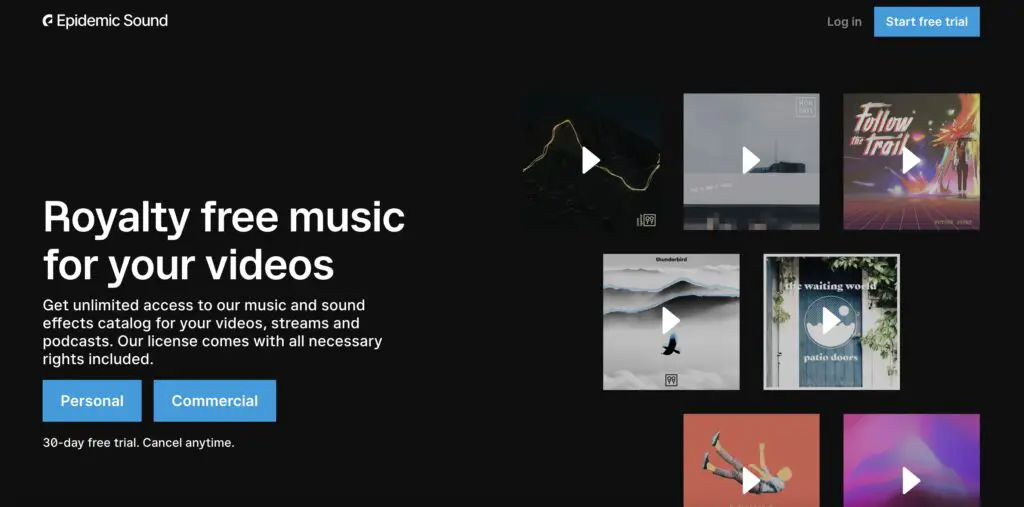 Epidemic sound is a website to find high-quality royalty-free background music for your Instagram videos. They offer a huge library with over 35k songs updated every week. Search the sounds by length, mood, genre, tempos, or vocals. 
3. Audio Jungle
Another great way to find royalty-free Music for Instagram is Audio Jungle up. Starting from $1 for one track, you can purchase a song to use on Stories or Reels.
We recommend using the official Instagram Music library and picking songs for your Stories and Reels. This way guarantees that your video won't be banned, along with using royalty-free sounds.
How to Add Music to Instagram Post?
Unlike Stories and Reels, Instagram does NOT offer you an official way to add Music to Instagram posts. 
You are allowed to add Music to Stories, Reels, and long IGTV videos, but not posts. Your Reels will appear on your profile feed, but this is not the actual post. Instagram posts are meant to be photos with captions but without music.
How to Add music to an Instagram Post Using InShot?
You can still post videos with Music to Reels and Stories. However, one of the easiest ways to add a song to the video background is using third-party apps. I prefer using one of the best free video editing apps, InShot. 
It's a helpful app that will help you create videos, trim and merge footage, add filters and transitions, and add royalty-free music to your videos. InShot offers a music library with sounds from talented artists from around the globe. This music is royalty-free, and you won't be banned from using these tracks on Instagram.
The Premium version of InShot offers more useful features for advanced video editing. The subscription for InShot costs only $12 per year, but in most cases, the free version is more than enough to cut video or add sounds.
So, how to add music to a video using InShot? Let's do it step-by-step:
Open InShot and click video.
Choose a video you like from your Photo library.
Click on the Music icon at the bottom of the screen.
Here you can pick sound from the InShot library, import your song, or even extract audio from the video. For example, you can download a video from TikTok and extract audio from this video. I know TikTok features a lot of trending sounds that you may want to use.
You can import your Music from Files on your iPhone.
Please, see the screenshots below.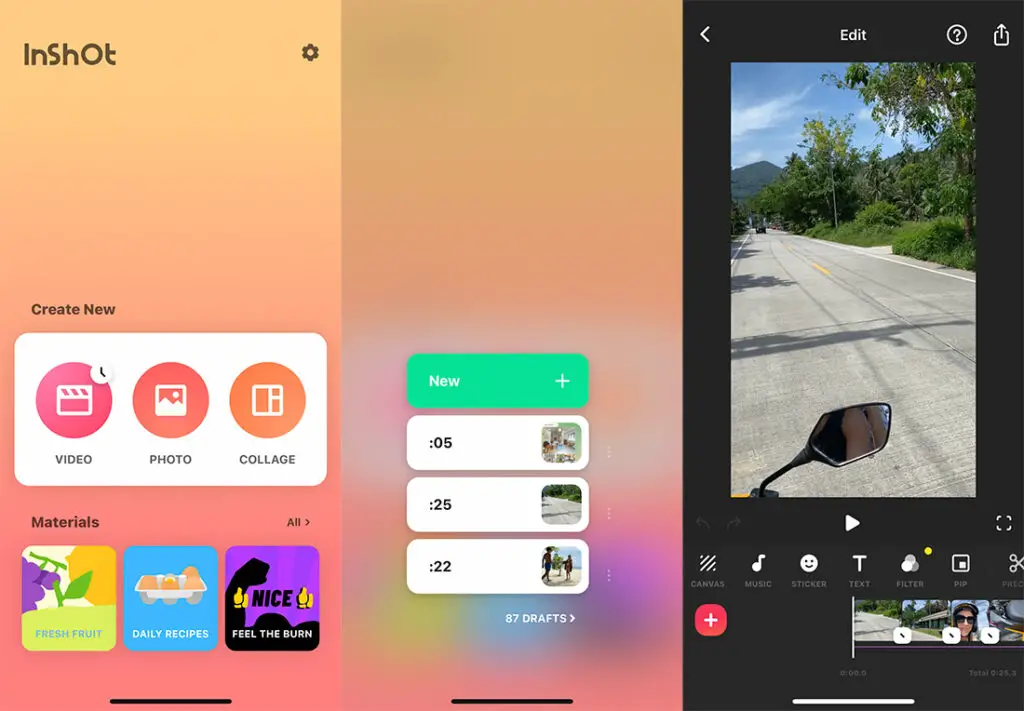 Open video at the InShot app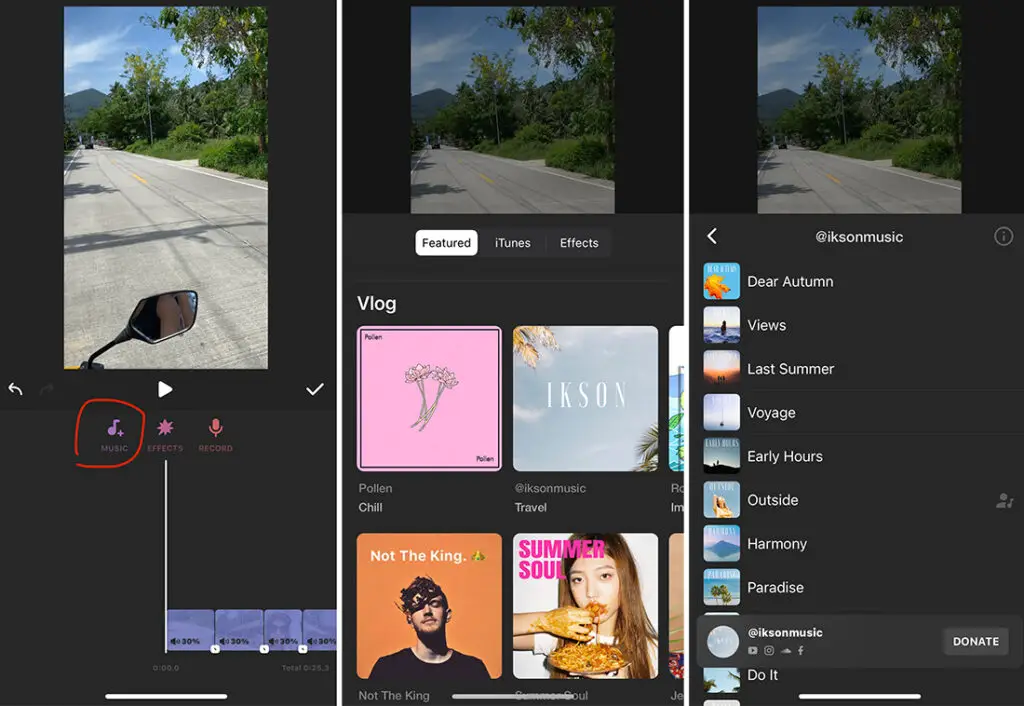 Choose a song you like from the InShot library.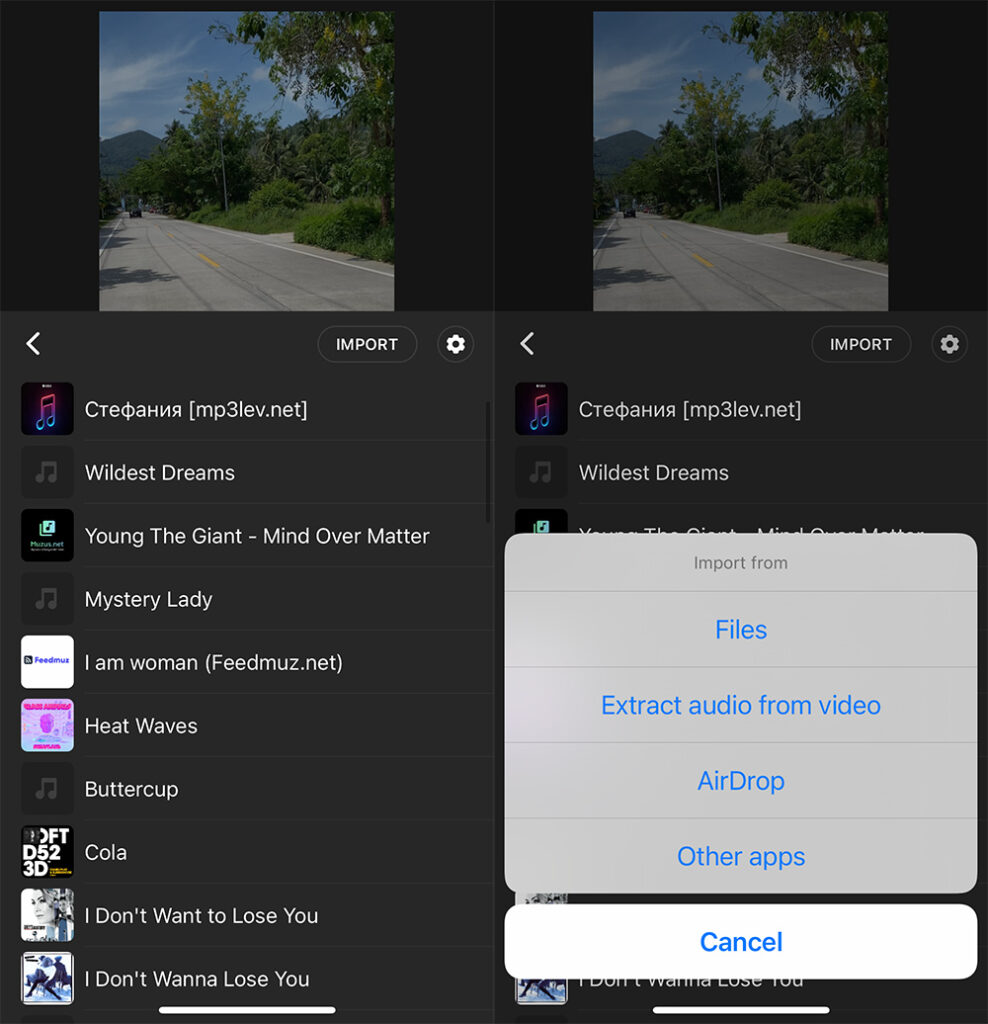 Or you can import your songs from Files on your iPhone or extract audio from a video.
How to post a music video on Instagram from TikTok?
TikTok is one of the most popular videos social media apps out there. If you like any video from TikTok, you can easily download it and post it to Instagram Stories or Reels.
Of course, TikTok protects the rights of its creators, so usually, downloaded videos will include a TikTok watermark with the name of the author. I think it's wonderful, and in most cases, creators want you to know that they made the video.
In any case, let's figure out how to post a video from TikTok on your Instagram:
Open TikTok and find the video you like.
Click on the Share Icon on the right side of the screen.
You'll see a menu that pops up at the bottom. It says you can copy the link, repost the video, make a duet, or save the video to your device. 
Click the Save video icon, and it will be saved directly on your smartphone.
After that, you can publish this video to Stories or Reels on Instagram.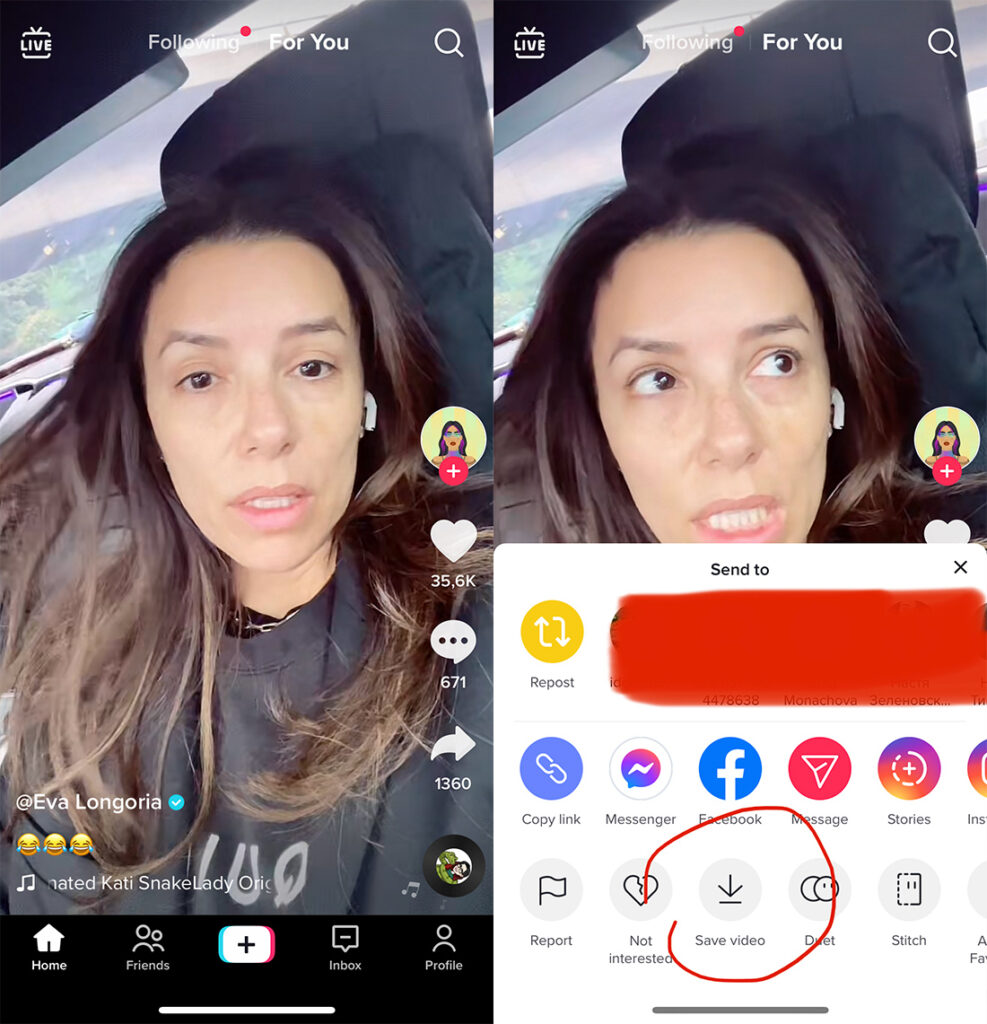 How to Add Music to Instagram Stories
We have already published a detailed guide with five different ways to Add Music to Instagram Stories; please find it here. First, however, I'll describe one of the easiest ways to add music to your Instagram Stories once again. 
Unlike Instagram posts, the app allows you to add music to your Stories right in the app. On the Stories Music feature, you'll find a vast library with millions of songs for any taste. Let's do it step-by-step:
Open Instagram.
Tap + plus icon on top of the screen or slide right.
Swipe up to open your Photo Library.
Please select a video or photo for your Story and upload it.
Click the Sticker button on the top of the screen and find the Music sticker.
Find the song you like from the suggested list or search for the song from the Instagram Music Library.
Choose between different options depending on how you want the song to be displayed: like a sticker with the song's name or lyrics.
Tap Done on the bottom and publish your Instagram Story with Music.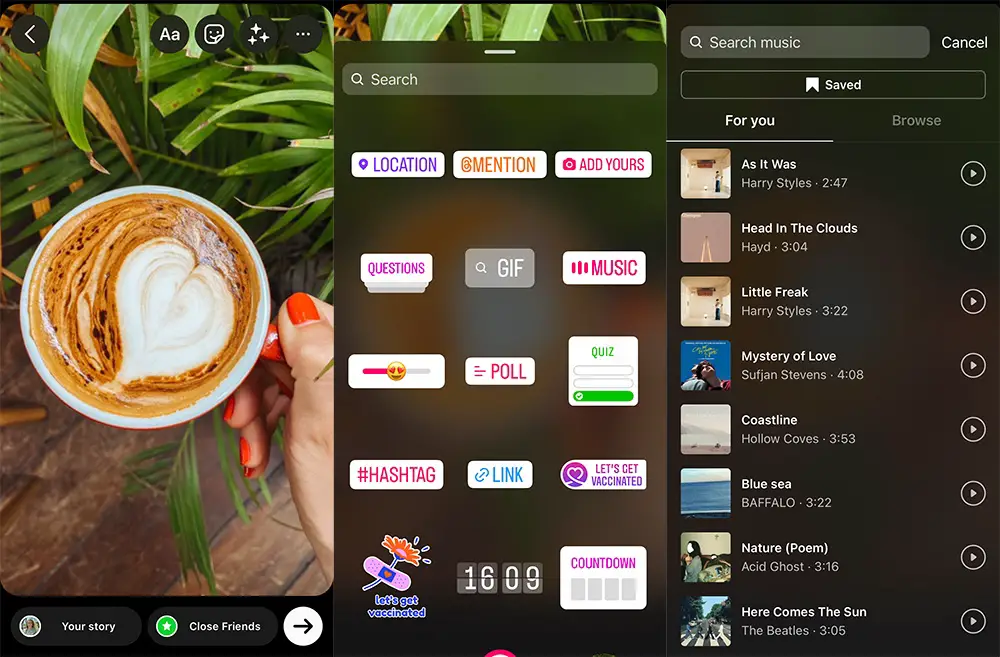 Why Don't I See Music Sticker on Instagram Stories?
Some people can't add music to Instagram Stories and Reels due to the following reasons:
You have limited geo access to this feature. In some countries, the Music sticker feature is not available due to content rights for songs (for example, the Music sticker is not available in Ukraine). That's why you cannot add pieces to Instagram Stories, and you are also not able to hear the music in the Stories of other people from over the globe. You'll see a sticker saying that Instagram Music is unavailable in your region.
Of course, you can use VPN and add Music to Stories. However, people from your following (if they live in the same country as you) will not hear your music, and they would see the same restriction statement.
Old app version. You need to update your Instagram often to use all the cool features Instagram offers. Usually, Instagram is updated automatically if you have a stable internet connection.
How to Add Music to an Instagram Reel Video?
It's pretty straightforward to add music to any Instagram Reel. So let's do it step-by-step together:
Open Instagram and click the + plus icon at the right top of the screen.
Choose a video for Reels and click Add.
Tap Next, and you'll see editing tools.
Click on the Music icon at the top of the screen. It's better to take down the camera sound if you want to add a song because these two sounds will split together and make an awful noise.
After that, click again on the Music button at the bottom and choose a song from the list. You can search any song by name using the search field or import your sound. 
Besides, you can choose a part of the song used in the video. The chorus is the most potent part of any song in most cases. That's it!
Please, see the screenshot below.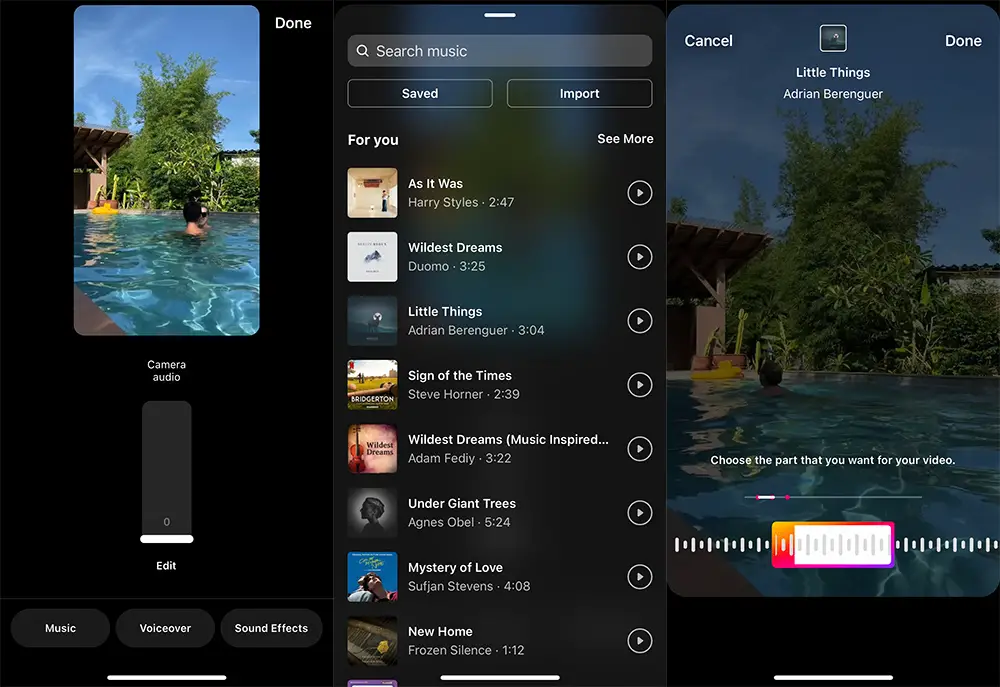 ***
As you see, it's pretty simple to Add Music to Instagram posts, Stories, and Reels.