In this article you'll get to know how to add music to Instagram Stories using Music Sticker, Spotify, Shazam, Soundcloud and InShot. If you undervalue Instagram for your brand promotion, consider that 25% of Generation Z and Millenials already use stories as the search bar for products and services. 
Another reason to use Instagram Stories more often is knowing that their daily watchers compose 500m daily. But how can you make your stories different from the rest of the users? Add music to your photos and videos to make your content stand out!
How to add music to Instagram Stories
Not to be lost in the wilds of Instagram, use these step-by-step guidelines to do it correctly from the first try:
Download or open the Instagram app on your device. 
Go to the 'Story' function and use a camera to make an instant picture or upload the photo/video content you've prepared in advance.
Tap the stickers button at the top of the screen and choose 'Music.'
Pick the song you like from the Instagram music library. Note that your choice will be more limited if you use a business account.
After the song is selected, choose the part of the song you'd like to cut and add to your Story. Remember that you've got a 15-secs limit, so choose it carefully!
Customize the sticker look by tapping it before letting your content go live. 
Add hashtags if necessary.
Tap the 'Your Story' button at the bottom of the screen, and that's it!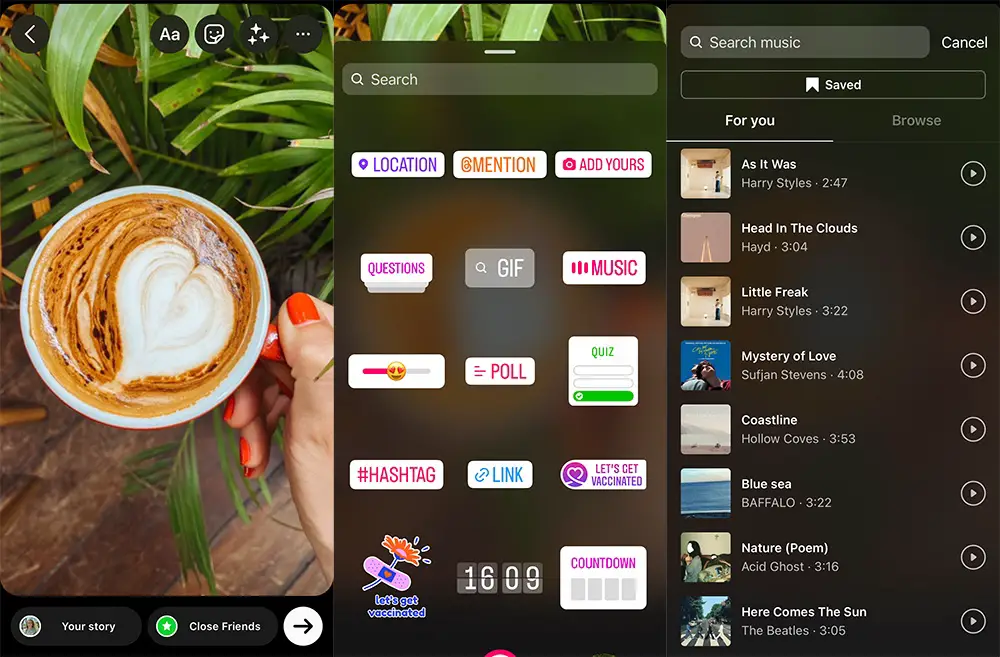 How to Add Music from Spotify App
Connect the app to your Spotify account if you're not happy with the variety of songs in the Instagram music library or can't find a specific track there. With the app, you'll add music to your Story even easier:
Open the Spotify App on your device.
Use the search bar function to find the track you're going to add to the Instagram story.
Click on the 'Share' button and choose the correct sharing method — Instagram Stories Option. 
After this is done, you'll be automatically guided to Instagram, where the selected song will appear in the usual Story window.
The rest is already the well-trodden path for you! If you still need some guidance, check the previous section — steps #5-8.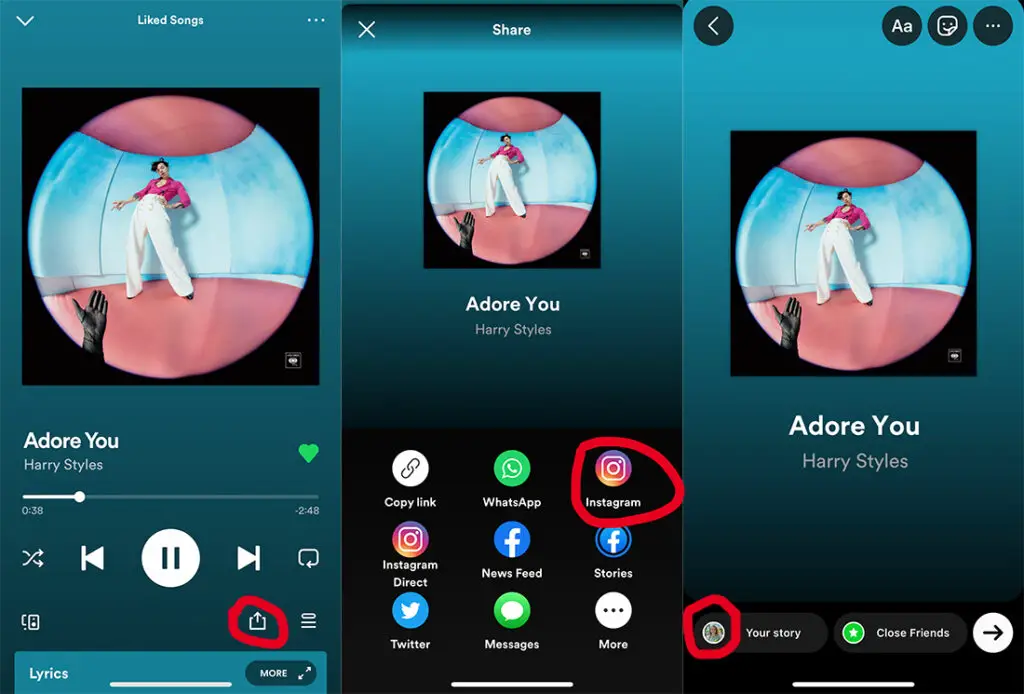 How to Add Music to Stories using InShot
Another popular tool that helps you combine Instagram Stories with music accompaniment is InShot. InShot is more often used for video content and is good at editing and additional effects compared to its alternatives. With this app, your music adding routine will follow the following steps:
Open the InShot app and go straight to the 'Video' function. Tap it.
Choose a video you're going to add sound to from the list.
In the left corner, find and tap the 'Music' button.
Go to 'Tracks' and look at the pieces available.
Open the 'Featured' tab and browse/choose the track from here. It can be easier found if using categories, which work as filters.
Make your song choice and preview it if you wish.
Tap the 'Download Icon' or 'Use' function to add the sound to your video.
If you've got a track to add to the video (not from the app collection), skip steps #4-7 and open 'My Music.' Then tap the 'Use' function.
At this stage, you can either add some effects in the corresponding tab or go further.
To preview all you've done, tap on 'Play' to watch the edits. Go to 'Checkmark' to save your progress if everything is OK.
To confirm the final saving, tap on 'Save' in the upper-right corner. Do it twice for different settings.
Do you see a green circled checkmark? Tap it and share the video on Instagram.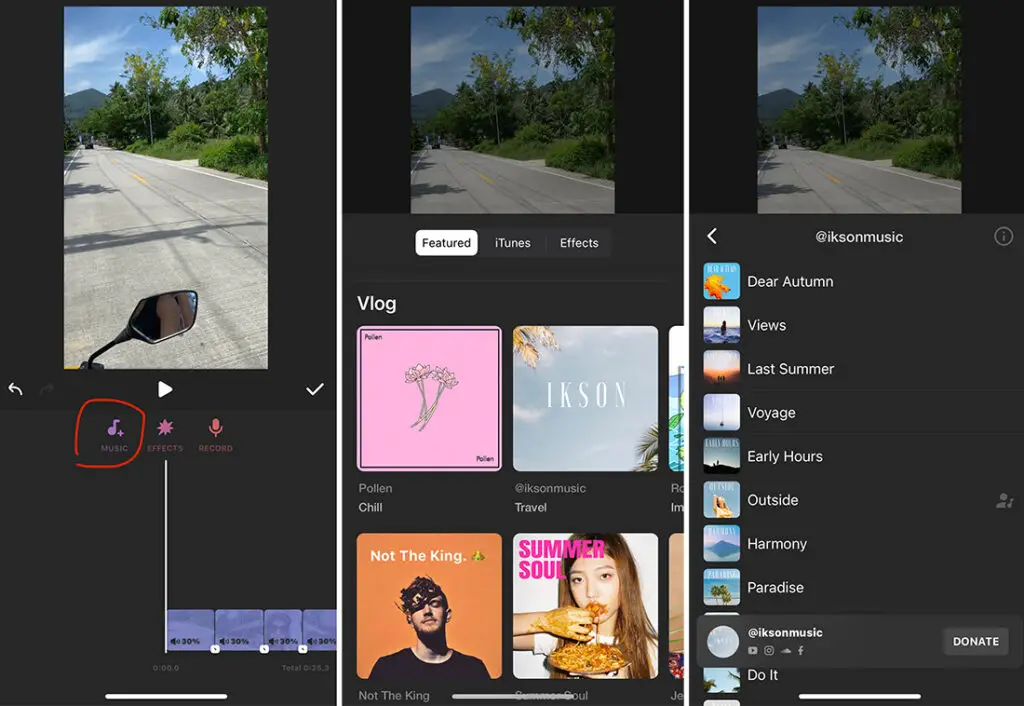 How to Add music to Instagram from Shazam
You already know how it works. The pleasure here is you don't need to beat your brains with recollecting the singer's or band's name or other song's details. Instead, identify the song playing near with the Shazam app and continue with these actions:
If the song is already identified, click on the song in Shazam app. If not, you can also search for the preferred music manually.
Tap the 'Share' icon on top and choose Instagram from the options.
Please choose the option of sharing it with Instagram Stories. In a moment, you'll be redirected to the familiar Stories window with the song attached.
Much better, right? 😉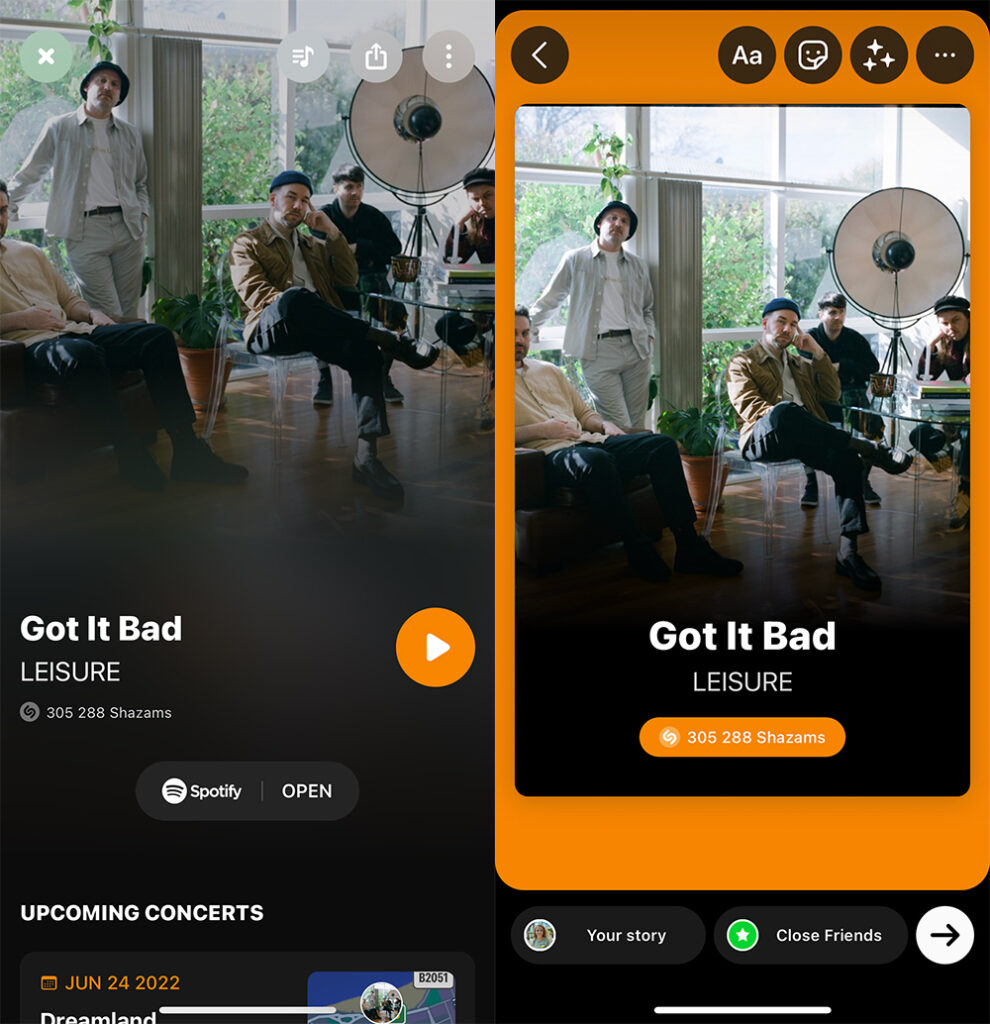 How to add music to Instagram from SoundCloud
Here's one more popular channel for adding music to your Instagram Stories — using SoundCloud. If you use this app regularly, that's your case. Go on then!
As usual, open the SoundCloud app on your phone or other devices.
Choose the song you're planning to insert into your Story. 
Choose the 'Share' icon and select 'Share.' Your followers will find a link to a song on SoundCloud, and we'll be able to listen to it further.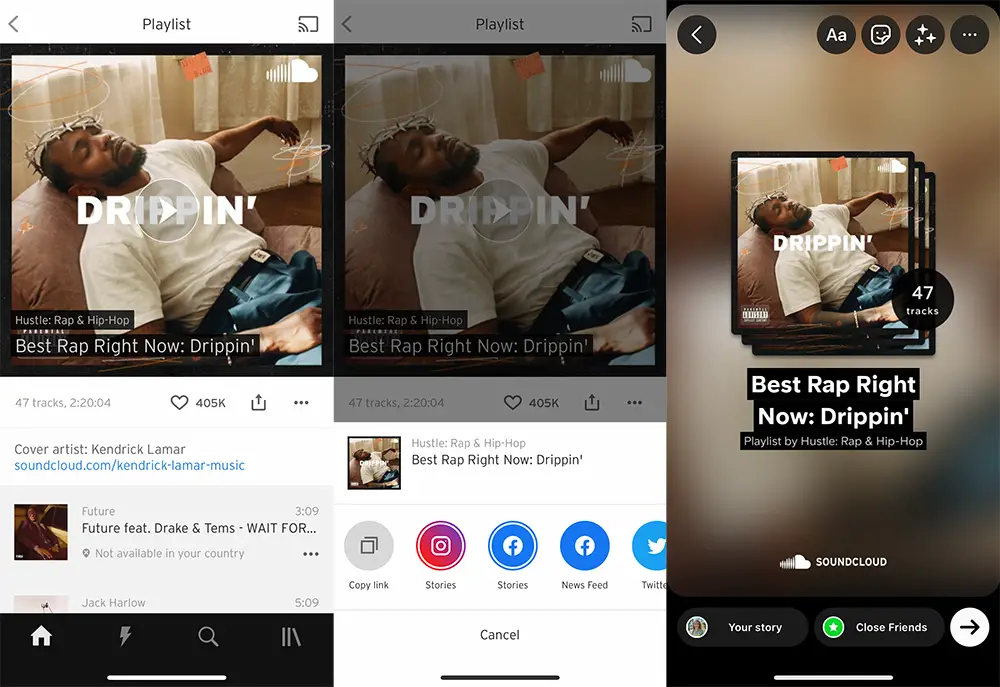 That's all you need to make this magic done! 😉
How to add music lyrics to your Story
Well, that's mostly the case when you prefer the traditional music-uploading function on Instagram. So, let's see how to do it!
Open the Instagram app.
Press the 'Story' icon. It's located at the top-left of the screen.
Swipe up to open your Camera Gallery, or shoot it right now to upload it.
Use the sticker button or swipe up once more.
Tap the 'Music' button.
Find the song you need.
Click on it to add it to your Story.
Choose the font you like the most.
Press 'Done.'
Tap the 'Your Story' button to publish the lyrics in your Instagram Story.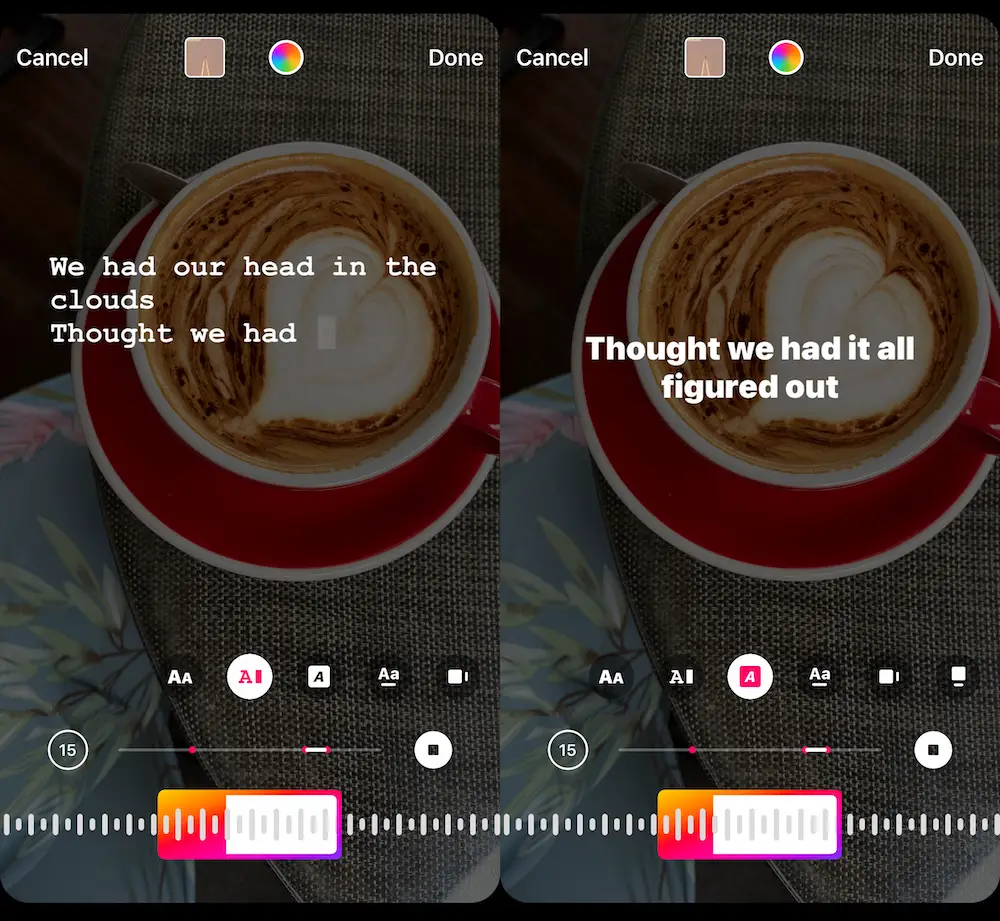 Why Can't I Add Music to My Instagram Stories?
Sometimes, you may fail to add music to your Instagram Stories. Why? There can be several reasons for that:
You have limited geo access to this function. Unfortunately, the option isn't available to all, so better check whether your country is on the list. Rules are often changing, you know.
Outdated app version. This one can be easily fixed on your side. Just update your app on AppStore or PlayMarket. Check it out after it's ready!
Usage of business account. For brands not to overdo it with their marketing on Instagram, the social media platform restricts its music-adding function to a great extent.
Your content is identified as an ad. If you need to publish branded content here, abandon the use of music, emojis, stickers, and GIFs. Rules are rules.
Bonus Tips
Mark your content with the "Sound On" for your followers to turn the sound on.
Try different methods of adding music to your Instagram Stories, analyze watching statistics, and see what works better for your community in terms of engagement.
Find what resonates with your audience and adjust your Instagram Stories content strategy.
Use extra perks to make your stories more engaging: polls, question stickers, hashtags, or filters.
Try Stories with music for different kinds of content: how-to videos, out-of-work routine scenes, and product introductions.
Don't be afraid of experimenting while adding music to your Instagram Stories! This way, you'll know what works the best for your followers. Good luck!