Do you wish to boost the revenue of the business you own? Lead generation is critical for businesses looking to increase their revenue. But how do you do this?
You can, indeed, promote your brand to your preferred customers. You can send cold emails to customers who may use your services. You might also use social networking sites and hope for the best. But that's merely hectic work. You'll soon realize they are just the kind of activity that consumes your time but doesn't really help your business grow.
Finding potential customers or "leads" for your company is tricky. In fact, it needs a carefully developed strategy and successful execution of the same.
You have to figure out your target market, efficiently promote your brand, and deliver helpful, engaging material for your target audience.
This is a lot to take on. But are you aware that paperless business software can significantly help you with this task?
In this blog, you'll find out how. So, read on to learn the ultimate trick to increase your sales leads and boost your revenue.
What is Lead Generation?
Before you try to understand the role of paperless business software in lead generation, let's clarify the basics to better understand things. So, what is lead generation, and why is it important to your business?
Simply put, a sales lead is anyone (business or individual) showing interest in your product or services. In other words, if you find anyone who might be interested in buying from you, that is a potential lead. Lead generation, therefore, is the process of generating interest among potential buyers. 
In other words, lead generation is the method of gathering potential customers' contact details for your company. 
Customers are the foundation of any business; therefore, lead generation is critical. Even if you have fantastic products or services that no one else does, your brand can't survive without customers. They are the ones that bring in sales and revenue, which ensures a company's survival.
Lead generation allows you to learn what prospective customers want and then use that knowledge to meet their demands. It is easier to work toward achieving sales objectives if you have a sales pipeline filled with leads. 
This is relevant for all sorts of businesses. But when it comes to field service, the stakes are even higher. Lead generation builds visibility, credibility, and reliability—things that are indispensable to building a successful service brand.
By investing in lead generation, a service-based business can drive traffic from high-quality prospects, which can then turn into high-value customers. Besides, you don't have tangible products to build customer trust as a service business. Therefore, you must strive to generate leads if you want your business to sustain, thrive, and stand out in the crowd.
What is Paperless Business Software?
Paperless business software is a cloud-based software solution that enables organizations to automate and streamline their processes. Because it is cloud-based, this solution eliminates the need for actual paper-based records and manual processes in many workflows, such as work order management, estimating, accounting, invoicing, inventory, and document management. 
This software allows you to generate digital documents and then save, categorize, and access them as needed.
They not only minimize paper consumption and space requirements for storage, but they also considerably limit the possibility of human error. More importantly, these applications allow for and empower remote data access, improving collaboration among various teams in and out of the office.
How Does Paperless Business Software Help in Lead Generation?
Paperless business software systems are powered by advanced technology like cloud storage, AI, machine learning, and more.
Naturally, they are packed with amazing features that can enhance your operational efficiency significantly. And some of these features are really helpful when it comes to lead generation. Let's have a look at some of the most promising aspects.
Email Marketing
Email marketing is one of the most effective ways to generate high-value leads in field service. To leverage this marketing approach, companies need to gather contact information from hundreds of potential customers, sort it,  craft an email, and send it out to each of the customers manually. It is not only an arduous task but also time-consuming.
However, if you use paperless business software that has an integrated email marketing feature, you can simply automate this process.
By automating email marketing, the system will send out a predefined email to customers at designated times or after they take specific actions.
Referrals
Aside from email marketing, getting referrals from your existing customers is also a great way to generate more leads. And you can automate the same with paperless business software as well.
Some of these software systems offer this feature, allowing you to collect referrals from your clients in the field.
Some of them allow you to attach a feedback form to the invoice they generate and gather customer information and feedback. You can then use it for promotional purposes on your website as well as on social media. 
Estimates
Perhaps the most effective way to generate leads and turn potential leads into paying customers is to provide an accurate estimate of the service they are looking for.
However, if you are doing things manually, it will be hard for you to track every interest, collect their information, and offer them a price immediately.
You will need some time to do all these things before you can offer them a deal they can't refuse.
If you are using paperless business software, you have access to flawless estimates that you can create with just a click on your laptop and send immediately to the lead.
This way, you can make them book your services and pay, even before your competitors can come up with a quote.
Online Booking
Most paperless field service software applications offer an online booking feature. With this feature, any potential customer can directly request your services from your website. Once they do, it will automatically create a work order and confirm the booking.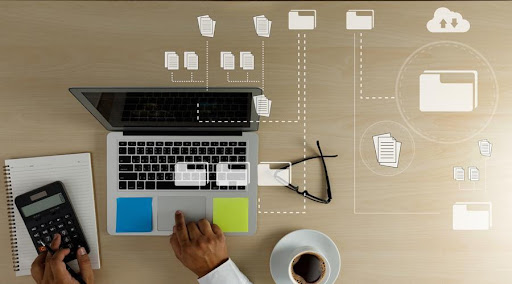 Even if they ask for a quote, you can send them an estimate, and they can approve it online, confirming the booking—all on the same platform. 
Adding Items to the Invoice
Another great way to generate more sales in field service is to upsell more services or items to the customer. And that can be best done by your field technicians. But often, this cannot be done on the spot because adding the extra items to the final invoice is difficult.
The technician will have to report it back to the office, and the executive/manager will have to modify the invoice (or create a new one) and send it again to the customer for approval before payment.
During all this, the customer might lose interest or prefer to stick to the original plan to get the job done as soon as possible. However, if your technicians have access to a field service mobile app, they can add items and parts to the final invoice on the spot and send it to the customer directly.
Final Thoughts
The advent of automation has radically transformed the field service industry. It has made an extraordinary impact on almost every aspect of the business, making it easier for you to make the most of your resources.
You are gravely mistaken if you think a paperless business software solution is just about digitizing your documents and using computers to manage business operations. You can potentially enhance every process and boost productivity with this.
As evident from the discussion above, automating your processes can give you a plethora of benefits, including generating more sales leads and boosting your revenue.
So, if this is something you want for your business, make sure you sign up for a paperless business solution at the earliest.