Welcome to the world of habit tracking! When it comes to building and sustaining healthy habits, having an organized and well-maintained system is key.
Studies have shown that visual reminders are crucial for successful habit formation — so why not use free printable habit trackers as your tools? Here, we provide you with 21 free habit trackers that will help make the journey easier.
Each can be used uniquely to keep tabs on all the new behaviors you're trying out — from eating healthy meals to meditating regularly. So let's get started!
What is a Habit Tracker?
A habit tracker is a really helpful tool that allows you to monitor and quantify your daily habits, from brushing your teeth to working out.
By tracking your habits, you can identify which ones are producing desired results for you, and which ones are not. As regulating habits can be difficult, a habit tracker helps to break activities down into achievable mini targets, making it easier to stay focused on building them up over time.
Furthermore, it provides an overall sense of accomplishment as each habit is "checked off" when completed – it's a great way for those of us who like to give ourselves regular rewards and celebrate the little victories!
People commonly see trackers as bullet journals, where it is necessary to note every new routine or practice. However, today, you can get many printable habit calendars for free.
Print an appropriate habit tracker, record a habit you want to stick to, and note your activity every day. This will help you to monitor your progress and turn concrete practice into your daily routine. 
The most common way to track habits is by placing an X on a particular column. Some people also like to shade in the cells of the habit tracker or fill it with dots. Choose one method or get your way to spice up your habit tracker to look more personified and unique.
What Should Be in a Habit Tracker? 35 Habit Ideas
If you still haven't decided what habits you want to build, here are the ideas you might like:
Daily workout.
Water consumption.
Practice your hobby.
Meditate for 15 minutes every day.
Take vitamins or medication.
Call a family member.
Go for a walk in the park.
Read 20 pages of a book.
Go to bed on time.
Wake up on time.
No caffeine.
Fill out the gratitude log.
Wear sunscreen.
Eat a portion of salad daily.
No soda and junk food.
Drink tea or coffee without sugar.
Walk 10,000 steps.
Attend a social event.
Catch up with a friend.
Learn 10 new words in a foreign language.
Clear inboxes.
Hyperfocus on a working task for 2 hours.
Do a morning beauty routine.
No social media in the morning.
Keep your workspace tidy.
Lessen online purchases.
Review daily spending.
Do something just for you.
Spend less than budget.
Listen to a podcast.
Floss your teeth after a meal.
Do 30 minutes of yoga.
No screens after 8 PM.
Organize date night.
Do a family activity.
You can also separate your goals into several sections like:
common weekly habits;
monthly habits;
weekly & monthly reviews;
habits of avoidance, etc.
Feel free to borrow and adapt some of these ideas for your habit tracker. Once you understand the thing becomes your routine, you can change it into another practice.
Why Should I Track Daily?
As you can see, it is possible to come up with a ton of things you can track in your journal or calendar. However, there is one rule you should follow to take benefit of their practice.
Fill out your tracker every day to follow up on your success and stay motivated.
Don't try to memorize the things you were able to do within the day. Mark every habit in your tracker using different colors, create beautifully lettered headers, highlight days of the week, and circle specific dates to brighten this routine and turn it into a ritual.
How Many Habits Can You Start At Once?
If you feel like you want to stick with half of the listed habits as a minimum, it doesn't mean you should track them all at once. Keep in mind that if you try to follow too many things simultaneously, there are 95% you won't stick with your habit tracker.
Therefore, defining a substantial amount of tasks you want to practice daily is crucial.
Stick to just 2-5 habits to start with, and slowly raise their number once you get used to using your habit tracker. Soon, you will be able to add new routines and fill them out without any delays. 
Do Habit Trackers Work?
Although some people consider habit trackers don't work, there are numerous examples that confirm this way is genuinely effective.
Here are the three main reasons why habit tracking works:
it becomes your visual cue and reminds you to stick with your habits;
it motivates you to go on ahead despite circumstances and simple laziness; 
it provides you immediate satisfaction from implementing your daily activities.
Besides, habit tracking can help you enjoy new things as you focus on the process rather than the result. With a habit tracker or calendar, you won't fixate on getting six-pack abs or start tightening your belts to save budget no matter what.
You're just trying to change your way of life and simply stop being someone who misses workouts or spends money like water.
Free Printable Habit Trackers
---
Beige minimalist habit tracker planner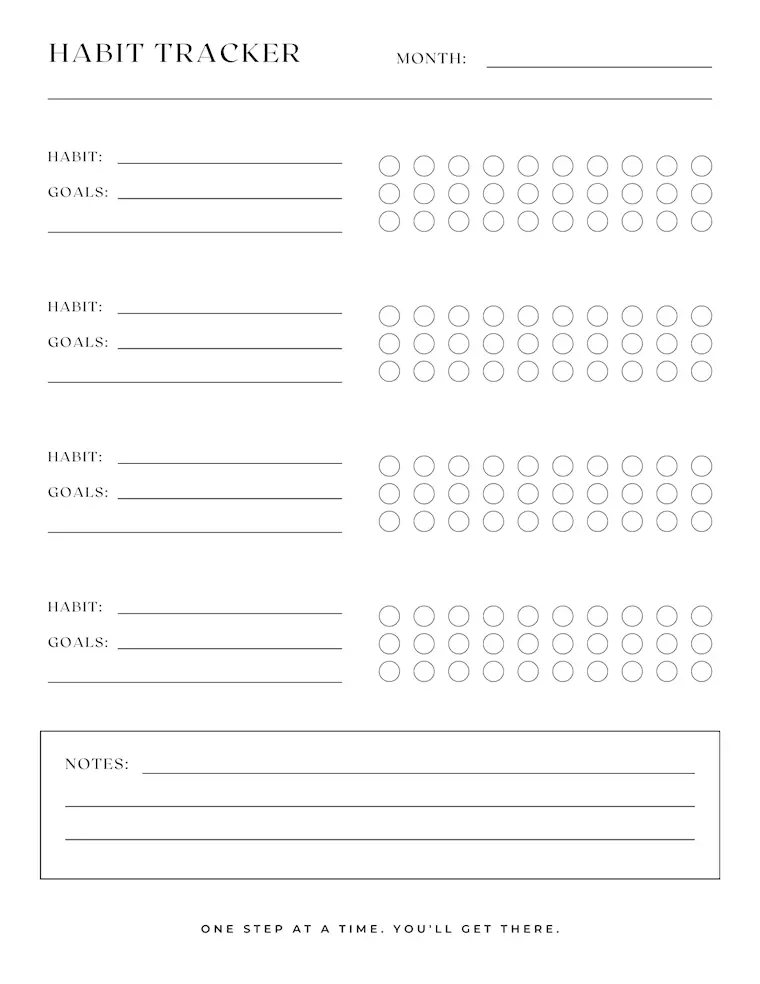 Elegant Habit Tracker Sheet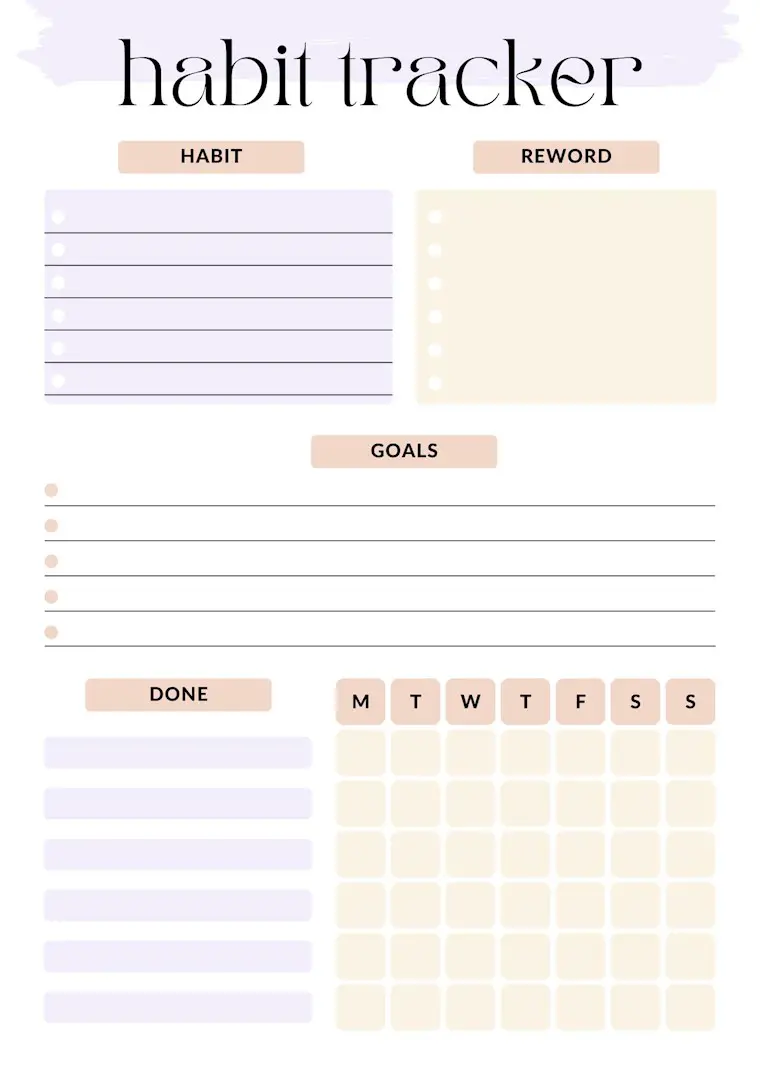 Green Pink Pastel Boho Daily Habit Tracker Page Planner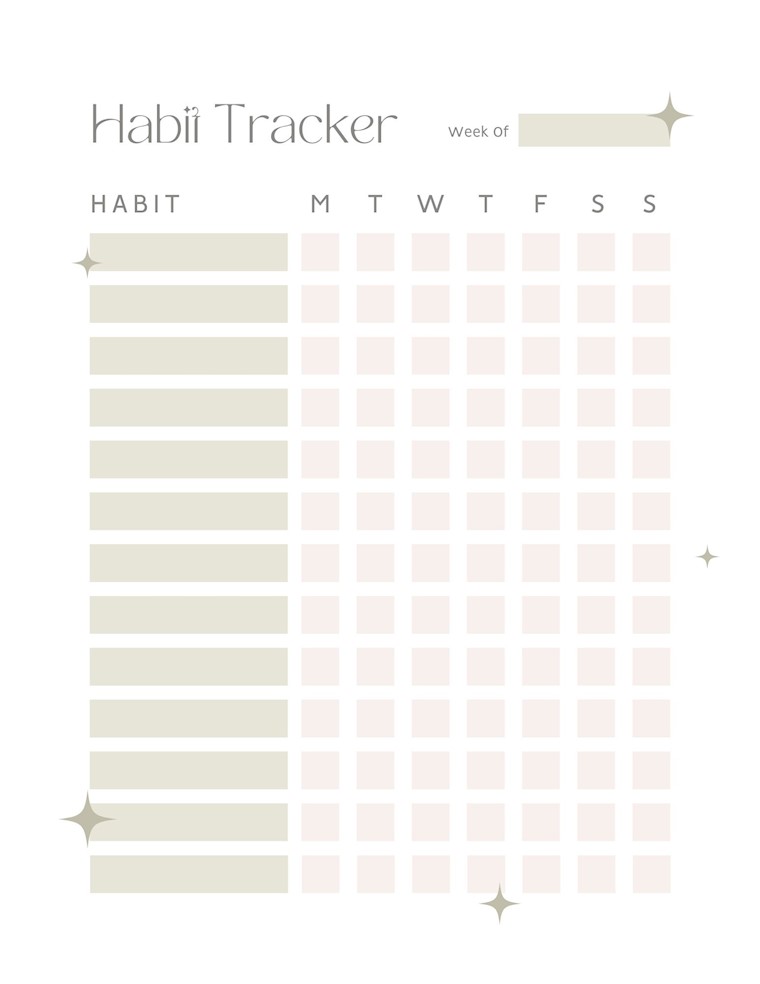 Beige Simply Habit Tracker Daily Planner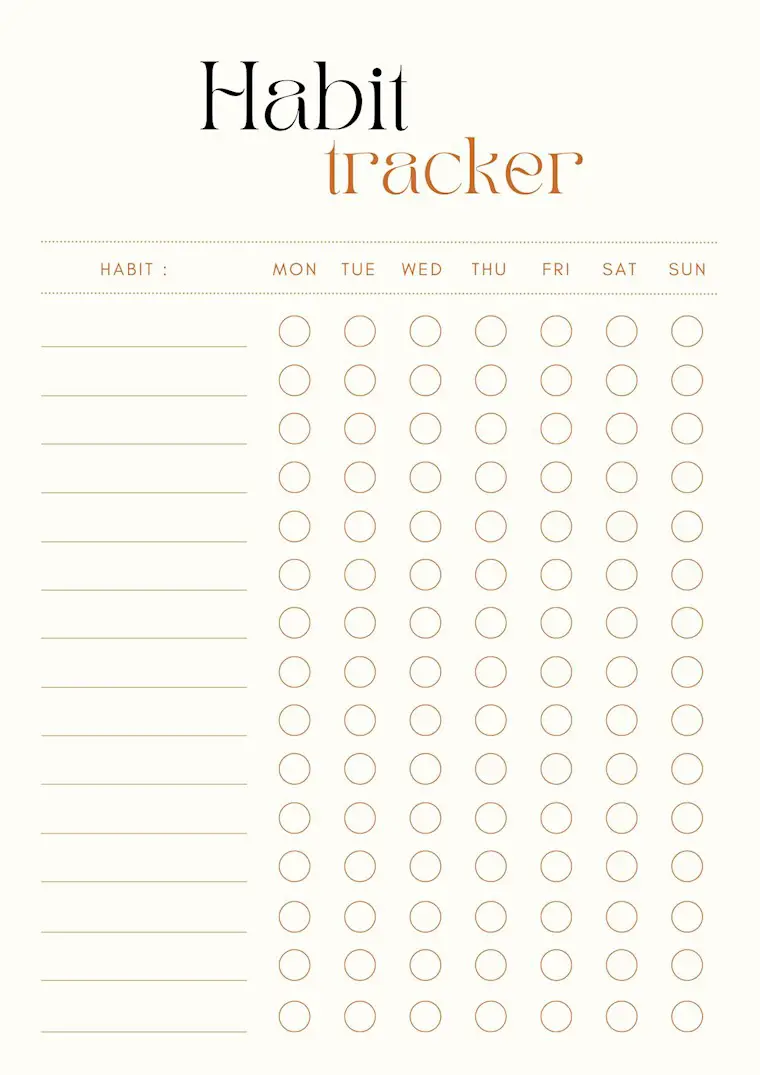 Beige Simple Weekly Habit Tracker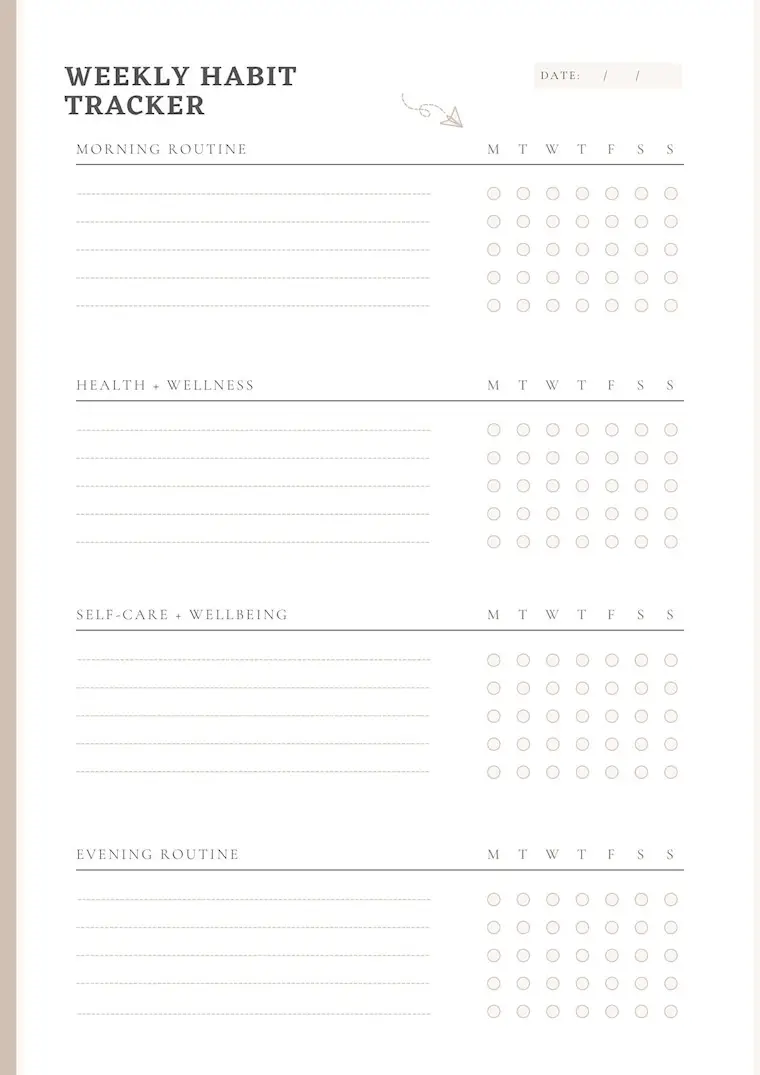 Ivory Simple and Modern Monthly Habit Tracker Bullet Journal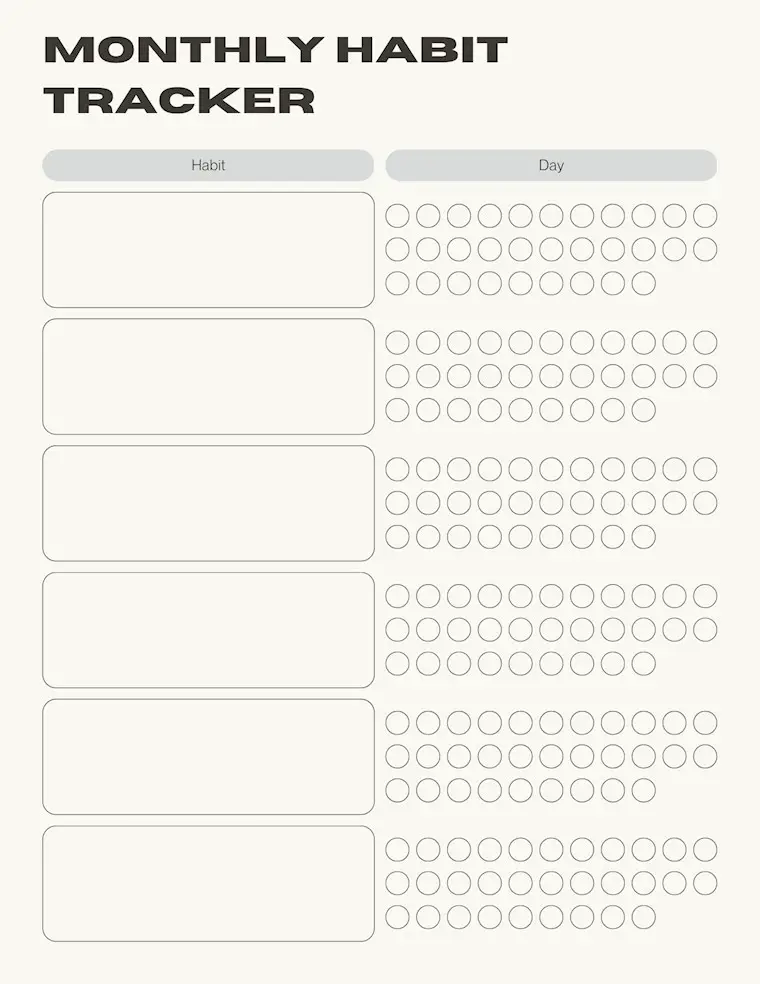 Light Pink Elegant Habit Tracker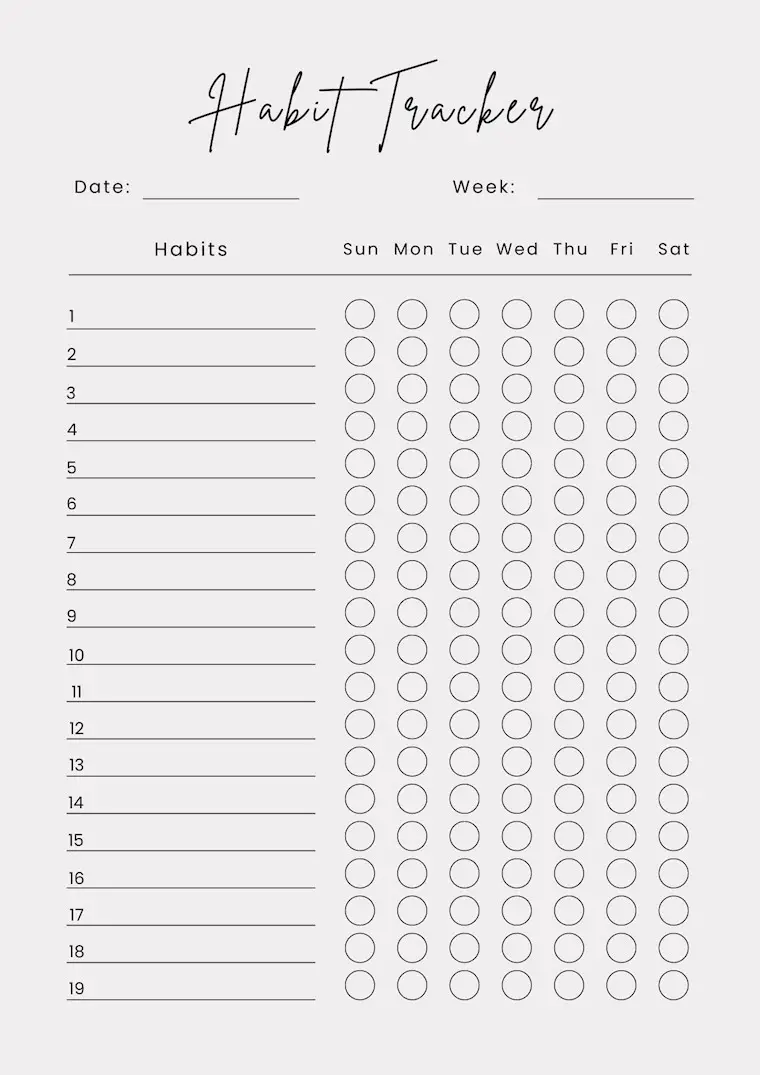 Black and White A4 Simple Minimalist Habit Tracker For Four Months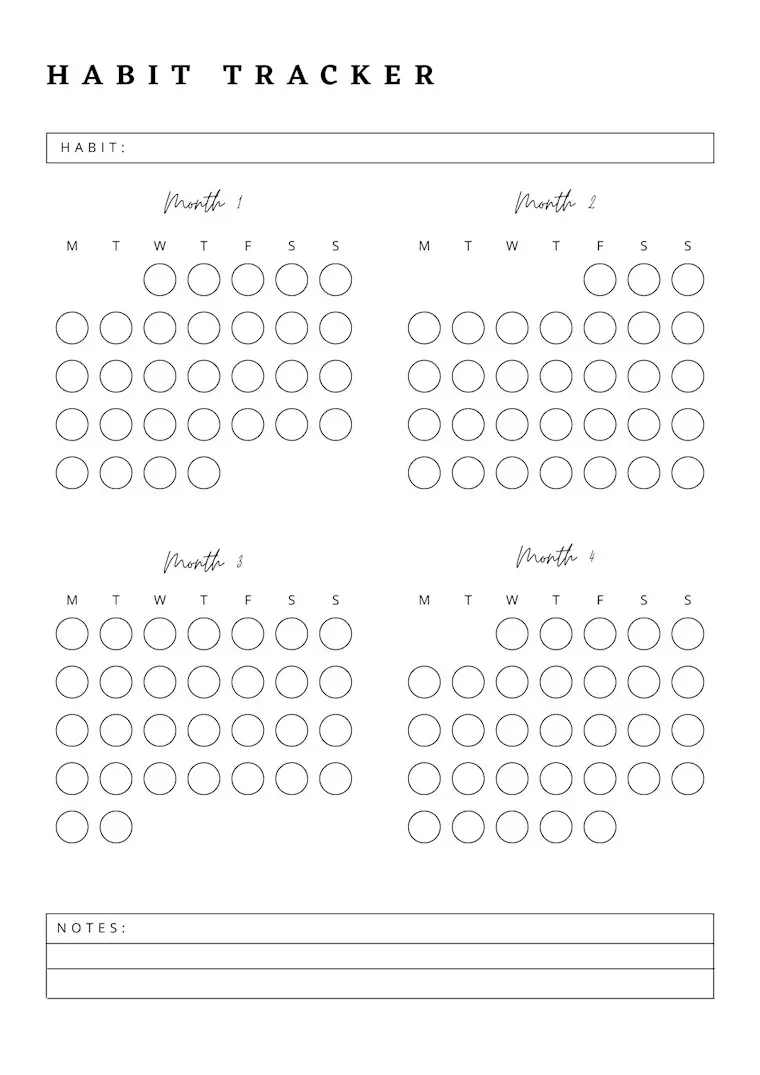 Beige Minimalist Elegant Habit Tracker Planner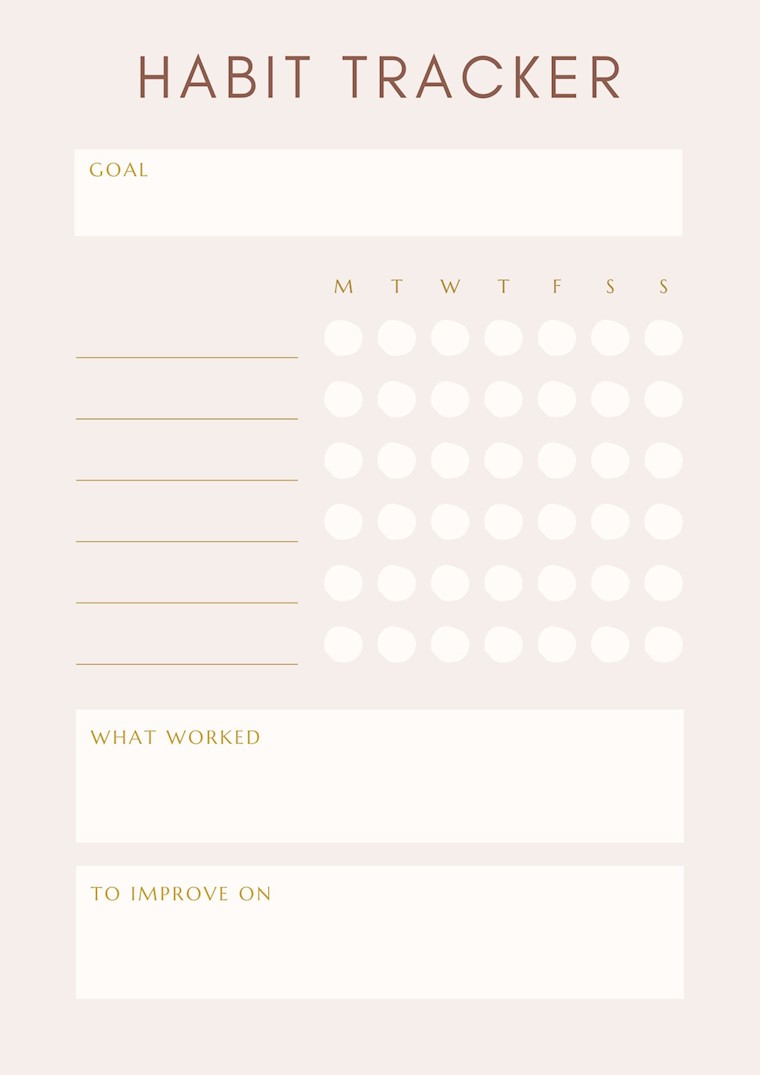 Modern Clean Habit Tracker Checklist Planner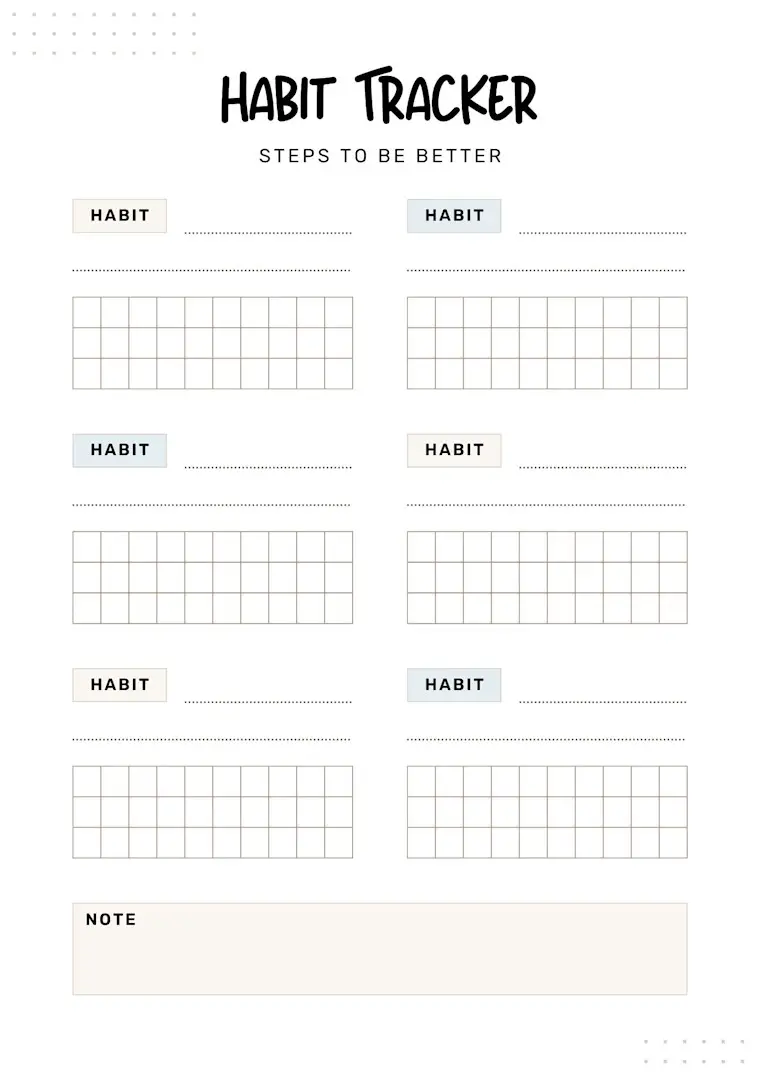 Minimal White Pink Weekly Habit Tracker Planner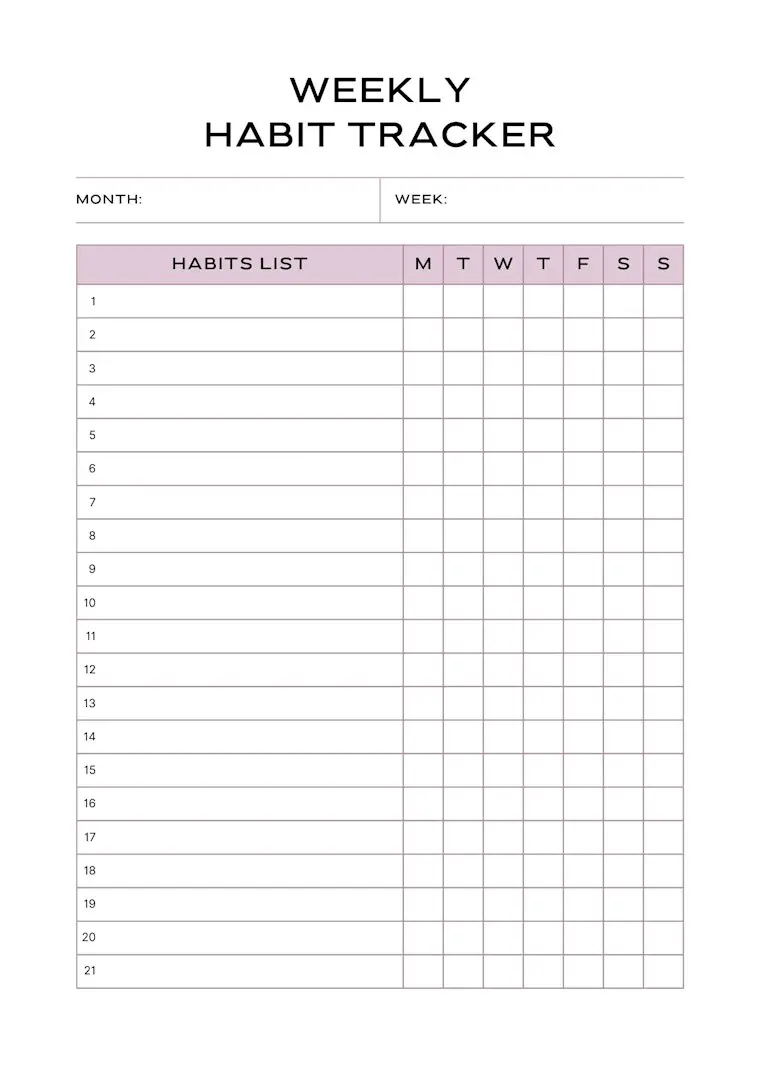 Pink Cream Minimalist And Simple Habit Tracker Sheet Planner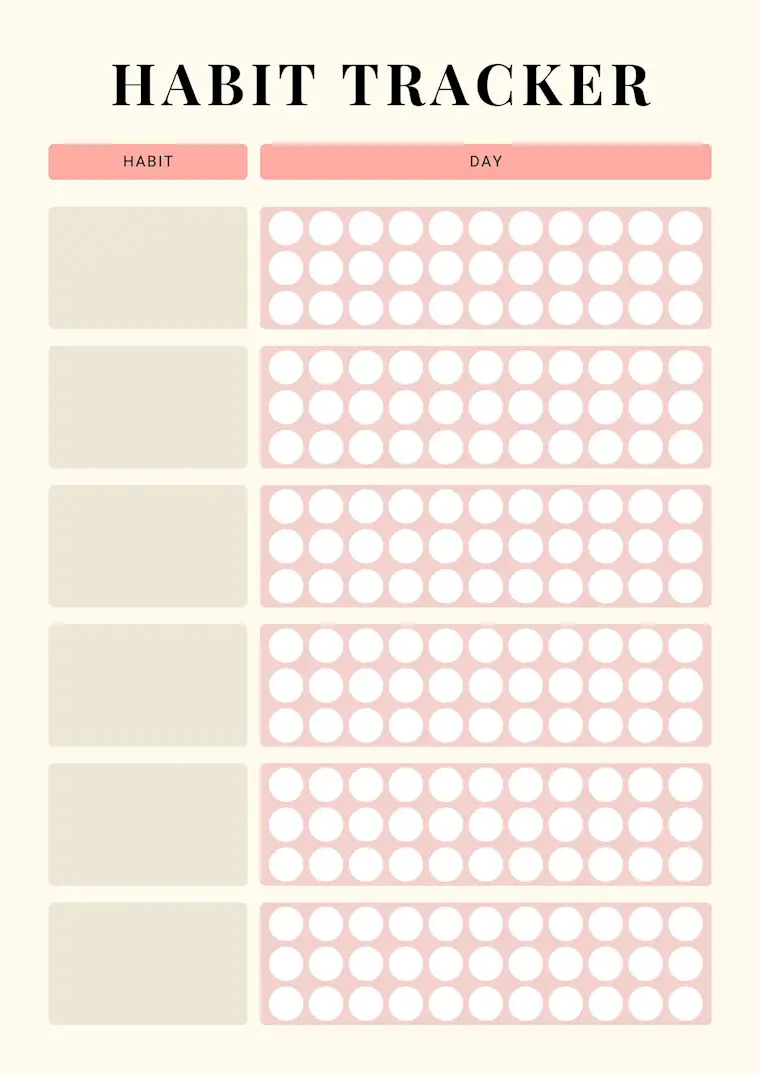 Minimal Habit Tracker – US Letter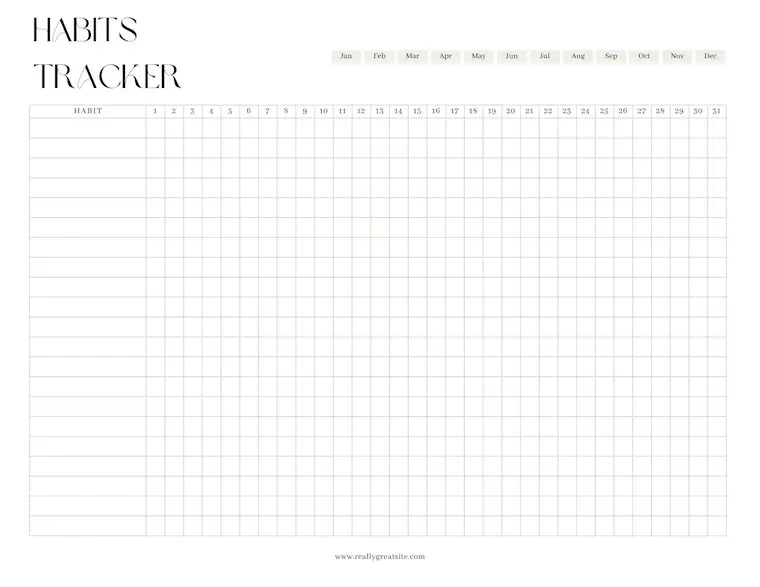 Beige Watercolor Daily Habit Tracker
Clean and Minimal Habit Tracker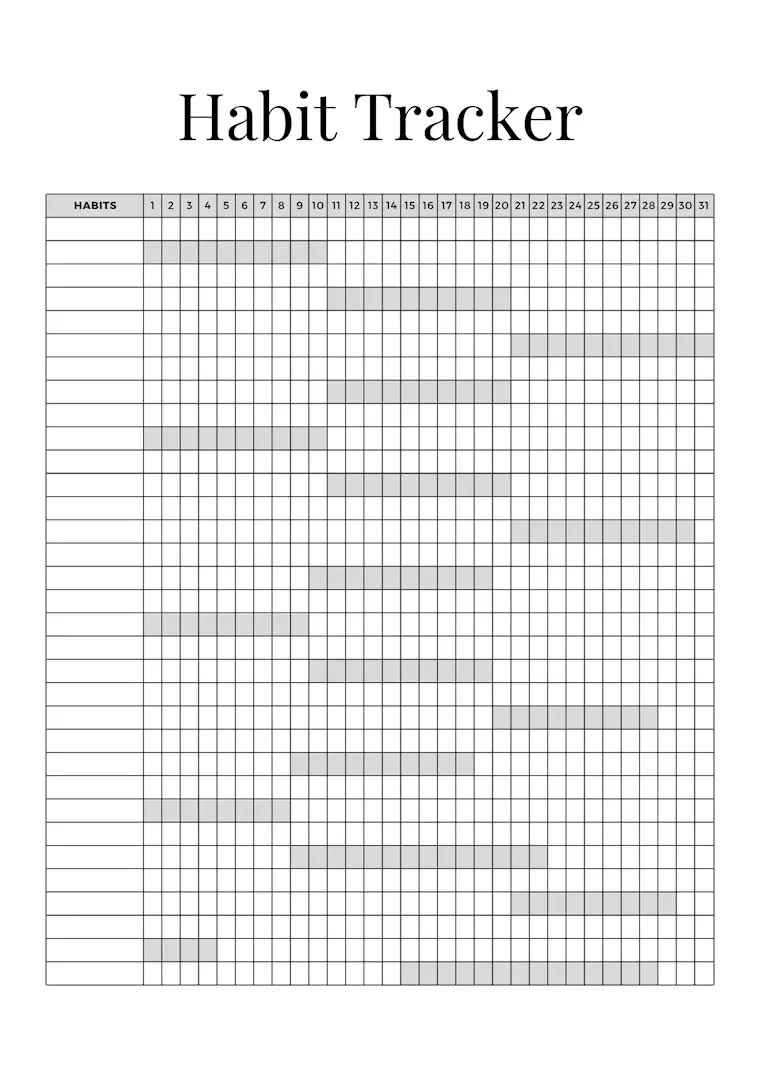 Colorful Decorative Daily Habit Tracker Planner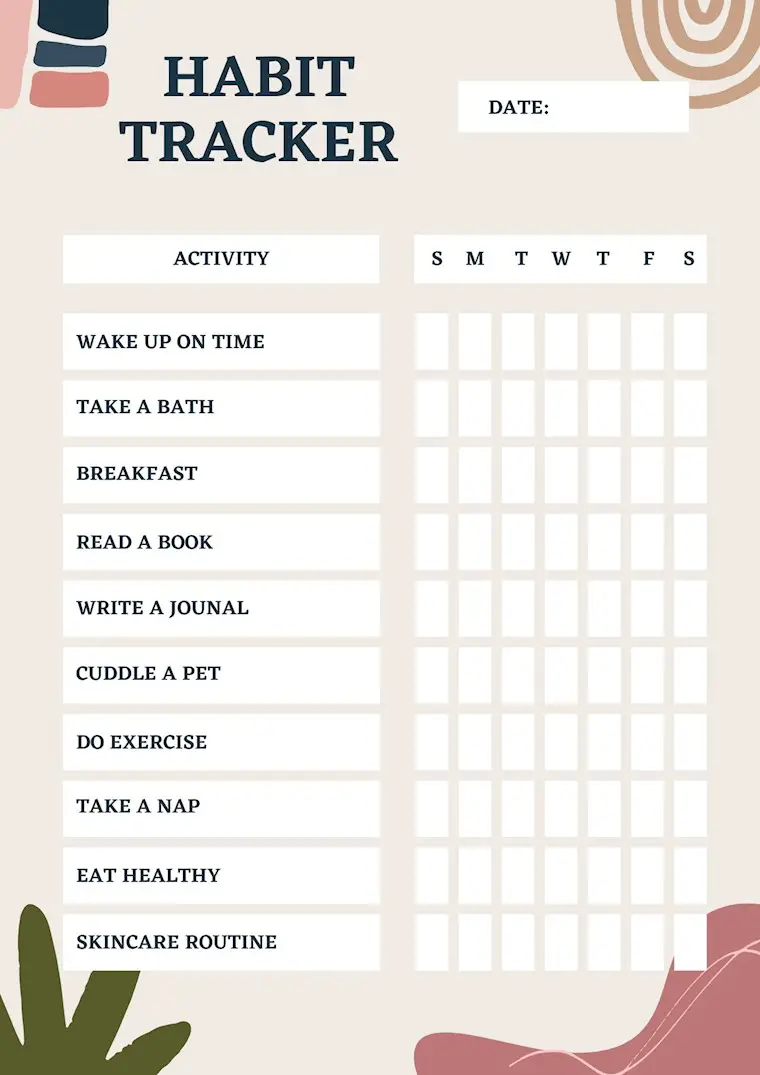 Simple and Minimal Habit Tracker – Beige and White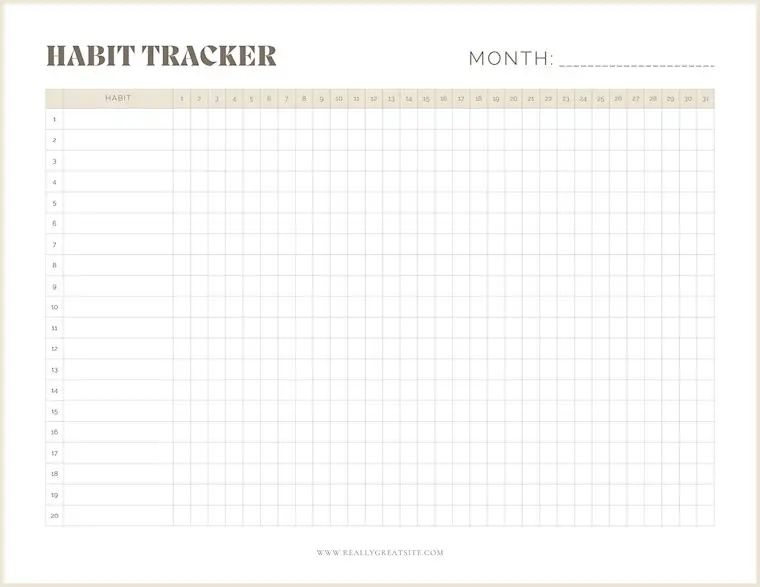 Simple and Minimal Printable Habit Tracker Planner
White Habit Tracker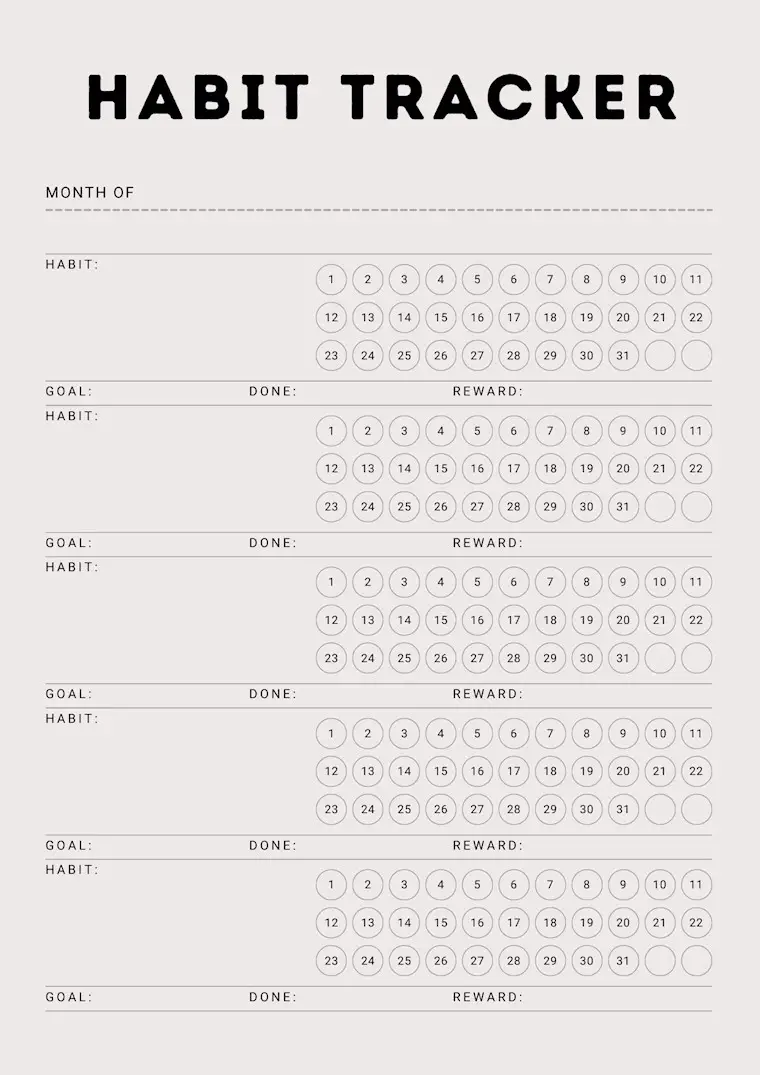 White Cute Habit Tracker Journal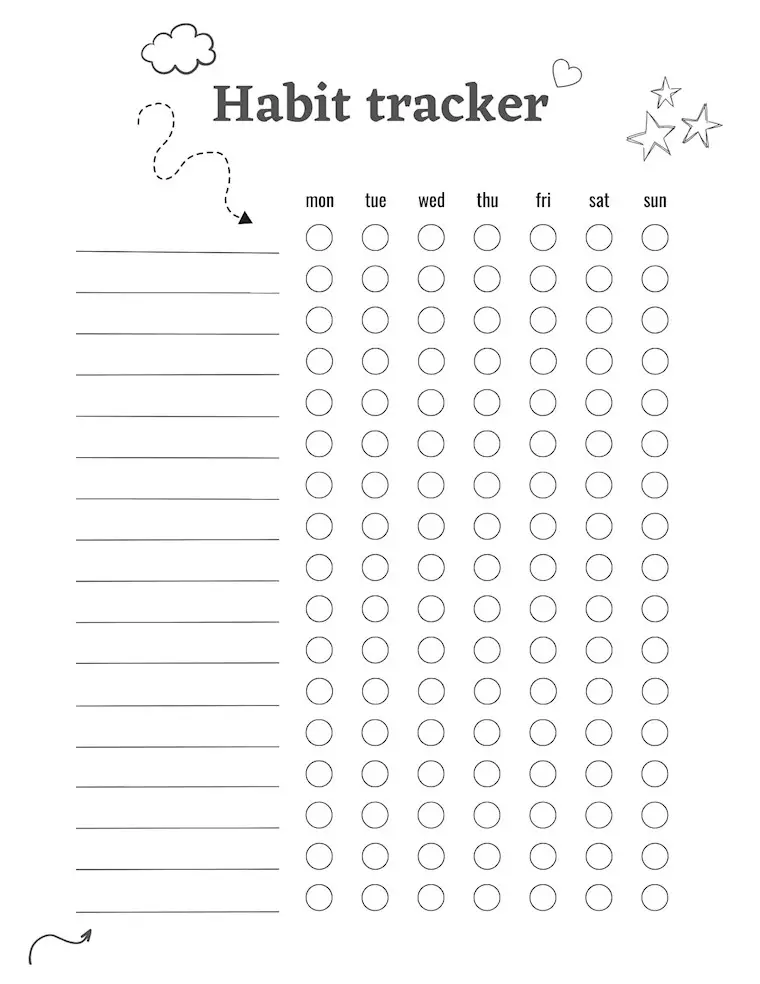 White Minimalist Habit Tracker