The calendar is a convenient tool for tracking dates. Most calendars look quite simple and minimalist; however, in this collection, we have handpicked the best, creative and modern August 2023 calendars.
You can save your time and use the online calendar editor Canva which has a lot of easy-to-use predefined designs.
Feel free to download any of these calendars on your computer and simply click the Download button. See also:
It's not the link to an internal website – when you click the button, a calendar will be downloaded and saved on your device immediately. The quality of these images is quite high. You can use them as weekly or monthly planners, make notes on them, or use a pen to mark important dates and events.
Don't waste your time on reading this text, just go ahead and find the best printable August 2023 calendars for you below.
Free Printable August 2023 Calendars: Cute & Minimalist
---
Size: 2000 x 1414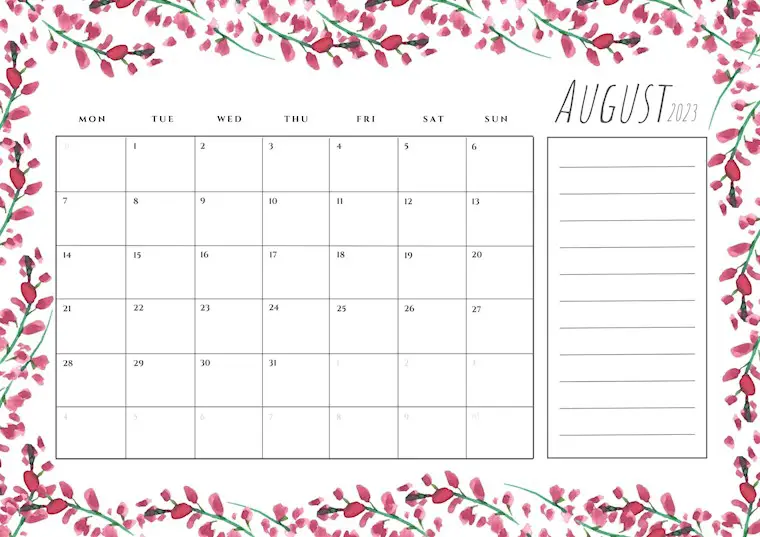 Size: 2000 x 1414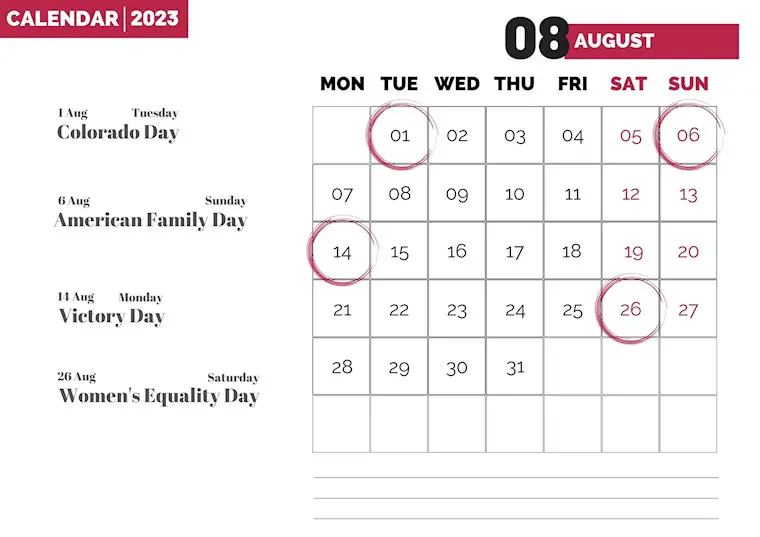 Size: 2400 x 1350
Size: 2400 x 1350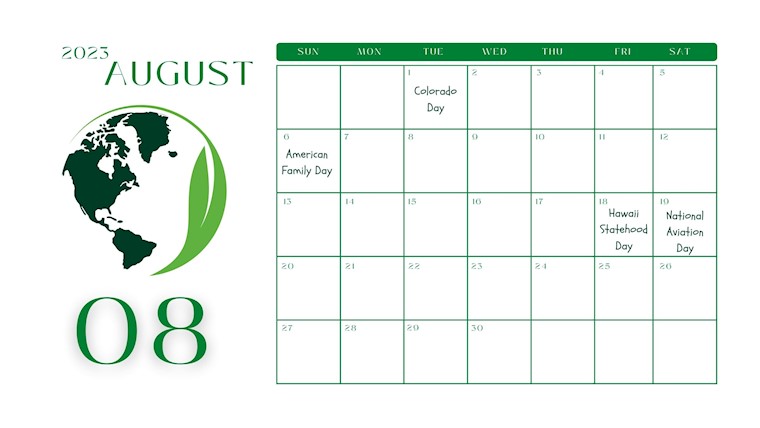 Size: 2400 x 1350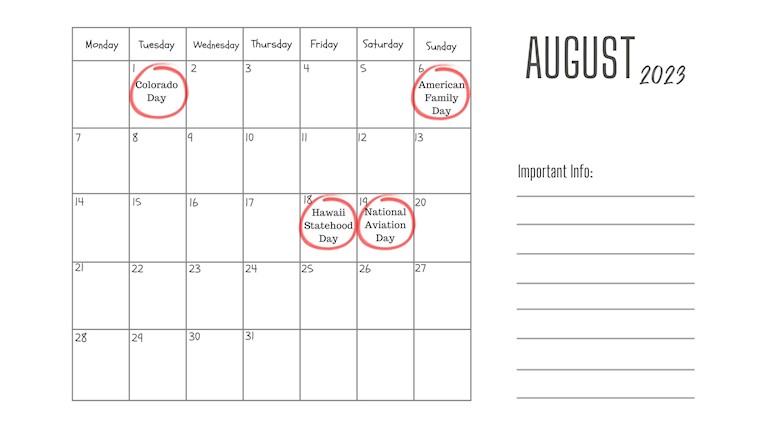 Size: 2400 x 1350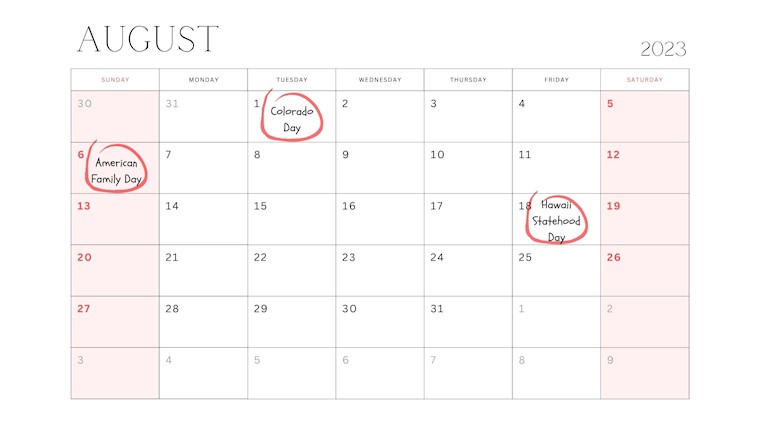 Size: 2400 x 1350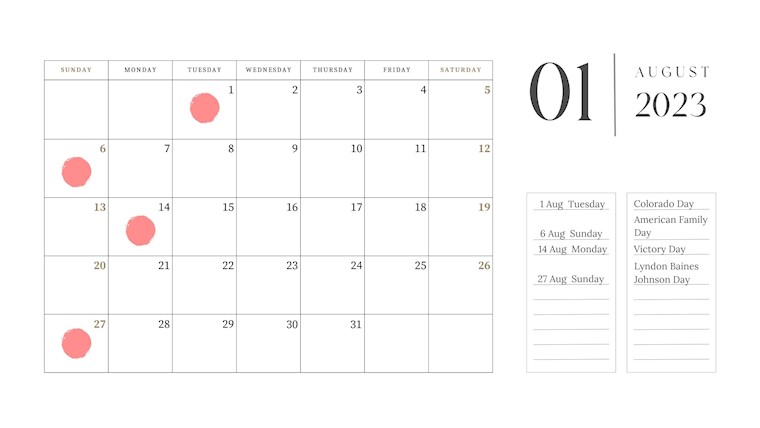 Size: 2400 x 1350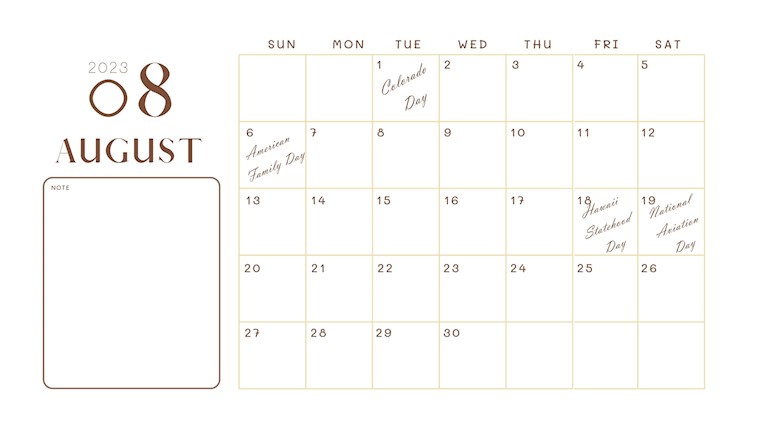 Size: 2400 x 1350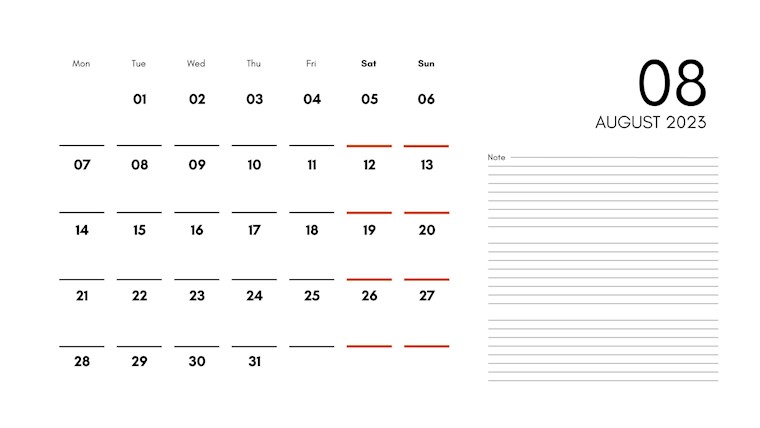 Size: 2400 x 1350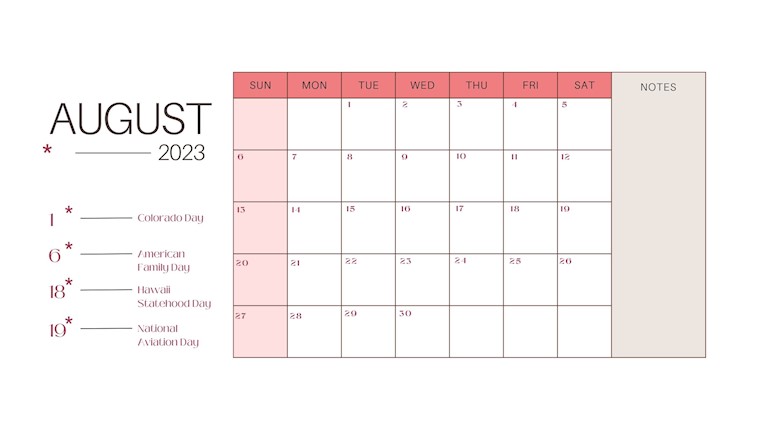 Size: 2000 x 1414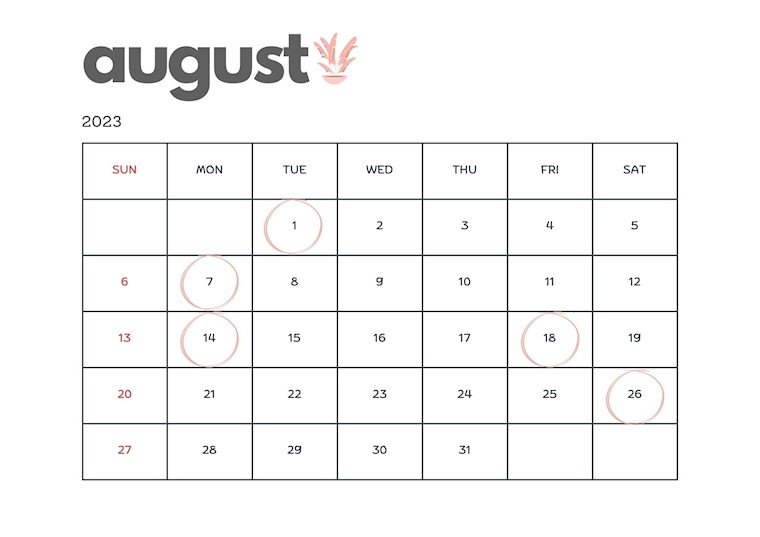 Size: 2400 x 1350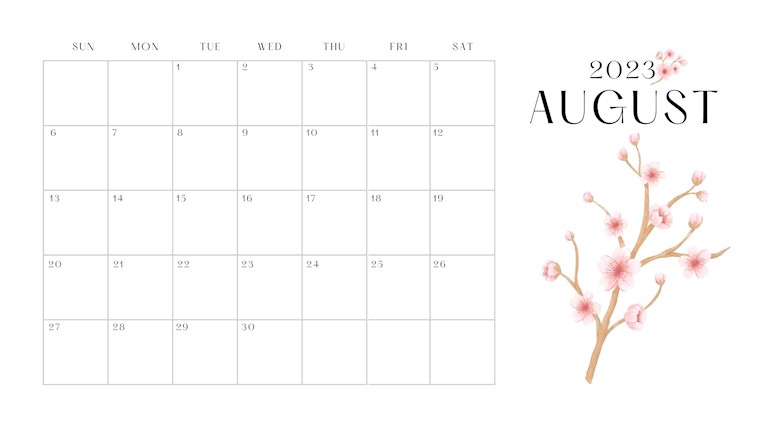 Size: 2400 x 1350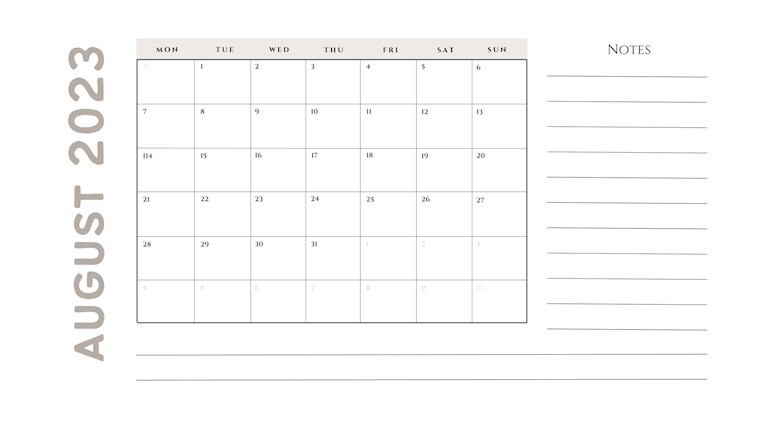 Size: 2000 x 1414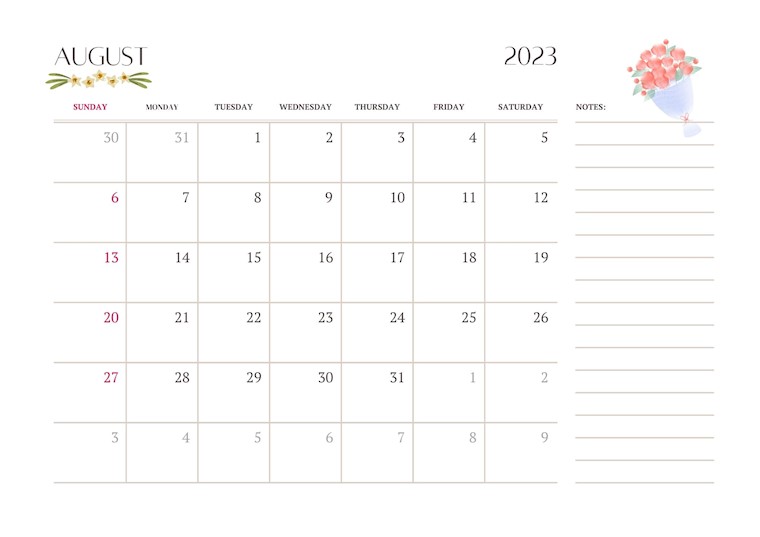 Size: 2400 x 1350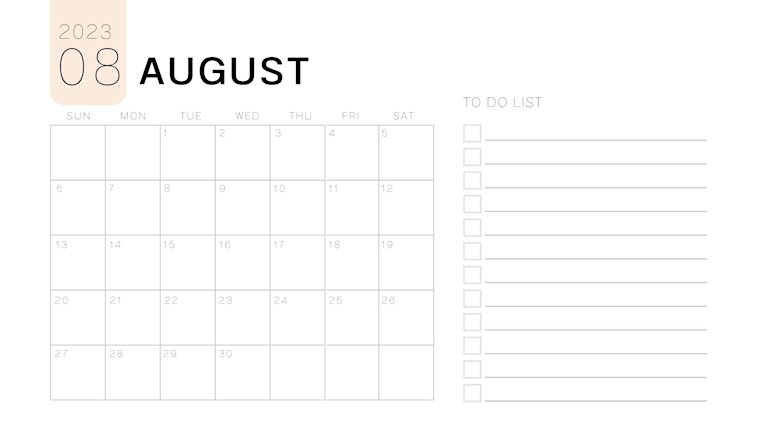 Size: 1920 x 1080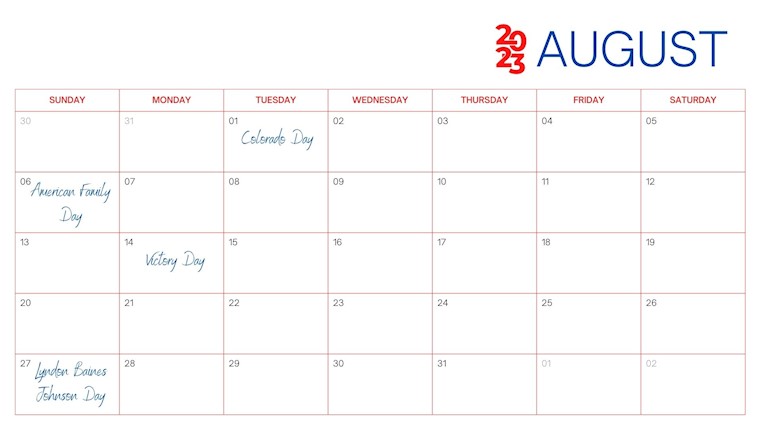 Size: 2400 x 1350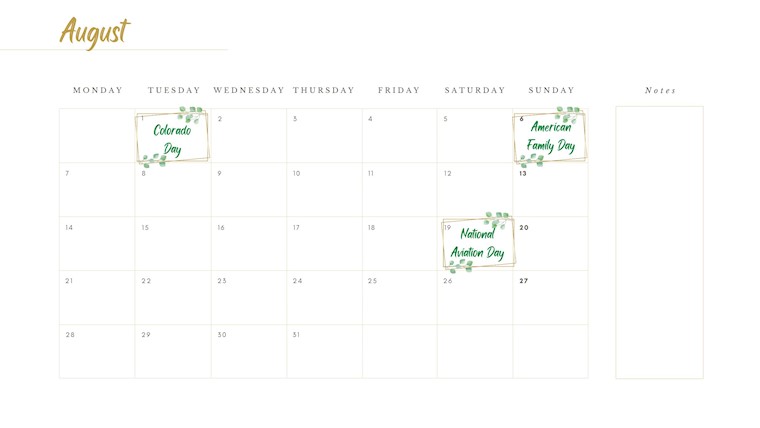 Size: 2000 x 1414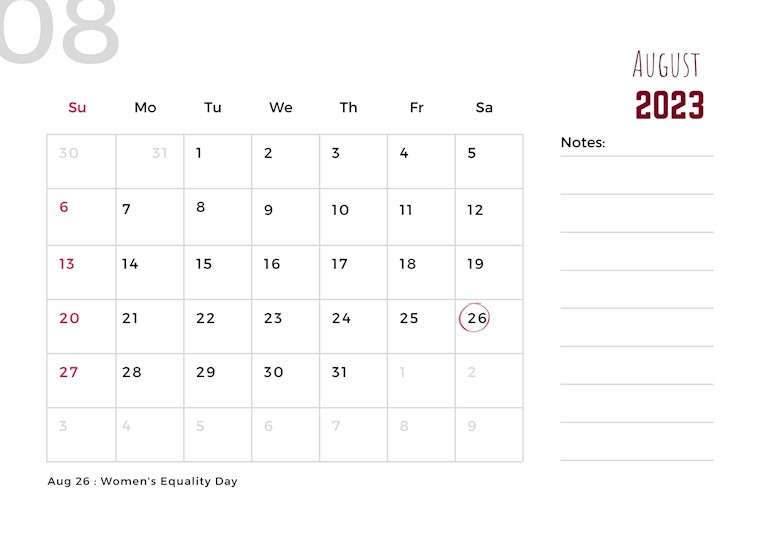 Size: 2000 x 1414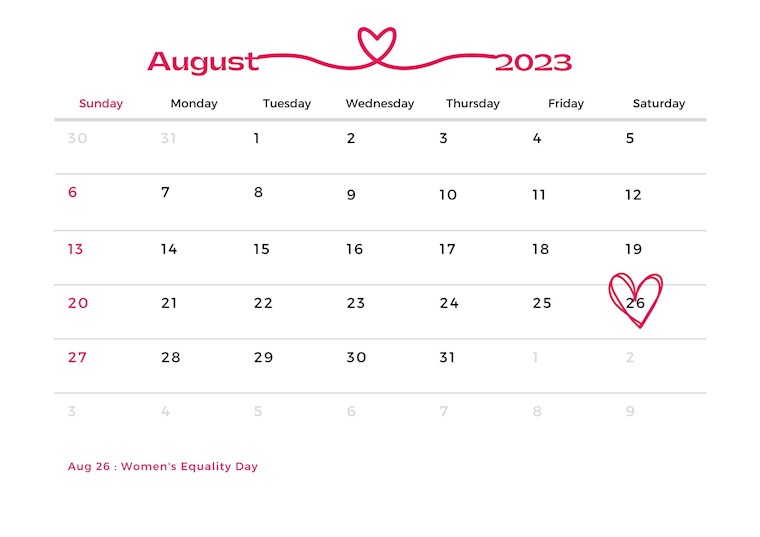 Size: 2400 x 1350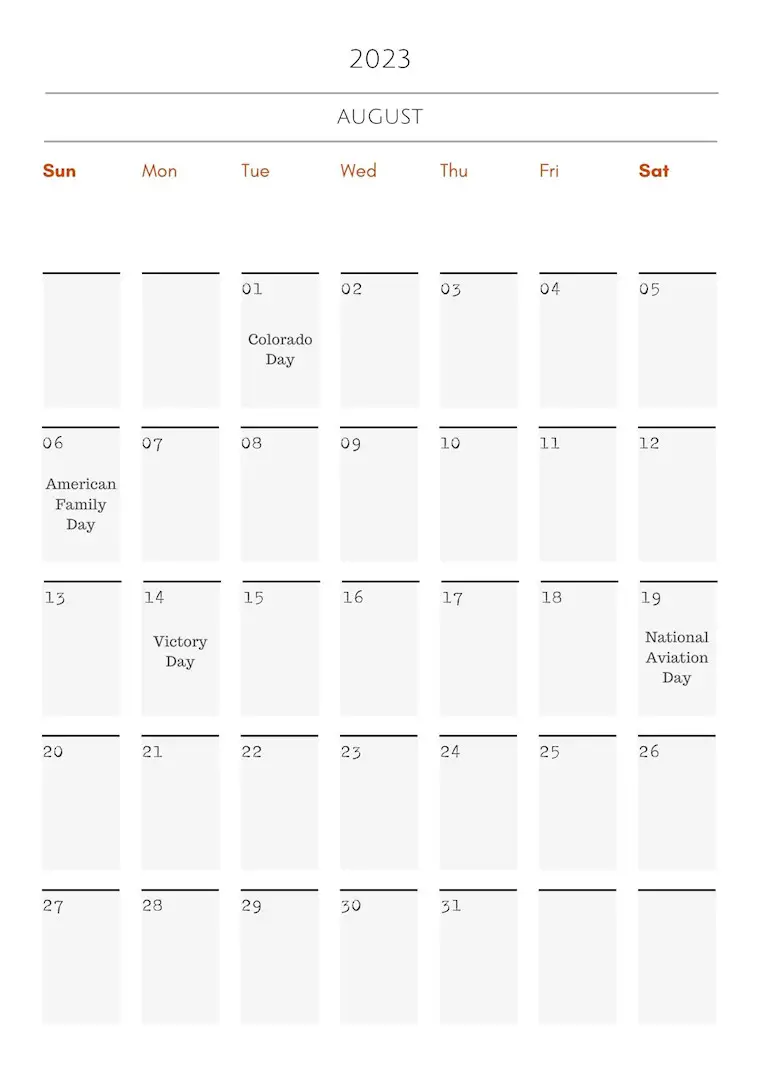 Size: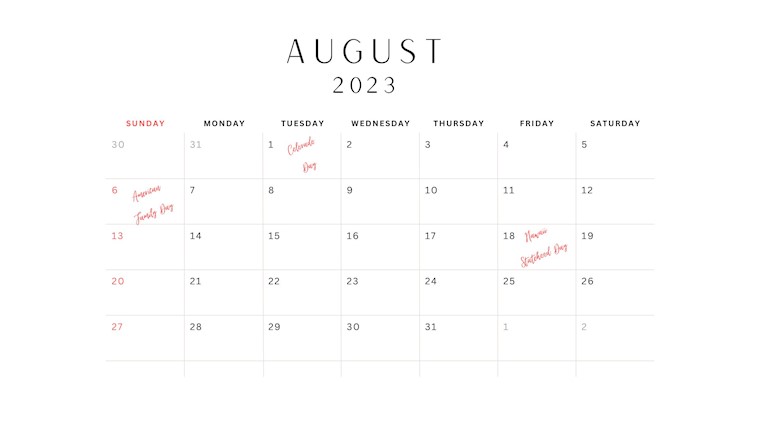 USA Holidays in August 2023
---
Americans love to party. They are happy to participate in the most important festivals and vibrant events, national holidays, and other celebrations. Everyone seems to know about the most important dates. But you cannot imagine how many exciting and funny holidays are held in the USA and Canada every month. Let us have a closer look at what events await us in August 2022.
The 1st of August is Colorado Day. It is not a public holiday but just local observance. On this day, some state museums offer free entrance, and local businesses provide various promotions and discounts. Besides this official event, in 2022, the 1st of August is National Girlfriends Day. Women all over the country can get together to celebrate their friendship.
The 4th of August is Coast Guard Day. The Coast Guard is responsible for protecting the environment, the country's population, and the protection of American coastlines and ports. This holiday was introduced in 1790 and is being observed till today.
The 5th of August is famous for gastronomic holidays – Pale Ale Day and National Oyster Day. India Pale Ale is very popular thanks to its strong taste. Almost every brewery in the US offers its exclusive pale ale with a unique flavor. Usually, on this day, the media publishes a lot of interesting material on how and with what to taste oysters, and the country's restaurants offer a festive oyster menu.
A funny Raspberry with Cream Day falls on the 7th of August. This summer day is high time to back a delicious fruit cake and share it with friends and relatives.
The 10th of August is a religious holiday, Muharram. On this day, Muslims celebrate the start of a new year. It is not a public holiday, and everything works according to regular working hours.
The 10th of August is also famous as a national Laziness Day. One day a year, you can allow yourself to relax, do nothing, and not feel remorse about it. This holiday was born in 1984 at the Festival of Industry, Trade, and Culture, held annually until 2012 in Colombia. And although this festival does not exist now, World Laziness Day is celebrated in many countries, however on different dates.
There is even such a holiday as Vinyl Record Day, celebrated on the 12th of August. Take time to find your parents' vintage vinyl records, go to the music store, and see how many modern musicians record their hits this way. You can discover a lot of new and interesting things.
The National Relaxation Day is on the 15th of August. It is a great occasion to slow down and unwind. Everyone will appreciate the chance to take a break in this hectic rhythm of life.
On the 13th of August, the US joined the celebration of International Left-Handed Day. It is not easy for these special people to adapt to the right-handed world. They face many difficulties and inconveniences every day. So, on this day you can support such people in your surroundings. By the way, there are a lot of famous left-handed people: Keanu Reeves, Paul McCartney, Bill Gates, Sarah Jessica Parker.
This month you will also have a chance to enjoy a sweet holiday – on the 14th of August, Americans celebrate National Creamsicle Day. Do not miss an opportunity to refresh in a circle of your friends with icy desserts.
The 19th of August is Aviation Day. Roosevelt introduced the holiday in 1939. Now, this day is devoted to aviation history and its development in the country.
The 21st of August is Hawaii Statehood day. It is a public holiday for this state, and people have a day off. Besides, this day is also known as Senior Citizens Day. A lot of gatherings are organized for older adults around the country. It is a perfect day to visit your older relatives and friends.
Women's equality day is observed on the 26th of August. It was introduced by an American public figure Bella Abzug in 1971. She was the first Jewish woman elected to the American Congress. On this day, the US government and US specialized organizations continue to advocate for women's rights worldwide actively.
The 28th of August is a Dream Day. In 1963, Martin Luther King delivered his most famous speech: I Have a Dream. It came from the Lincoln Memorial's steps during the March on Washington, a peaceful protest organized by organizations fighting for human rights. In his speech, Martin Luther King proclaimed his vision for a future where people of different races could coexist as equals.