Money transfers have become increasingly popular in recent years, with the introduction of a range of online platforms and apps that make it quick and simple to send and receive money.
Zelle is a popular platform in the United States, but it may not be available for international money transfers.
Luckily, there are many great Zelle alternatives that you can use for cross-border money transfers. In this blog post, we will explore the benefits of using a Zelle alternative and provide you with a list of the best 10 apps for international money transfers.
Why Choose a Zelle Alternative?
Zelle may be a convenient option for money transfers within the US, but it is not available for international money transfers. It can be challenging to find a reliable and cost-effective way to send money abroad, and a Zelle alternative can be the perfect solution.
One of the biggest advantages of using a Zelle alternative is that they are often cheaper than traditional wire transfers. They can also offer faster transfers, making it easy to get money to loved ones overseas quickly and painlessly. Furthermore, they tend to be more convenient than wire transfers, offering user-friendly interfaces and hassle-free transfers.
Best 9 Apps for International Money Transfers
Aside from Zelle, there are many great options for international money transfers. Here are 11 of the best apps for cross-border money transfers:
Wise
Wise, formerly known as TransferWise, is a UK-based money transfer service renowned for its transparency, low fees, and mid-market exchange rates. It allows users to send money to over 70 countries and provides a multi-currency account that lets you keep money in more than 50 currencies, and convert them whenever the need arises.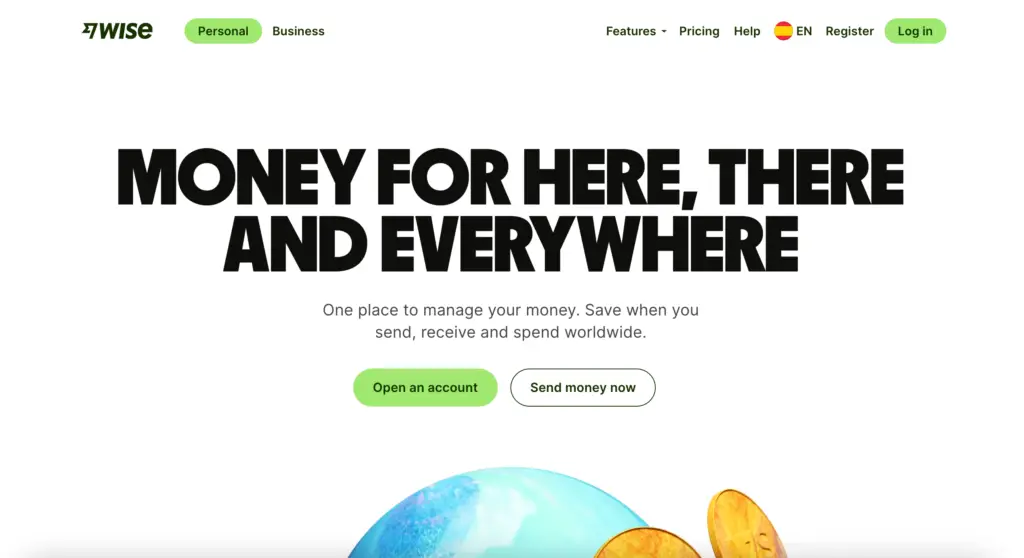 One of the standout features of Wise is the ability to get a free international bank account in several major currencies, allowing for easy receipt and sending of money abroad. The company uses two local transactions instead of one international transaction to avoid expensive international bank transfer fees, making it a cost-effective choice for businesses and individuals alike. This innovative approach means that the money never crosses borders, thus cutting down on bank fees and ensuring better exchange rates.
Furthermore, Wise provides a clear cost breakdown before you make a transfer, so there are no nasty surprises or hidden fees. The app is user-friendly and easy to navigate, making international transfers a breeze whether you're on your computer or mobile device.
Payoneer
Payoneer is a globally recognized payment platform that allows for both local and international money transfers. Operating in over 200 countries and dealing with 150 currencies, Payoneer offers a wide range of services including cross-border payments, online transactions, and even working capital for businesses.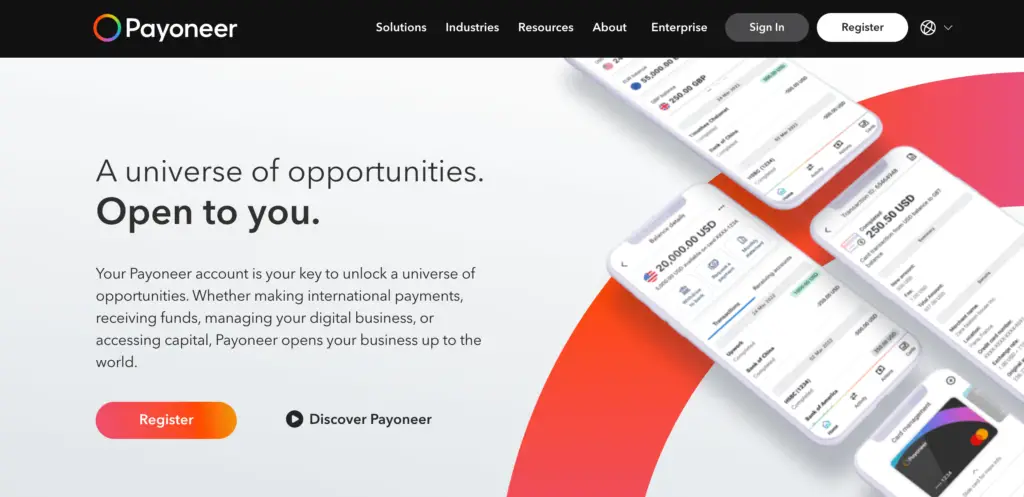 One of Payoneer's standout features is its focus on serving professionals and businesses. This includes freelancers, eCommerce sellers, and small to medium enterprises (SMEs) who need to receive payments from overseas clients. It offers competitive conversion rates which can result in significant savings when compared to traditional banks.
Payoneer also prides itself on speed. Transfers made through Payoneer are generally quicker than those made through banks. Alongside this, the platform's user-friendly interface makes it easy for users to track the status of their transactions, adding an extra layer of convenience.
In short, Payoneer is a reliable, cost-effective, and user-friendly alternative for international money transfers, making it a favored choice for many seeking alternatives to Zelle.
Xoom
Xoom is owned by PayPal and offers fast and reliable transfers to over 130 countries. Xoom has gained significant popularity for its easy-to-use platform and quick delivery times. It offers the ability to send money, pay international bills, or reload international mobile phone plans from the convenience of your computer or mobile device.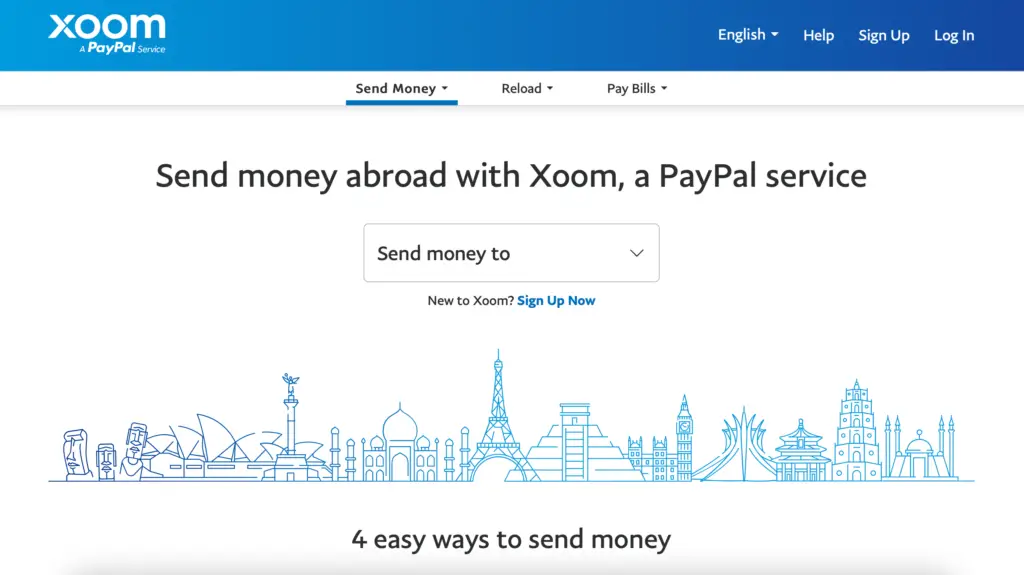 One of the main selling points of Xoom is its reimbursement initiative. If your money doesn't arrive to the recipient, Xoom offers a money-back guarantee, enhancing customer trust.
The service covers over 130 countries globally, with varied options for delivery including deposit to a foreign bank account, cash pickup, or home delivery in select regions.
However, it's worth noting that Xoom's fees can vary based on the amount sent, payment method, and delivery options, so users should review these factors before initiating a transfer.
WorldRemit
WorldRemit is another highly reputable service for international money transfers. It allows users to send money to over 150 countries worldwide, offering a multitude of delivery options including bank deposit, cash pickup, mobile money, and even airtime top-up.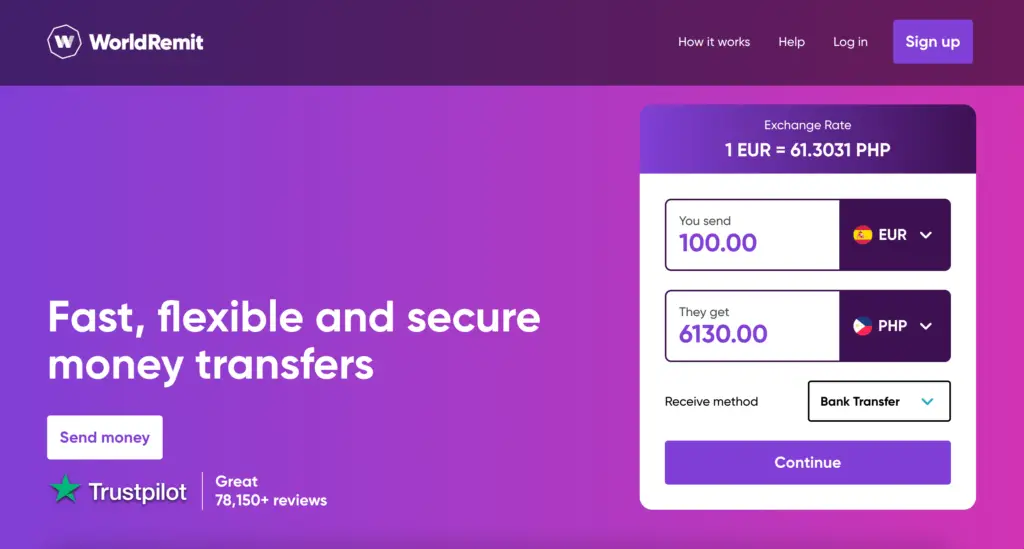 What sets WorldRemit apart is its speed, where many transfers are instant or completed within minutes. The service also shines in its versatility, as it supports a diverse range of transaction types including both small and large amounts. WorldRemit is user-friendly, allowing for easy management of transactions from a computer or through its dedicated mobile app.
Their transparent pricing structure displays costs upfront so you know exactly how much you are paying and how much the recipient will receive.
However, it's important to note that WorldRemit's fees and exchange rates can vary depending on the amount of money sent and the countries involved in the transaction. So, it's recommended to compare rates and fees before proceeding with the transaction.
Remitly
Remitly is another worthy contender in the space of international money transfers. Founded with the mission to transform the lives of immigrants and their families by providing a more trusted and economical way to send money, Remitly has successfully carved its niche. Its platform boasts an intuitive interface, making transfers straightforward even for those less accustomed to digital transactions.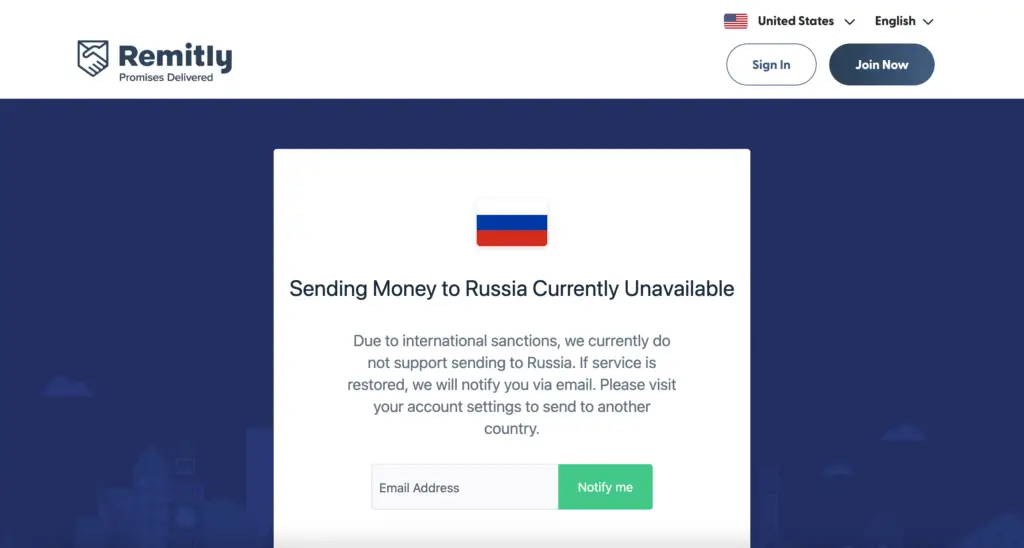 One of Remitly's key strengths is its Express service. This feature allows users to send money instantly using a debit card, making it an ideal choice for urgent transactions. Remitly also offers an Economy service that provides lower fees for transfers, though it does take longer for the funds to reach the recipient.
Remitly covers a vast number of countries worldwide, and offers various delivery options like direct bank deposit, cash pick-up, and mobile money. It also offers a 100% satisfaction guarantee – if your transfer isn't delivered on time, they'll refund your fees.
While Remitly's rates are competitive, it's worth noting that costs can vary depending on the destination country, transfer amount, and payment method, hence it's always advisable to check the rates before sending money. Overall, Remitly stands as a reliable and cost-effective choice for international money transfers, especially for those seeking speed and convenience.
OFX
OFX, formerly known as OzForex, is a global money transfer company that offers competitive exchange rates and low fees. Originating in Australia, OFX has expanded its operations worldwide and now supports transfers to over 80 countries in 55 different currencies.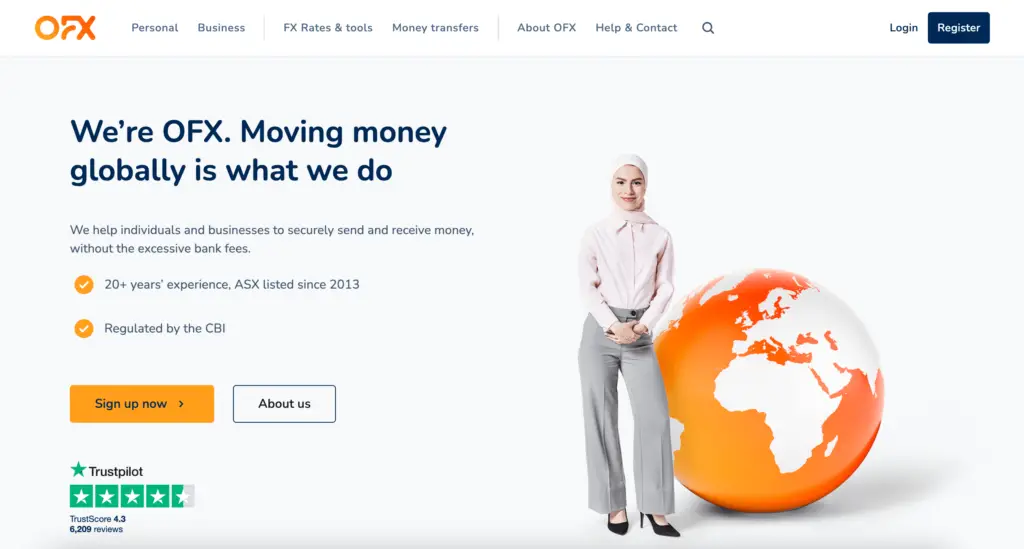 One of the key advantages of OFX is its 24/7 customer service, ensuring that users can get support whenever they need it. The platform is also renowned for its transparency, with no hidden fees or charges. This enables you to see exactly how much you are sending, how much will be received, and the cost associated with the transfer.
OFX does not charge any transfer fees regardless of the transaction amount, which sets it apart from many other money transfer services. However, it does require a minimum transfer amount, which may be a deterrent for users looking to transfer smaller sums.
Another notable feature of OFX is its user-friendly website and mobile app, both of which offer an intuitive, straightforward money transfer process. Additionally, for those making regular transfers, OFX offers the option to set up automated, recurring transactions, saving both time and effort for users.
The transfer speed with OFX can vary depending on the currencies involved and the receiving bank's processes, but typically, transfers are completed within 1-2 business days. Overall, due to its competitive rates, zero transfer fees, and excellent customer service, OFX is a strong contender in the field of international money transfer services.
CurrencyFair
CurrencyFair is a renowned international money transfer service that prides itself on offering some of the best exchange rates in the market. Originating in Ireland, CurrencyFair has garnered a global clientele thanks to its innovative peer-to-peer model. This unique approach enables users to choose their own rates, which can potentially lead to substantial savings, especially for larger transactions.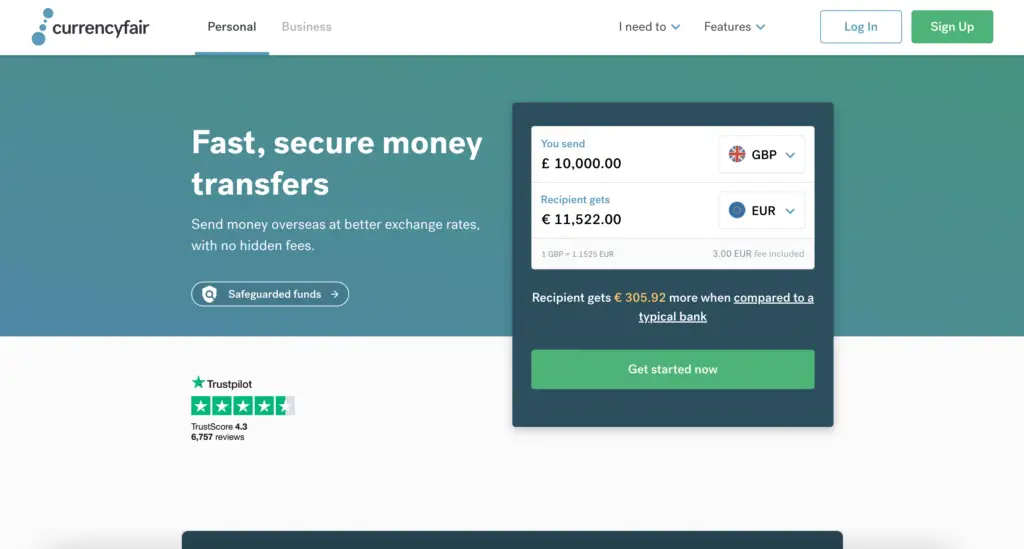 CurrencyFair's platform is known for its simplicity and user-friendliness, making it easy for both individuals and businesses to make international transfers. The platform offers a quick setup process and a clear, easy-to-understand fee structure. Moreover, CurrencyFair offers a wide range of currencies, supporting transfers to over 150 countries worldwide.
One of the significant features of CurrencyFair is its Exchange platform where users can match with other users to get rates better than the interbank rate. However, this feature depends on the availability of matching offers from other users and may not always be available.
It's important to note that while CurrencyFair's rates are highly competitive, there is a small fixed transfer fee, and the exchange rates can fluctuate based on market conditions. It is therefore advisable for users to check and compare rates before initiating a transfer.
Overall, with its blend of competitive pricing, wide reach, and intuitive interface, CurrencyFair presents a compelling option for those seeking a cost-effective and efficient money transfer service.
PayPal
PayPal is a well-known global payment platform, making online money transfers quick and convenient. Headquartered in the United States, PayPal allows customers to send, receive, and hold funds in 25 currencies worldwide. It revolutionized the e-commerce industry by providing a secure and user-friendly platform for transactions.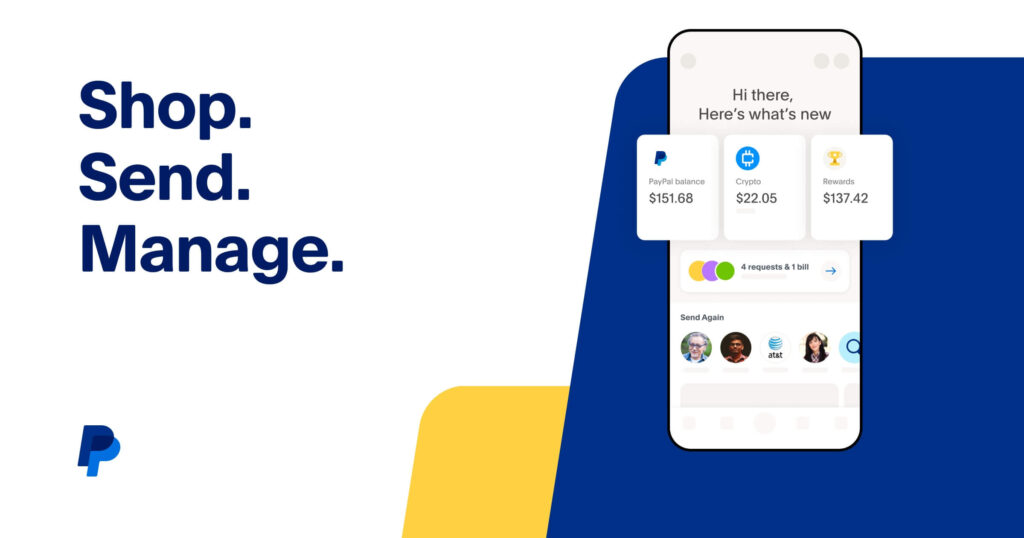 One of PayPal's prominent features is its secure payment system. It employs robust encryption technologies to protect users' data, ensuring a safe environment for online transactions. Furthermore, PayPal safeguards consumers with its comprehensive buyer protection policy, providing a sense of security for online purchases.
With PayPal, you can make online purchases, send money to friends and family, or receive payments for goods and services. It's also a popular choice for businesses, offering a suite of tools such as invoicing, payment processing, and sales tracking.
While PayPal offers the convenience of online transactions and a broad user base, its fee structure can be a downside for some users. Transaction fees vary depending on the nature of the transaction and the user's location.
PayPal's transfer speed depends on the payment method and destination. Transfers between PayPal accounts are usually instantaneous, while bank transfers may take 1-3 business days. In summary, PayPal remains a dominant player in the digital payment industry, offering a versatile platform for personal and business transactions alike.
Venmo
Venmo, a subsidiary of PayPal, is a popular mobile payment service primarily used in the United States. Known for its social aspect, Venmo allows users to transfer money to one another and share transaction details on a social feed.
The app's intuitive design and ease of use contribute significantly to its appeal. With just a few taps, users can send money, request payments, or split bills. This makes Venmo an excellent tool for managing shared expenses, such as dinners, rent, or concert tickets.
Another unique aspect of Venmo is its integration with social networking. Each transaction comes with a description that can be seen by the user's Venmo network, providing a fun, social element to financial exchanges.
Venmo's fee structure is relatively simple. It's free to send money using a Venmo balance, bank account, or debit card. However, a standard 3% fee applies to credit card transactions. Additionally, while transfers to a Venmo balance are instantaneous, transfers to a bank account typically take 1-3 business days, though an instant transfer option is available for a small fee.
While Venmo's social aspect and ease of use have helped it gain popularity, it's worth noting that Venmo is currently only available for users in the United States. Despite this geographical limitation, Venmo continues to thrive as a leader in the mobile payment sphere, making money transfers a quick and social experience.
Tips for Choosing the Right Zelle Alternative
When choosing a Zelle alternative or an app for international money transfers, it is essential to consider a range of factors.
These can include the fees and exchange rates offered, the speed and reliability of transfers, and the availability of the app in your country. It is also worthwhile to check user reviews to see what other people think of the app and its services.
Security Considerations
When sending money online, security is always a concern. The good news is that many money transfer apps, including the Zelle alternatives listed above, offer top-notch security measures.
These can include encryption, two-factor authentication, and fraud prevention measures. It is always important to ensure that the app you choose has robust security features to ensure your money and personal information are safe.
Conclusion
International money transfers can be challenging, but thanks to Zelle alternatives, it is easy to send money across borders with minimal hassle.
Related: 11 Cash App Alternatives For More Control Over Your Funds
Whether you choose one of the 9 apps we have recommended or another trusted platform, it is important to consider the fees, exchange rates, and security measures offered by the app. By taking the time to find the right Zelle alternative, you can enjoy fast, secure, and cost-effective international money transfers.