Have you ever done a collage with mom's magazine, scissors, and glue? If you enjoyed doing the collages in childhood, there is no reason to stop now. These days you don't need glue and scissors; with digital technologies, you can create a stunning collage in Photoshop, Canva, or any other editing software. 
In this collection, we have put together the best collage kits from top-notch designers around the globe. Here you'll find collage packs with hundreds of creative elements, such as cut-outs from old photos, famous architecture, animals, flowers, landscapes, letters, vintage paper, food, botanicals, and more.
Feel free to create stunning posters and artwork using these collage elements. Don't hesitate to share your creative collages in the comments below.
Collage Elements
---
A massive pack of 750+ assets sourced from vintage photos, illustrations, art, and ephemera. Involves drag-drop to create stunning, unique, and original collage effortlessly, resulting in endless combinations.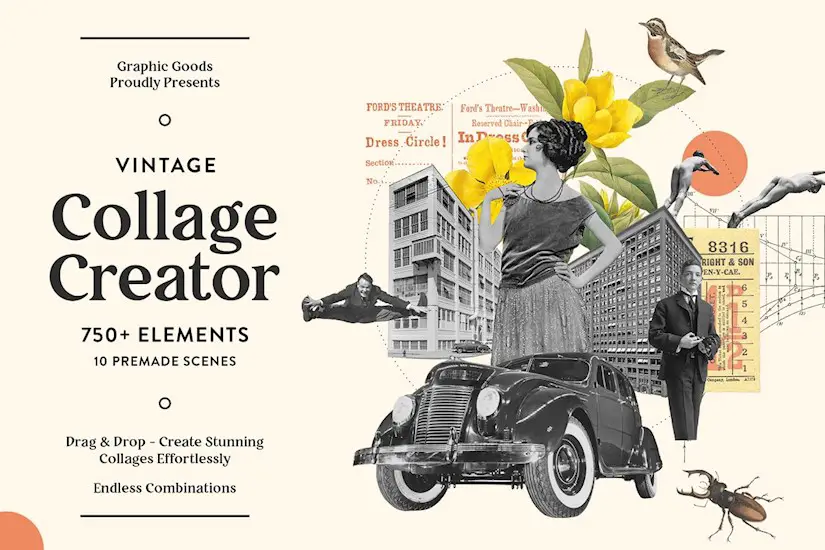 Elements are carefully isolated and manipulated so that everything looks exceptionally unique. Just copy and paste items to make your collage from existing ones. These premade collages give you a whole lot more freedom to experiment with creative ideas and layouts before thinking for a long time. This collage art maker is full of fun elements for your collages, invitations, decoupage, wall art prints, posters, and so on. All items go in transparent png clipart so, you can use them in every editing software.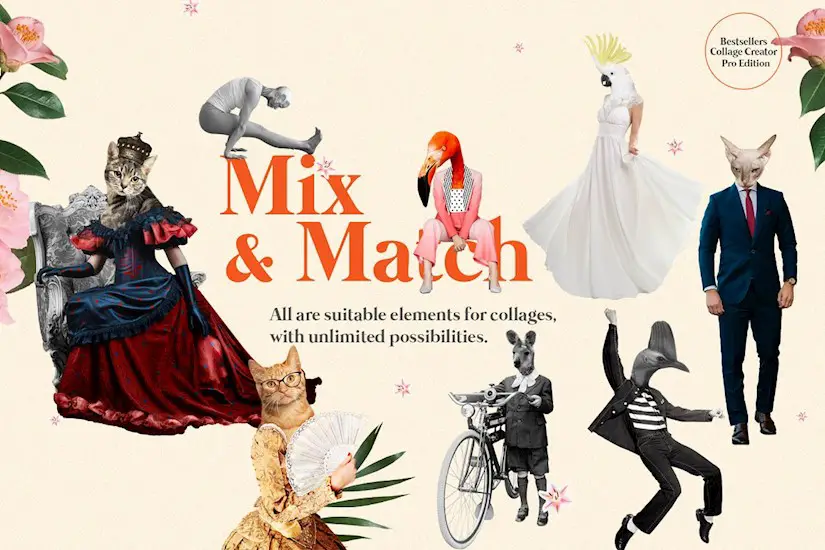 Here is a collection of graphic elements plus premade templates to create your fashion collages. Add variety to your blog, website, Instagram, Pinterest, posters, postcards, etc., with this fun and creative kit. It contains over 130+ hi-res .PNG items.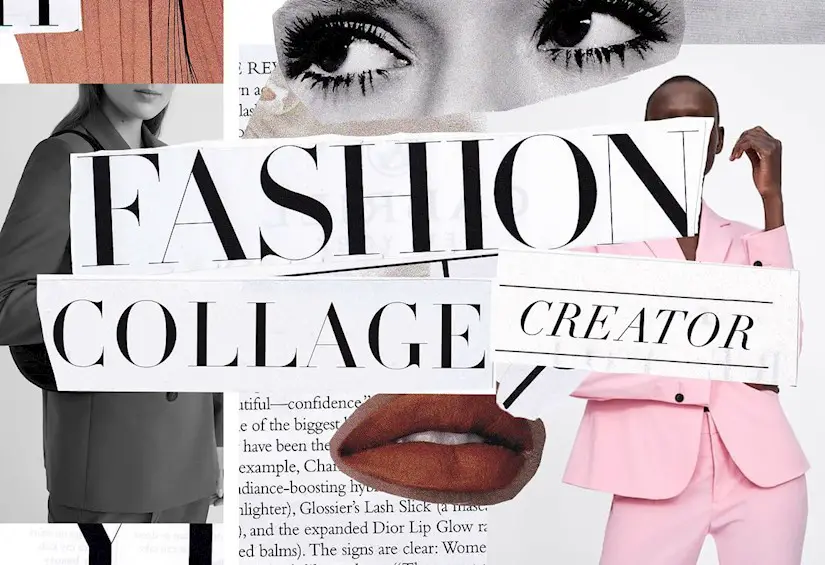 Contains a pack of 290+ high-resolution retro style cutouts. Each file has realistic halftone and grain effects for the vintage magazine look. Combining any of the images, you're able to create countless unique scenes. This download includes over 295 high-resolution transparent PNG files and five unique editable PSD scenes. All cut-outs files are from 3000px to 4000px wide or high, and the 5 scenes are 4000x4000px.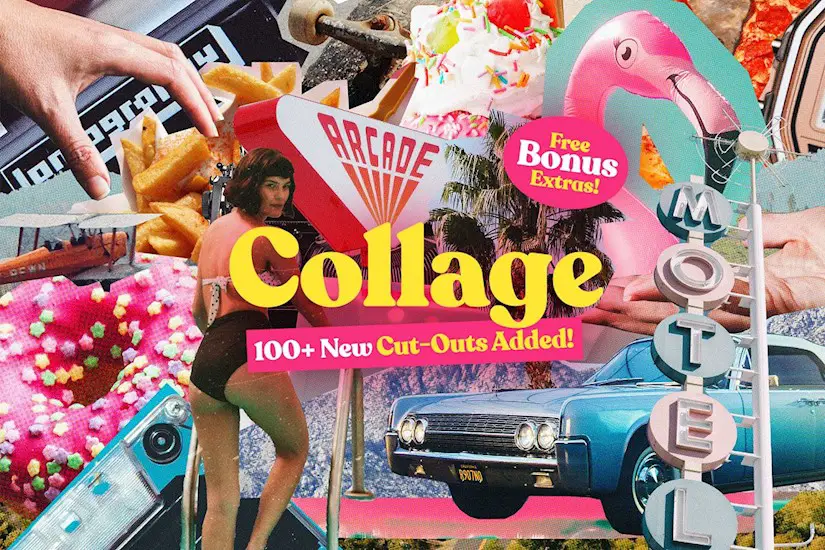 This Collage Creator includes every pack in the Collage Supply Co collection. With over 1000 cutout images, the collage possibilities are limitless. The sky is the limit.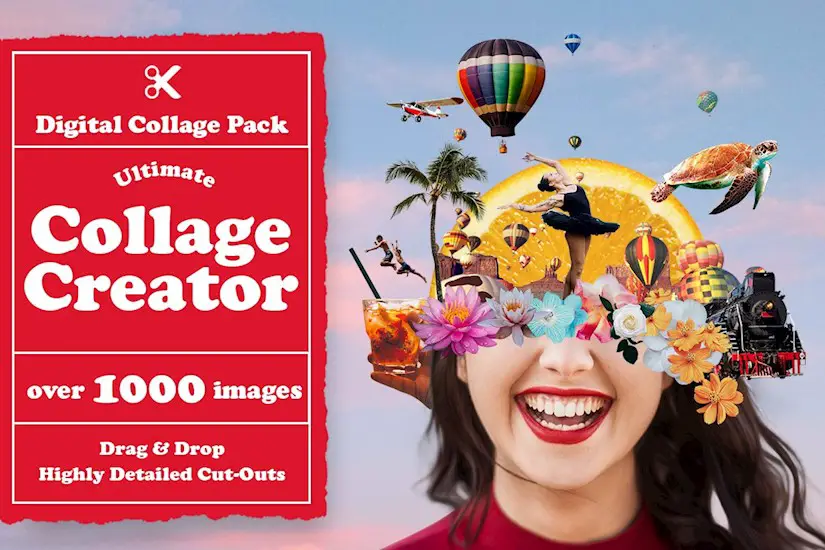 Using this collage Pack, you can create your art that looks great on social networks, blogs, posters, postcards, and more! It has 34 PNG with transparent background; 7 PNG files with clouds, sparkles. All files have a retro-style granular texture.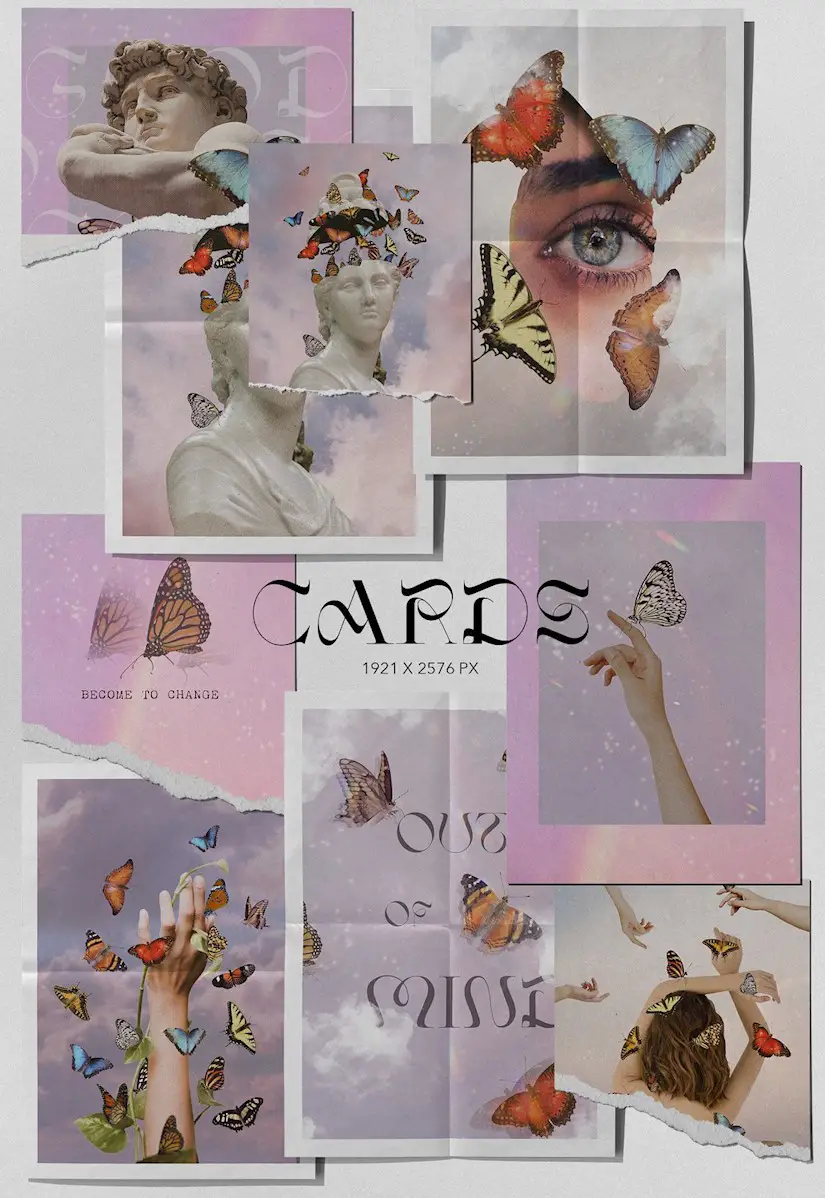 Here is a set of Psychedelic collages to create crazy and bright summer collages. It contains 30 abstract shapes, 20 abstract flowers, 12 psychedelic backgrounds, 22 compositions, 80 collage elements (buildings, plants, butterflies, people, signs, inscriptions, birds), and paper elements.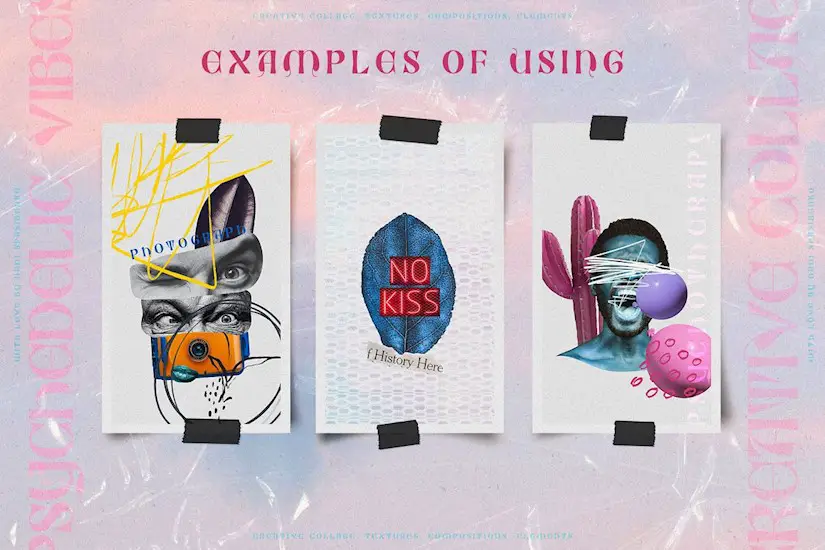 This is a curated collection with lots of 70s elements that can create endless unique collages like poster design or surreal artwork. Add a touch of vintage 70s nostalgia to your projects.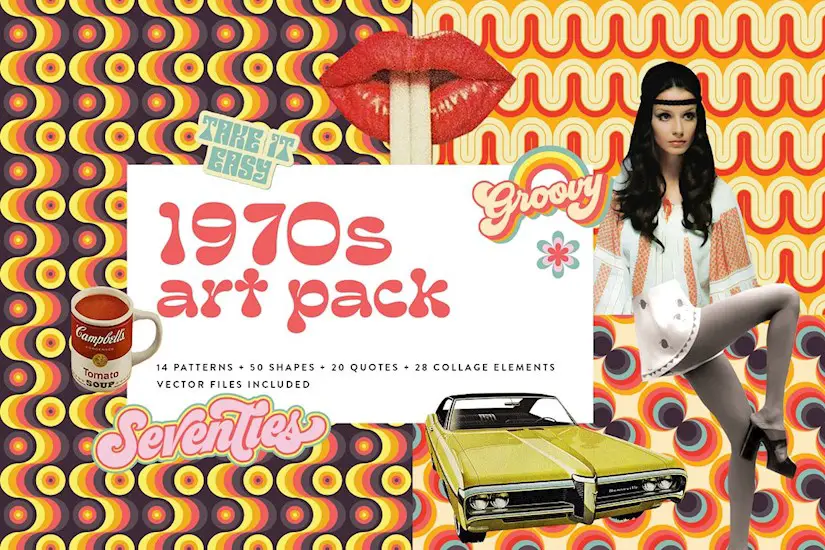 Vintage Map & Collage Creator comes with over 1300 items! It's so fun making collages and adding your creative touches. Now it's so easy to make collages with this kit! Each graphics saved as .png with transparent background and high res 300 DPI Cut out images size are approx 3000×4000 px.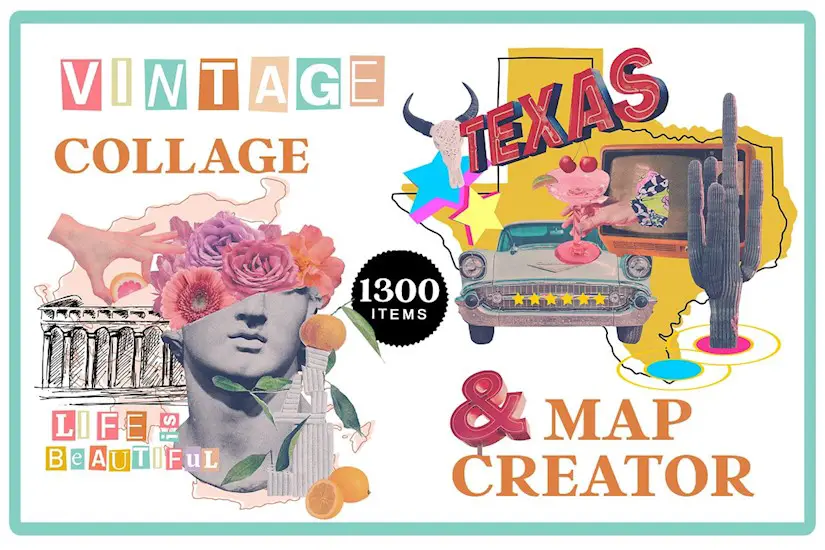 It includes funny cut-out letters frommagazines and newspapers that allows you to create stunning kidnapping note 🙂 I'm kidding. You can use these amazing letters for collage typography.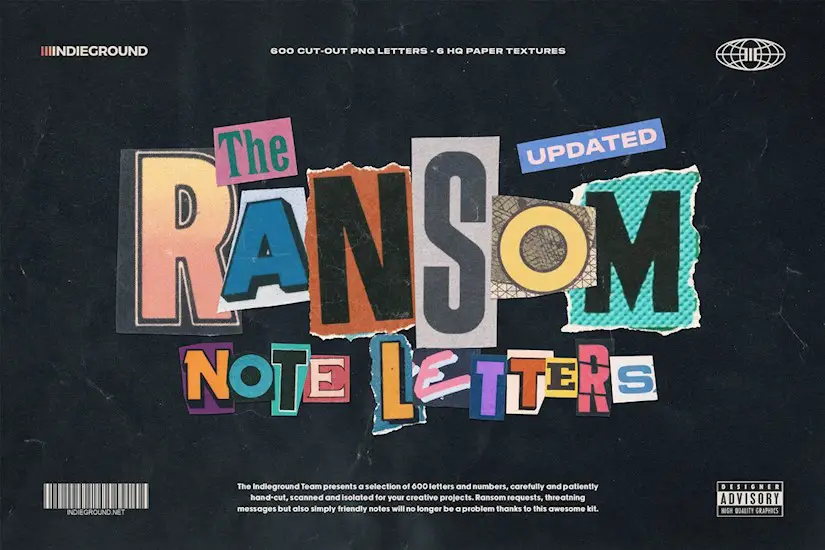 This is a unique set with its style and character! Contents of delivery package: 240 photo clippings and illustrations, textures and backgrounds; PNG image format (transparent background). All assets are very detailed and of good quality. This collection is perfect for creating posters, art prints, clothing, and T-shirt design, Instagram and other social media posts, scrapbooking and decoupage, and much more.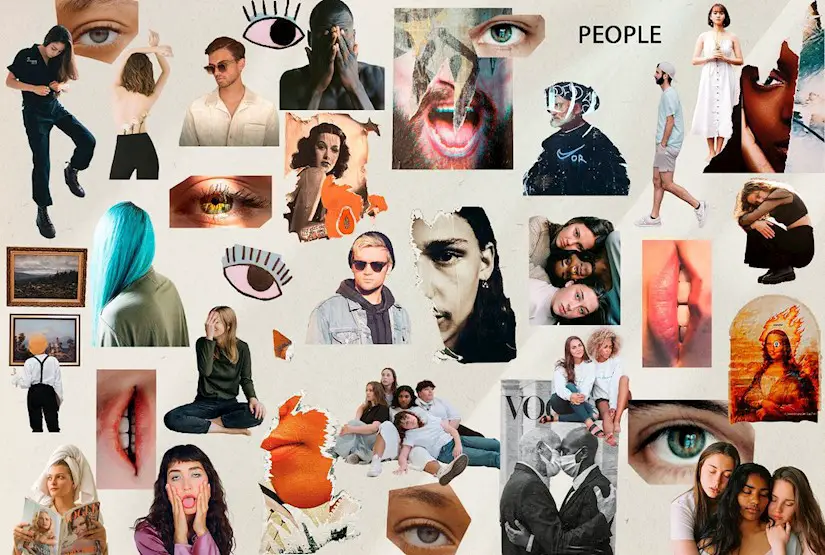 It's got six premade posters and heaps of elements to make your own. All layered out in easy-to-use folders. You can turn on or off each layer and move objects aroundto make awesome posters! One simple layered photoshop file. Pre-made posters in Layer Comps. Comes with instructions FOR CS4+. Posters are A4 format but can be scaled up, or orientation changed.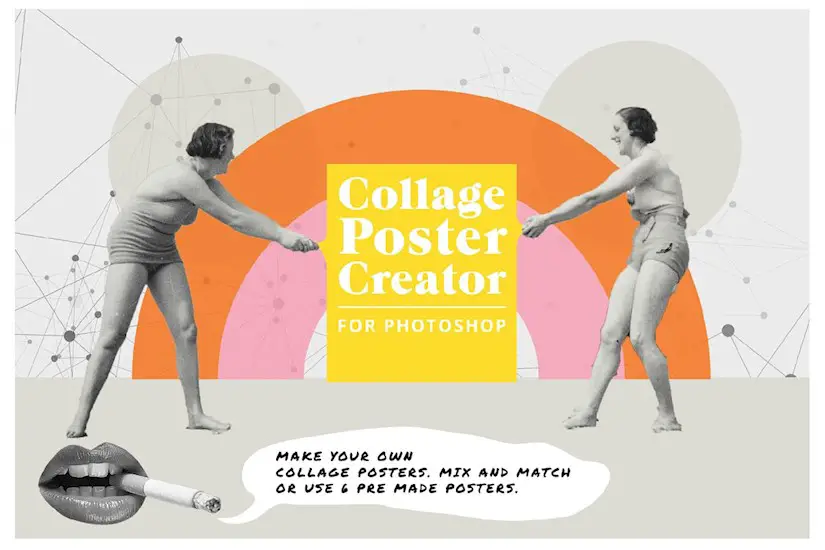 This gorgeous collage kit allows you to create countless combinations to decorate your photos, website, or social media posts. It makes anything look unique in seconds! The bundle includes many elements like tape bits, stamps, paper scraps, memorabilia, notebooks, brush strokes, handsaws elements, and fonts. 145 PNG files + 3 HAND DRAWN FONTS + 9 premade Instagram posts and stories.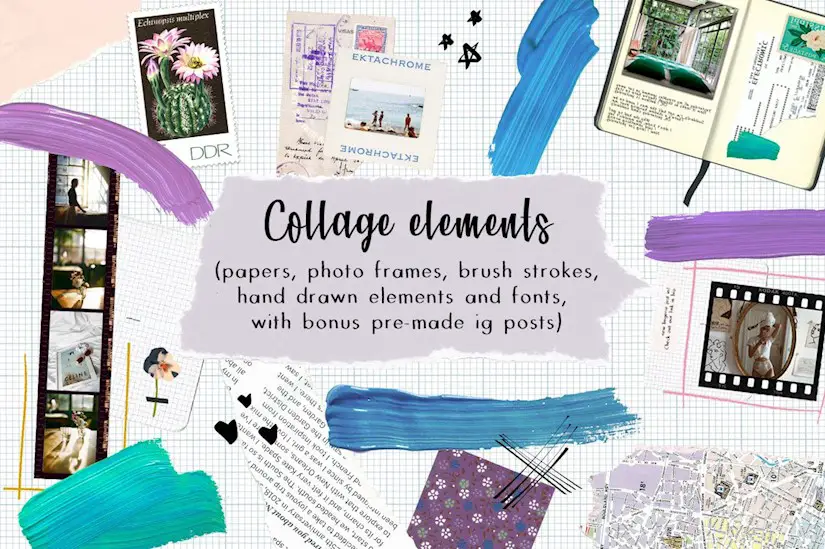 Enables you to create your retro digital collages easily with the botanical collage kit! Unleash your inner artist with these cutout PNG elements. Each element has a distorted, tough cutout effect applied to mimic retro print cutouts.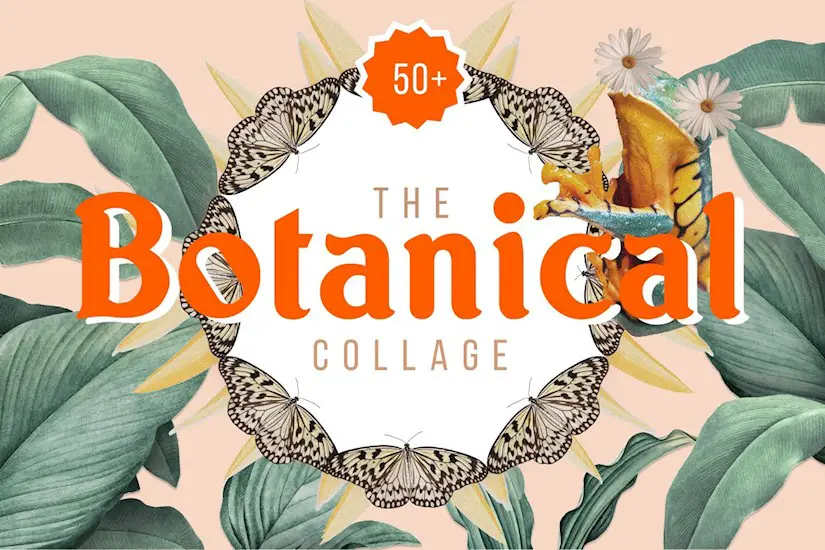 The bundle includes over 500 elements like doodle sketch elements, hand-drawn crayon elements, gold and glitter doodles, stamps, brush strokes and splatters, paper tears, tape bits, magazine rips, cut out paper shapes, cut out alphabet letters, ink seamless patterns, craft, and hand-painted paper textures. Each collage and paper piece has been painted with acrylic and drawn with crayon on paper, hand-cut, scanned at hi-resolution, and carefully extracted to preserve the authentic feel and natural edges of real bits of hand-cut paper. These PNG files can be opened with most photo editing software. However, it would be much easier with Adobe Photoshop. For example, open and edit the .abr brush file in Adobe Photoshop CS6.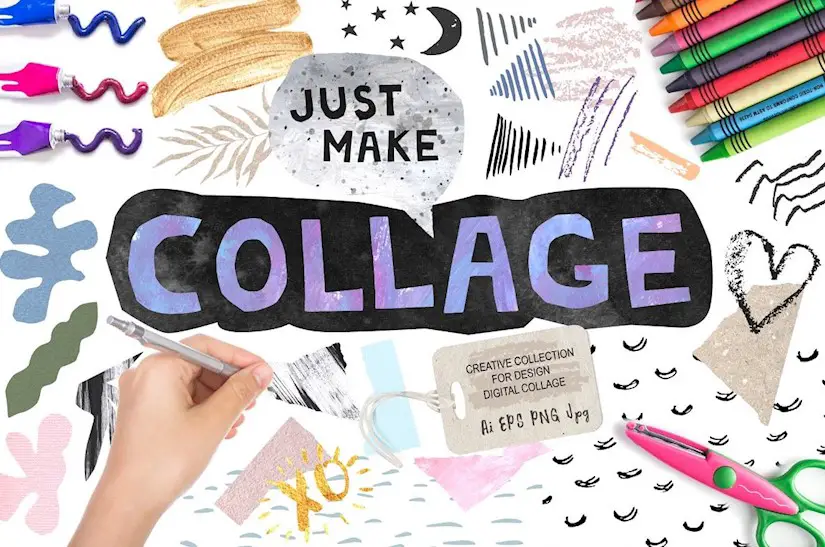 The set includes the alphabet and numbers printed on paper. Animals included in the collection are tigers, lions, zebras, giraffes, butterflies, birds, snakes. Also included is a set of flowers: peonies, roses, daisies, asters, and others. The package consists of over 150 items.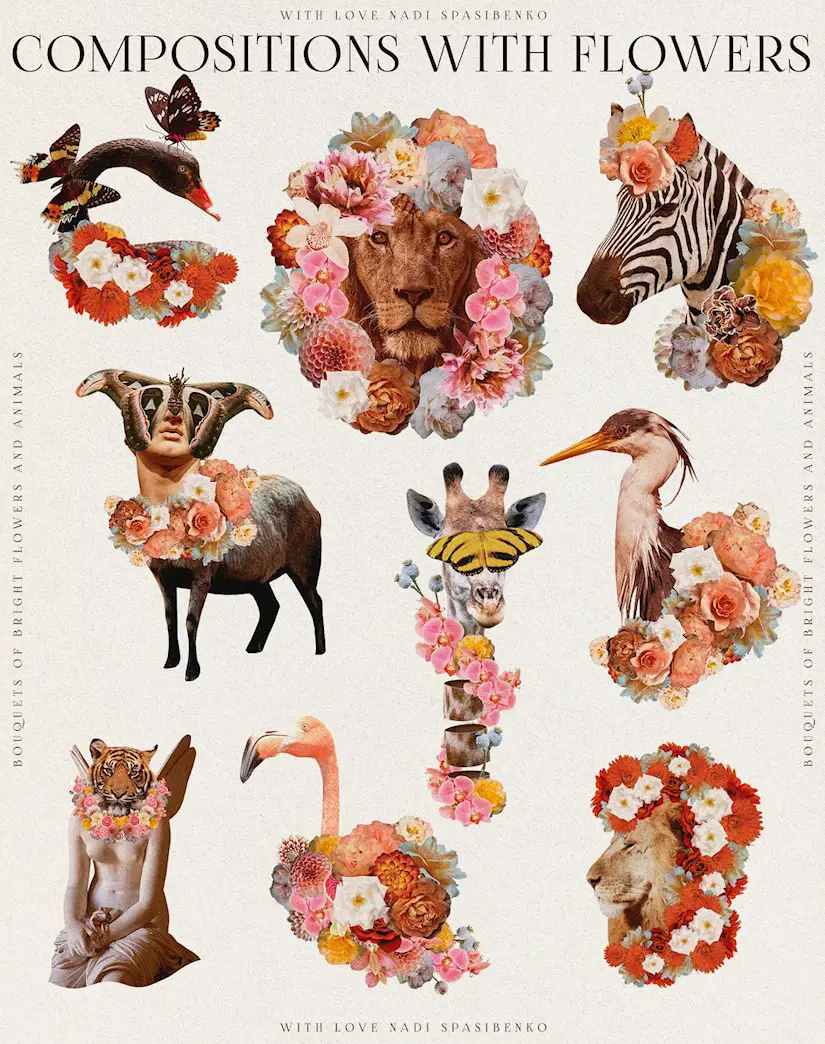 It is a 15 different styles boutique that creates room to experiment with various techniques, media, and interpretations of classic styles for a modern and trendy look. So this vast collection was born naturally, dedicated to all my love and passion for abstract and minimal trends. The Library includes 1400+ items.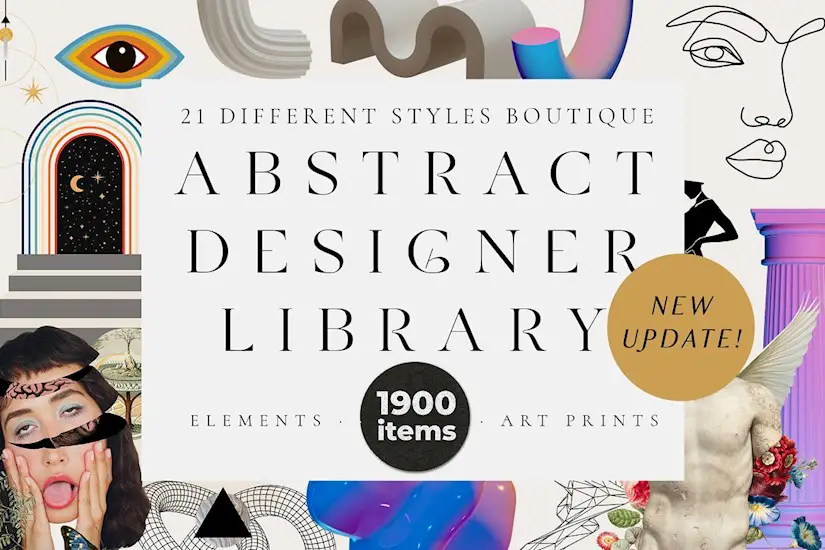 Here is a massive set of objects and elements to quickly create a modern, unqiue collage. This pack has 127 amazing images and elements perfect for making a modern digital collage. There is no need to cut out hundreds of things yourself; they have already done all the work for you! Use these collage elements to create stunning posters, branding identity, busines cards, postcards, frames, and more.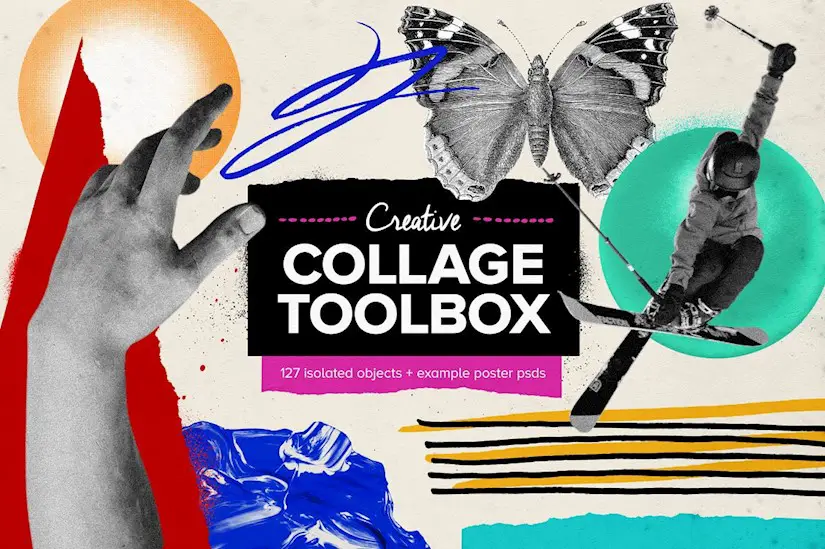 Here is a collection of 40 different collage media PNGs and a massive collection of 18 collage-style background jpg's. Each collage png is handmade and unique.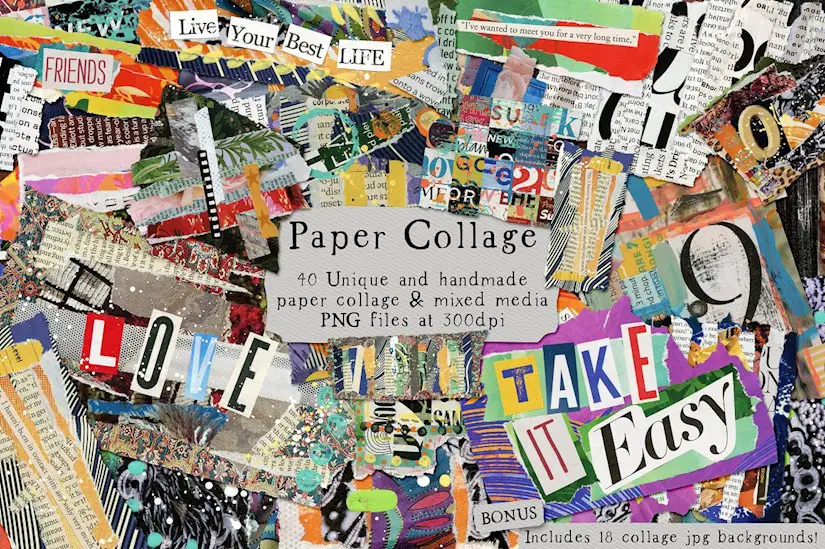 Huge collection of 700 transparent PNG images with cutout backgrounds so you can quickly and easily create endless collages. It has 13 sets of images ready-made to navigate different categories, making it very easy to combine them as you wish. High resolution (up to 9000px at 300DPI) so you can create stunning visuals that will look good on web devices, TV screens, and even large printings! Museum Collage Creator is composed of images with an artsy look, including paintings, old photographs, illustrations, vintage items, and retro objects. It contains 10 Premade Collages that you can use or customize as you want! They are available in PSD format, so make sure you have Adobe Photoshop, Affinity Photo, or any PSD file format compatible software.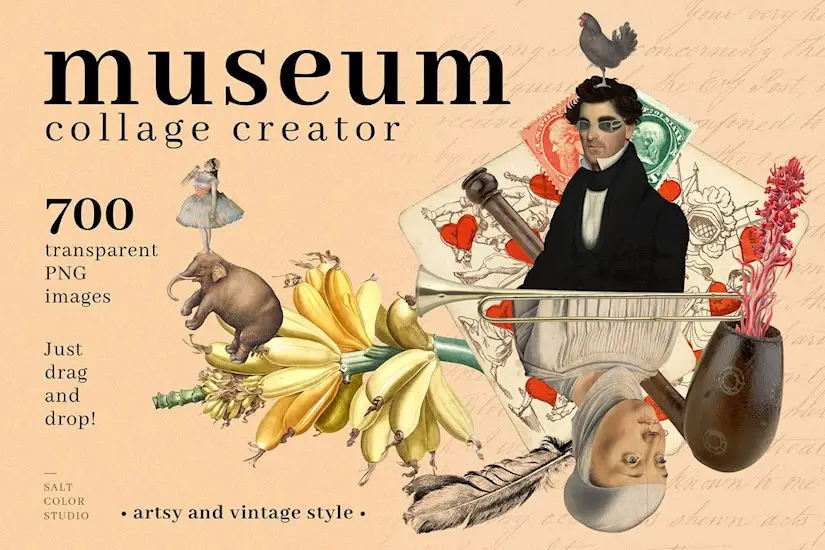 This product empowers you to create breathtaking photo collages easily. It has 243 PNG images about the following themes and 8 Premade Scenes (PNG files).