It is undeniable that TikTok is the hottest social media platform today. Research shows that there are over 1.1 billion monthly active users worldwide.
So, why is TikTok so popular?
The platform offers everyone a place to make entertaining, educational, and personal content. With its numerous features and editing tools, it gives people so much freedom to be creative.
Are you wondering why you should use TikTok?
The first reason to get on board is the platform's algorithm. It is unique because it is truly based on merit. It does a great job of pushing content people might like onto their feed, regardless of how many likes or followers they have. 
This allows users to go viral at any time—and the numbers are whopping when your video goes viral.
It's also important to note that TikTok is the second biggest app in consumer spend. So, if you're looking for a great place to promote your product and get a great return on investment, TikTok is where it's at.
Now that you know why you should be on TikTok, let's dive into how you can grow your following.
10 Practical Tips to Get Followers on TikTok
If you're feeling a little lost once you open the TikTok app, we can help. Here are 10 tips to get you started.
Determine your target audience
Create short videos (8-15 seconds)
Post often
Post at the right time
Hop on the latest trends
Use the right hashtags
Collaborate with influencers and content creators
Go live
Repurpose on your socials
Make a great video
Determine Your Target Audience
Defining your target audience is critical because it gives you direction for what kind of content you want. It is all about defining your niche and what type of content your audience will find valuable. What are your hobbies? What are you knowledgeable in? 
Users come from all kinds of backgrounds with a variety of interests, from fashion experts (Ms. Kristine), photographers (Wonguy), marketers (Nicolas Rojas), and more. When you find that niche that fits you, create content around it. This will lead to more follows from your target audience because they know what they're getting from you.
Create Short Videos
TikTok allows you to post anywhere from 8 to 60-second videos, but the shorter the video, the better. Why? This has something to do with watch time. TikTok likes to push videos with a 100% watch time — meaning that the video is watched entirely from beginning to end.
Pro Tip: Aim for 7 – 15 second videos.
Post Often
When it comes to TikTok, quantity along with consistency, is key. Posting 3 – 4 times a day helps you reach different audiences at different times, which can help you grow your brand quickly. Those numbers may seem like a lot, but you can implement many types of video ideas to diversify your content.
Post At the Right Time
Ideally, you want to post when you expect your audience to be awake and active on the app. You don't want to post too early or too late because you will miss out on a significant audience in your location. 
Pro Tip: Upgrade to a Pro or Business account to have access to TikTok analytics. They tell you where most of your audience lives and what day and time they are most active.
Hop On the Latest Trends
Why not join in on what everyone else is doing? Trends are an excellent way for you to have fun and gain more visibility. These topics are getting major watch time and popularity amongst users, so this is a massive opportunity for your brand.
You can see what's hot by looking at the "Discover" page on the app. You'll see that not only hashtags but sounds can trend.
Use The Right Hashtags
Choosing the right hashtags can help your video get seen by the right people. But how do you know which ones are the right ones for you? It all depends on your niche and your video. You want them to be trend-driven, business-driven, and overall related to what the video is about.
Pro tip: Don't use the same combination of hashtags for every video. The algorithm can detect that as spam.
Engage With Content Creators
Find popular creators in your niche and engage with them. It can be as simple as liking and leaving thoughtful comments on their videos. It lets them know you're a supporter and exposes you to their audience. It's a win-win for all!
Go Live
When you reach 1,000+ followers, you'll have access to TikTok's Live feature. With this tool, your followers will receive a notification every time you go live that lasts until you end the stream.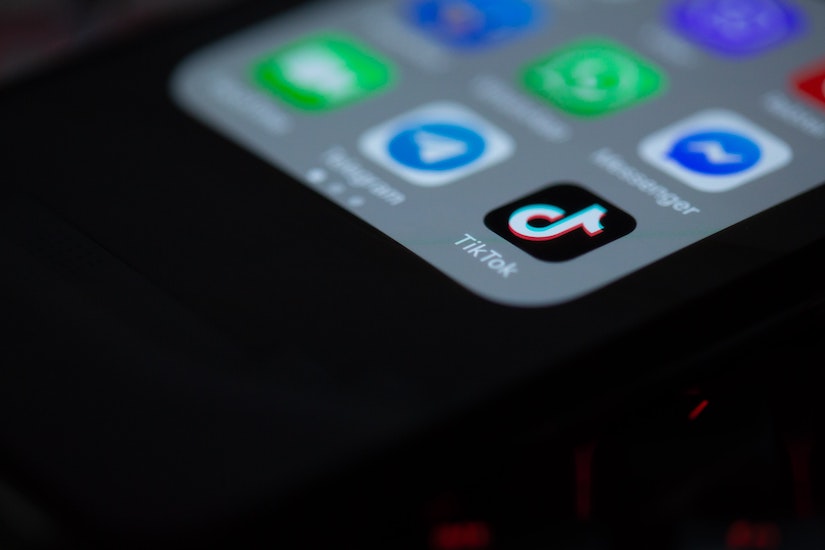 TikTok Live is an excellent way for you to get personal, have conversations with your followers, and even gain new ones.
Repurpose Content on Your Social Channels
The app allows you to save your own videos so that you can share them everywhere else – Instagram, Facebook, etc. Your saved video will have the TikTok watermark with your account name on there to ensure the proper source. Doing this will allow you to promote your account on more channels.
Make A Great Video
A great video is engaging and straightforward. With its various editing tools and features, there's no shortage of originality or creativity on TikTok. If you want, the app has all you need to put out quality content. 
Check out an online video editor if you want to be extra creative. These tools easily crop, merge, reverse, and more with videos. Try Fastreel Video Maker, WeVideo, or ClipChamp. Using an online video editor can give you an edge over other creators.
Related article: Top 6 Best Tools For Video Editing For Beginners
Conclusion
These tips can help you promote your brand and boost your following. With the TikTok app available in over 200 countries, it's proven to be a powerful platform that can help you expand your business's reach. Because of this, it is no question that you should consider adding TikTok as part of your marketing strategy.