In September, Apple officially released iOS 14, the next-generation operating system for its phones. In this latest variant, the company introduced a completely new home screen design with full-fledged widgets, an App Library page, Picture-in-Picture function, a new Siri feature and many other novelties.
After the redesign, the main screen now supports full-fledged custom widgets. You can place them right between app icons, update in real-time, and get information depending on the application.
Moreover, you can change the image of the icons. It is the first time during the 13-year history of the operating system when developers allowed the users to change its appearance.
The company did not offer specific themes or templates, any picture can become an icon logo or widget design. The designers immediately used this chance to create versatile icon templates in various themes. Check out the best iOS 14 icon sets and widgets to customize your iPhone interface.
20 Best iOS 14 Icons Sets
---
The set includes 135 app icons for iOS 14 in Boho style. Along with the icons you'll also get instructions on how to install new icons on your iPhone or iPad and nice backgrounds to fit the icon set.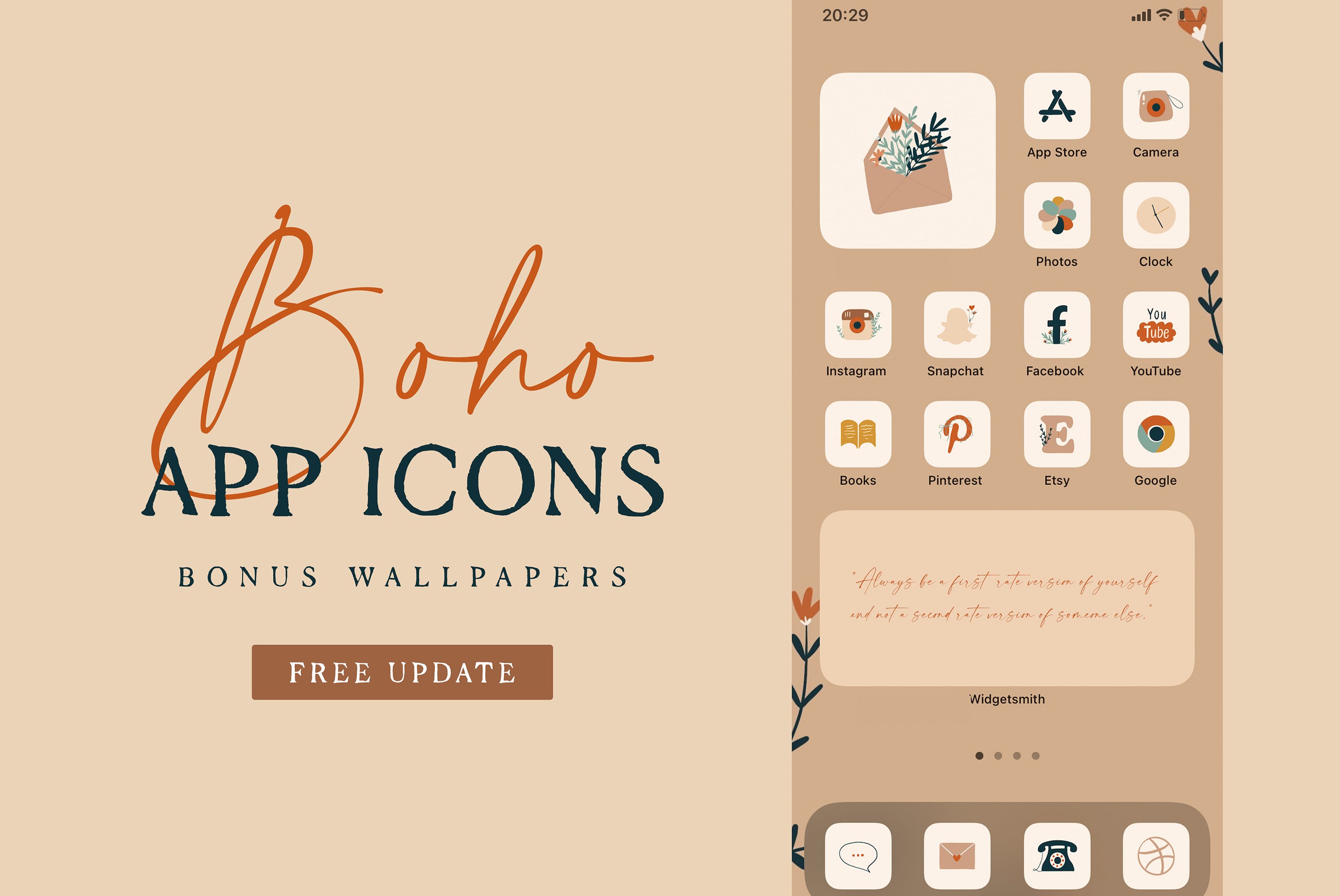 A pack of 100 retro items for basic and most popular iOS applications in high-quality 1068×1068 PNG. Bring back old good times with multiple styles and make your icons more recognizable. Free updates. From $ 25.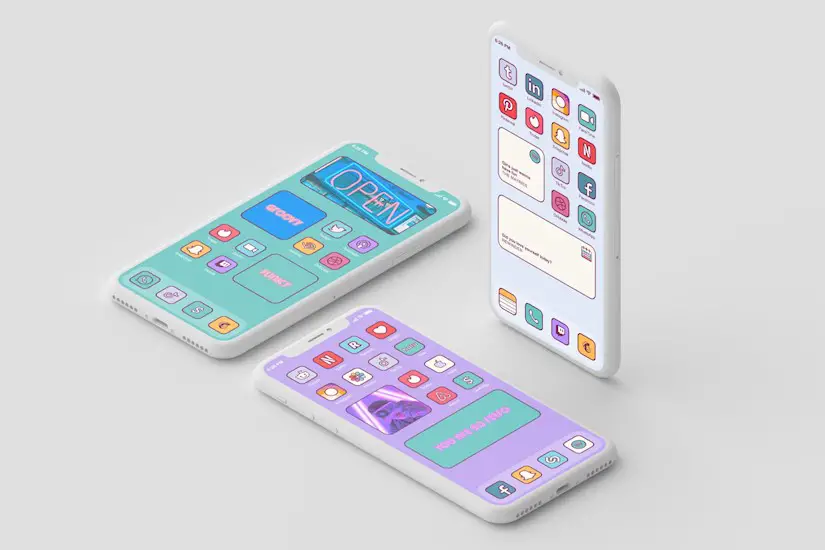 An elegant collection of 145 high-resolution 600×600 PNG images is recommended for commercial use. The bundle also contains 7 widget images and 5 line wallpapers. A nice bonus is included – 3 photo wallpapers. All images are ready to use without resizing. From $ 35.
This Halloween icon set is a must-have before the coming holiday. Even your home screen can convey the spooky mood. The collection comes in 5 styles and includes 50 icons. All images are in 518×518 high-quality PNG. Free updates are included. From $ 14.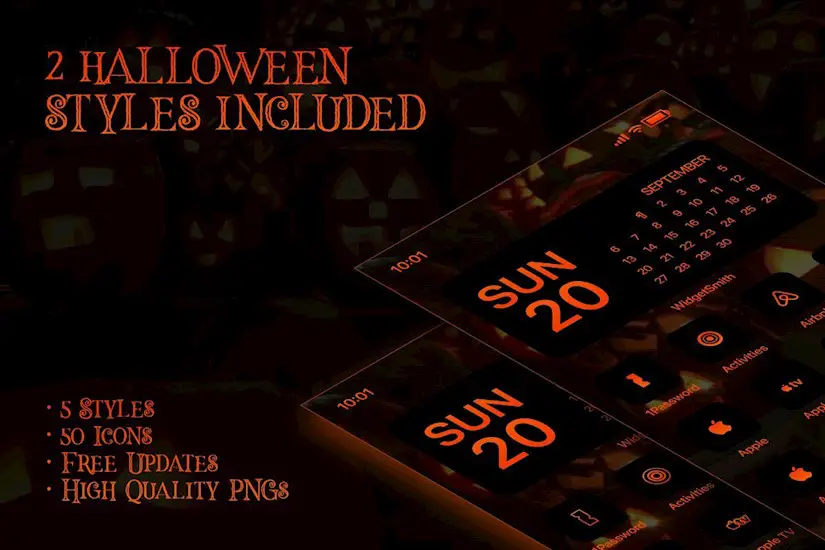 A seasonal collection containing 72 application icons with the autumn theme. The fall icon set offers 6 colors to choose from and a tutorial video for iOS 14. You will also find a few bonus apps to be used to your taste. From $10.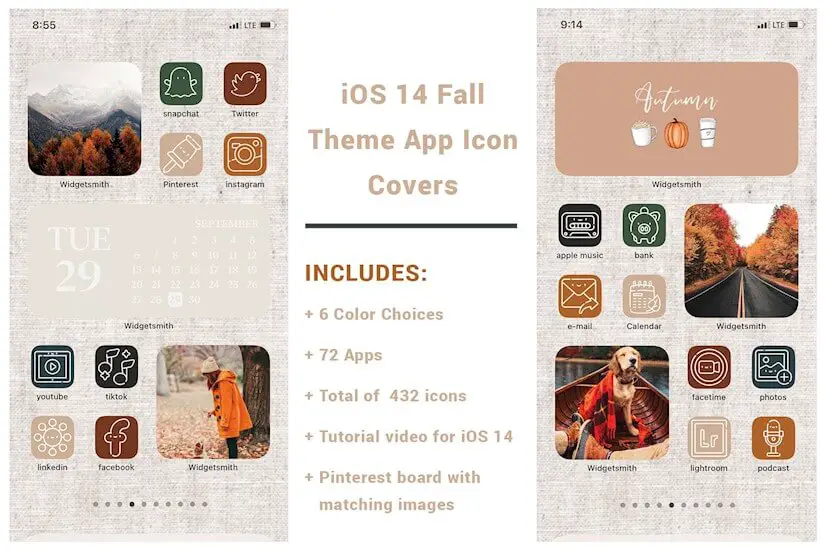 This iOS 14 universal icon set includes an impressive collection of 1440 icon options in total. You can experiment with 80 icons across 3 styles – line, solid, duotone – and 6 backgrounds, including Halloween colors. Lifetime updates are included. From $ 14.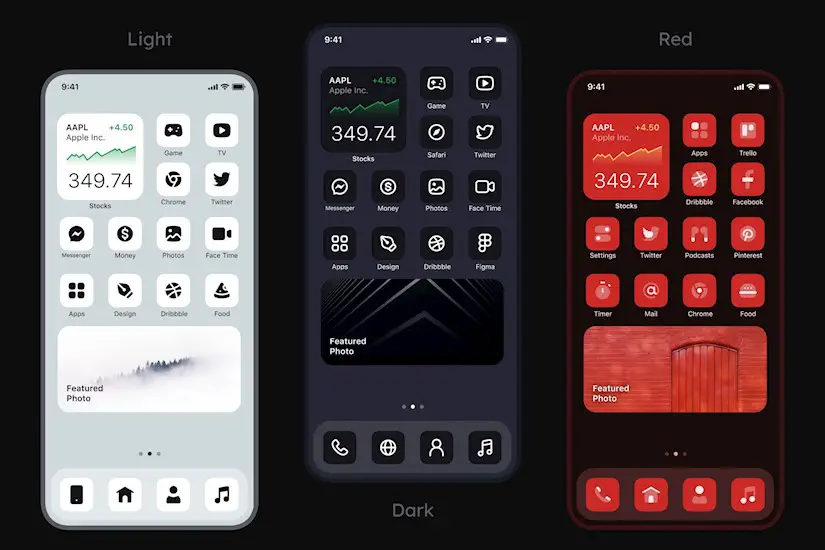 Grace icon collection will add a special charm to your home screen. The set includes 100 icons that can be used across 2 styles and 2 backgrounds and 8 pictures for widgets. A video tutorial file is included. From $ 12.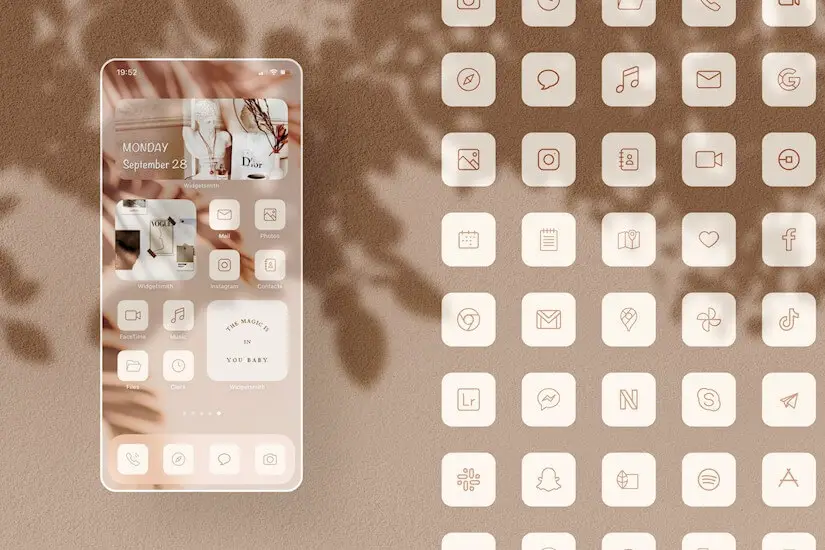 A set of iOS 14 icons in a minimal neomorphic style. You will get over 100 high-resolution icons in a square or round style. The 3D effect will favorably transform your home screen and make it look more elegant. From $ 24.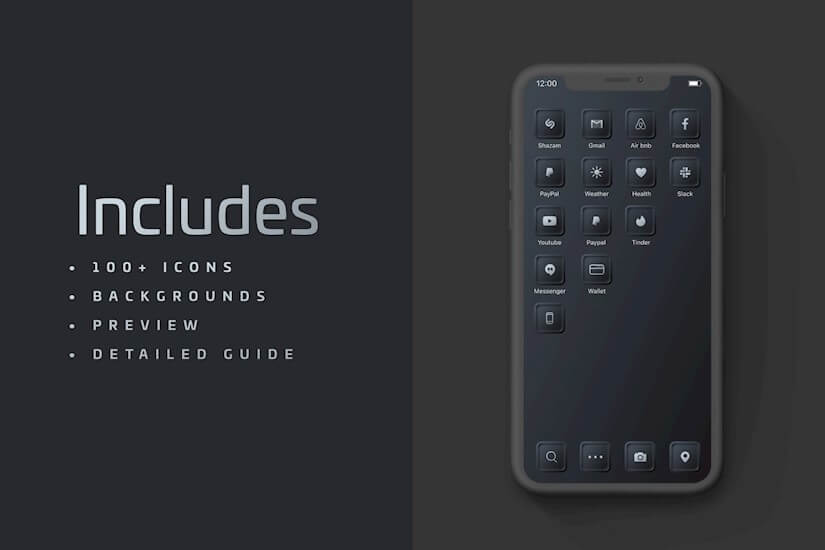 This icon template collection allows you to play with the colors. You can use a free design tool to edit the colors in Canva to create your own shade with no editing restrictions. You can customize each icon for any application you like. From $ 8.
A premium pack of home screen vector line icons. It consists of 160 icons that can be used in a light or dark version. It is a growing pack with monthly updates. Lifetime updates are included. From $ 50.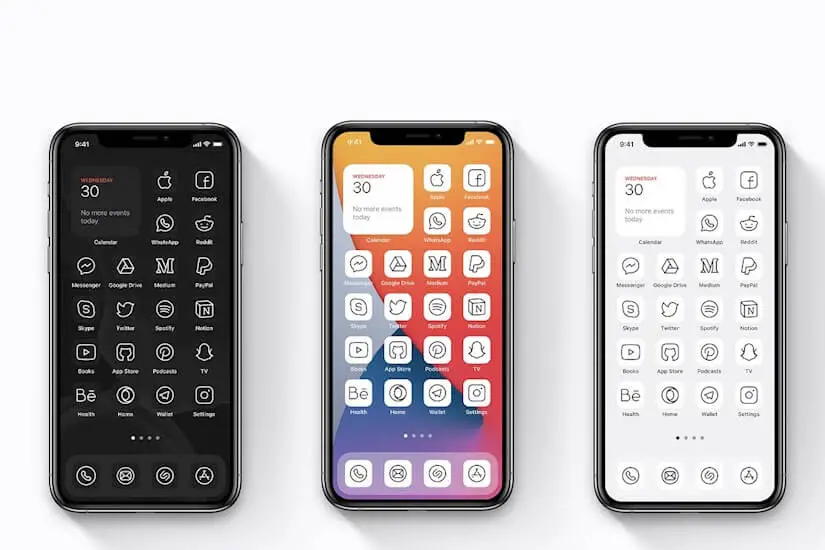 Make your home screen all shades of grey with this aesthetic collection of icons. The bundle includes 60 PNG icons, 3 wallpaper, and 6 quotes and graphics. Experiment and create your individual design in grey. From $ 9.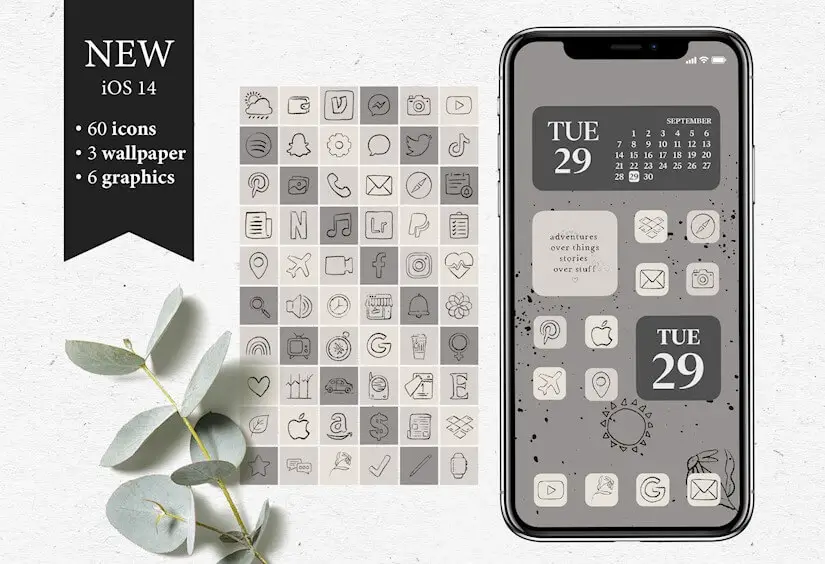 A special icon collection for girls. You will get 86 icons across 8 different colors to mix and match as you like. All icons are 1024×1024 PNG files. Free updates are included. From $ 9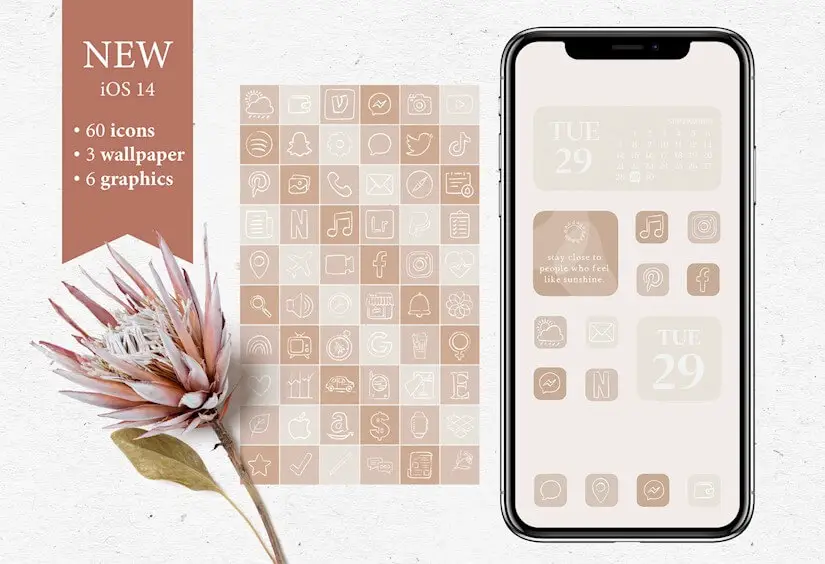 A minimalist icon pack in a low-key style. It offers icons across only three colors – black, space grey, and white. You will get over 100 PNG files in high resolution. Develop a laconic home screen design. From $ 9.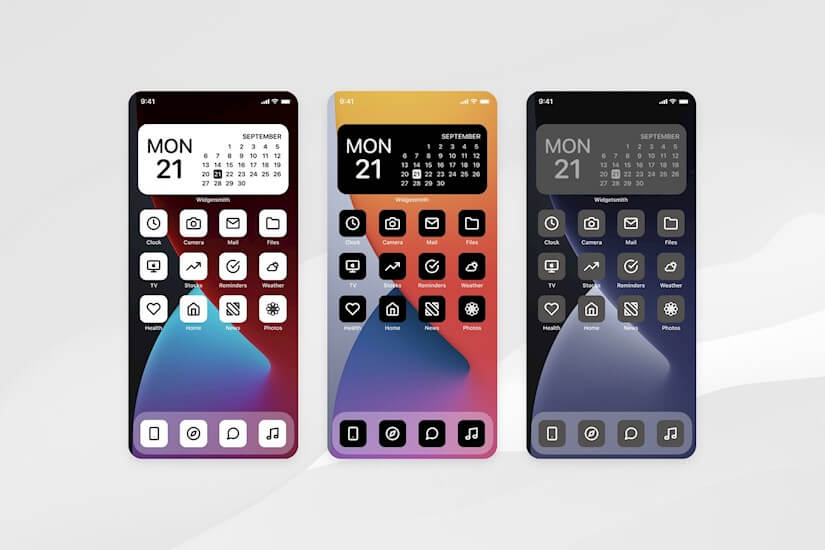 An icon collection in a restrained style. The pack includes 70 icons across 3 styles. Only three colors are available – dark, blue, and light. Despite limited shade selection, the pack enables you to achieve a stylish minimalistic design. From $ 21.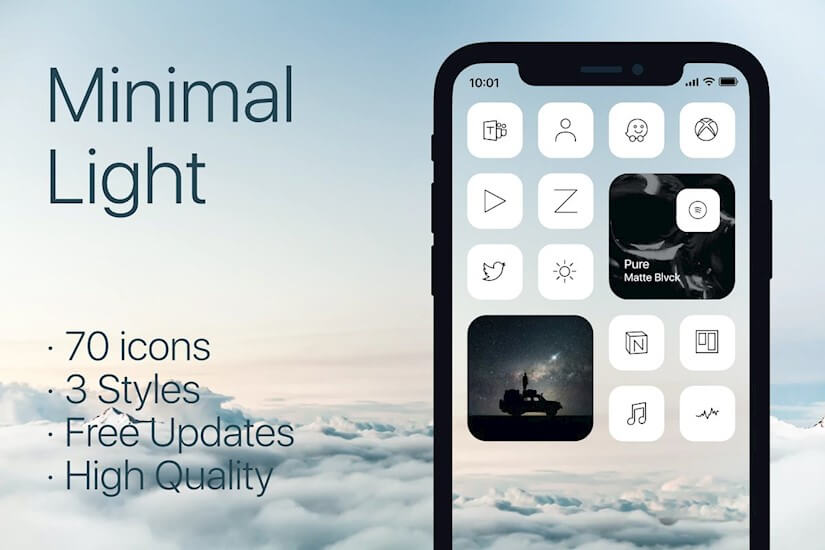 This iPhone icon bundle offers 86 icon options to choose from. The collection is in 8 colors in a very soft palette. It will easily add a sophisticated touch to your home screen. Free updates are included. From $ 9.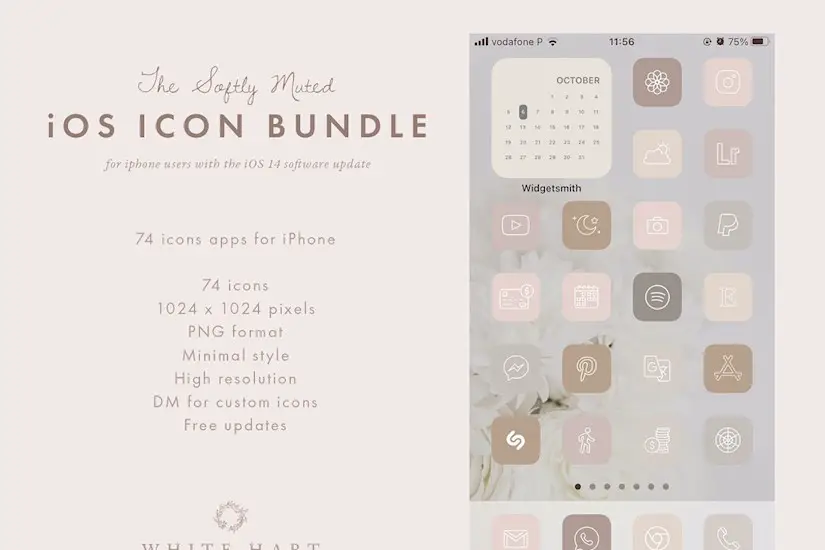 AnotherOne iOS icon set 100 handcrafted icons in 5 styles. You can use white icons on a black background or vice versa, and glowing green icons on black background. There are 5 different wallpaper styles. Lifetime updates of the pack. From $ 4.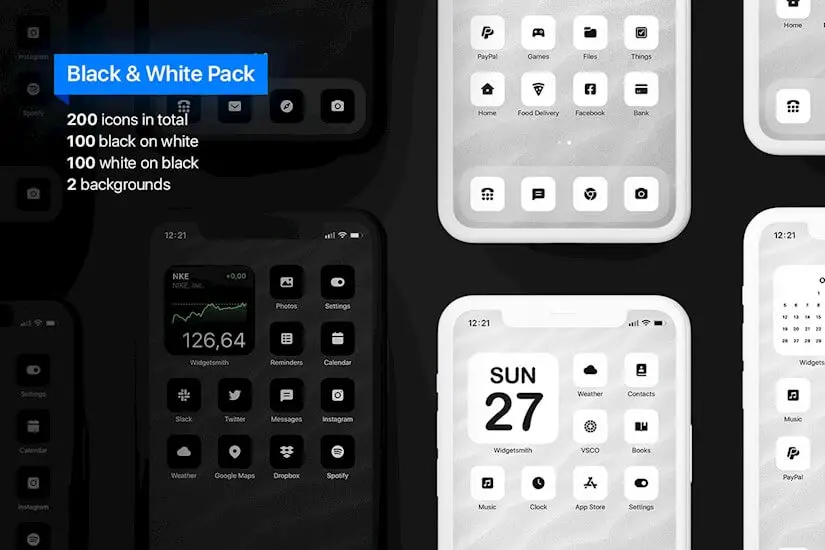 A pack of iOS icons in pastel shades. The icons are designed in 3 colors – midnight green, rose gold, sky blue. You will get 100+ icons for the most popular applications and social media. Lifetime updates. From $ 9.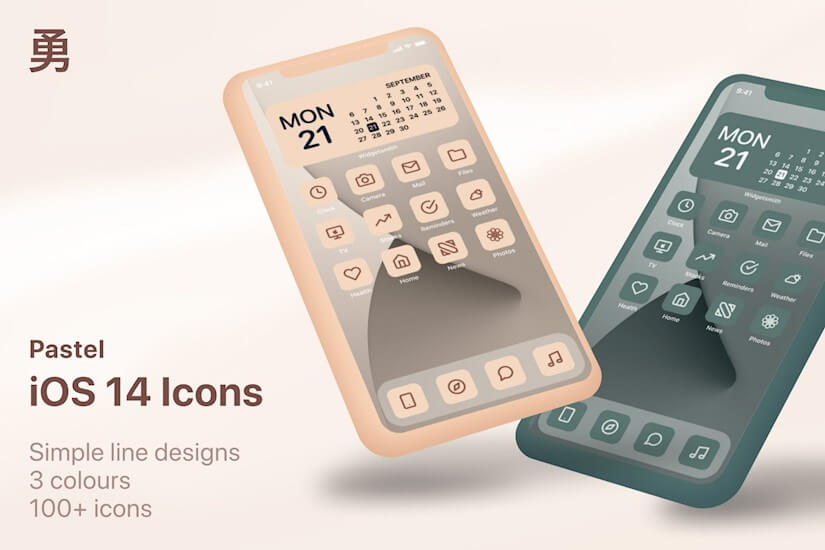 This collection of iOS icons offers 163 icons, 12 widget photos, and 5 wallpaper styles. You also get 3 photo wallpapers. You will easily make your home screen look great with the colors of the pack – green emerald, deep green, brown. From $ 35.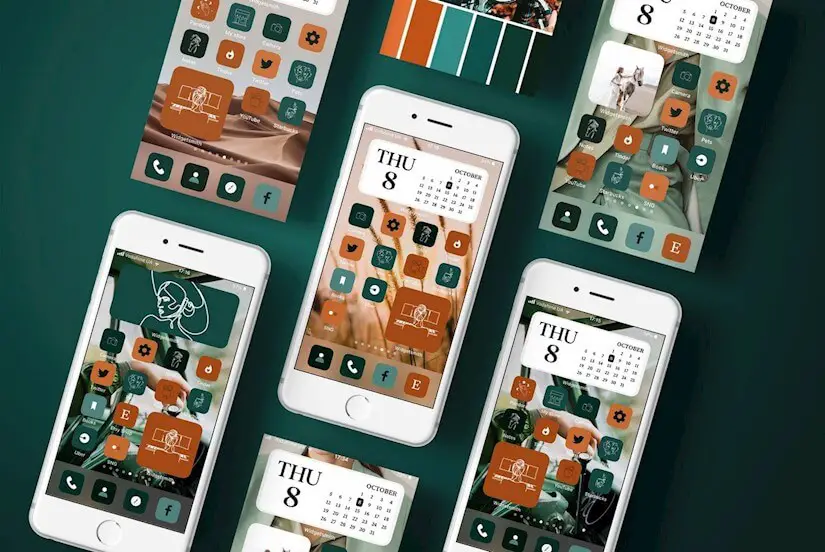 The rose pink icon collection includes 163 options for your iPhone home screen. The pack also comes with a TXT instruction file. Soft pastel colors are a perfect choice for girls' phones. The images are ready to use, no editing is needed. From $ 35.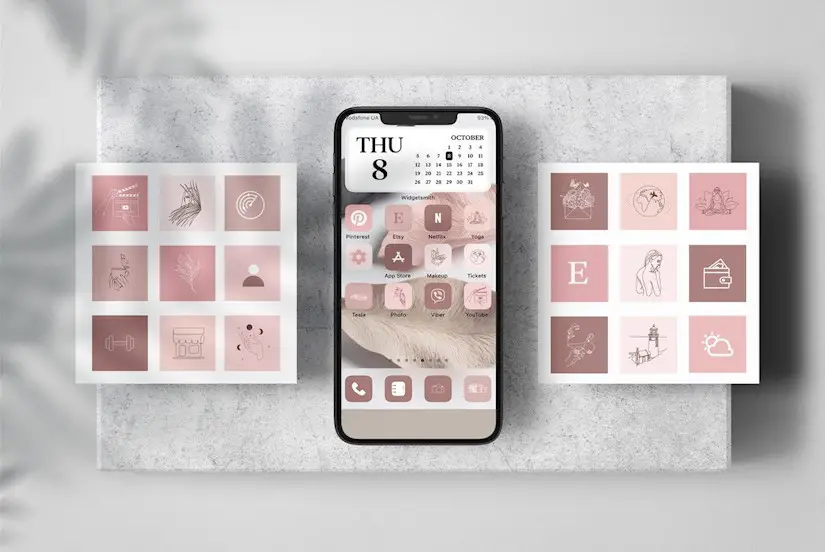 Add autumn vibes with this fall iOS apps icons pack to your home screen. You get 163 PNF files and an instruction file. All images come in a ready size to use for the iPhone. From $ 35.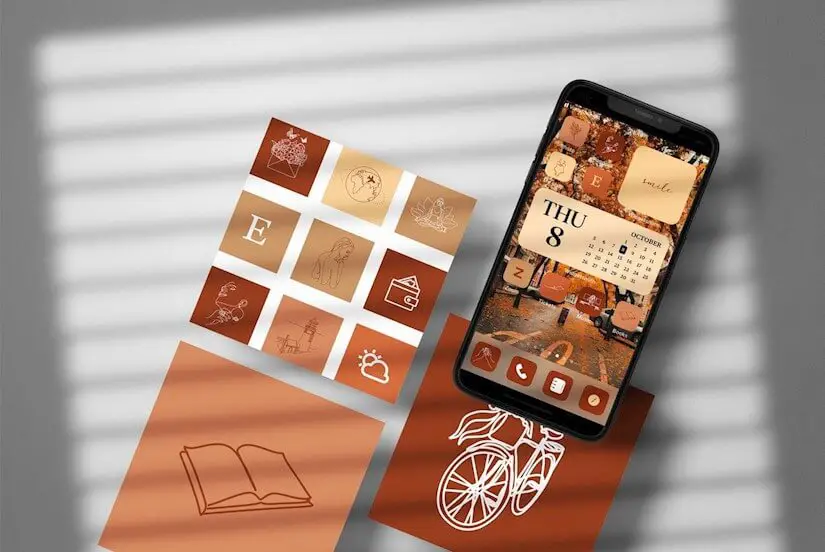 A neutral tone collection of iOS icons is a great solution for every user. It offers 163 iOS 14 app icons, 12 widget pictures, and 4 line wallpapers. Subtle shades will add a more sophisticated look to your home screen. From $ 35.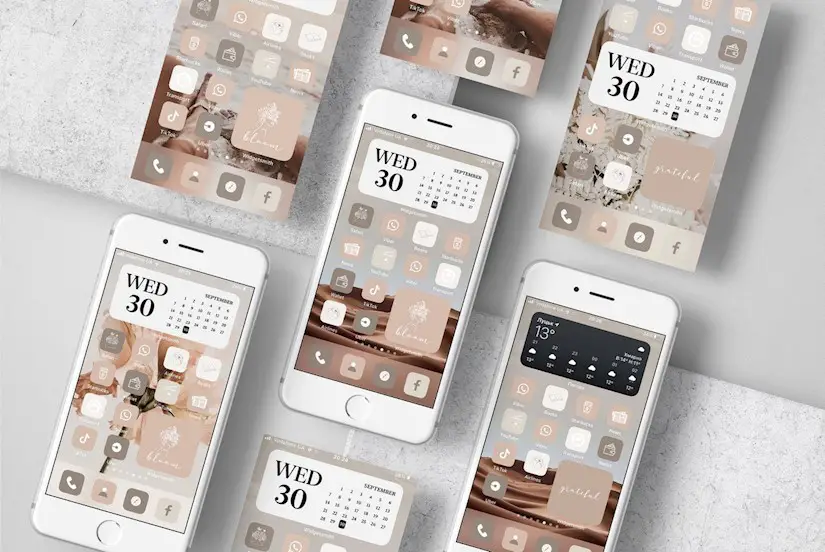 ***
I hope you enjoyed these amazing iOS 14 icons! Finally, Apple allows us to customize iPhone's interface. Don't hesitate to share screenshots of your iPhone menu with nice widgets and icons. Check out my iPhone's look in the comment down below.