Everybody will agree that it is much more pleasant to receive a creative kids birthday invitation than just be invited on the phone. And it is especially true when it comes to a kid's party.
Creative invitations are the first step in the preparation for a fun holiday for kids. They will not only inform the friends and relatives about the birthday party but also will remain a good memory of the fun.
The wide variety of digital kids invitation templates allow you to create a unique design and personalize it. No matter how you celebrate this day – whether in a family circle or with friends – you will find a suitable pattern for any party format.
Best Birthday Invitations for Kids
Format: Canva
Amazing invitation templates with unicorn princess will add a special zest to a young lady's party. Add the details of the celebration such as place and time and set the festive tone to the holiday. Your little guests will appreciate the lovely invitation designs.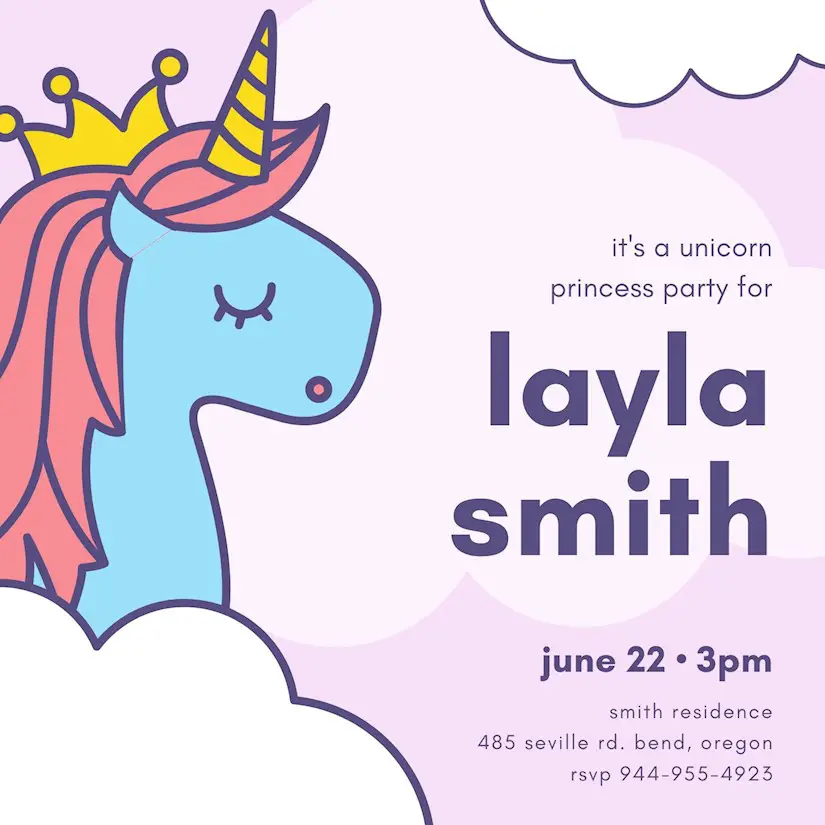 Format: Canva
A kid's birthday party is always a pleasant challenge. And a collection of beautiful pink and mint unicorn invitation templates will help you create that special atmosphere in advance. You can personalize each template by adding names of the birthday child and the guests. It is easy to make your celebration unforgettable.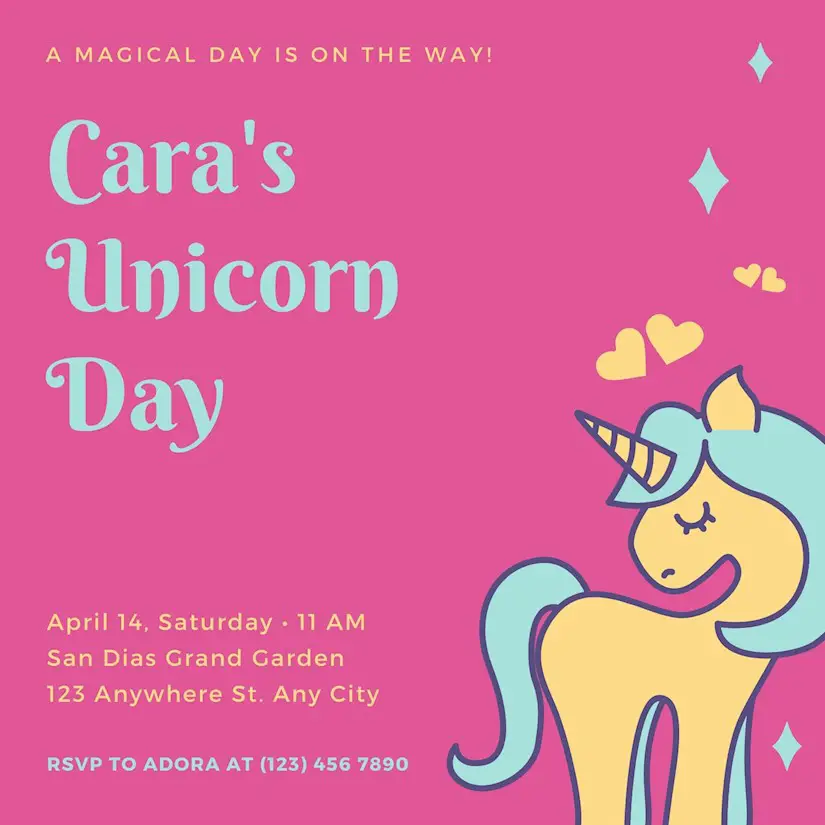 Format: Canva
All children love unicorns. So add some magic to their party by making stunning birthday invitations with these mysterious animals. Use cream and purple unicorn invitation templates to add some mystery to the birthday party. With these little things, you will turn your celebration into a magical adventure.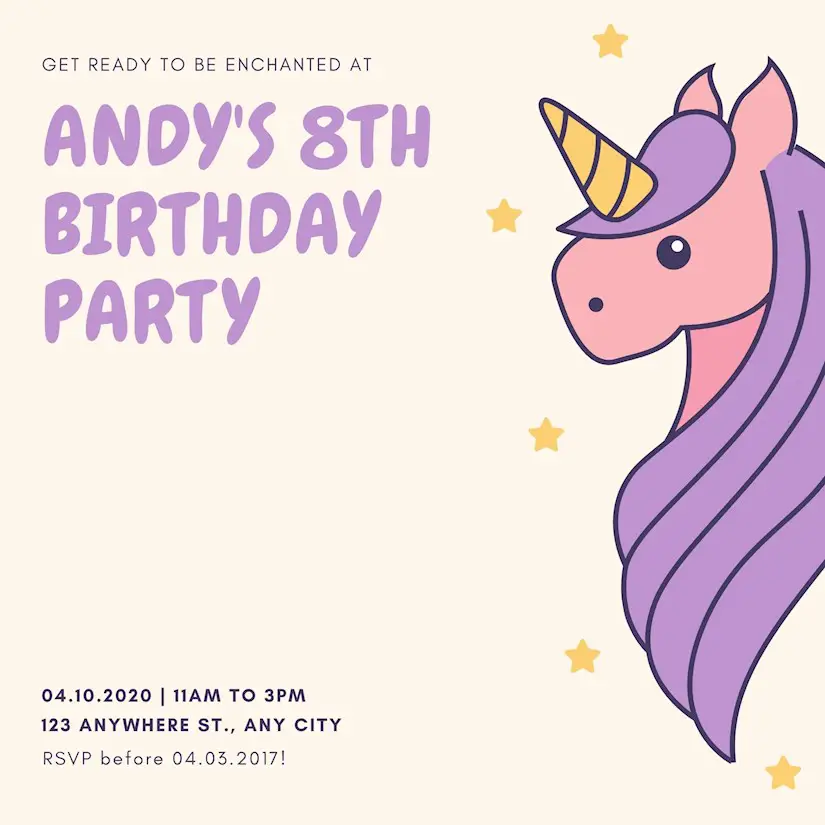 If you are preparing your kid's birthday party in Harry Potter style, be sure to pay special attention to small details such as invitations. Ready-made templates can help a lot. Just add your details to the invitations and enjoy the magic result. Little guests will be delighted by their favorite characters.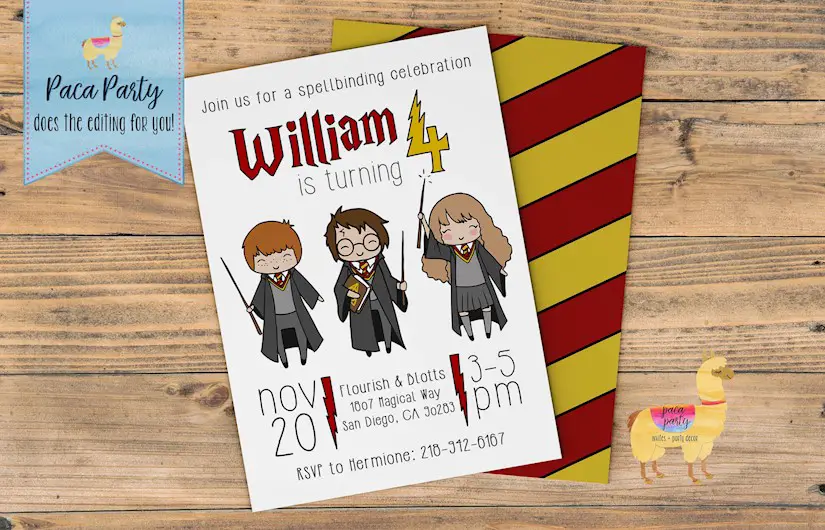 All kids love adventures and wizards. And Harry Potter theme has the right associations with the magic and spells. Make your kid's celebration even more special with wondrous invitations. Use wizard party templates to start holiday adventure. Kids will anticipate the party with these lovely invites.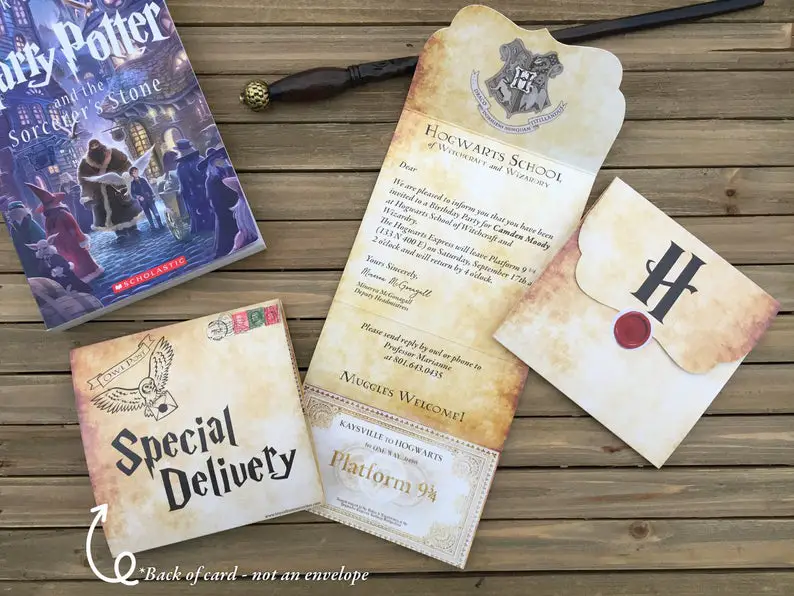 A lovely collection of Wizard First Birthday Invitation templates will help you add extraordinary mood to your kid's party. Children are thirsty for adventures, and they will love to feel a wizard for a while. Personalize the ready-made invites with the details of the party, and let the fun begin.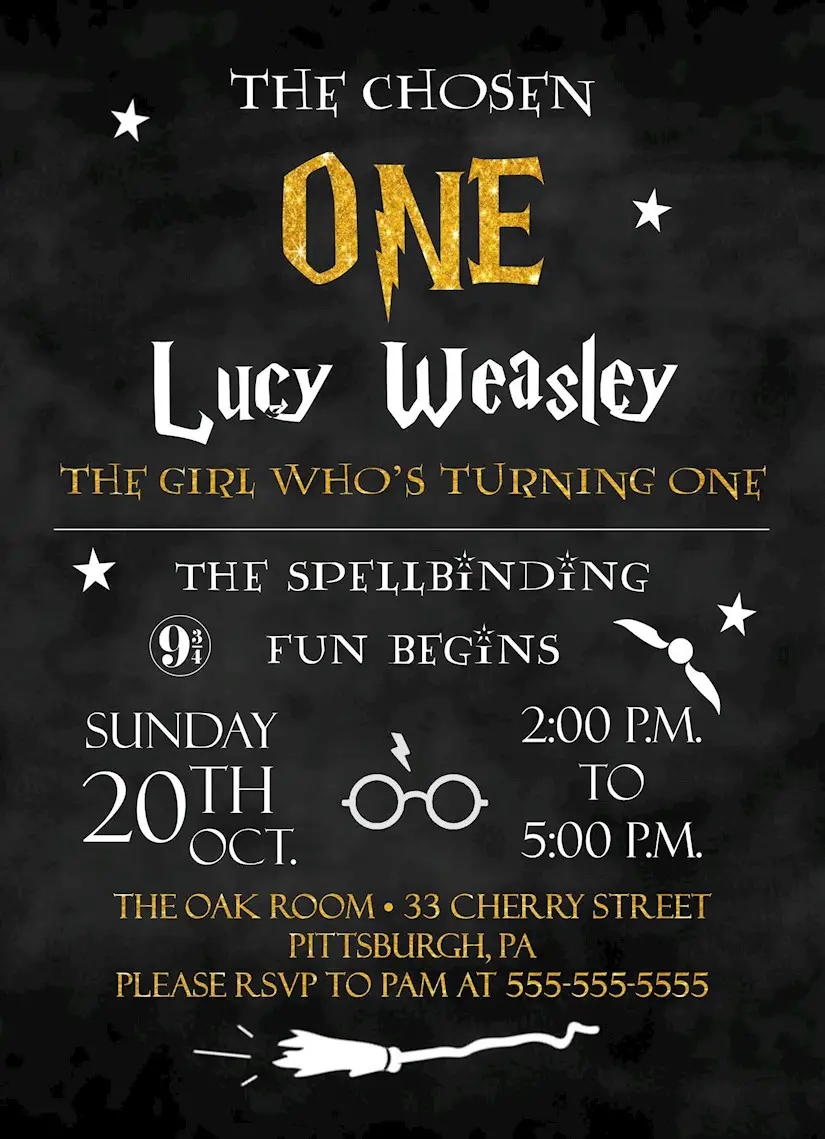 Take your time and prepare a wonderful invitation for your kid's birthday with Mickey Mouse templates. Customize the invitations with names and party details and print them out. You can modify colors, fonts, add wording, etc. It is easy to create exclusive invites with this lovely printable collection of festive patterns.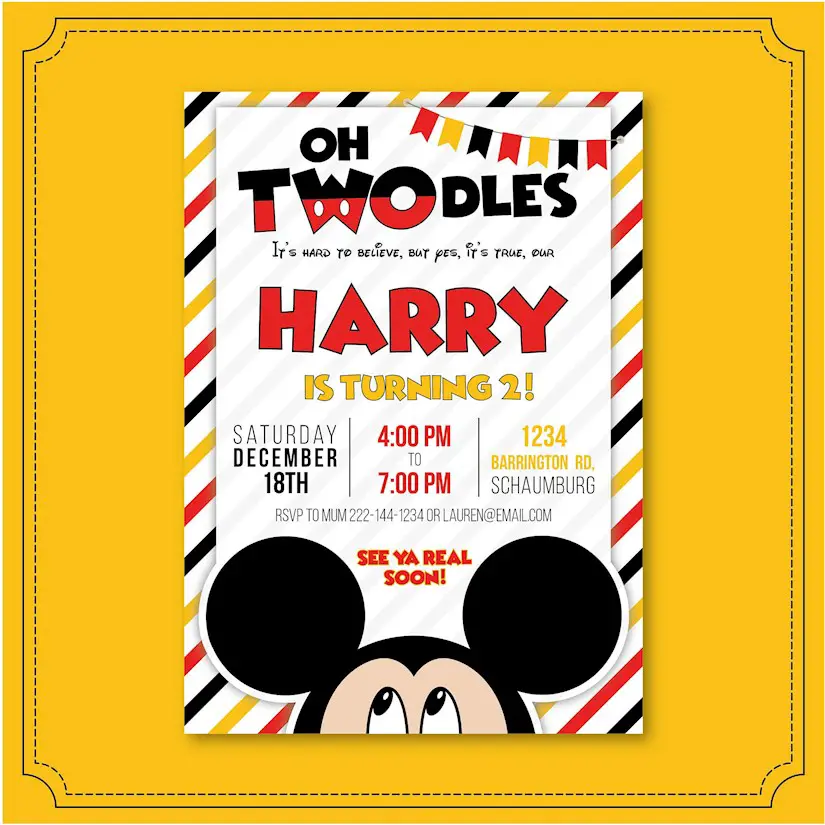 What can be more special than the first birthday of your kid? And some party accessories such as invitations will help memorize the event. Minnie Mouse 1st birthday invitation template collection will allow creating a unique design for your celebration. Gold glitter confetti invitation will contribute to a festive atmosphere of the day.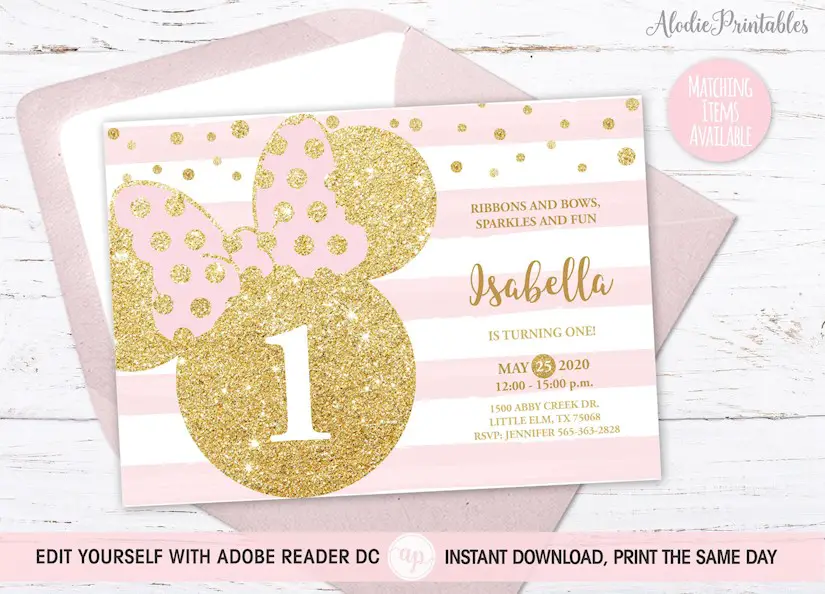 Lovely Paw Patrol invitation templates will help you surprise your kid and guests. They will appreciate the bright designs. The templates are easy to personalize and print out. You will find a boy and a girl invite option. Add some fun to your party with these colorful invitations.
Birthday is a favorite holiday for every kid. And you can make it even more special with bright invitations. Use the template collection depicting the famous Paw Petrol characters. Moreover, you can add the photo of your kid and the details of the party to make it really unique.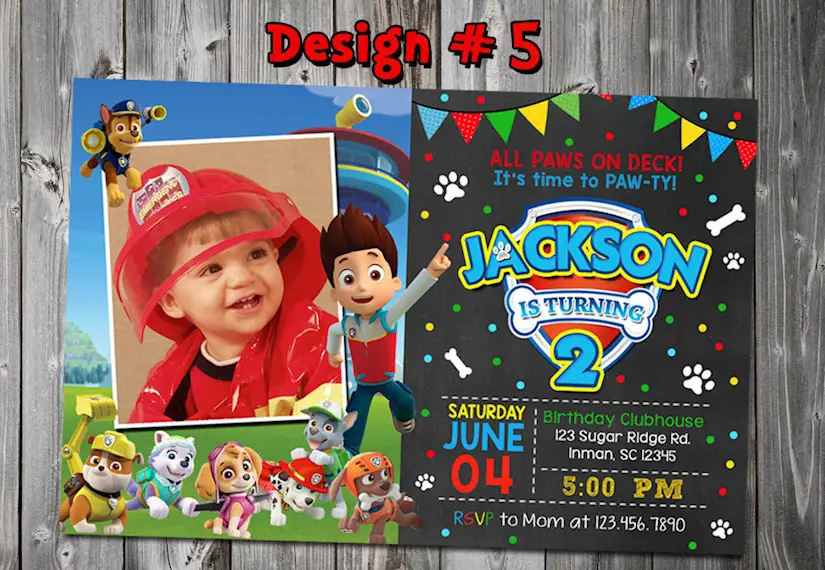 Birthday invitation templates are a good solution to create your own design. And the variants with the favorite cartoon characters will be appreciated by all kids. Add Paw Patrol theme to your customized invitation, both boys and girls will love this idea.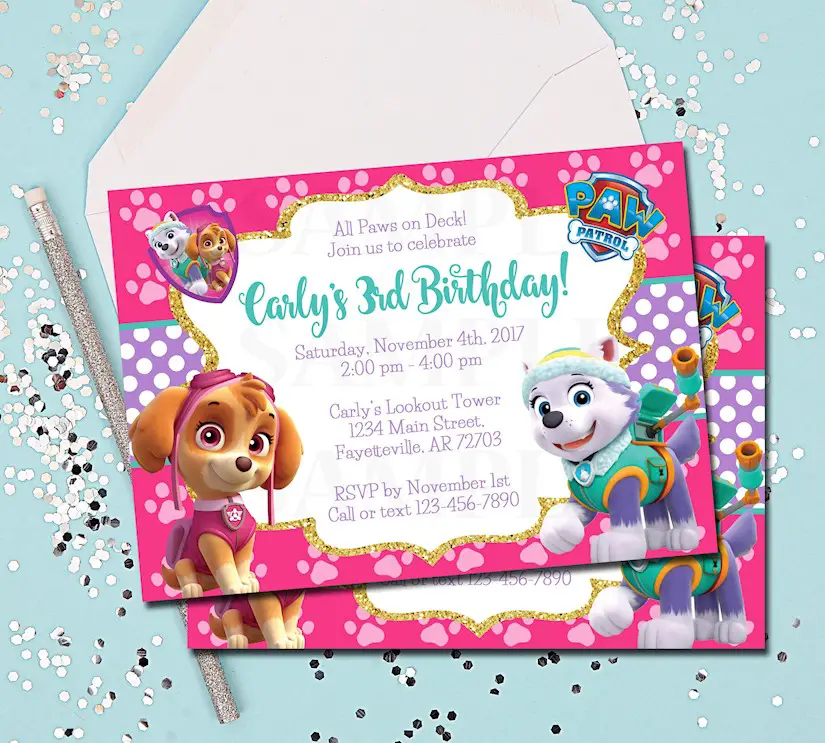 If you are preparing a kid's birthday party, you will need to send invitations, with a beautiful thematic pattern, place and time of the start of the celebration. And invite templates can be of big help. Use this lovely collection with the Paw Patrol theme to make more fun. Children love these characters and will be happy to get this creative invite.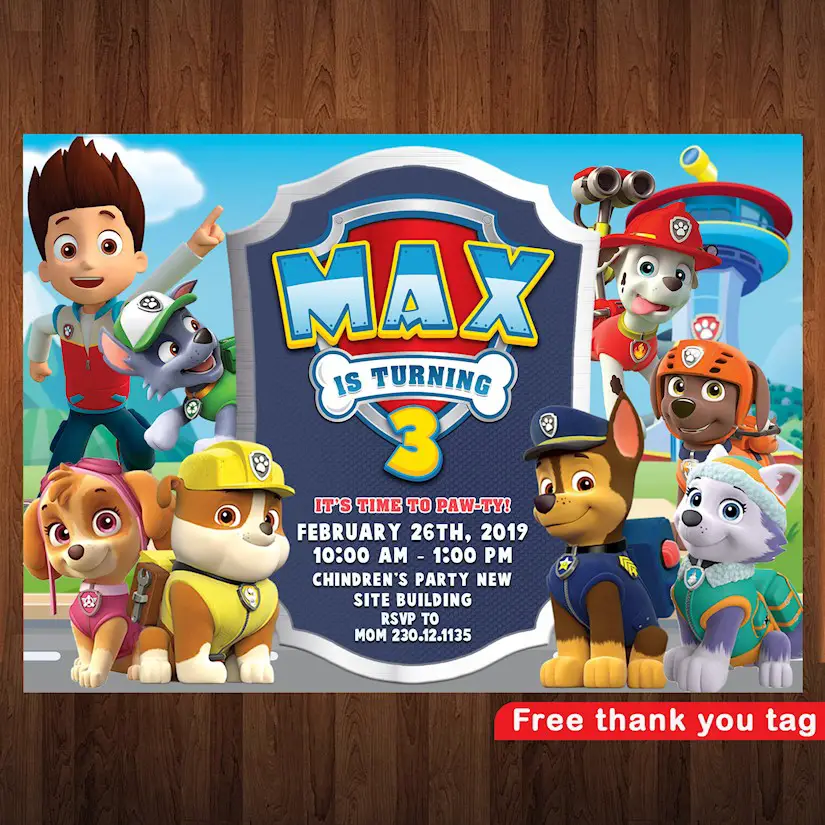 Use this amazing birthday template to create exclusive invitations for your kid's guests. Girls love the Frozen characters, and they will enjoy the designs with princess Elsa. You can edit and personalize the invitation. Both printable and digital versions can be used. Make your girl's party more colorful and brighter.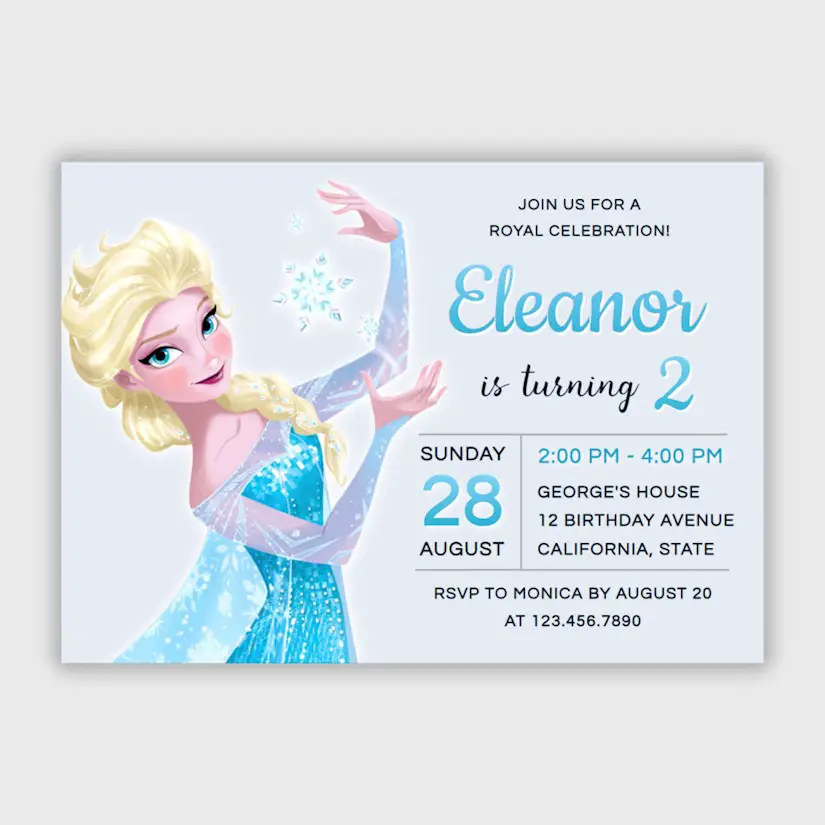 This printable birthday invitation template is a perfect solution for a winter celebration. You can also use it for any other thematic party to be held in wintertime. Customize and edit your invitation, and it will add a festive mood to every event. The individually made accessory is much more interesting than ready options.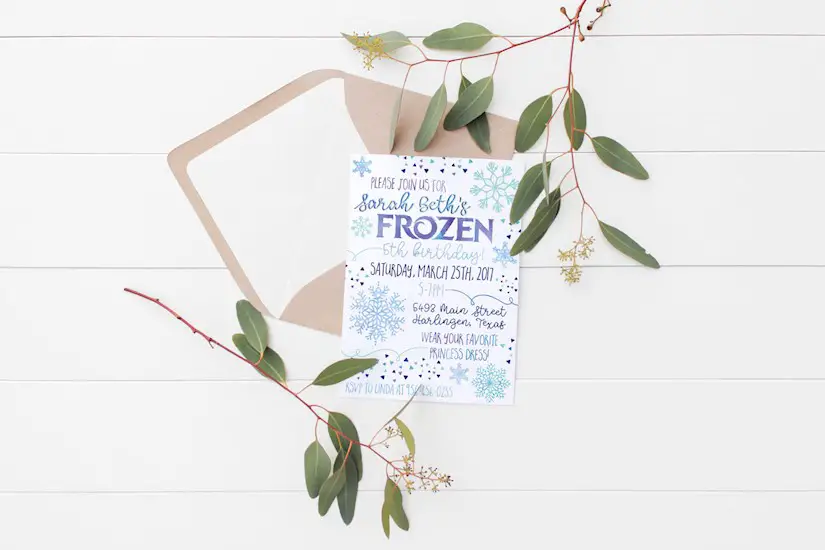 If your child loves the animated film Frozen, then a birthday invitation with these fairy-tale characters will be the right choice. Use this Disney Girl invite template to create a unique design. It is easily editable and printable, and you will be able to customize it to your taste.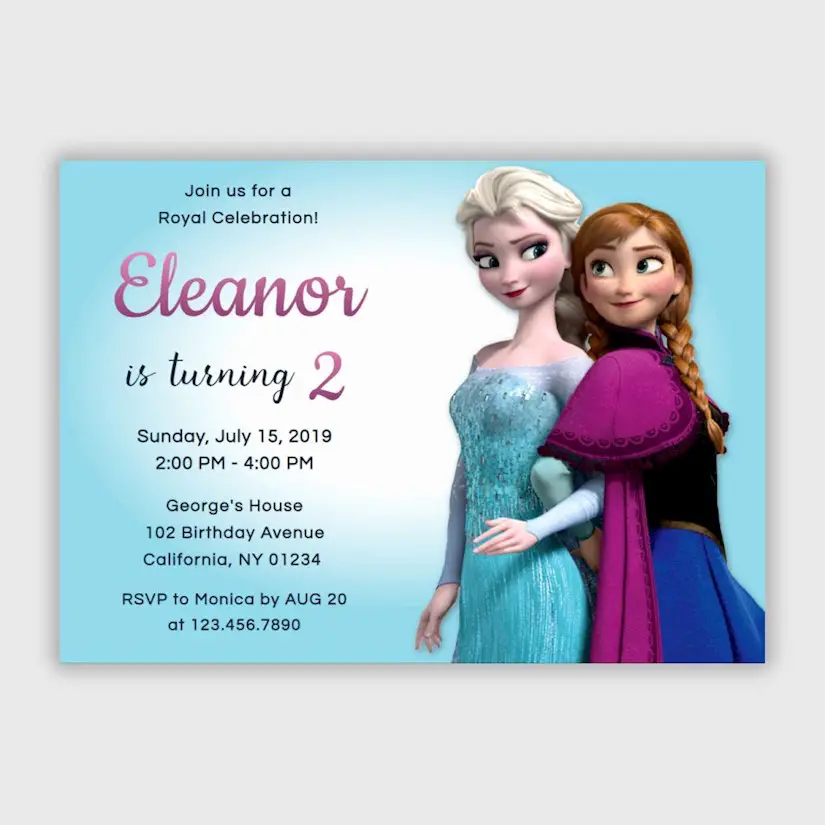 Birthday invitation with Disney characters is always a good idea. Invite templates with princesses from Frozen will be a nice surprise for any girl. You can add the names of the birthday girl and the invitees, as well as the party information. Everyone will love such an invitation.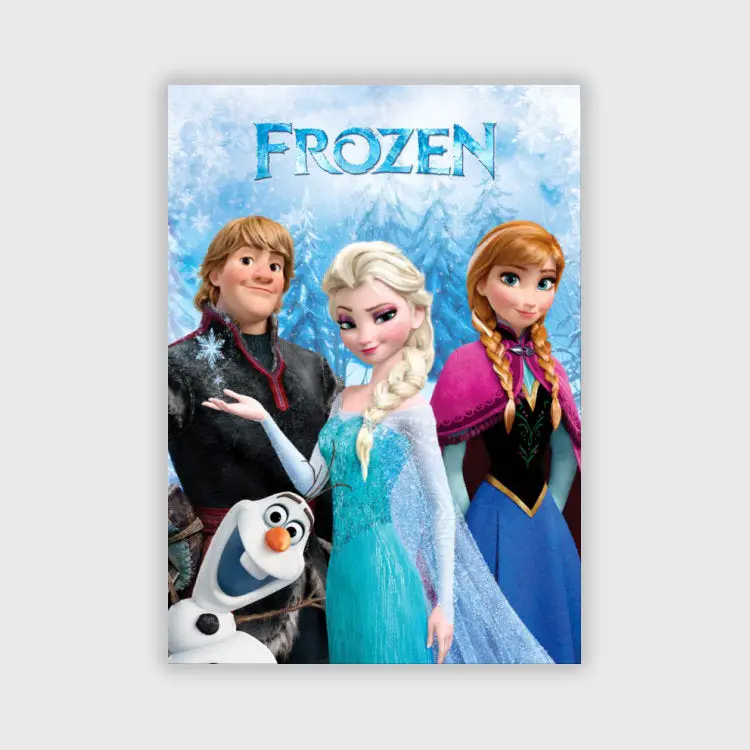 If you are not sure how to surprise your teenager for his birthday, prepare creative invitations for the party. Use the Gaming Controller birthday party invitation template. The result will impress the birthday teen without a doubt. You can personalize the invite and add celebration details.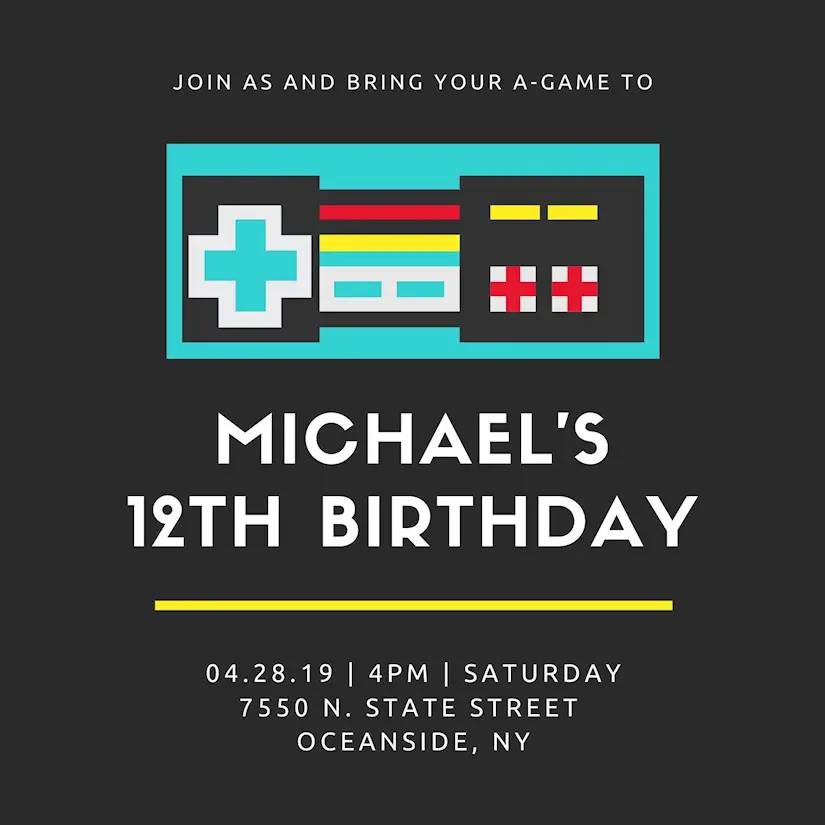 Kids love unicorns and associate them with joy and miracles. A birthday invite template in the unicorn theme will help you create attractive invitations in several colors. You can edit and layer the design as you like. The cheerful accessories will favorably complement your party.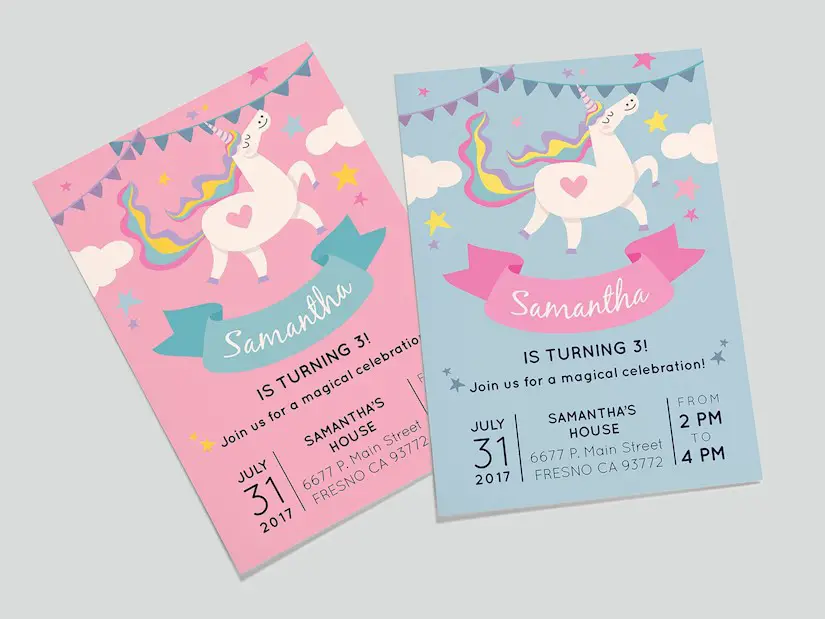 All girls are fond of mysterious mermaids. And they will definitely love them on their birthday invitations. Use this Mermaid Girl invitation template to make a pleasant surprise for your little princess. The template can be edited and personalized.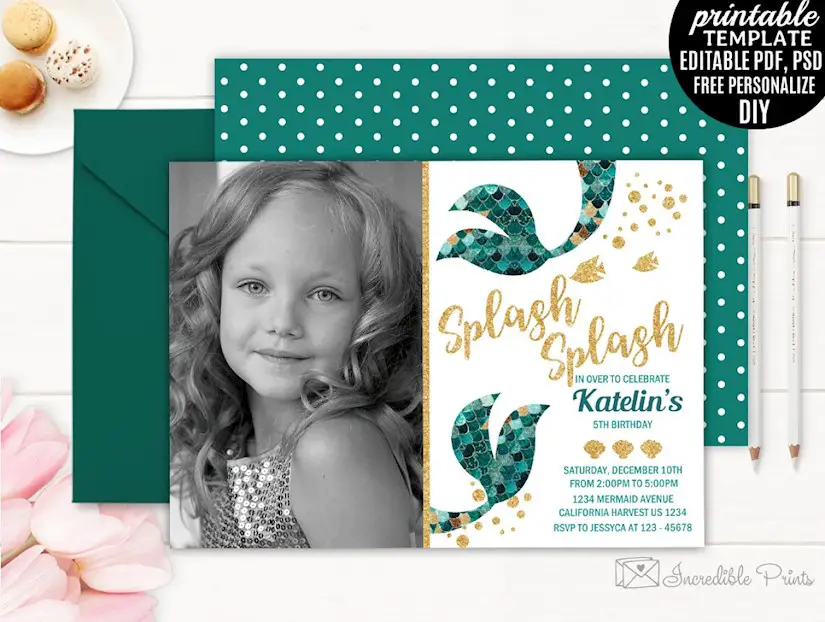 Little Baby Portrait creator is a perfect tool for designing a unique invitation for your kid's birthday. Create a boy or girl image in just a few clicks. Add frames, banners, flowers, and patterns to get an exclusive invite design. It is also a good design constructor for birth announcement and other nursery art.