Due to the Covid 19 situation, more and more people turn to technology to work and communicate. 
According to 2020 research, global downloads of video conferencing apps like Zoom or Skype have seen a considerable rise. Accordingly, there are numerous new apps that people download daily.
1. What is ClubHouse? 
One of those popular, brand-new apps is ClubHouse; an application created for casual, drop-in audio conversations. The ClubHouse is a platform created for people to go online and chat or listen to what other people are talking about in many rooms.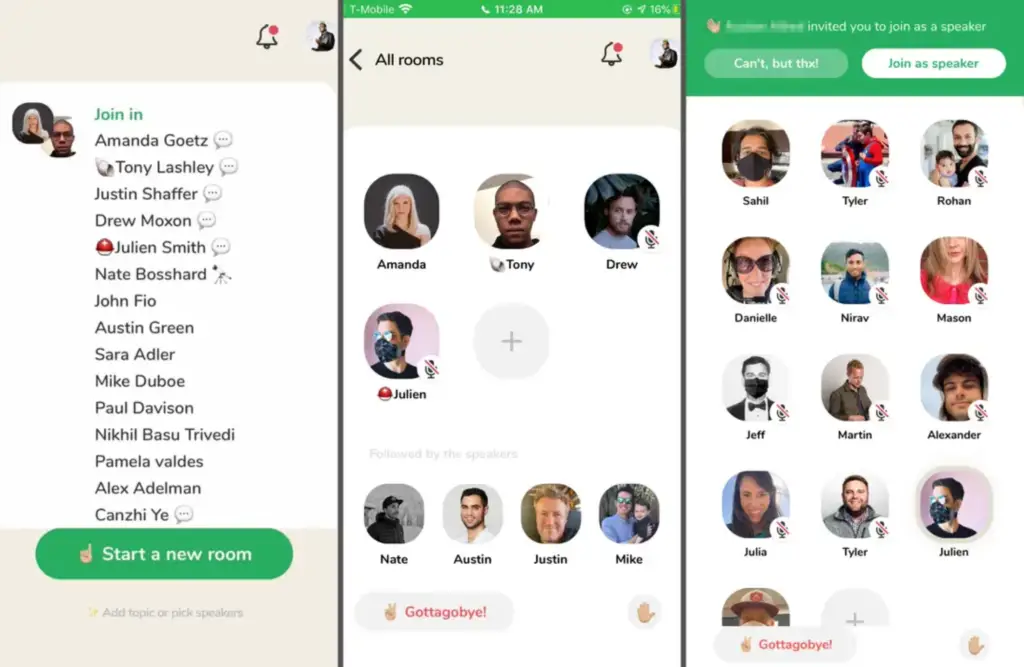 The app is more like a really cool experiment, which allows you to have live conversations. That actually brings the best of podcasts and social networks together into one unique experience. 
Although many apps appeared during the lockdown, ClubHouse is one of the few that quickly became extremely popular. We believe that the app became popular mainly because it offers the unique feature of quickly chatting or listening to different conversations worldwide. 
For all these reasons, we decided to create this Clubhouse guide. By the end of this 5-minutes read, you will have all the information you need about this mysterious new app. We will reveal exciting statistics about the app, explain how the app works and how many people use it. 
We will also analyze how you can join the community and the most famous influencers that already use it. Finally, we will talk about the app's founders and the number of employees. Without further ado, let's hop right into it.
2. ClubHouse Statistics
While researching the brand-new Clubhouse app, we came across many interesting facts and statistics. 
Although the app's launch date was 8 April 2020, its popularity suddenly started to rise in November 2020. To be more precise, according to research from CNBC, Clubhouse had 0.2 million users in November 2020. 
By February 2021, ClubHouse has over 6 million active users according to Vajresh Balaji, and more than 10 million downloads. It becomes evident that the last four months were extremely successful for ClubHouse. 
The app is only available on the App Store, meaning you can download it only if you are an Apple phone owner. 
However, according to a recent ClubHouse blog post, ClubHouse's release for Android is on the way too. 
In any case, Clubhouse is one of the most appreciated apps in the App Store, especially since December 2020. 
In fact, the app has an average rating of 4.9 stars out of 5 and more than 250k individual ratings. 
Likewise, one user mentions that:
"This is, by far, the most excited I've been about a social network." 
You can only join if another person invites you. If you don't know anyone who uses Clubhouse, all you can do is join the app's waitlist.
There are now (February 2021) more than 6 million registered users on ClubHouse.
Many users mention that they spend more than 40 hours per week on ClubHouse.
In January 2021, Clubhouse's value is around $1 billion.
The app's value became 10 times higher in just a few months.
The clubhouse app has only 9 employees (January 2021).
Finally, another interesting piece of information is that the app is continuously improved as its development team adds new features.
All those statistics are extremely interesting. Let's now explore how ClubHouse works.
3. How to Join ClubHouse? Can Anyone Join ClubHouse?
Although the app's founders work on adding more and more people to Clubhouse, the app still has an exclusive character. What that means is that for you to use it, you need an invitation. Thus, you have three different choices. 
Firstly, you can ask a friend to send you an invitation link. In this case, you will be able to sign up and use the app in no time. If none of your friends use the app, you can sign up and join the select waitlist.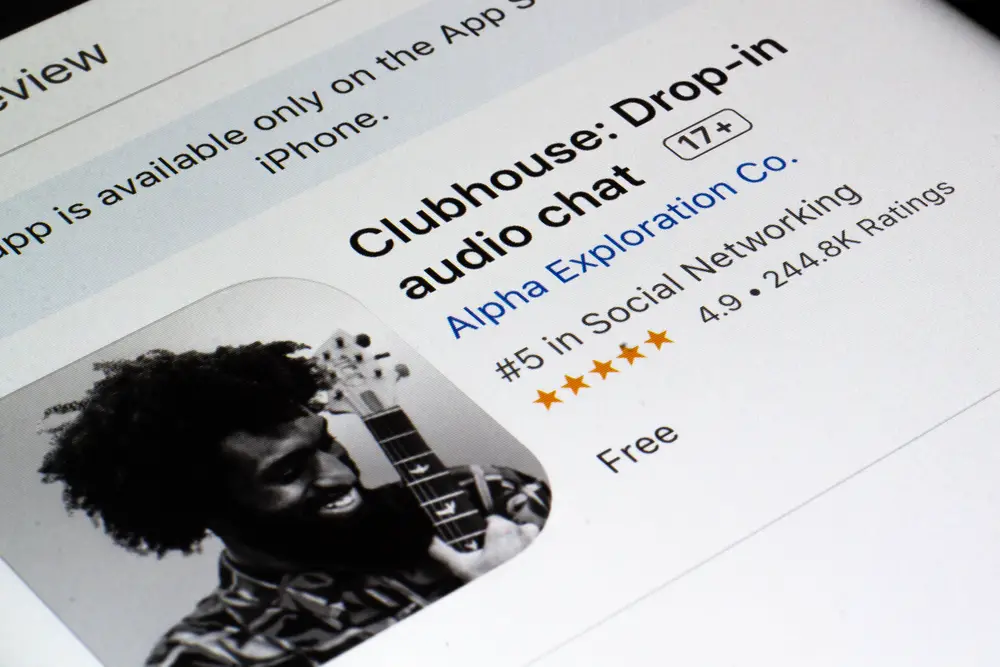 Although they add more and more people every day, you will probably have to wait for a while. However, many people want to start using the app right now and thus pay for an invite. 
In any case, you will at some point gain access to ClubHouse. Let's look at how this app works and the main characteristics and features it offers.
4. How Does ClubHouse Work? 
Once you get accepted or invited, you sign in, and you can invite people too. The first thing you have to do is choose people and topics to follow. Then, the app will also suggest different people, conversations and boards, based on your choices. 
From that point on, you will be able to participate or listen to any conversation from people and topics you follow. You can also ask the app to send notifications for upcoming conversations. Whenever you find some topic or person you find interesting, all you have to do is follow them.
Since the last three months, the number of topics on ClubHouse has risen dramatically. You will be able to find anything you want to talk (or listen to other people talking) about, from funny, gaming, or athletic topics to severe ones about politics, Covid, etc. 
The app also allows its users to create their rooms. Thus, you can start your topic and make it closed, social, or open—closed means private, only for you and the people you invite. Social rooms are open to all the people you follow. Open rooms are what their name suggests, open to everyone. 
Finally, if you want to create an interest-based group called Club to host conversations, all you have to do is start a room and tap a club instead of a room type.
When you want to join another person's room or club, all you have to do is press the join button. Of course, you don't have to speak during a conversation if you don't want to. However, if you want to engage, all you have to do is raise your hand (like you do in Zoom meetings) and start expressing your thoughts. 
5. How Many People Use ClubHouse in 2021? 
As mentioned earlier, ClubHouse counts more than 10 million downloads. This is an interesting statistic, given the fact that the app's number of users became three times bigger in just one month. 
But why did the app become so popular and draw so much attention? Apart from the unique experience it offers, Clubhouse is an exclusive app. When something is exclusive draws peoples' attention. This is why the app gradually became extremely well-known among celebrities.
After some digging, it turned out that ClubHouse gained at least 1 million users between January 30 and February 1, 2021. It seems like most of sign ups happened after a short Elon Musk's tweet:
On Clubhouse tonight at 10pm LA time

— Elon Musk (@elonmusk) January 31, 2021
There are now (February 2021) more than 6 million registered users on ClubHouse, when last month there were 2 million users. 
However, this difference in numbers isn't as fascinating as the comparison to previous months. For example, Clubhouse had a user base of only 1,500 people in May 2020 and 600k users in December 2020.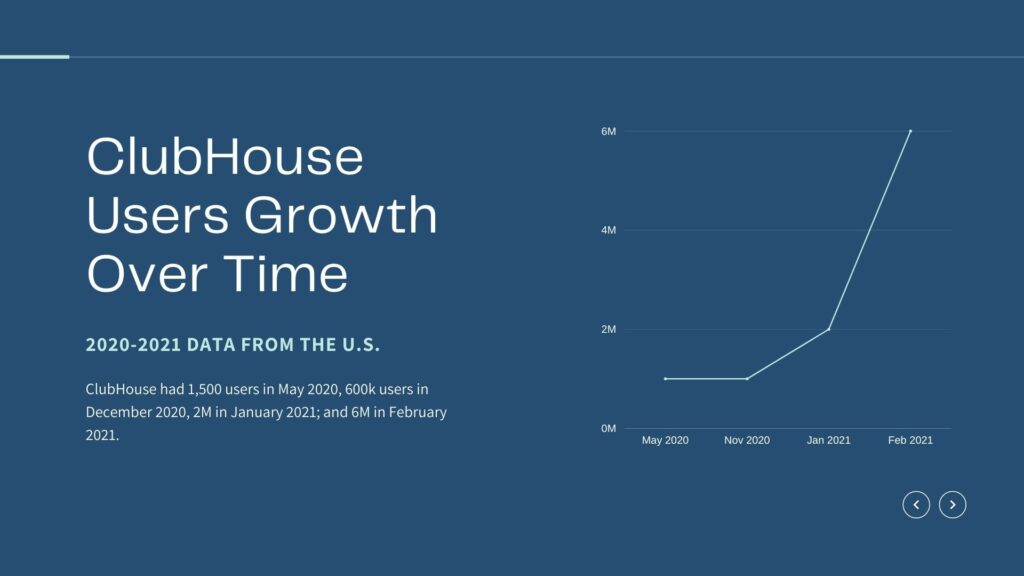 This app is gaining extreme popularity in just a few months. The ClubHouse app is the 5th most popular Social Media platform as we speak. The only apps above it are Facebook, Messenger, WhatsApp, and Discord.
It becomes evident that the number of ClubHouse users is rising quickly and that this new app is here to stay. 
6. How Much Time Users Spend on ClubHouse? 
Now that we have explored the number of ClubHouse's users let's look at the time they spend on the app. Of course, the amount of time varies from one user to another. 
Thus, although there are people who report spending more than 40 hours per week on ClubHouse, others spend only a few hours. 
Although it is not safe to conclude with an average amount of time, it becomes obvious that most users find the app fascinating. It makes sense that ClubHouse, as an app for real-time conversations, will keep its users engaged and interested in different topics and rooms. 
Thus, even though ClubHouse is still in its private beta phase, according to its users, we will probably spend a significant amount of time on it every week.
7. How Much is ClubHouse Worth? 
The market value of ClubHouse is another fascinating statistic. It goes without saying that when an app gains popularity also raises its value. Likewise, the first valuation of the company's value in May 2020 was around $100 million. However, this valuation was before it was even available to download on Apple's App Store.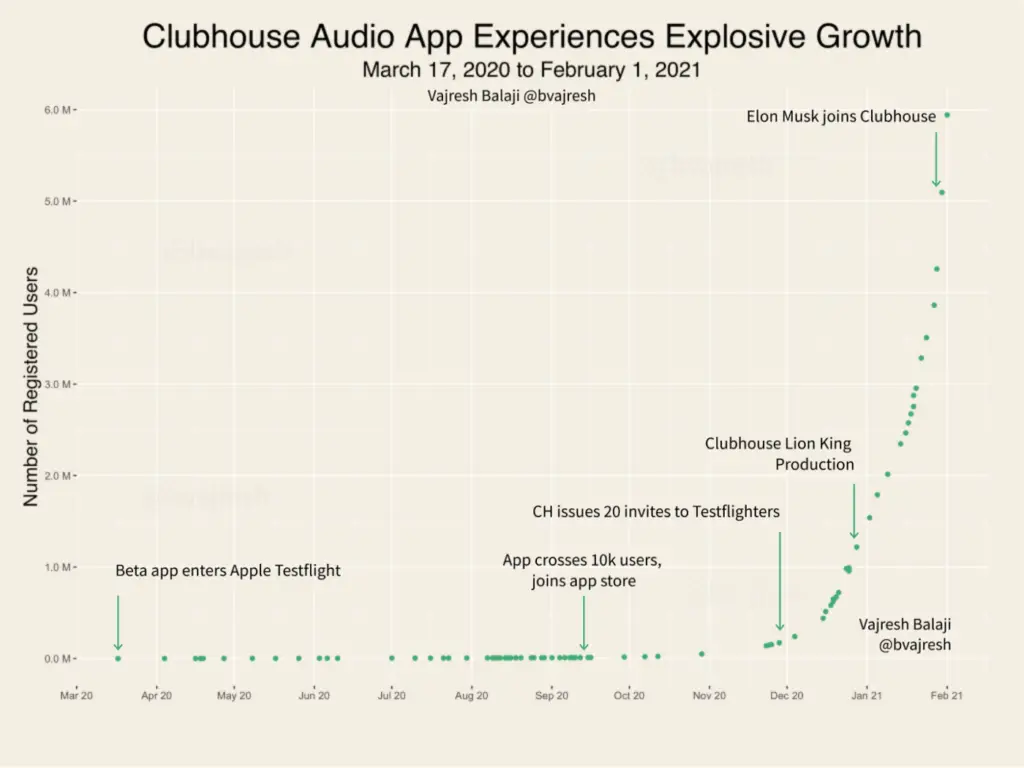 In January 2021, Andreesen Horowitz and others valued Alpha Exploration Co. (the company behind ClubHouse) at over $1 billion. That value is ten times higher than the first one, which was only six months ago. According to Zoe Bernard, this is a rare situation. 
This new deal at a billion-dollar value is exceptionally unusual for a brand-new social media app. If you think about it, the app is not even available for all people and Operating Systems just yet. Considering what the global release could mean for its popularity, this statistic becomes not only rare but unique. 
Thus, how is it possible for a new social media platform to be so successful, so quickly? We believe it has something to do with the people that use this app from day one. For this reason, we will now explore the most famous influencers that use ClubHouse daily.
8. Influencers on ClubHouse
As mentioned above, ClubHouse is one of the hot new social apps right now. It rapidly became extremely well-known among social influencers. Those influencers were the first who praised ClubHouse for its simplicity and its unique feature to host a real-time discussion about a vast number of topics. 
The app's first influencer was Sheel Monhot, a well-known creator, investor (Fintech companies), and traveler. However, ClubHouse didn't lose the chance to attract numerous influencers and famous persons in just a few months. The list of celebrities that use ClubHouse is enormous. 
People like Oprah Winfrey and Drake created rooms and clubs and now participate in live conversations on ClubHouse. Let's look at some of the most famous people who use this app:
Oprah,
Drake,
Jared Leto,
Tiffany Haddish,
Kevin Hart,
Joe Budden,
21 Savage,
Wiley,
Ashton Kutcher,
DeRay McKesson,
Jaylon Smith,
Estelle. 
This is only a small percentage of the celebrities you can find, follow, and listen to on ClubHouse. Likewise, this is also one of the main reasons why this app became so popular. Thus, let's dive deeper into the people behind it.
9. ClubHouse Founders & Employees 
The ClubHouse app is founded by two people, Paul Davison and Rohan Seth. Paul Davison is a successful creator and investor. He created Highlight, a social connection app that was later sold to Pinterest.
According to Andrew Chen,
"Paul is one of the most charismatic, energetic founders I'd met in a long time."
On the other hand, Rohan Seth is an MS graduate from the University of Stanford and an experienced former Google engineer. These two persons built ClubHouse and designed a promising platform that raised its value 10 times in just a few months.
When it comes to ClubHouse's employees, the platform is continuously updated and getting bigger, which means its staff is growing too. Although Seth and Davison only had 9 employees in January 2021, this number will certainly increase during the next months. 
In fact, ClubHouse is now hiring professionals for different roles, from Android engineers (which feels like a spoiler for the Android version of the app) to trust and safety analysts. 
10. Conclusion 
To sum up, ClubHouse is a brand-new social application that promises to be one of the most popular platforms shortly. We collected and explored all the exciting data and statistics and the current value of this app. We then talked about Clubhouse's main characteristics and the unique features it provides. 
During this guide, we also had a look at how you can join the app and how the app's rooms and conversations actually work. Finally, we explored the reasons behind its popularity, such as the celebrities that use the app and the people who created it.