When it comes to creating a Christmas design, it is a great relief for every designer to have a variety of elements like patterns and textures to choose from for the design background. Thankfully, there are a vast number of Christmas elements for you to choose and combine, while all of them promise eye-catching, unique outcomes.
Read also:
We have created a list of our favorite 40 premium and free Christmas patterns that will frame your festive designs and provide them with a sparkling touch. Don't forget that Christmas serves the code of generosity, kindness, and charity toward others, which is enforced by no one other than ourselves.
This Christmas spirit is exactly what the selected Christmas design collections represent. Here you'll find the best Christmas patterns and textures for your festive designs. Are you ready to be mesmerized by countless warm, colorful, handmade illustrations and elements?
Christmas Patterns & Textures
---
An amazing festive package created by Cozy Pattern Shop, which promises to frame your Christmas designs. It includes more than 90 cute clipart elements, and numerous patterns, lettering overlays, greeting cards, borders, and backgrounds.
Price: Premium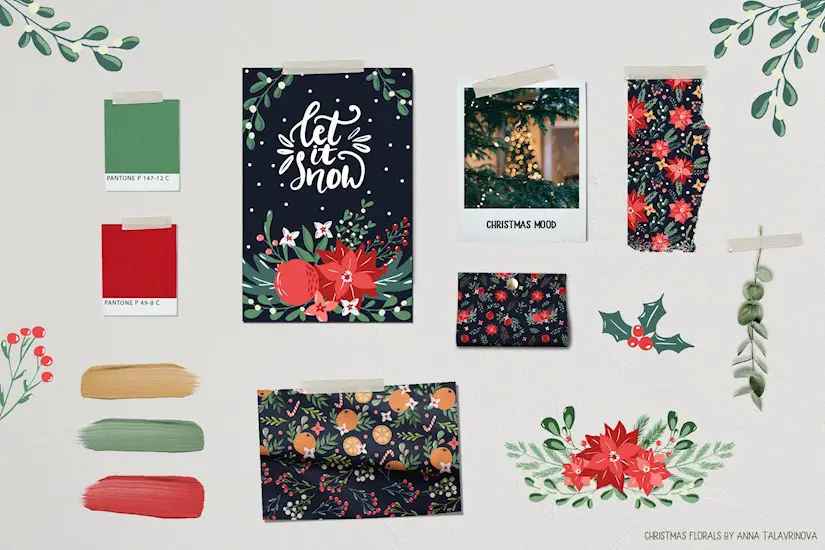 Here is gorgeous set of festive glitter backgrounds for Christmas. Create glitter banners, postcards, overlays, social media posts, and more using these stunning patterns.
Price: Free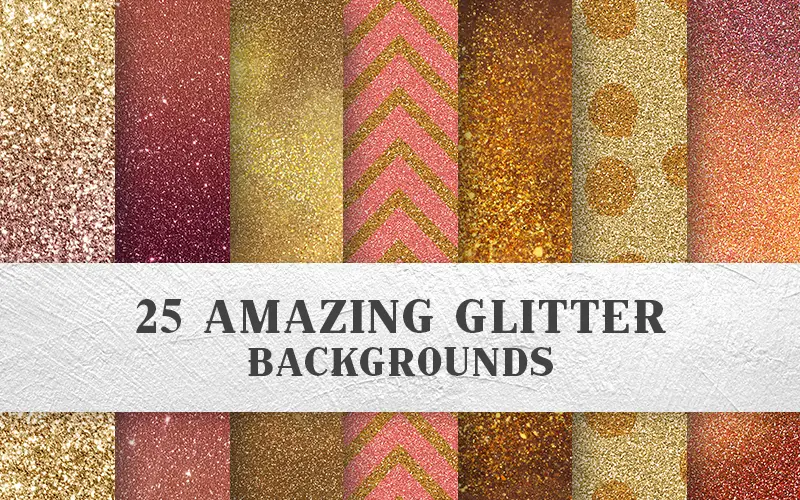 This clipart set will bring sparkle and shine to your holiday projects as it contains 48 handmade watercolor elements. It includes all kinds of Christmas characters, from Snowmen to Reindeers, and is suitable for your cute, playful Christmas projects.
Price: Premium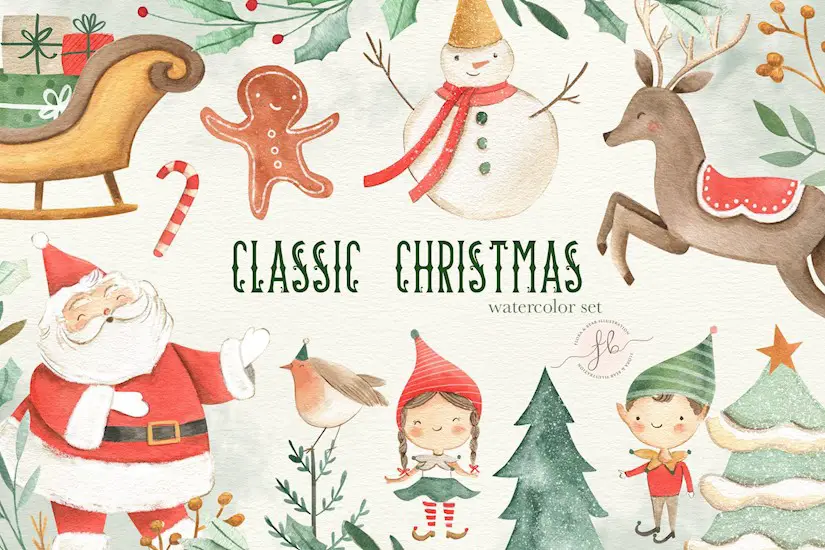 If you want to create stunning scenes for your designs, then this collection is a very smart and worthy solution. It contains high-resolution photographed items, cards and sheets, many elements, and 6 jpg backgrounds.
Price: Premium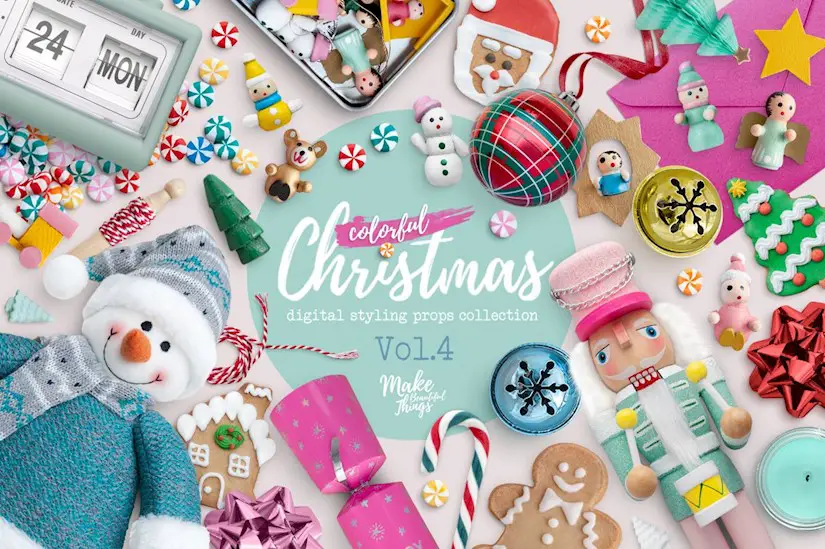 This collection of elements aims to surround your designs by giving it an extra elegant touch. It includes 48 Christmas-themed graphic elements, floral wreaths, decorated frames, handmade cards, and eye-catching patterns for unique Christmas.
Price: Premium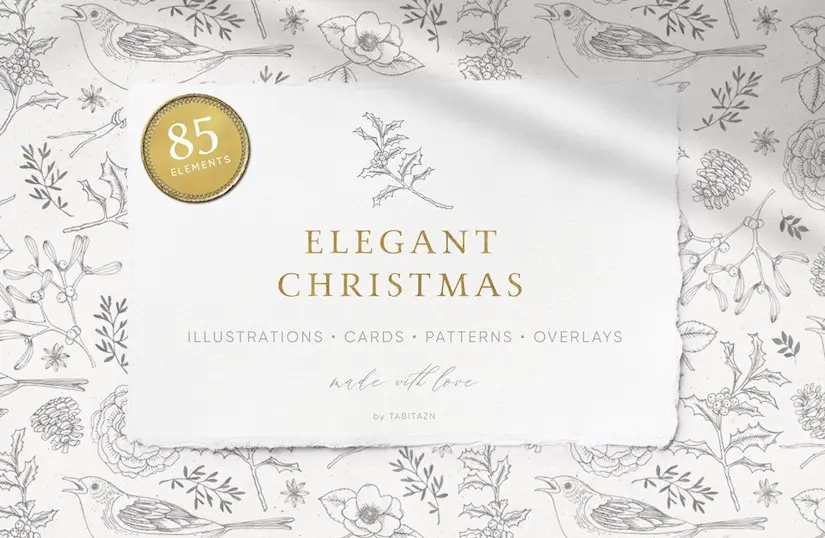 Olga Angelloz has created one of the most playful and complete packages on our list, the Boho Christmas package, and included various appealing patterns, Christmas cards, and graphic elements.
Price: Premium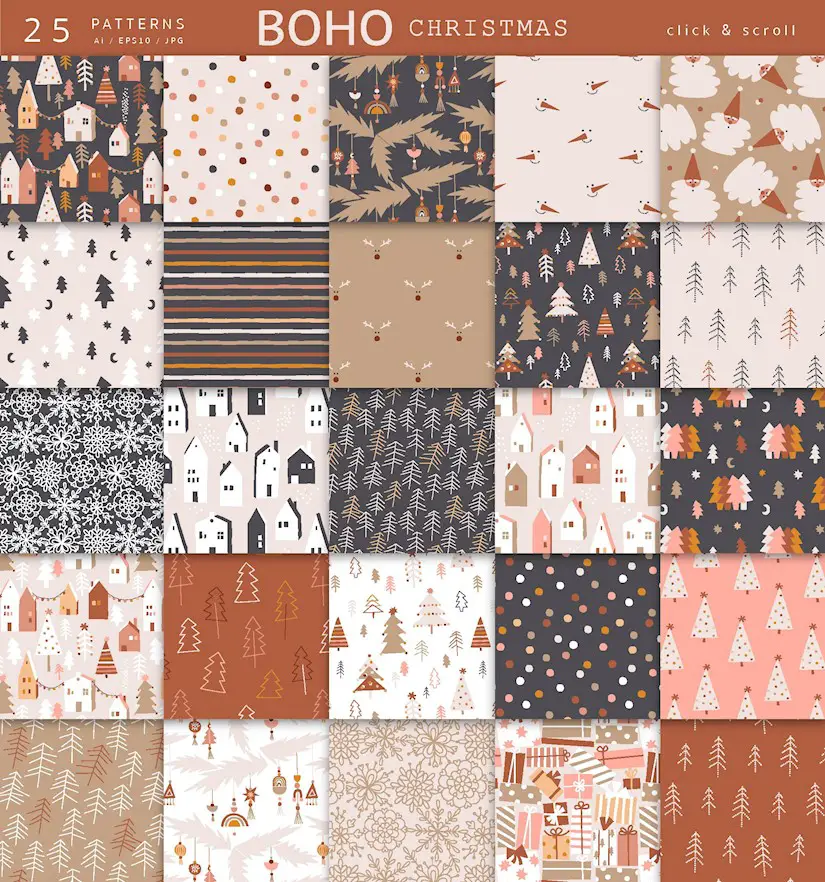 Cozy pattern shop has created an enormous Christmas bundle, in which they included more than 1000 handmade patterns, collages, cards, and more. The package actually contains 12 different sets of Christmas elements, and promises to fit the needs of every project.
Price: Premium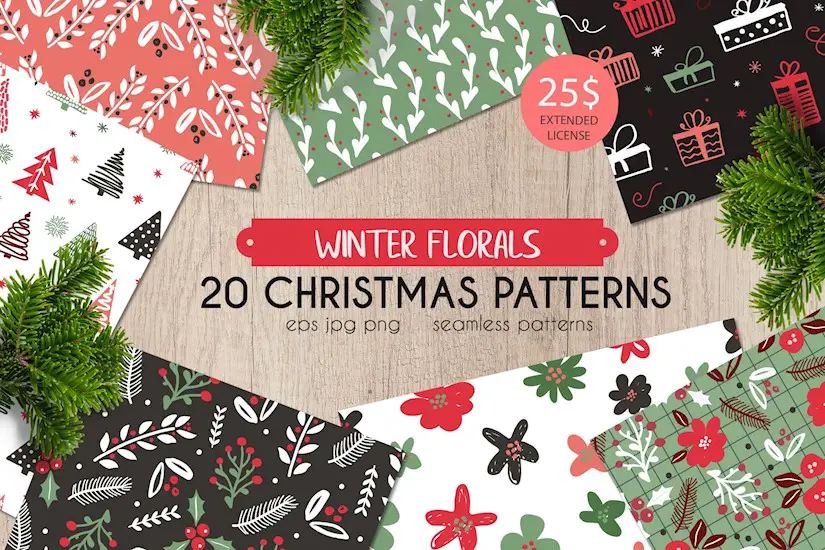 Another unbelievably cute and appealing set of elements, this time designed by Maggie Molloy. It contains numerous hand-drawn, vector elements, also available in JPG and PNG, to suit your every project's requirements.
Price: Premium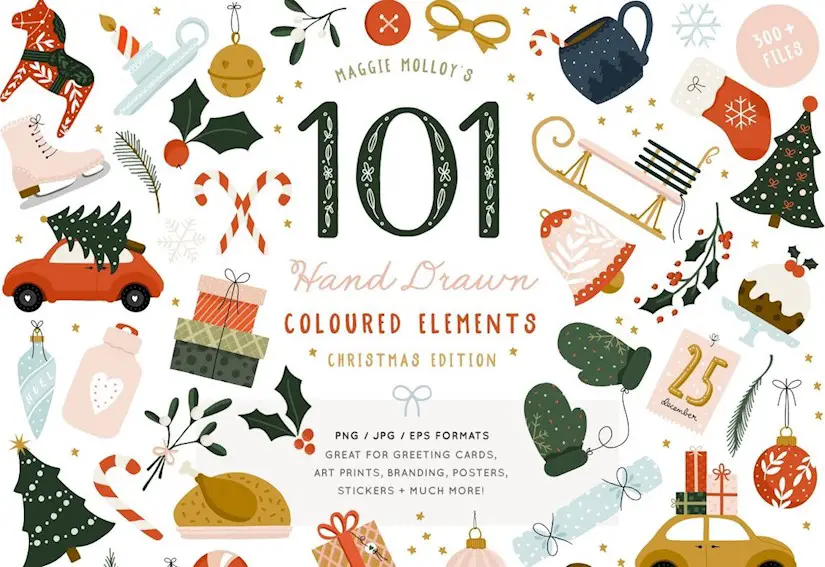 By designing a variety of individual elements like illustrations, borders, and florals, Julia Dreams has created one of the most minimalist packages on the list, that will be perfect for your most elegant Christmas designs.
Price: Premium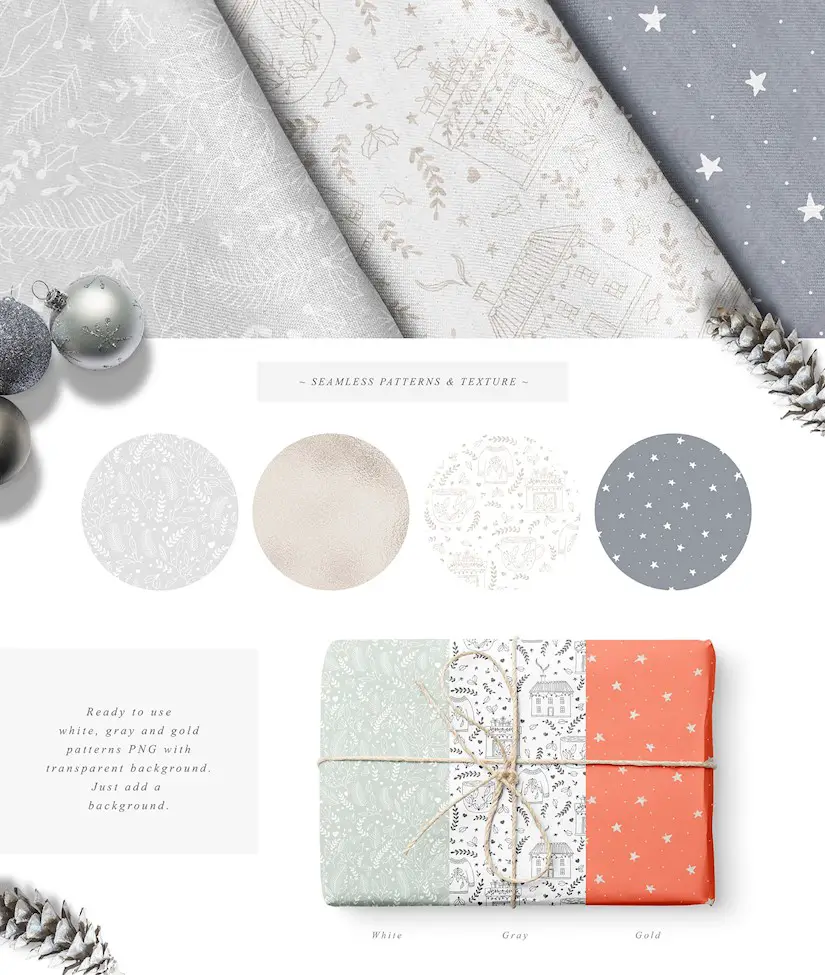 If you are a fan of knitting effects and Christmas sweaters, then this set of elements is probably the best choice, as its beautifully designed patterns will easily transform your relevant Christmas design with just one click.
Price: Premium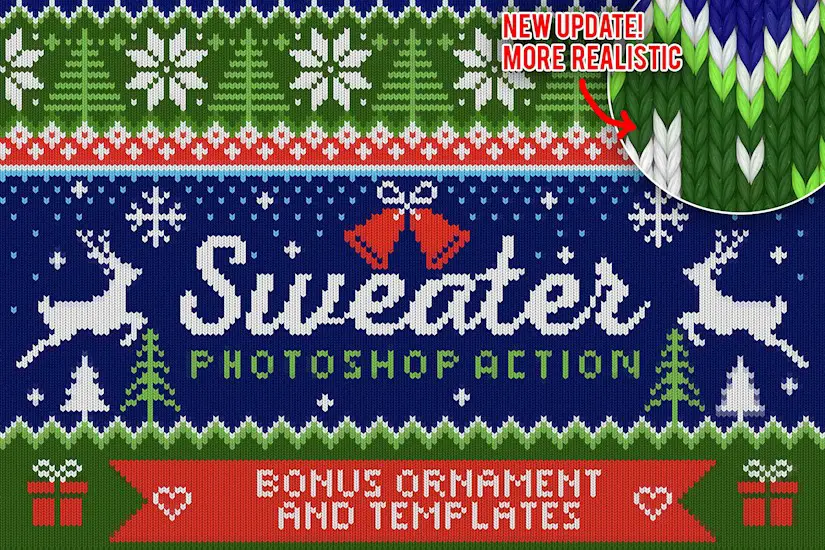 This is one of the most popular free Christmas patterns, which is full of colors and promises to sparkle any cute holiday design, from branding to Christmas greetings cards. The free download contains the editable, vectorized Ai and Eps files, but also a High-quality JPG of the pattern.
Price: Free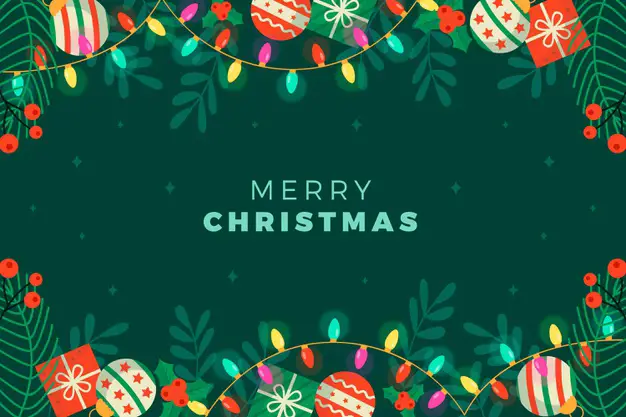 This is one of the most appealing, realistic Christmas patterns that we can download for free. The pattern is full of vibrant colors, while the selected red and gold will frame numerous of your Christmas designs for amazing outcomes.
Price: Free
By being the definition of elegance, this eye-catching background is ideal for numerous Christmas designs and promises to frame your projects with realistic elements and alluring colors.
Price: Free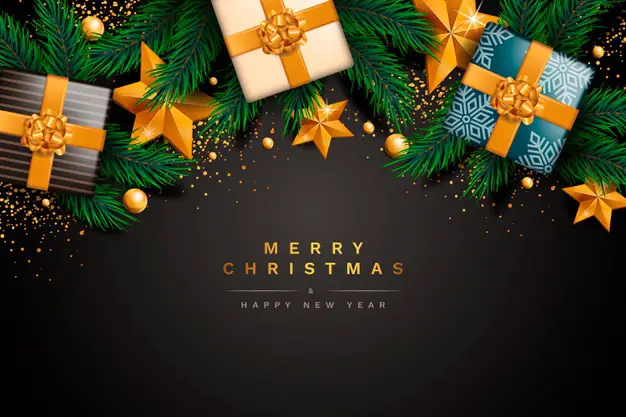 Madiwaso has designed a beautiful Christmas set, suitable for projects with abstract elements. It is a perfect fit for holiday cards, branding, packaging, and invitations by including more than 100 hand-drawn elements, cards, and patterns.
Price: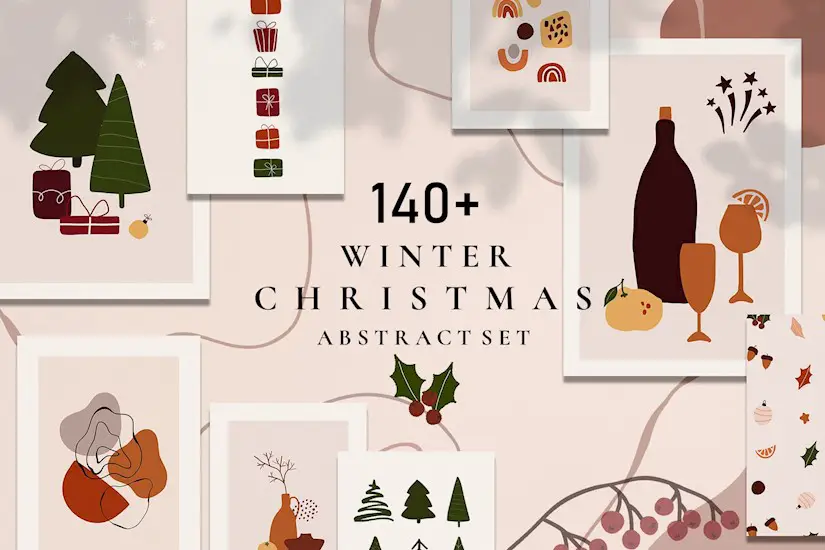 Veris Studio has created a brand new winter holiday collection, full of handmade graphic elements, frames, patterns, wreaths, and backgrounds. The package includes numerous elegant illustrations for you to choose from and promises unique festive results if you combine them.
Price: Premium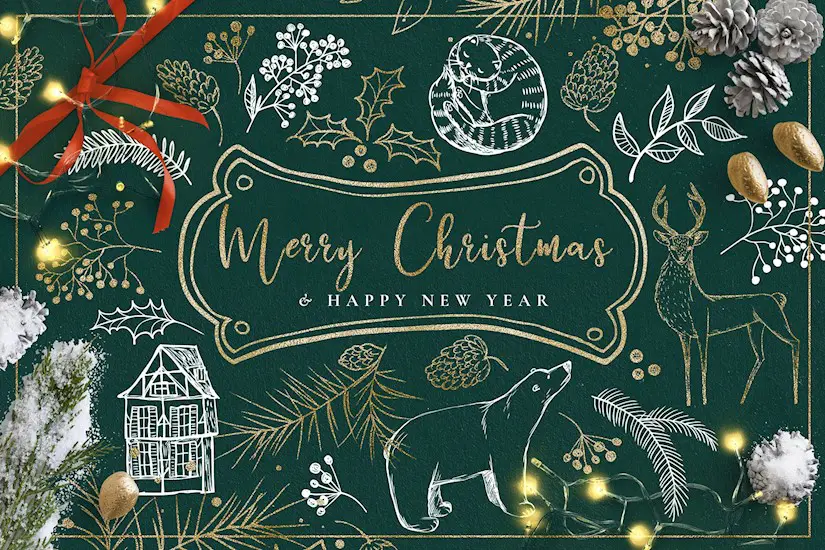 A vast package of individual illustrations, pre-made compositions, cards, frames, and patterns designed by Yuliya Derbisheva. All illustrations are hand-drawn, included in high-quality vectors and images, and guarantee to frame and sparkle all kinds of Christmas designs.
Price: Premium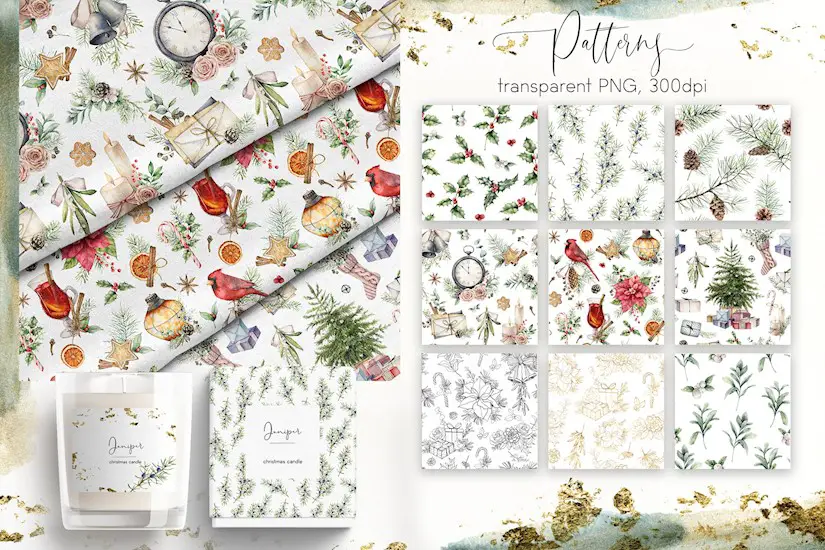 By staying loyal to its name, this Christmas set contains some of the most elegant and eye-catching elements on the list. It comes with appealing hand-drawn floral arrangements, patterns, backgrounds, and greeting cards while giving you the option to fully customize every element according to your liking.
Price: Premium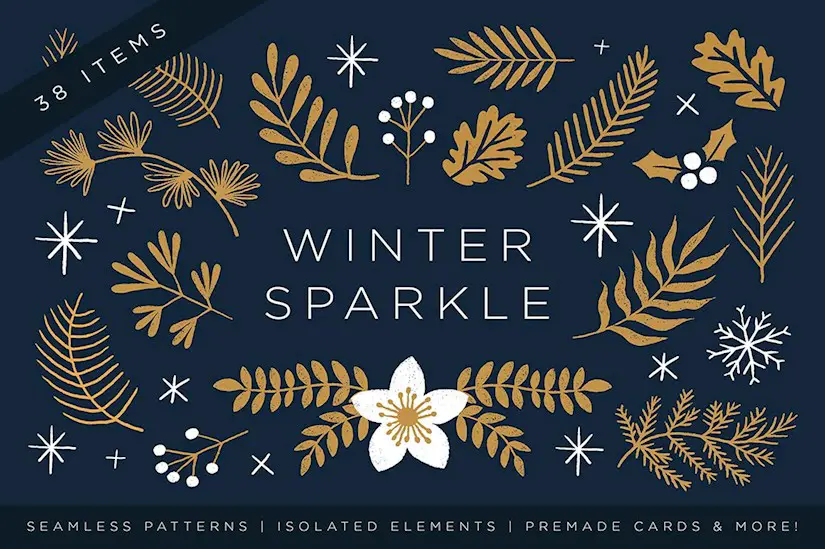 If you are a fan of outline effects on your designs, then you will probably love this Christmas background. The package includes numerous Christmas elements, combined to create one of the most minimalist, but playful backgrounds.
Price: Free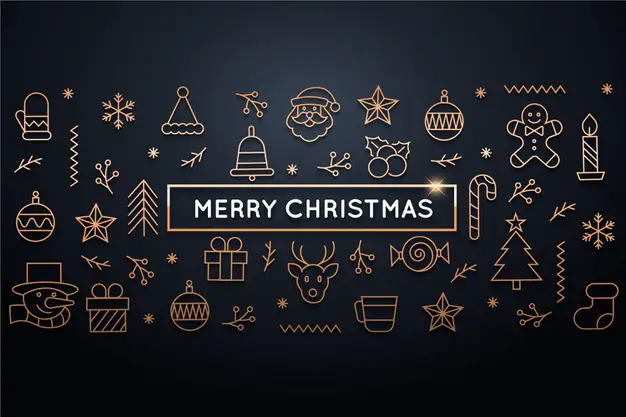 Watercolor textures and elements are very popular when it comes to Christmas stationery designs, and this collection is a very appropriate example of why. It contains an enormous number of watercolor elements, from handmade ribbons to branches and snow illustrations that will give an ultimately sweet look to your projects.
Price: Premium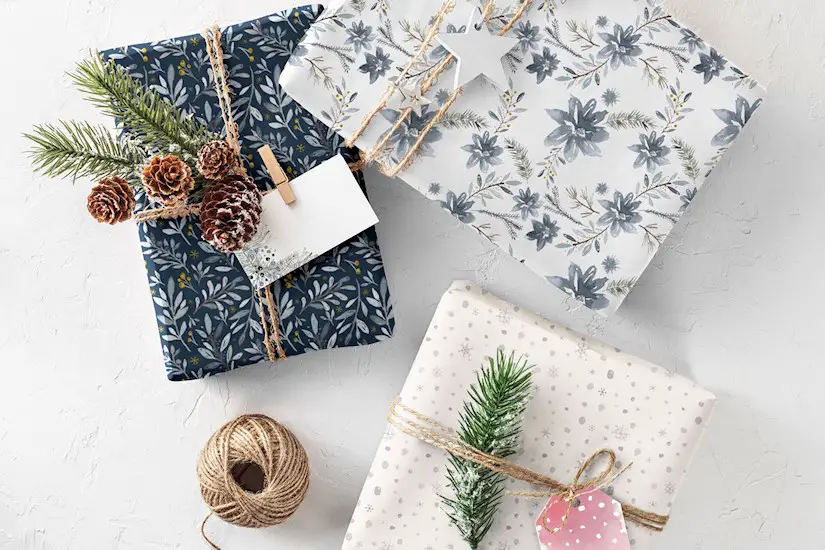 Full of vintage-looking elements and faded colors, this handmade pattern can be a suitable solution for numerous classic Christmas designs, from packaging and branding to Christmas cards and gift wraps.
Price: Free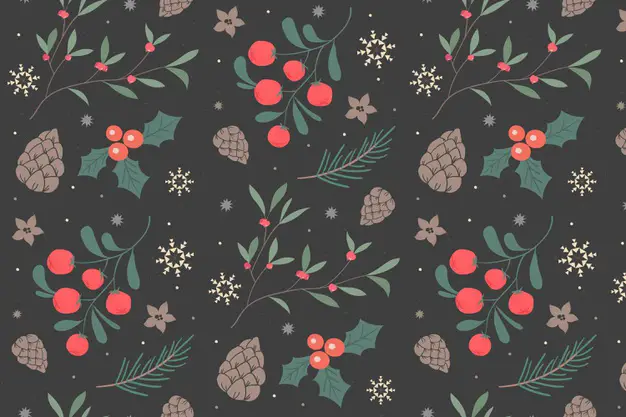 This pattern is created to fit seamlessly in any elegant and minimalist design. It contains eye-catching tree illustrations made of beautiful, winter colors and promises to sparkle your projects and transform them into ultimately festive designs.
Price: Free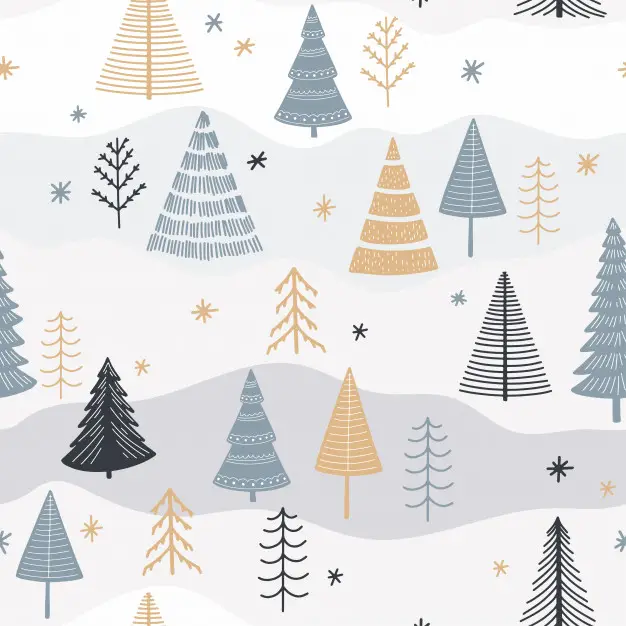 By containing handmade watercolor illustrations, this pattern is one of the most playful and fun-loving collections on our list. The Christmas pattern collection contains charming watercolor elements like snowflakes, gifts, and floral designs.
Price: Free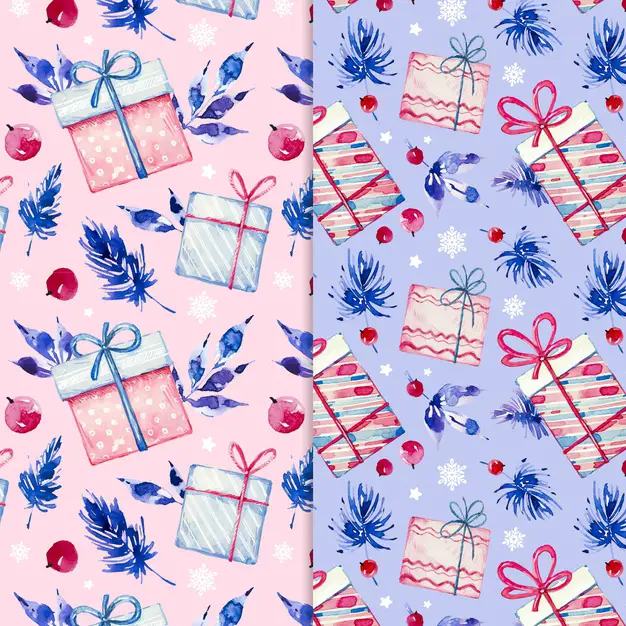 This free for personal-use collection of Christmas patterns promises to frame your festive designs in a unique way. There are 7 different patterns to choose from, while the combination of them can also provide playful and bright-colored outcomes.
Price:
This pattern will bring sparkle to your holiday projects, by keeping them simple and colorful. The pattern includes hand-drawn illustrations of ornaments, bells, and flowers surrounded by Christmas tree branches.
Price: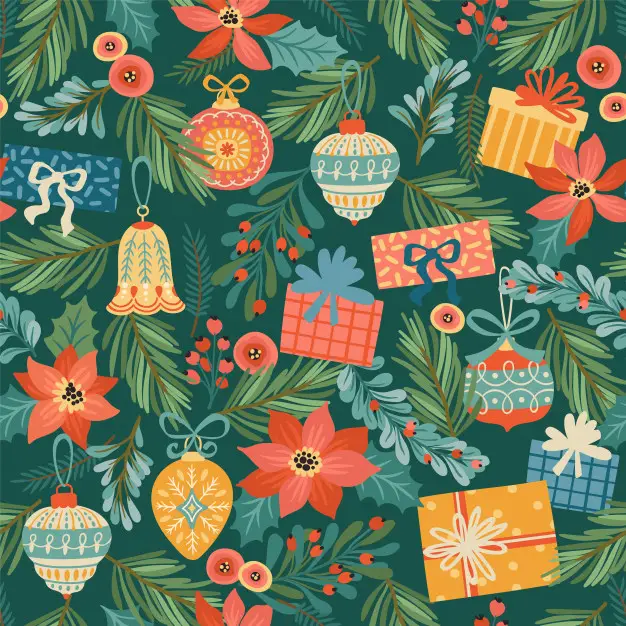 Irina Skaska has designed an amazing set of vector illustrators, patterns, and items influenced by the Scandinavian style of Christmas decorations. This clipart set is ideal, not only for designs like postcards and wallpapers but also for your children's room decor for the upcoming holiday.
Price: Premium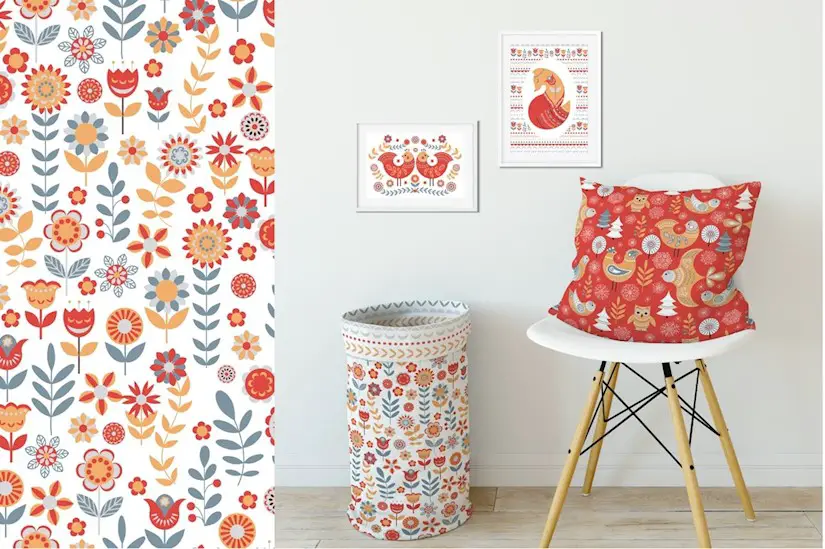 Price: Premium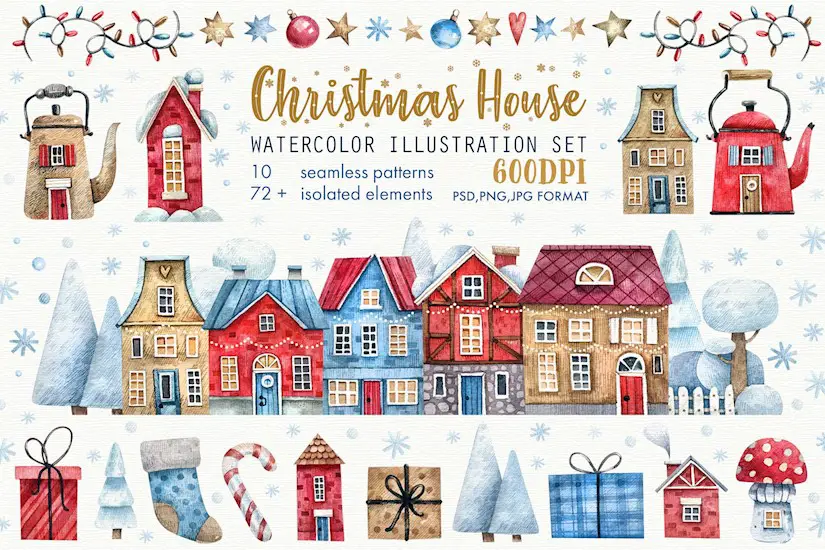 Price: Premium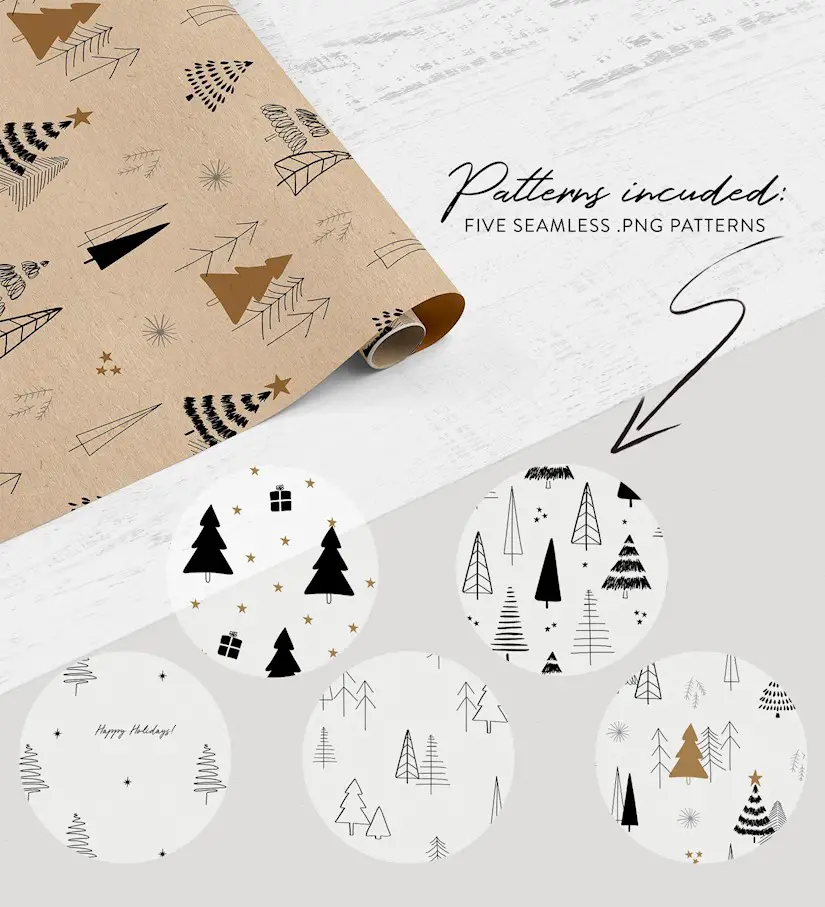 Price: Premium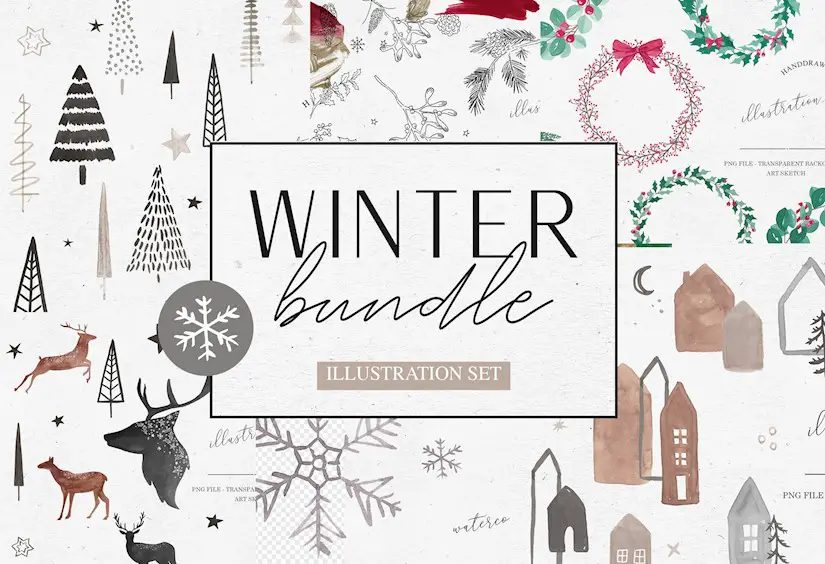 Price: Free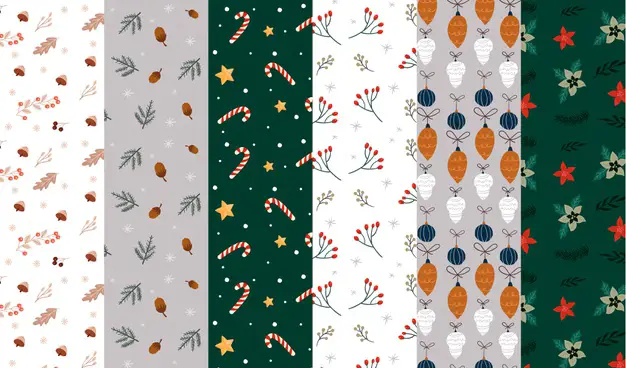 Price: Free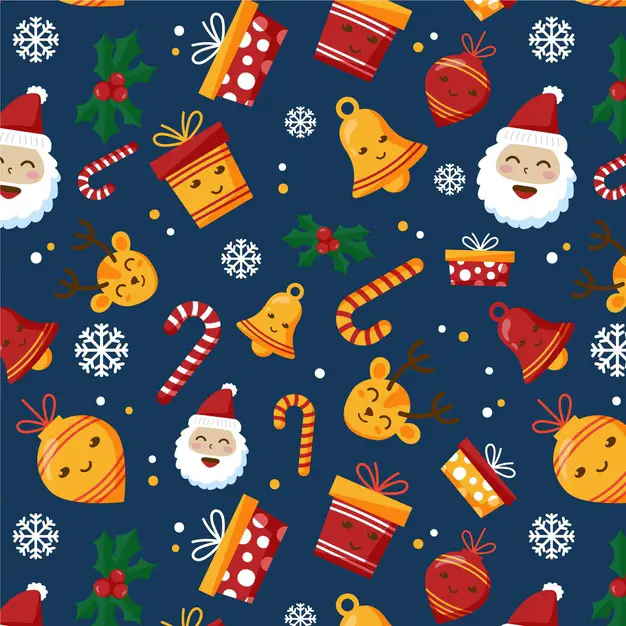 Price: Free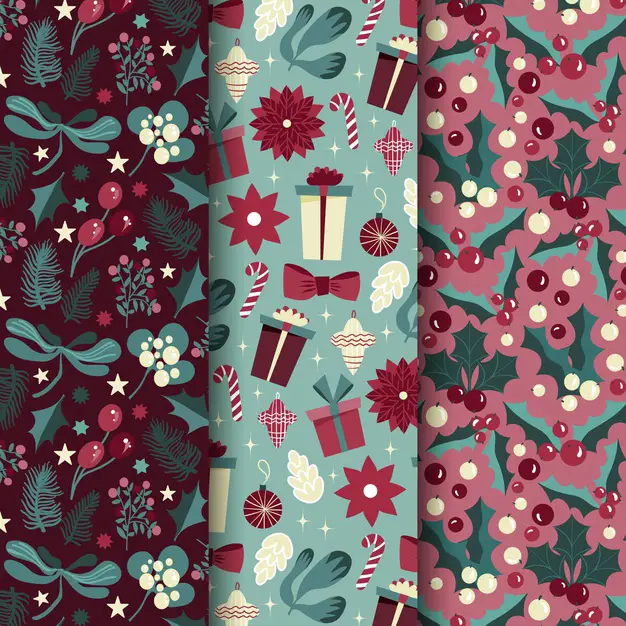 Price: Free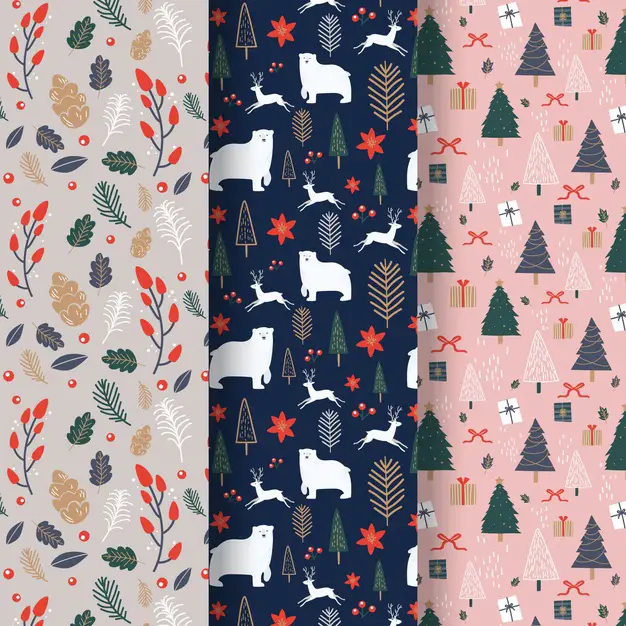 Price: Free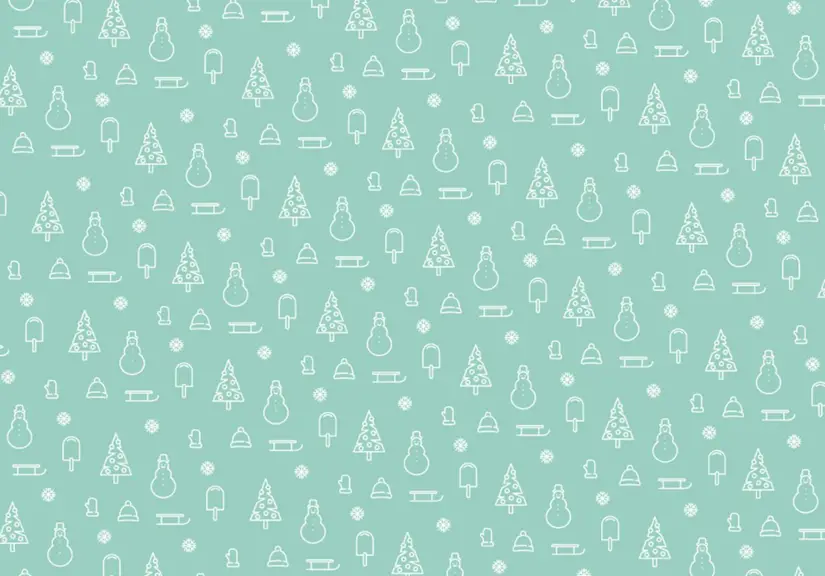 Price: Free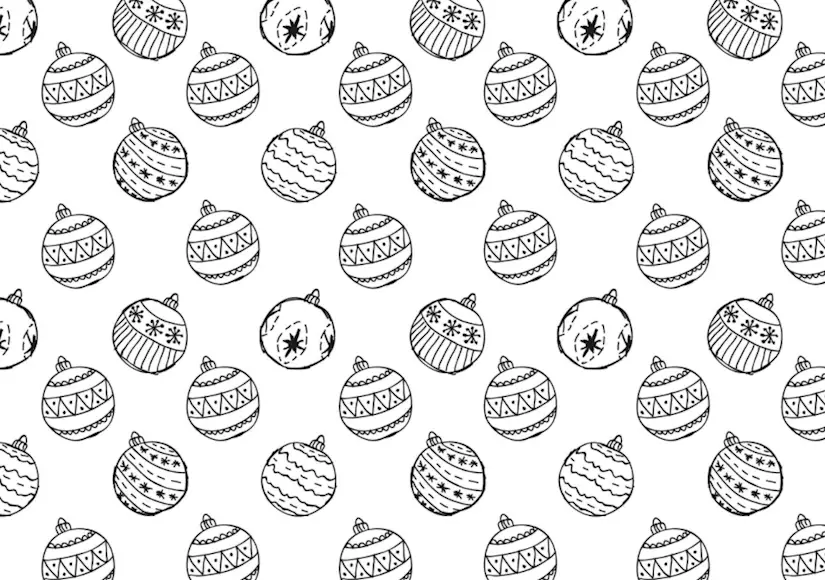 Price: Free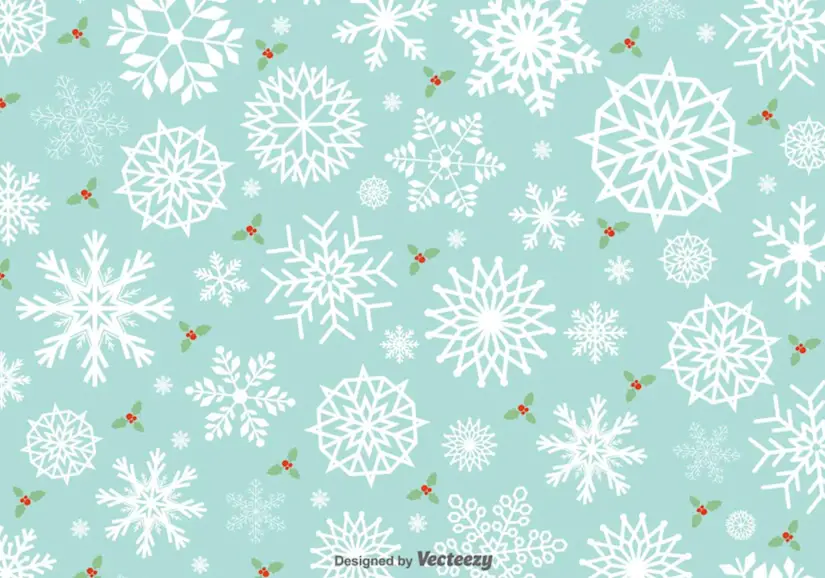 Price: Free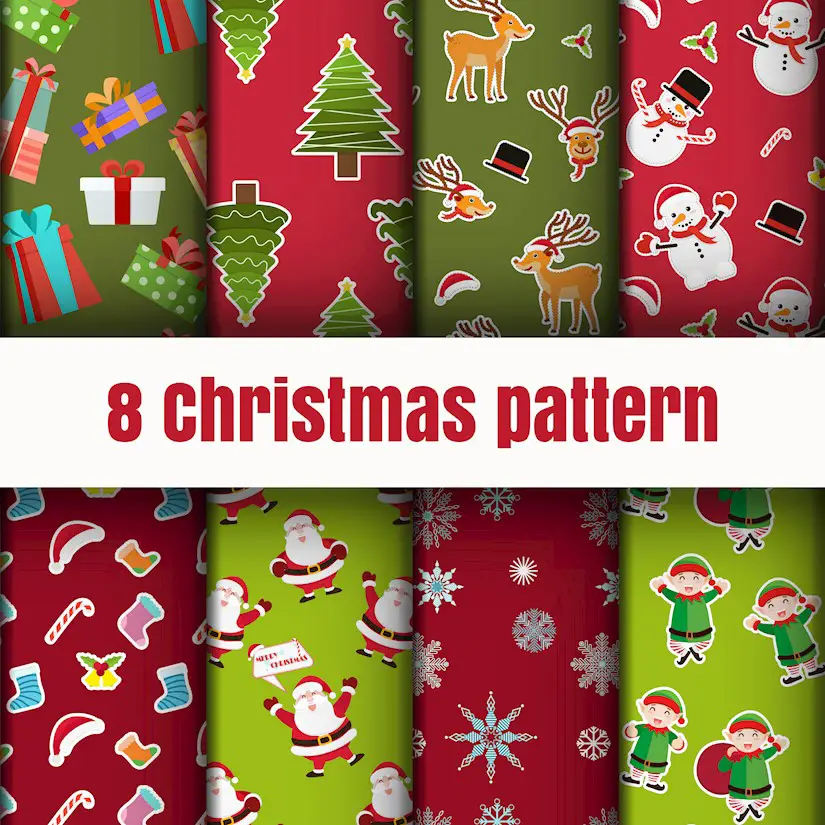 Price: Premium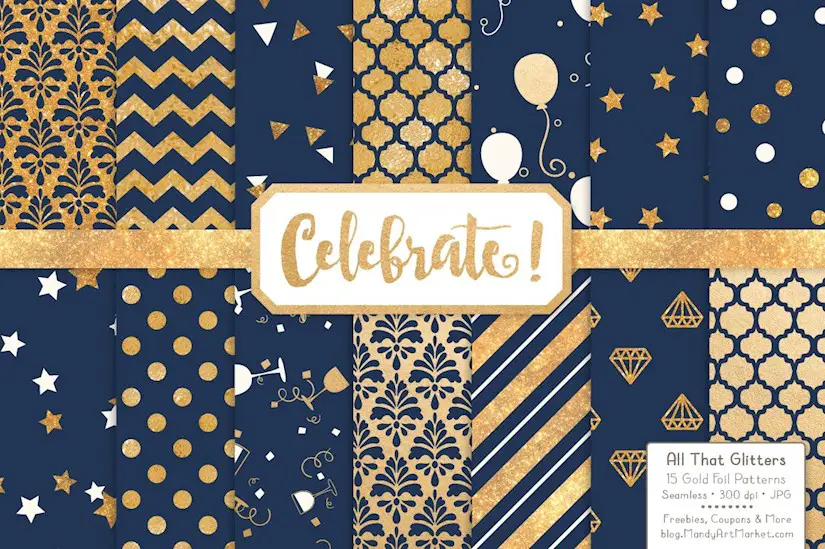 Price: Premium