The calendar is a framework of time, split into years, months, and days. No matter if it's a simple paper May 2022 calendar or a large bright printable version on your office desk, you will always be aware of all the important events.
You can save your time and use the online calendar editor Canva which has a lot of easy-to-use predefined designs.
We are so used to a calendar that we do not even realize its great role in our lives and our thinking. Wherever you go to a bank, hospital, school, or hairdresser – you will always come across a calendar.
Even modern gadgets could not replace people's need to look at the columns of numbers that divide the months by day of the week. We use a calendar to set a deadline for work, not to forget a regular visit to the doctor, or to plan a visit to a hairdresser. The printable calendar helps you quickly navigate the dates.
Free Printable May Calendars 2022
---
Do you need to create a wall calendar for May 2022? We have taken care of that and offer you free printable calendars for May 2022.
Just select the May calendar design, download it on your computer, and print your calendar! Our templates provide a place to make notes for every day of the month. What important dates have May 2022 prepared for you?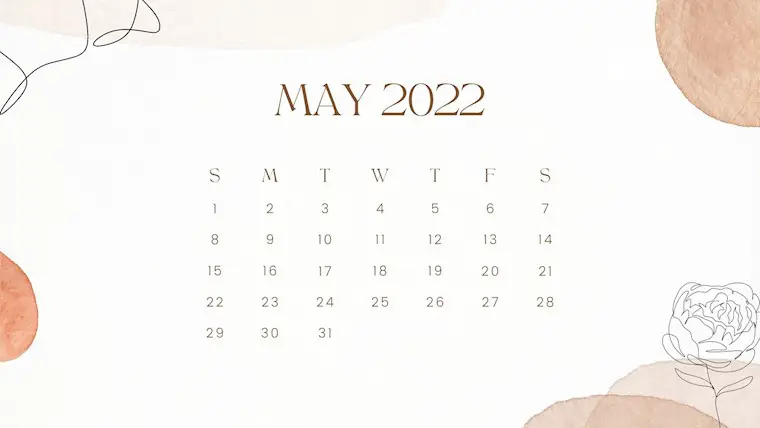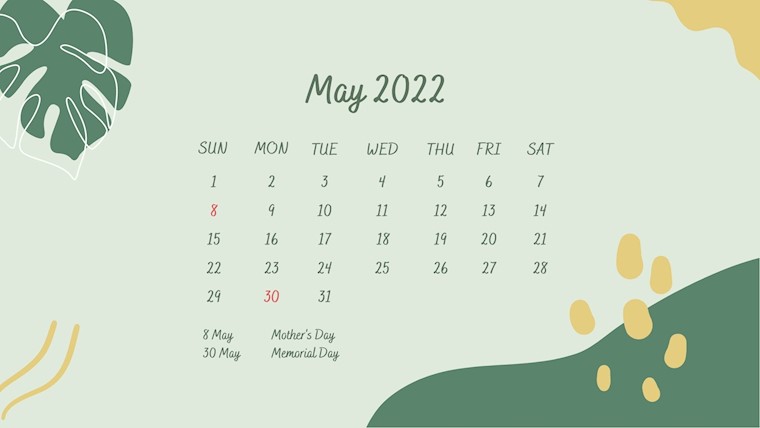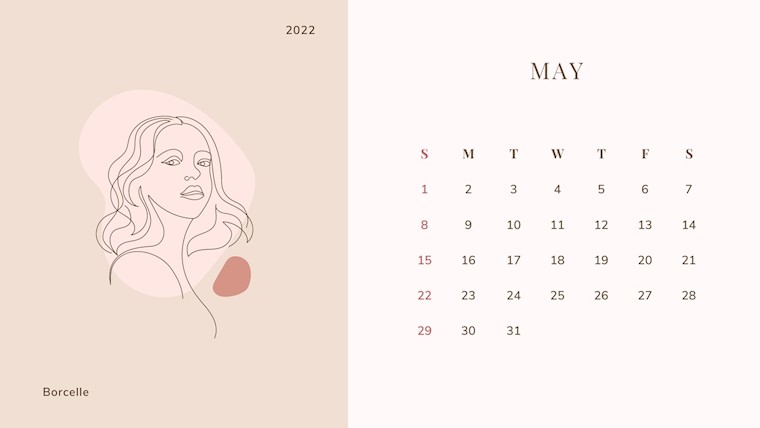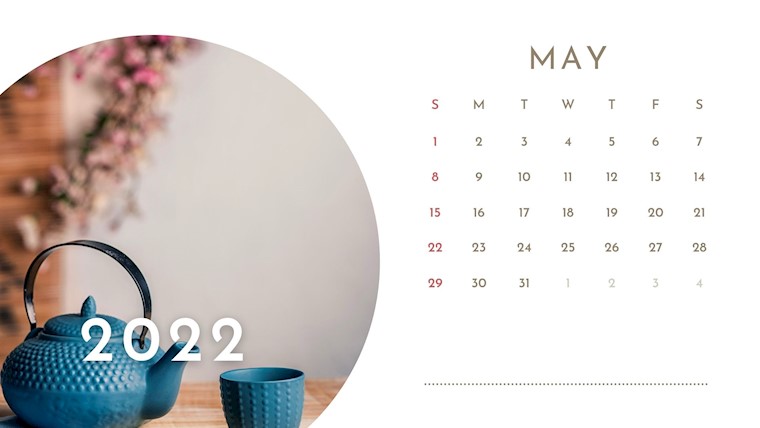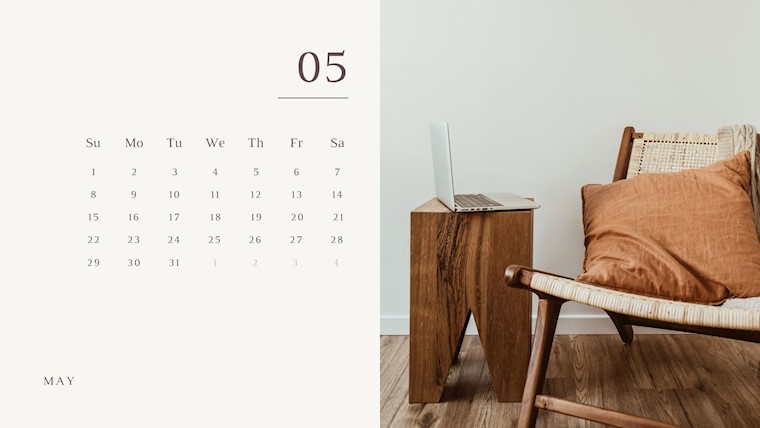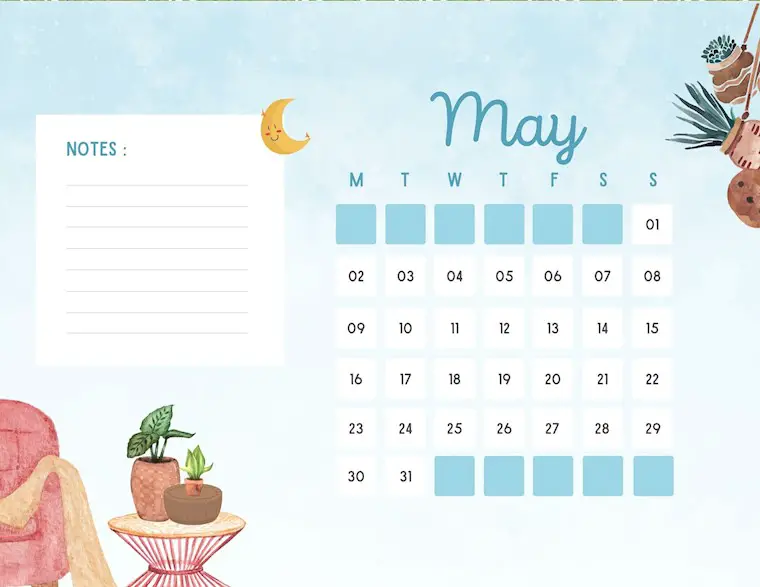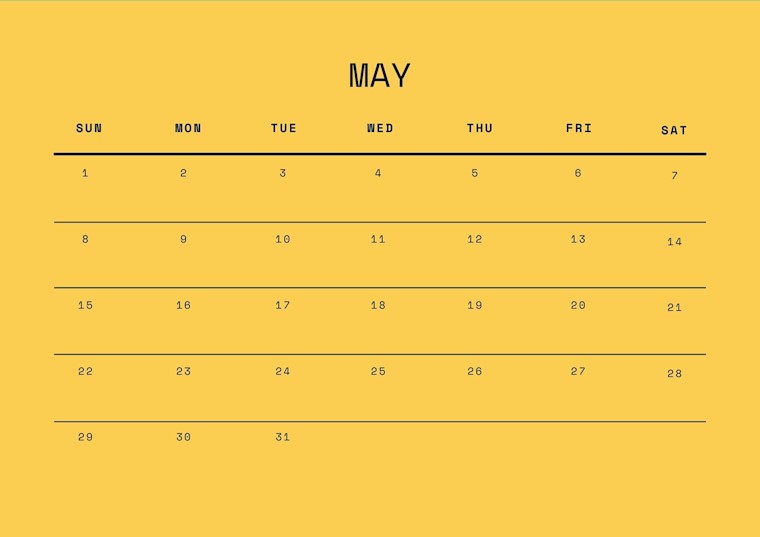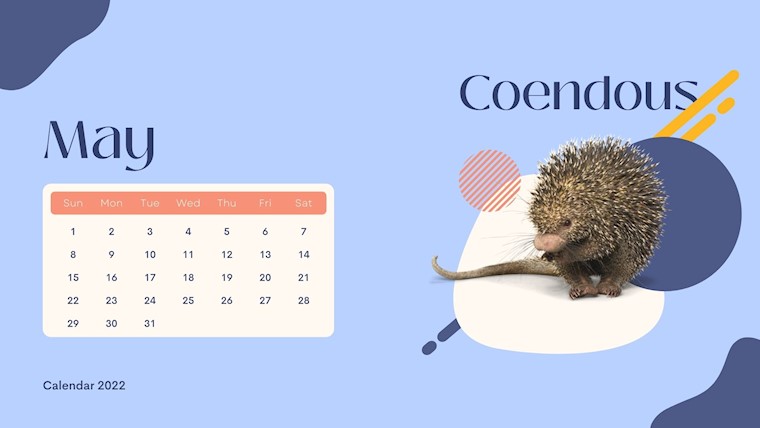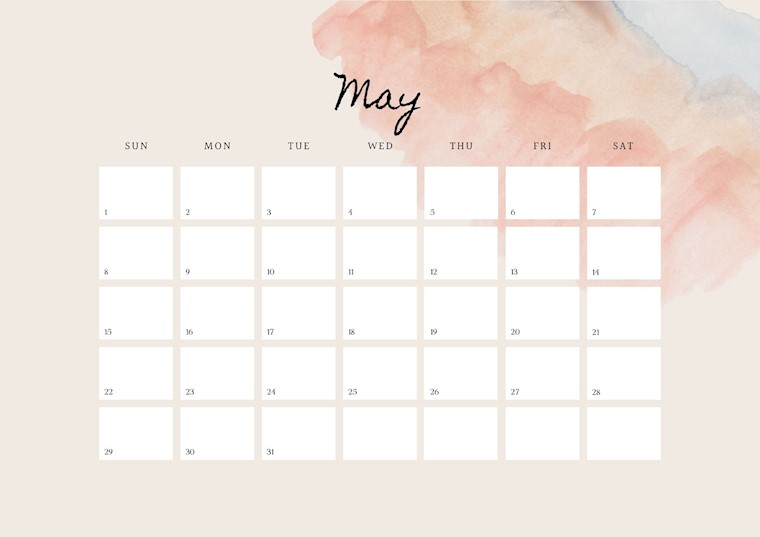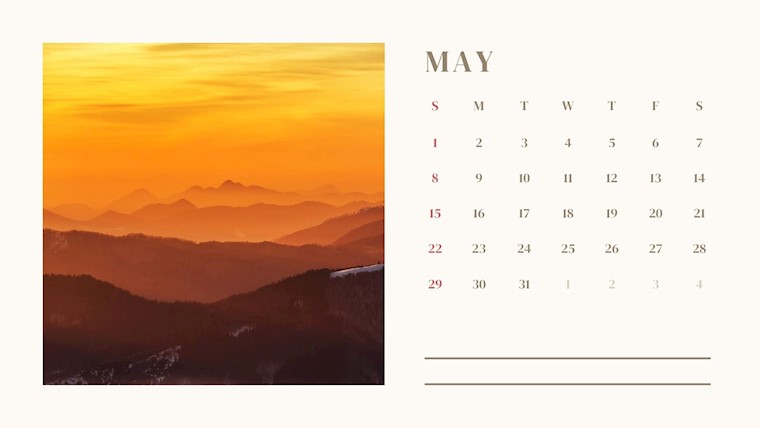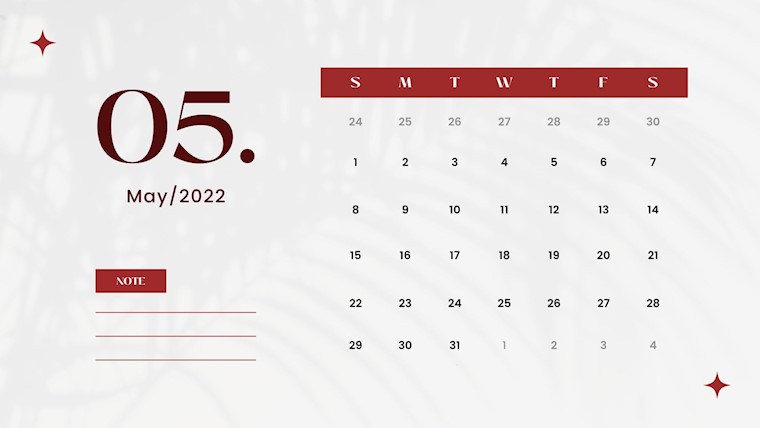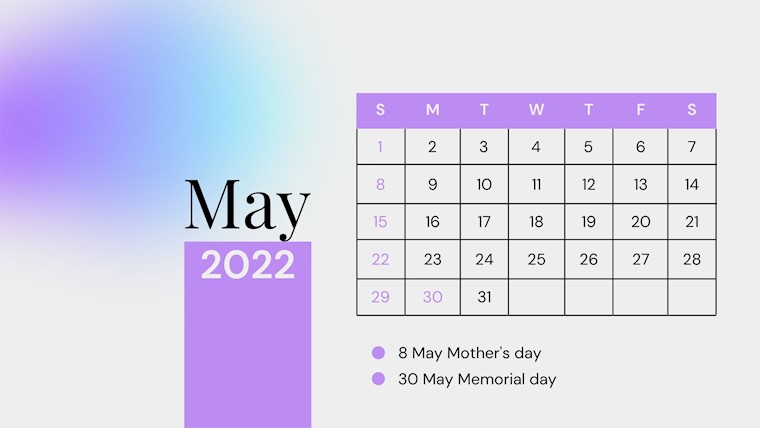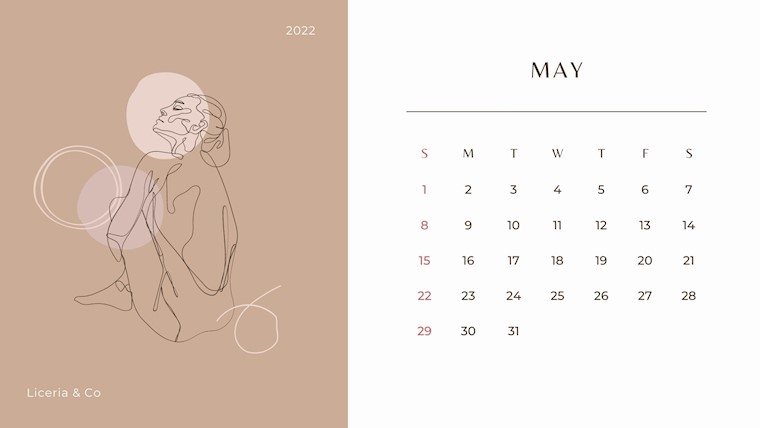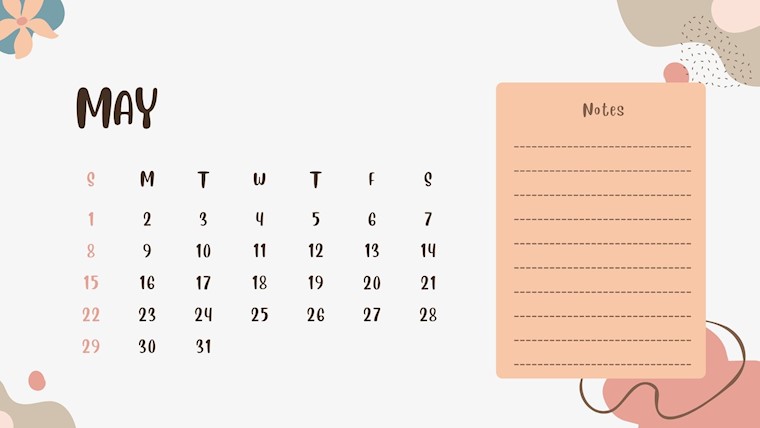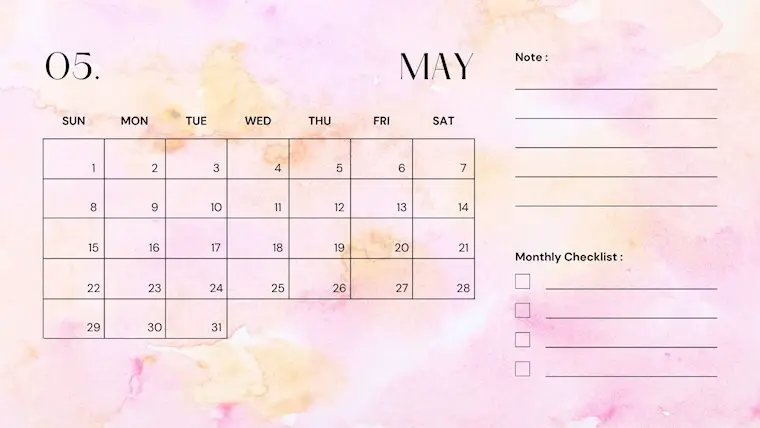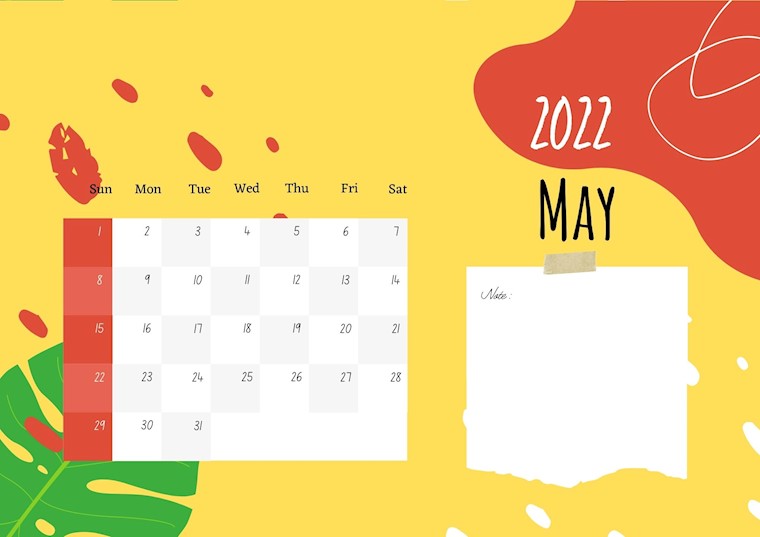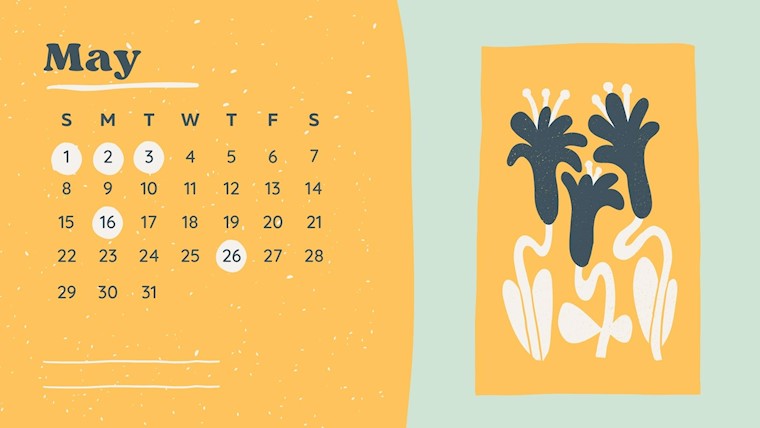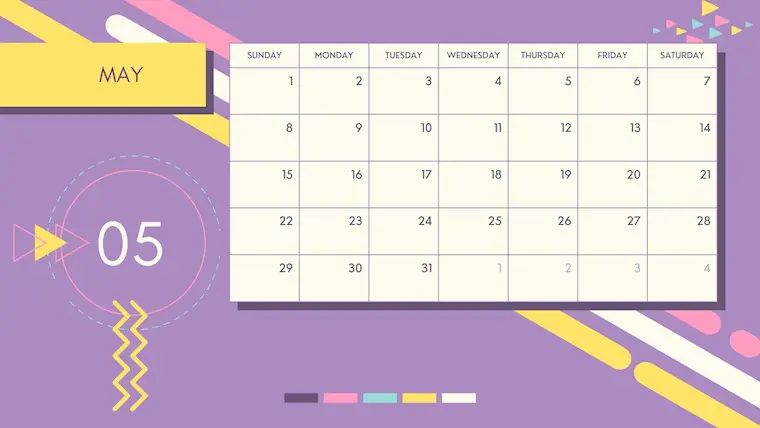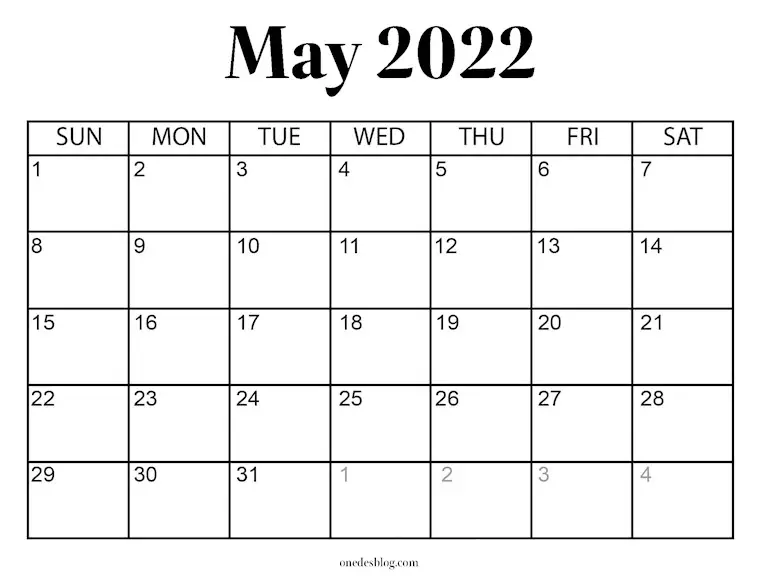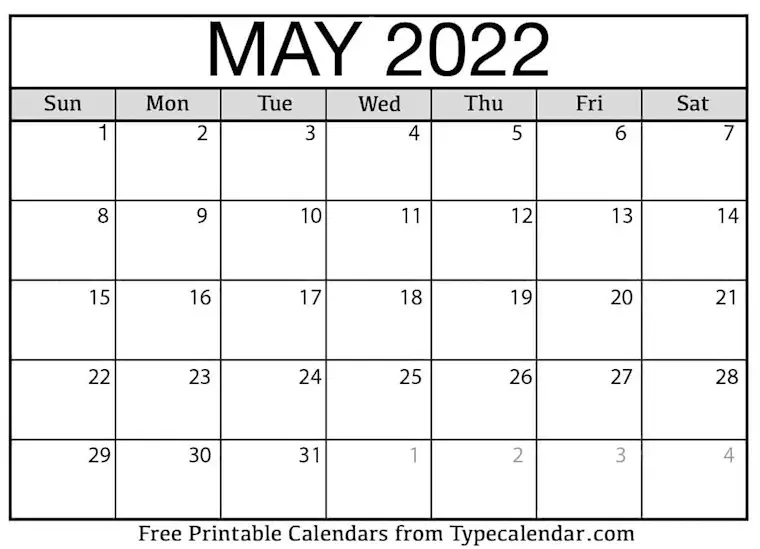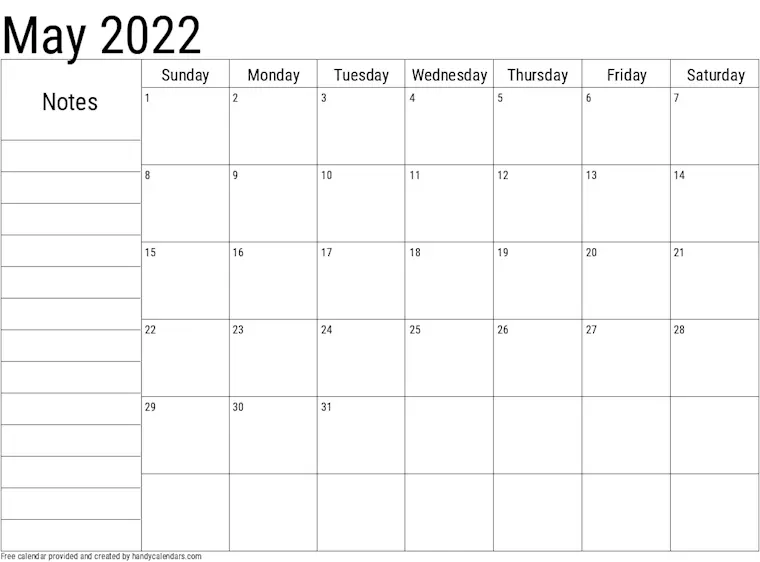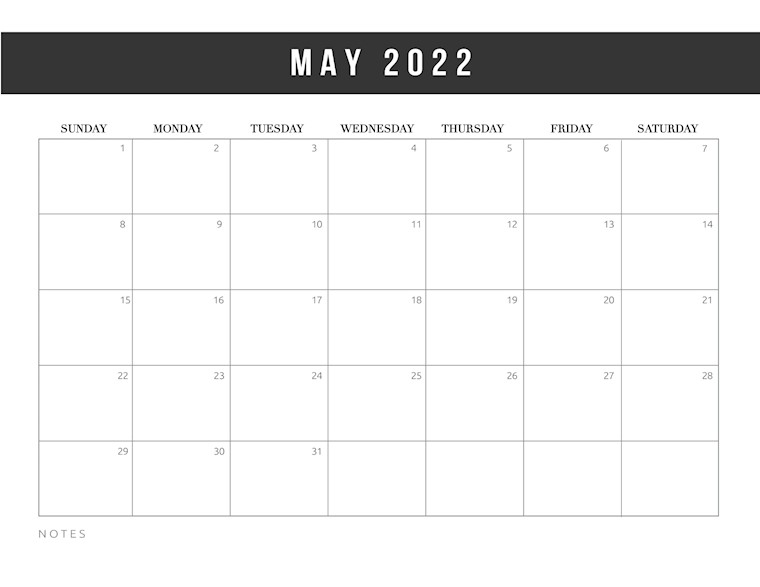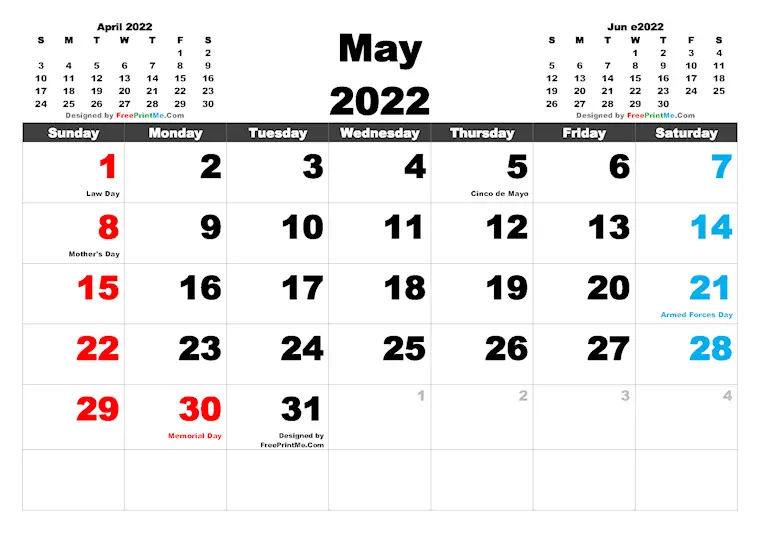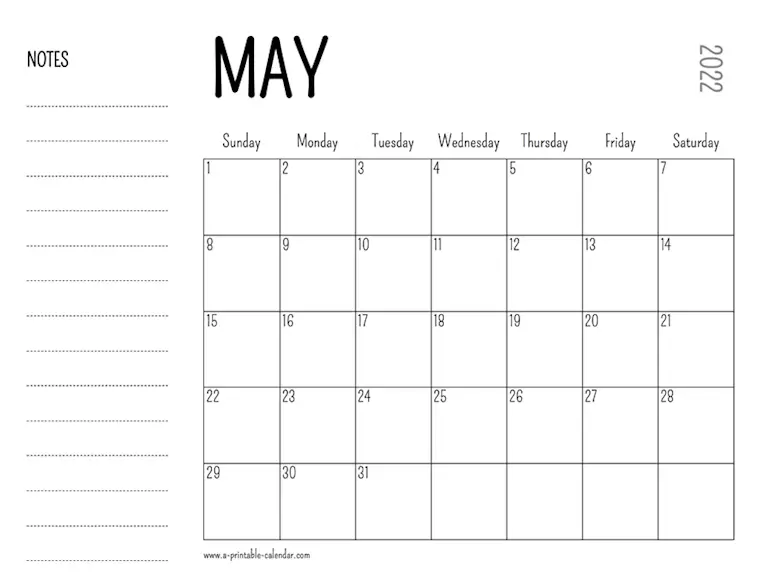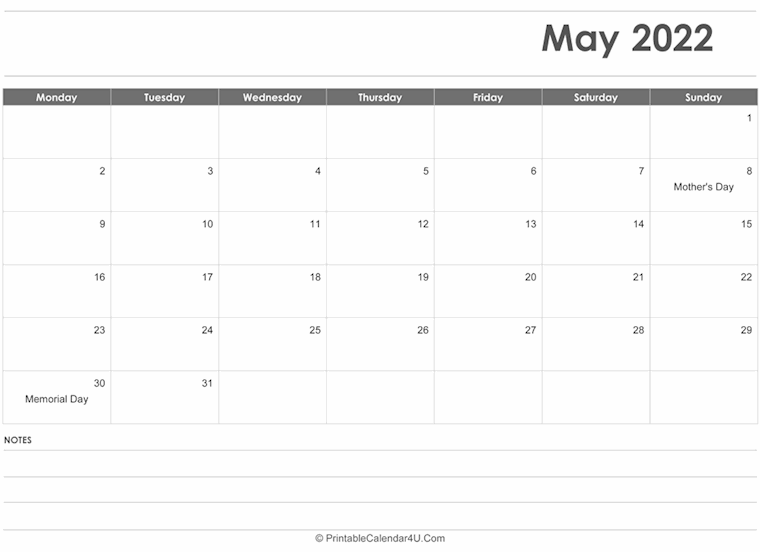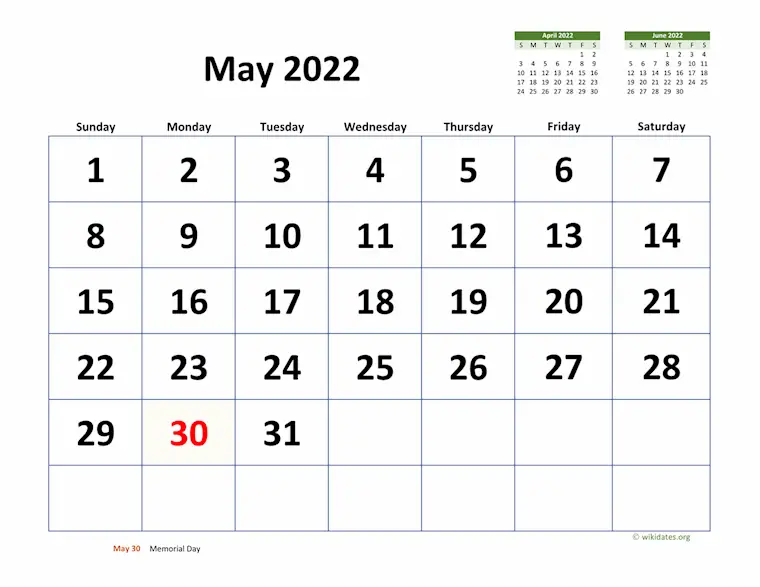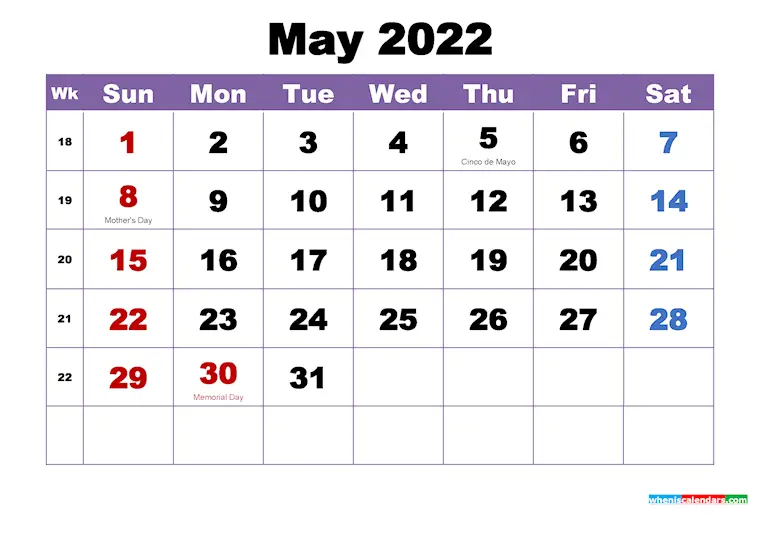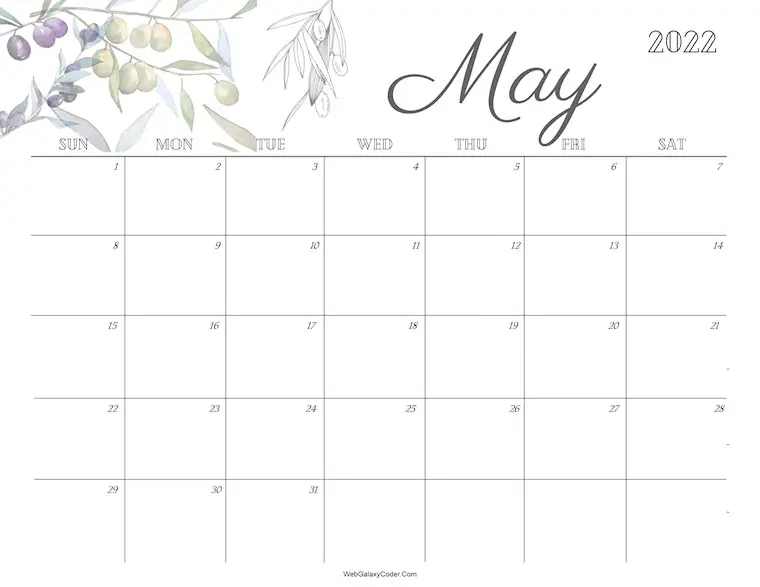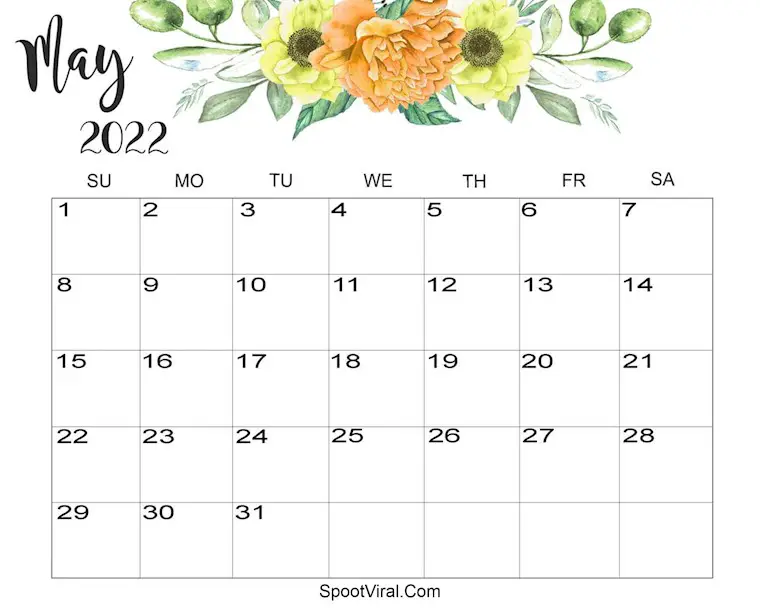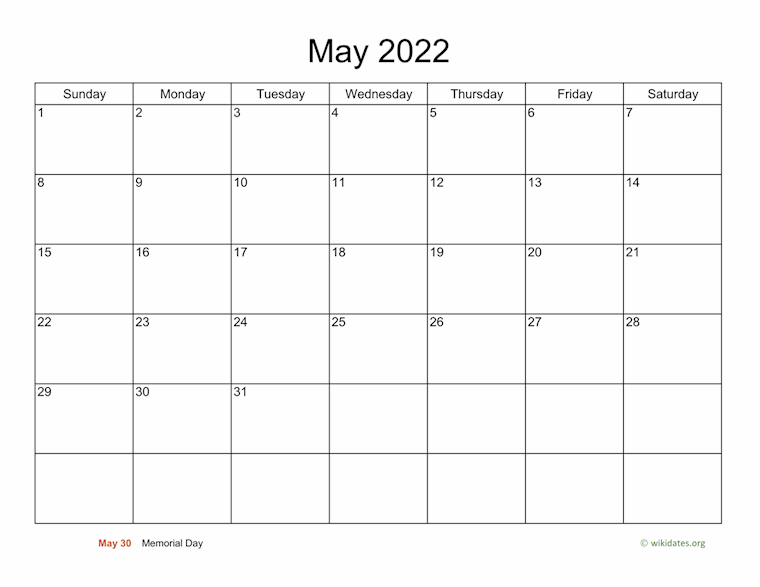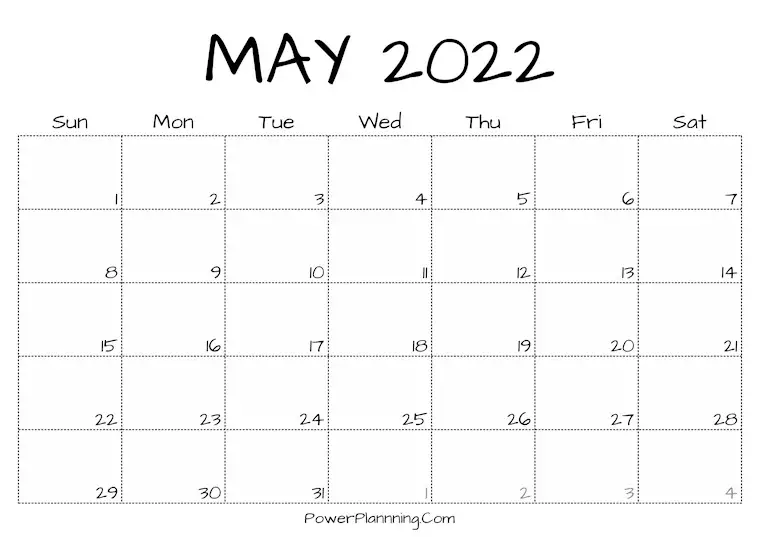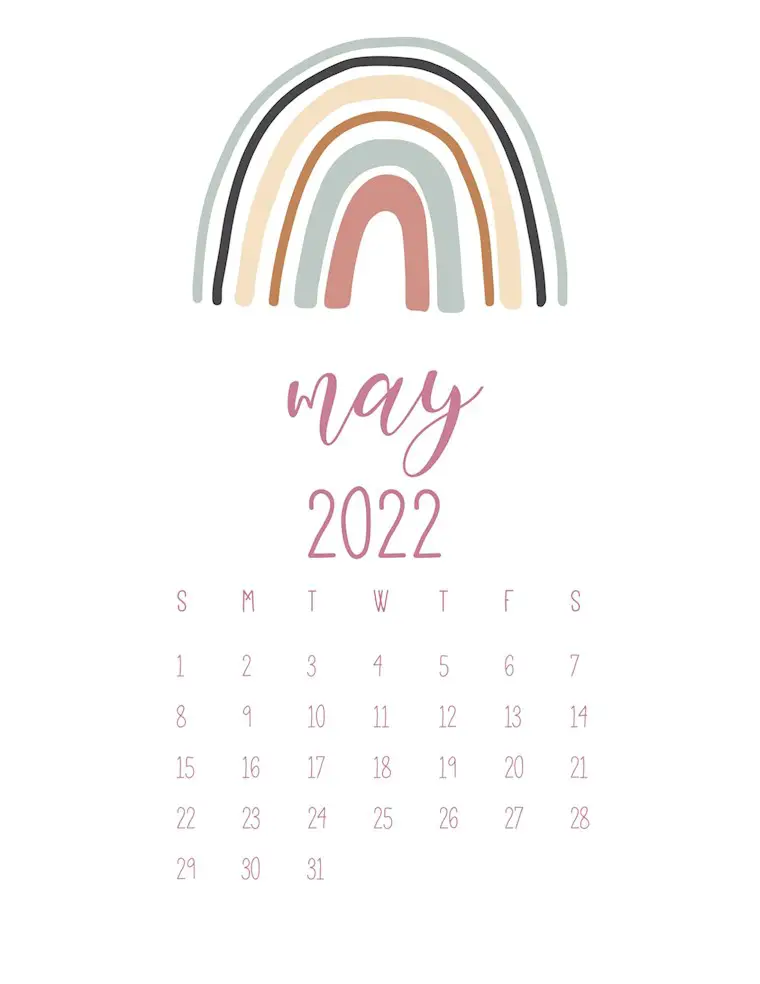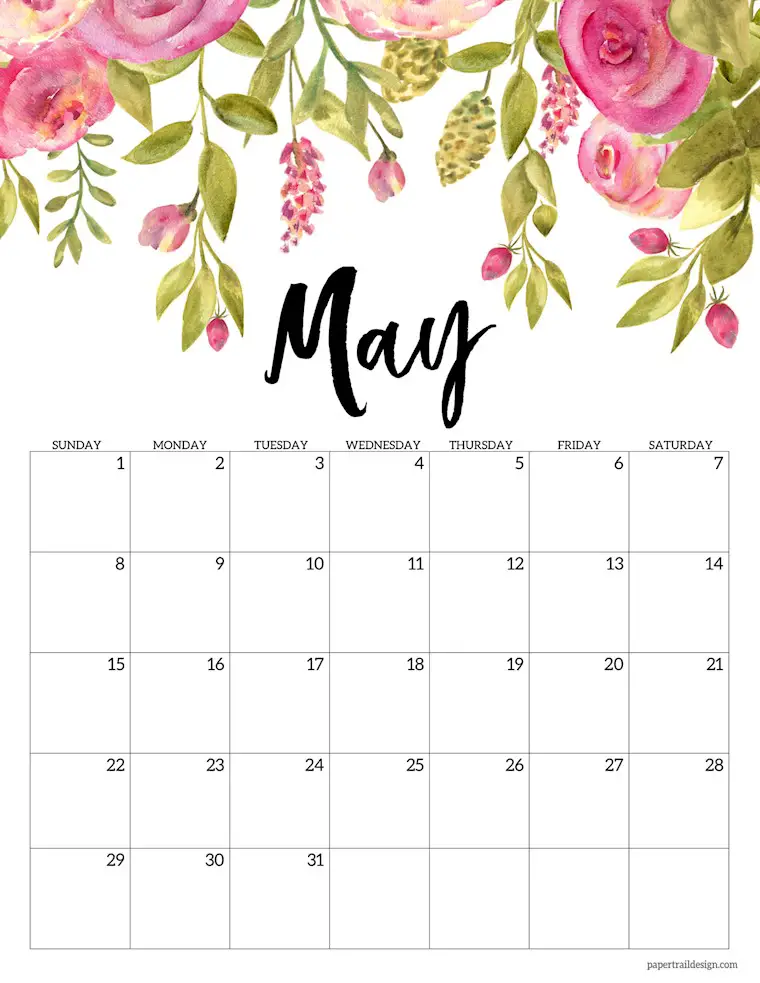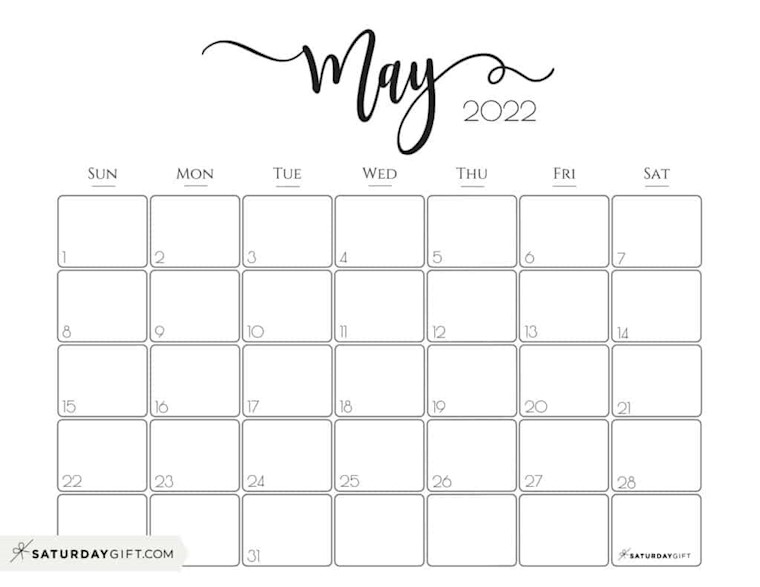 American Holidays in May 2022
These days, when there are so many sources of information on the web that it may seem unnecessary to have a plain paper calendar on your desk or wall. However, printable May calendars did not lose their importance. They are used for date tracking, scheduling, allocating tasks, and monitoring them.
On the 1st of May Americans have Loyalty Day. This day is dedicated to the solemn declaration of loyalty to the United States of America and recognition of the legacy of American freedom.
For the first time, this holiday was celebrated in 1921 as the Day of Americanization. It was supposed to serve as a kind of counterweight to Labor Day (International Workers' Day), an international holiday celebrated on the anniversary of the demonstration at Haymarket Square in Chicago.
Loyalty Day is celebrated in some US cities with parades and ceremonies, events at schools and other institutions. But many residents of the US do not know about this holiday since it does not have federal status, although it was proclaimed an official holiday. Therefore, they celebrate it not everywhere. You may still mark it in our printable calendar for May 2022 to have a nice occasion for festive events.
On May 8, 2022, the United States celebrates Mother's Day. For the first time, this holiday was celebrated only in 1872. Though, its history is very ancient and goes back to the early history of mankind. The US people were the first to separate it from religious tradition, giving the holiday a secular status.
In 1872, Julia Howe organized a mass rally in Boston, dedicated to peace and mothers. And precisely because of their stubbornness, such rallies soon became regular. However, this tradition was observed only in Boston.
More than three decades later, Anna Jarvis from Philadelphia offered to make Mother's Day a national holiday. But it was not easy to achieve it. The heavy bureaucratic system resisted all innovations. But Anna, like Julia 30 years before her, did not give up and continued to stand her ground. She wrote dozens of letters to religious and political figures, to public organizations and large companies. But even despite such persistence, she had to wait as much as 7 years. Only in 1914, US President Woodrow Wilson announced that Mother's Day would be celebrated every second Sunday of May.
On this day, people visit their mother and give them gifts and flowers. In America, a carnation flower is traditionally worn on Mother's Day: a colored carnation is pinned in honor of a living mother, and white is worn in memory of a departed mother.
Mother's Day is a very quiet, family holiday. Another tradition of this holiday is the reconciliation of children and parents. It is believed that no matter how badly the relationship was spoiled, children should still find a way to make peace with their parents on this day.
Another important holiday to mark in our printable calendar for May 2022 is Memorial Day. Every year on the last Monday of May, Americans honor the memory of the dead. Initially, flowers were brought to the graves of those who died during the Civil War. In 1971, President Charles Nixon declared Memorial Day a federal holiday. On this day, solemn ceremonies are conducted across the country, special events are organized in schools, churches or memorial services are held. On this day people gather in families to remember loved ones who have left this world. In 2022 Memorial day will be on May, 30.
Americans consider Memorial Day the actual beginning of summer. By this day the pools open and the holiday season begins. Traditionally, it is accompanied by family events, picnics, and sporting events.
People love holidays and sometimes invent the most unexpected reasons for celebration. In May 2022 you may celebrate the following funny events:
On May 15 Pink Panther Day is celebrated. Pink Panther is a famous cartoon character. The founders of the holiday encourage non-standard thinking and new ideas. Humor and a positive attitude and become the main things on this day.
On May 28 it is Brunettes Day. Surely everybody will easily find a company for festive moments.
May 31 is World Blondes Day. According to the official version of the holiday's origin, it was initiated by American blonde attorneys, who were not taken seriously by their colleagues.
Do not get upset if you do not find a holiday to celebrate in our May calendar. Invent it yourself! It is the right way to make your life bright with our calendar templates.