According to recent research, more than 50 designs are created in Canva every second. Moreover, the platform has more than 30 million monthly active users for good reasons.
Canva is an excellent online graphic design platform that anyone can use to create top-tier graphic designs like calendars, posters, flyers, presentations, and much more visual documents. In a few words, Canva is the best choice for those looking for flexibility.
When it comes to calendar designs, those are always in fashion and very popular. Accordingly, Canva can help you design and produce one that will be unique and beautiful. As most of you already know, our website includes many free and premium Calendar lists to help you find the best one for you. 
However, if you are one of those people who want to create a calendar on your own, this article will help you do exactly that! We have an analytic guide that contains everything you need to know before you start designing your ideal calendar. 
We will explore the types of calendars that you can find in Canva, the pros and cons of Canva free and Pro, and of course, how to create your calendar step by step. We guarantee that you will have all the tools you need to start designing by the end of this article!
What types of Calendars can I create on Canva? 
No matter if you prefer a calendar based on the length of time – yearly, monthly, weekly,  even daily – or a calendar designed for different events like birthdays or classrooms, Canva offers numerous templates to choose the best one for you. The templates' library is filled with countless options for you. 
Try to get creative and take advantage of all the features that Canva provides. Moreover, you can download, print, and share the calendar with anyone. We will help you create a breathtaking calendar with a step-by-step guide. The same steps apply to every type of calendar.
Do I need Canva Pro to create a calendar?
Canva, like many online design apps, has a free version and Pro plans. In general, there are always extra features and options in the paid version. However, do you need to pay for the Pro package to create a fantastic calendar?
In this case, the differences are not many. The Canva Pro has more design elements like more kits for your designs, one-click magic resize, advanced editing features, more layouts, graphic choices, and of course, premium images and illustrations. You can also use personal photos to make your calendar even more personal by using both versions. The paid version starts at 9,95$ per month.
Thus, you can create a unique and personalized calendar in both free and Pro versions. The extra features that Canva Pro offers are outstanding and could make it even easier for you to edit your ideal calendar, but the result won't be far from what you have already in mind. 
How to Create a Printable Calendar on Canva? Step-by-Step
Canva is a great app to design a calendar, and now is the time to see how easy it is for you to make it with just a few steps. Once you sign in to the Canva or Canva Pro, you will follow these six easy steps to design, download, and print your calendar.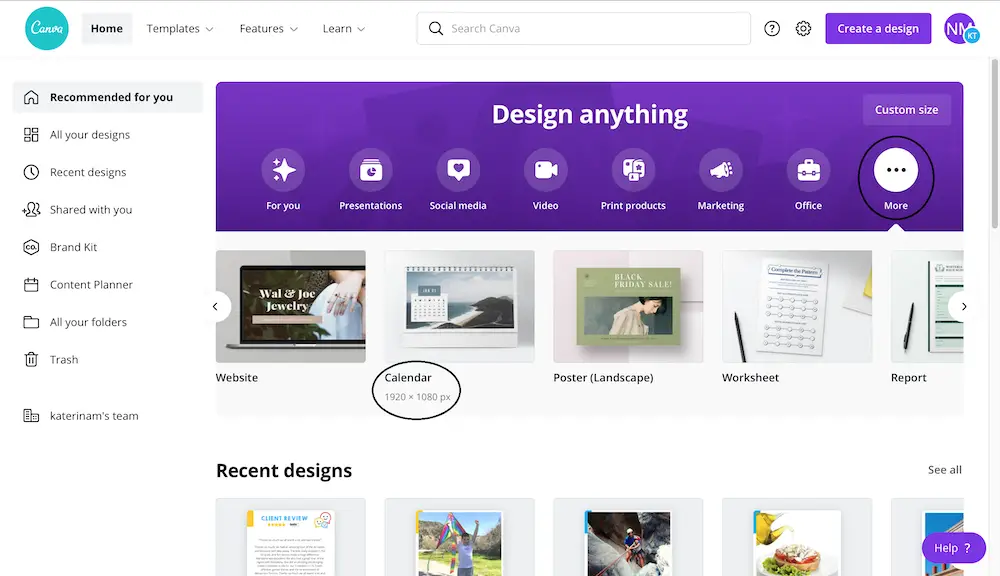 1. Choose your Canvas Size
When you open the design software, you click the +More button in the top-right menu to choose the size. Most users select between the US Letter and A4. If you prefer to give a custom size, you choose from the same menu Use Custom Dimensions and write the width x height in inches, centimeters, or pixels.
2. Design the Grid/Choose a calendar template
If you prefer to design the calendar grid and not choose between the templates, you have to use the rectangular tool on the left side of Canva. Click Elements and then Shapes to select the rectangular tool. 
If you want to upload your template, try to go to the left panel and choose Uploads to see the uploads folder. Next, click Upload your images.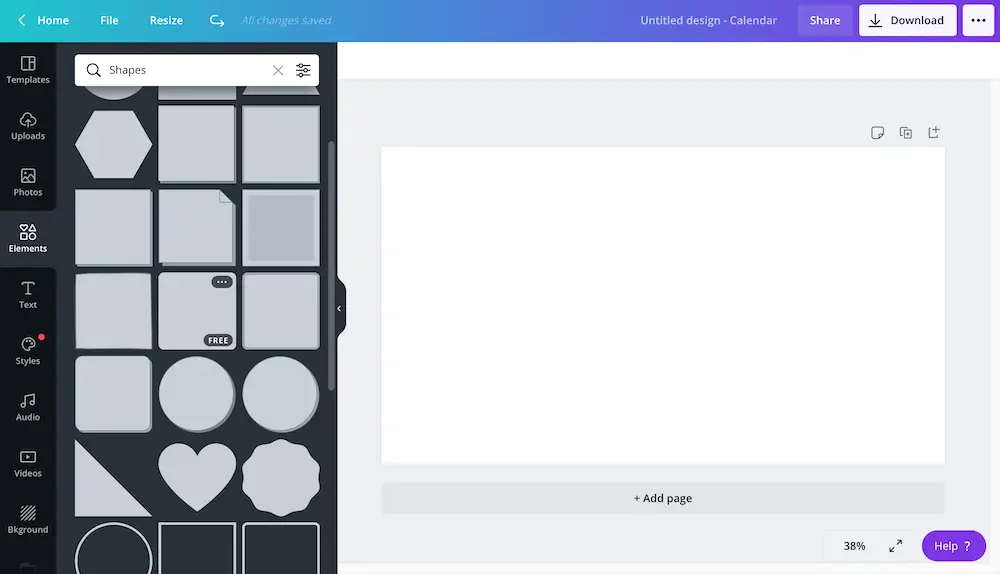 3. Adjust the dimensions of the Grid
Now that you have designed your grid, try to play with the size and position. Try to hit and hold the photo of the calendar grid and drag it at the corners to change the size. Canva will let you know if the image is in the center of the grid by showing dotted lines.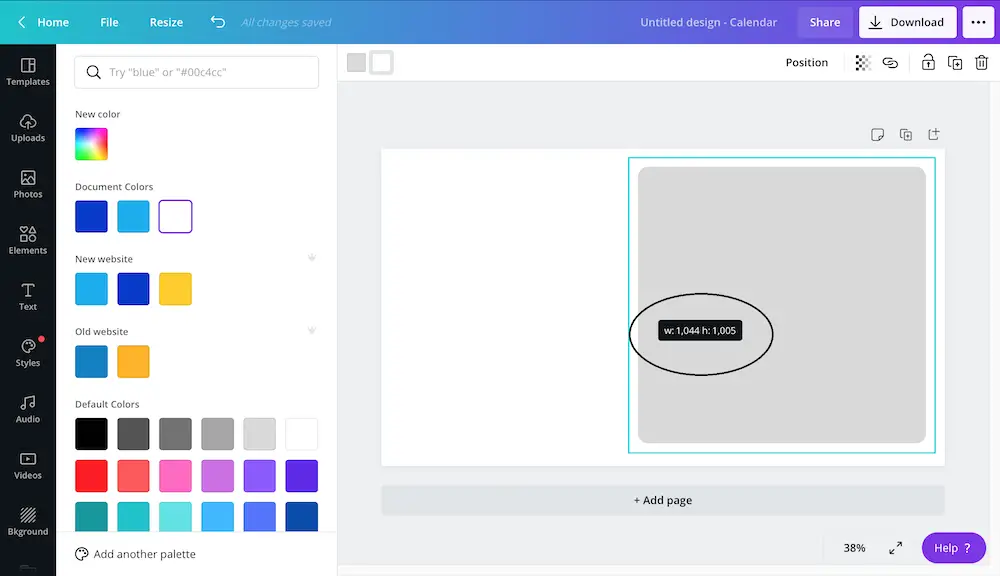 4. Include your own images
The next step is to choose or upload from Canva Library images, illustrations, or icons. In the left panel, click Search and then write the name or category that you want to find; for example, type "sun," and you will get in the results a variety of images to choose the best for your calendar. 
Canva also gives the option in some images to change colors. If you want to proceed with this option, try to hit the image and check if you can see a toolbar on the left side. 
You can choose to change transparency or position at the top-right menu if you want to put an image below another.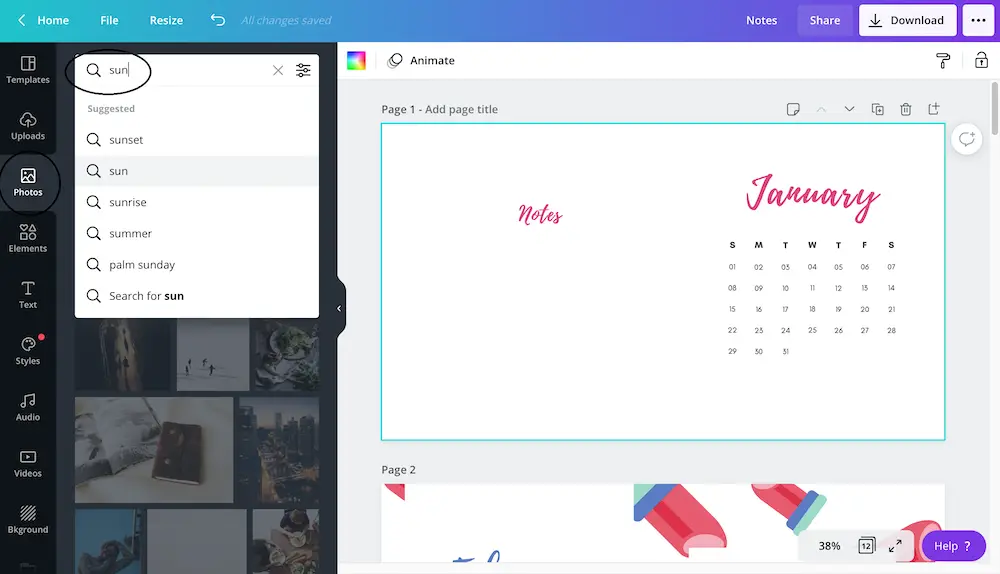 5. Add text and choose from a huge variety of fonts
Now that your calendar is almost ready, you can add some text and choose between a great variety from Canva fonts or upload your preferred font. 
Click text from the panel on the left side and select to add text. Hit the text box twice to check and edit. Try to write your text and adjust the font, size, color, and alignment.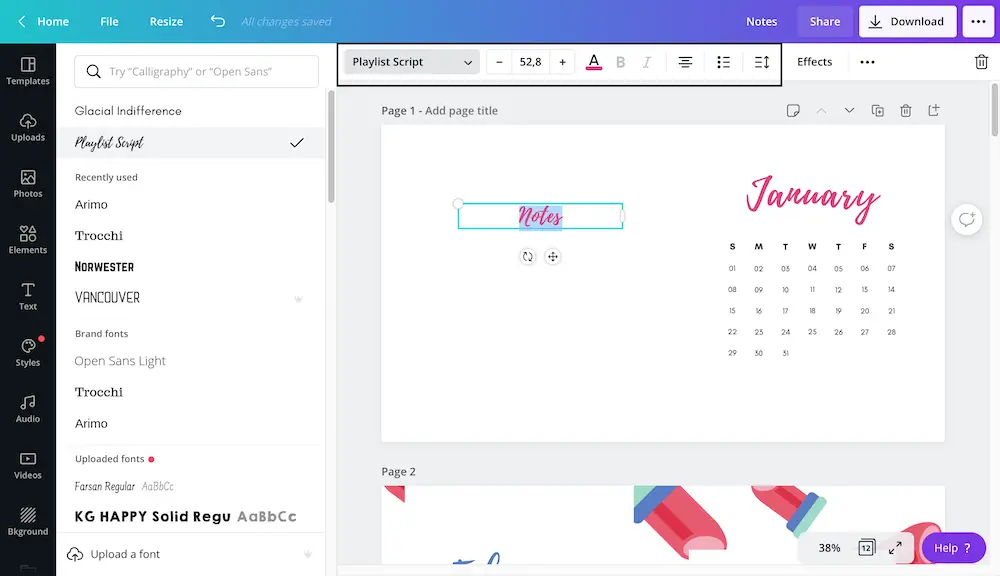 You can also change the text's size and position by exiting and clicking the text box again. 
If you want to create notes, you can drag the calendar to one side and write! Moreover, you can use the text box to add events to the calendar.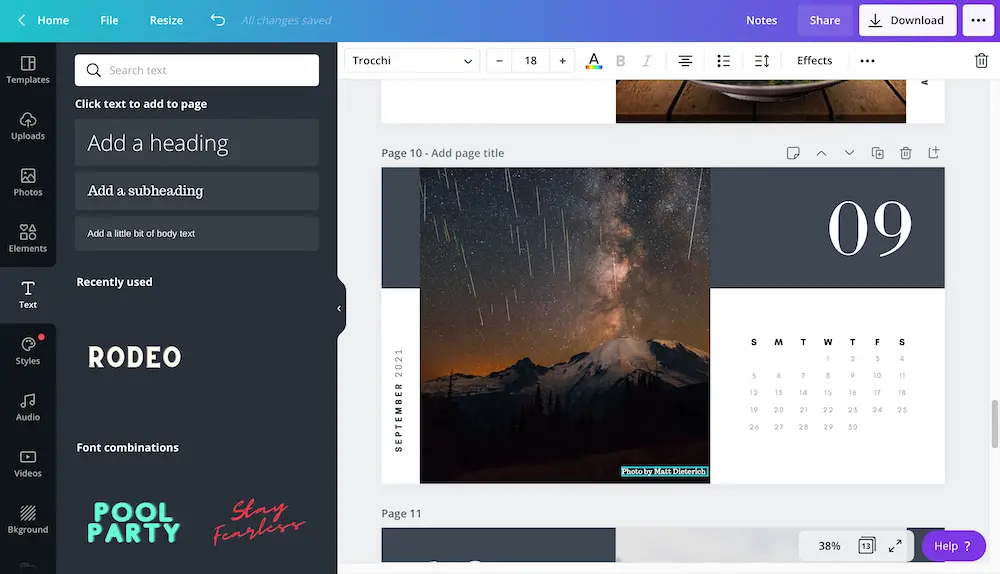 6. Create a PDF or image and download the final Calendar
In the top-right menu, click download and export it as a PDF print file. This will allow you to print it afterward easily. You can always save it in different forms. For example, if you want to use it as a photo for your subsequent designs, you can also export it as an image.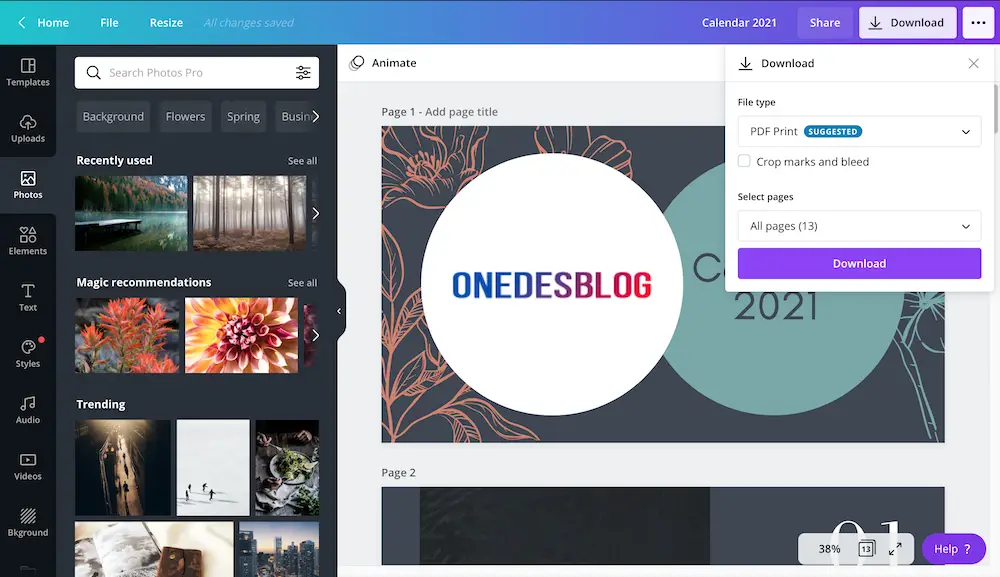 Wrap Up
We explored all the ways that allow you to create a unique calendar. Canva is online software that gives you the essential tools you need to design a calendar and much more. It is an easy and reliable tool that you can quickly learn how to use, even if you don't have any graphic design experience. 
As it concerns the free and Pro version of Canva, it is clear that if your calendar is a one-time thing, then you have plenty of images, illustrations, and tools to take advantage of in the free version. 
If your passion is to create calendars every year and for every occasion, we highly recommend the Pro version to have the advanced package mentioned earlier. You can always check our calendar lists and guides for inspiration and as a way to find fantastic (design and font) ideas for your unique calendars.
Freebie! Download free Printable calendars from Onedesblog!