Tumblr is a magic world of beautiful images, videos, and memes. Once you sign up for the website, there is no looking back! More people than ever sign up to Tumblr for its sleek, clean design. Besides, Tumblr has many free themes that allow you to create your blog on a low budget (or no budget).
To set up a blog on Tumblr, you don't need to learn HTML code or use any CMS. You simply register on Tumblr and pick a proper theme to display your personality and style. However, it's quite challenging these days to find a perfect Tumblr theme suitable for your project.
Free Minimalist Tumblr Themes
---
I decided to give you a hand with this difficult task and collected over free minimalist Tumblr themes you can download and use today! Feel free to scroll down and choose which one you like the best.
Syndex is super modern dynamic Tumblr theme with infinite scroll. You can create any type of posts using this theme, including photo, text, quote, link, video, ask and chat.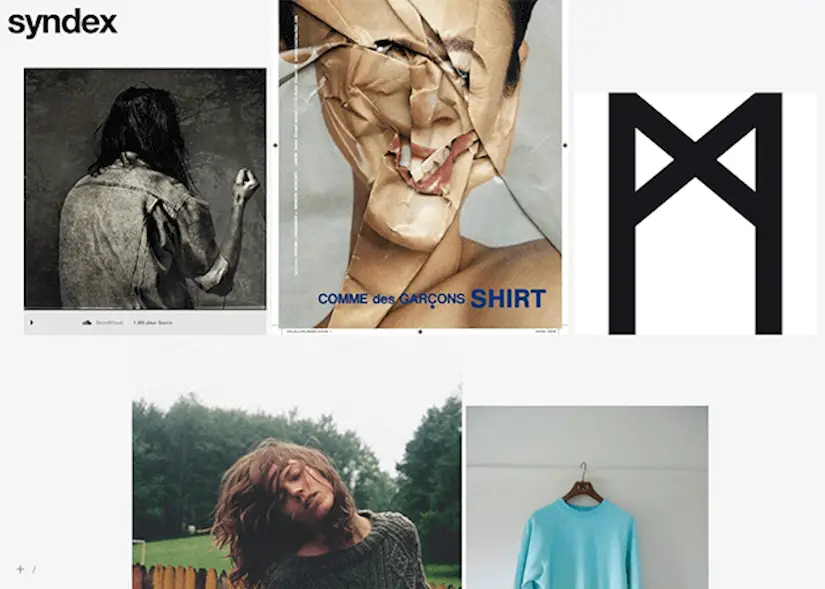 Achieve a smooth and clean design layout with this gorgeous theme by Zen Themes. It's created with professionalism in mind.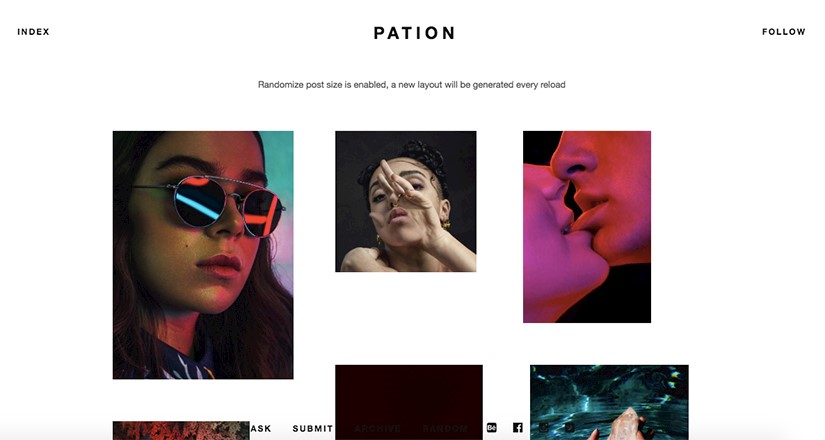 Check out this customizable Tumblr theme with a beautiful yet simple layout. It will be suitable for design, photography, or art portfolio.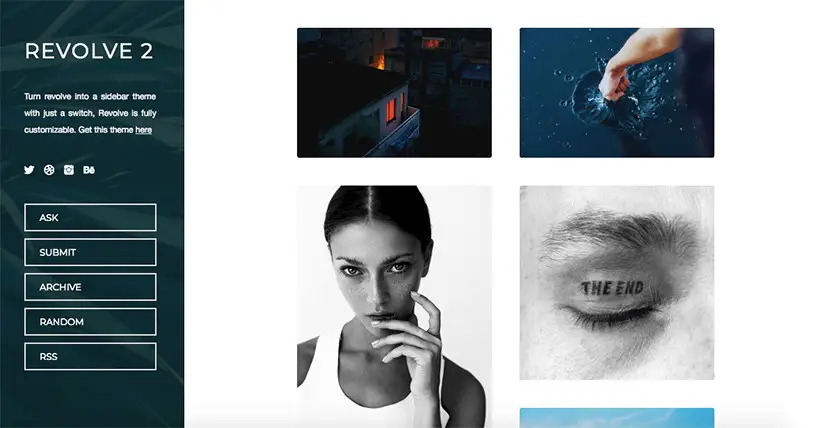 Account Settings is a clean, stylish theme suitable for posts, images, and quotes. It has a thin blue stripe on top and white background.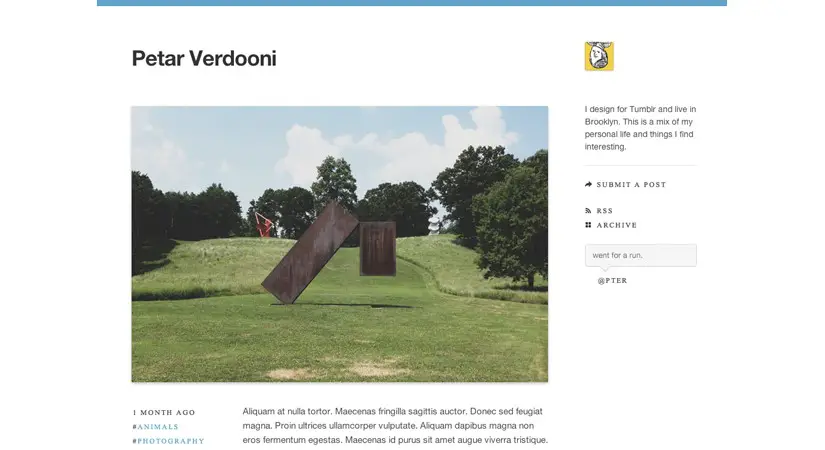 Impress your followers with this minimalist one-column theme for Tumblr. You can share any kind of posts using it. Besides, you can add a small detail in your favorite color to spice up the layout.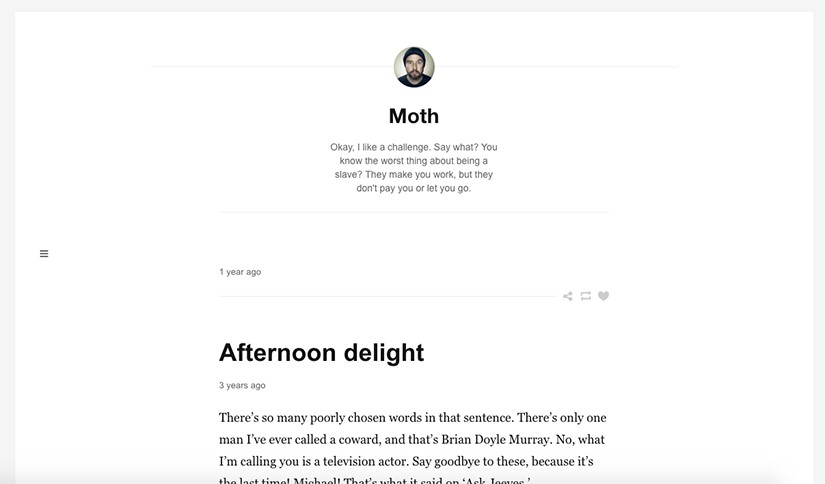 Minimalist Tumblr theme for writers. It features fast loading of content and is compatible with all browsers.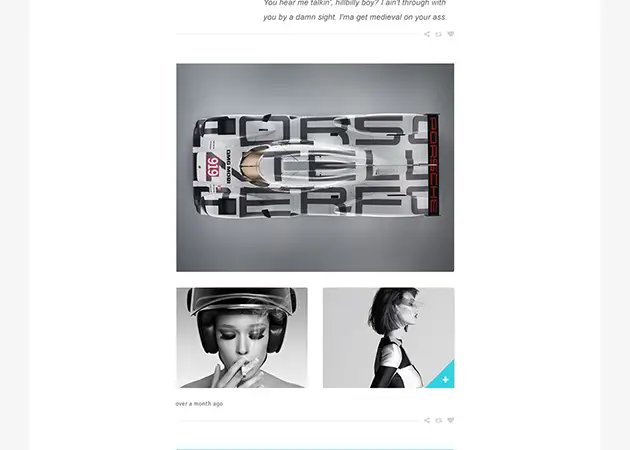 Melvin is a mood board and photo stream Tumblr theme with a focus on images. It will be a perfect option for photographers, designers, artists, and other creatives.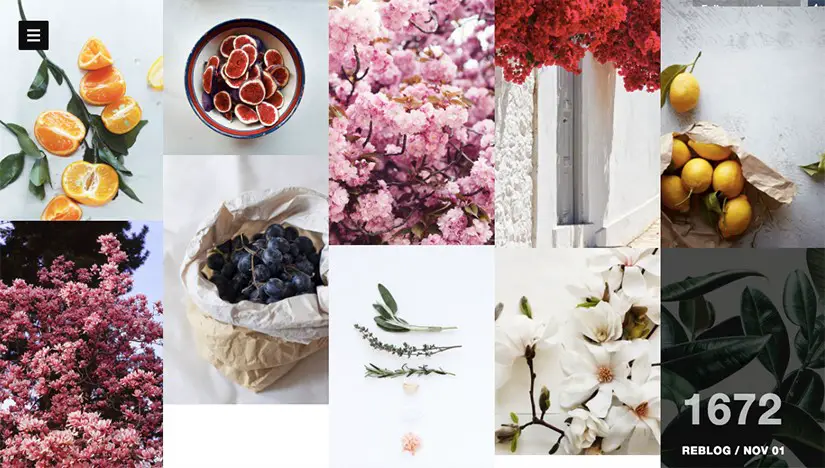 With over 100,000 active installs, Wicked is a popular minimalist theme for Tumblr. It has a trendy grid layout, and be sure your content displays correctly on any screen.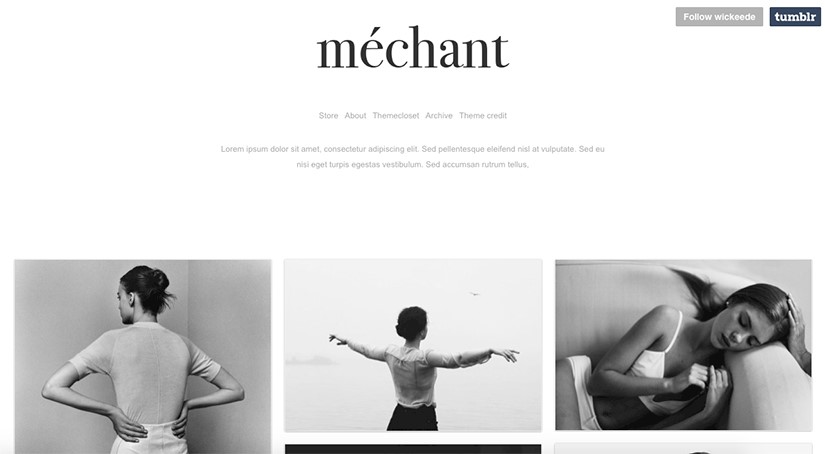 This theme was designed for those of you who are going to build a portfolio on Tumblr. It has minimalist style, perfect for all kind of images and videos.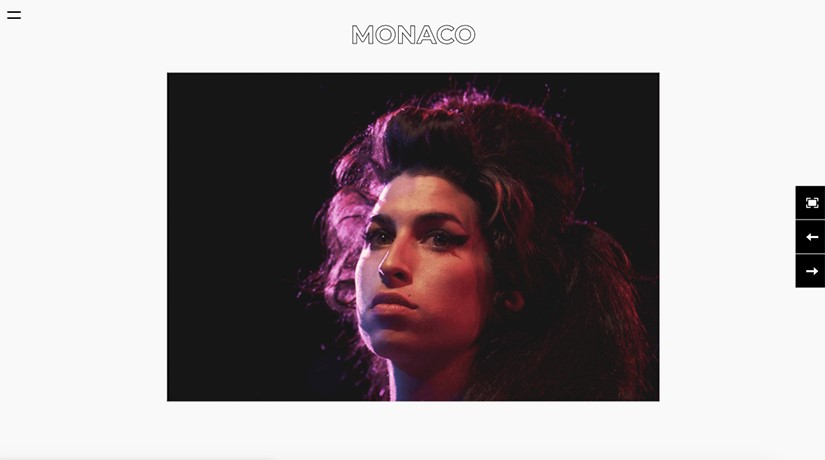 Nostalgia is an ideal theme for blog posts, online magazines, and stories. You can adjust the theme to your taste and preferences.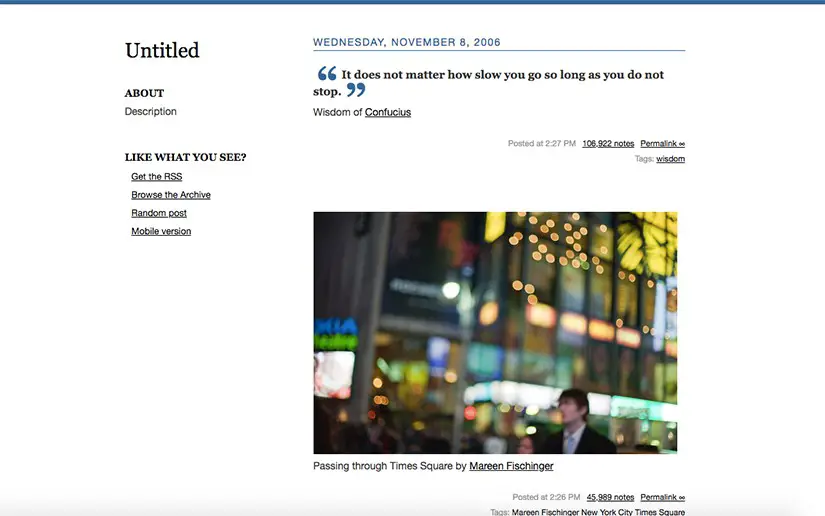 The name of this file speaks for itself, so it does not need an introduction. It includes all necessary blog features, such as responsive design, Google Analytics, image zoom, different colors, and localization.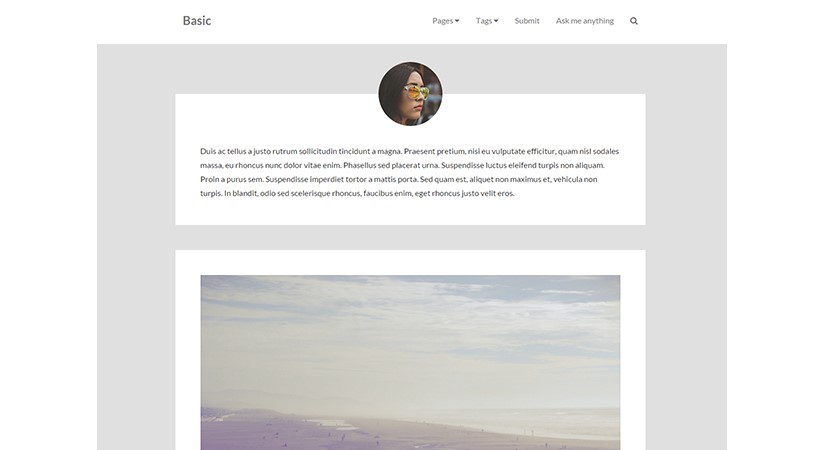 This is a pixel-perfect beautiful Tumblr theme in masonry style. It will work flawlessly on ay modern browser.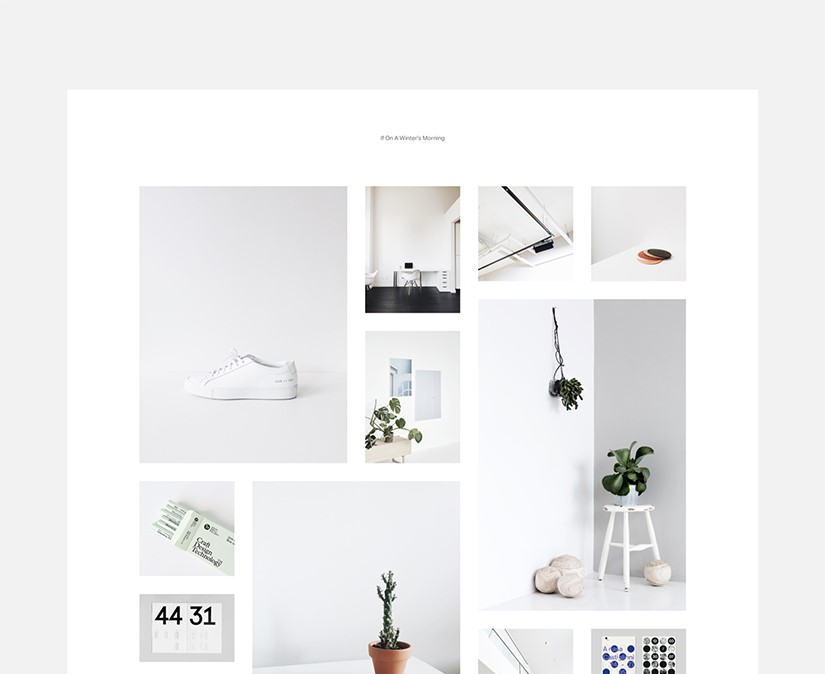 Do you dream of an online magazine? This is your chance to create an inspirational blog with images and posts you like, just make sure to use this free Tumblr theme.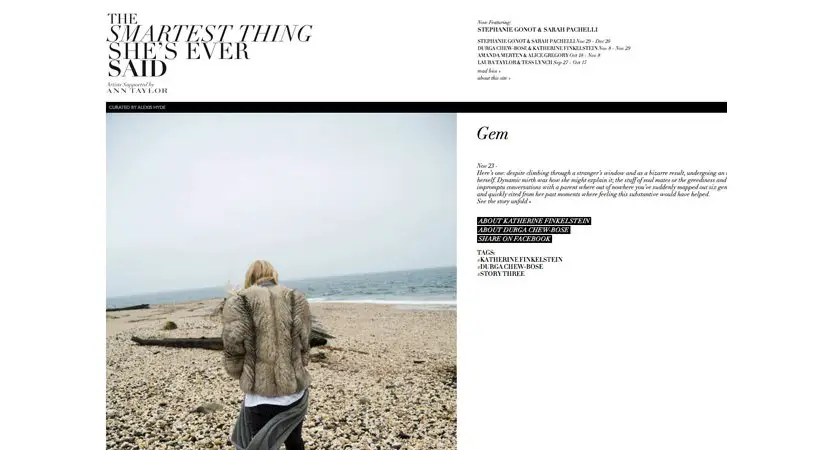 Hipster is a premium-quality theme you can get for free. All the images look like Polaroid photos in a white frame.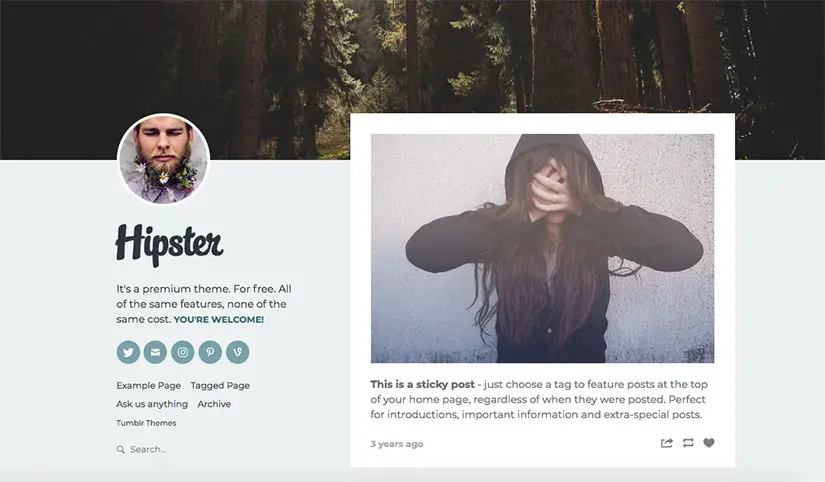 Ten Toes focal point is to impress viewers with beautiful images on an entirely white background. Install this free minimalist Tumblr theme in just one click.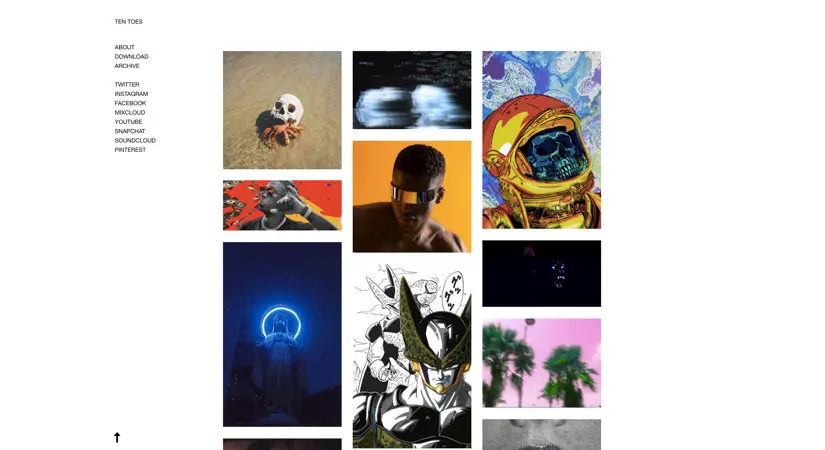 Huge is a minimalist multipurpose theme for both personal blog or business purposes. It treats you with a hidden menu, color options, and readability.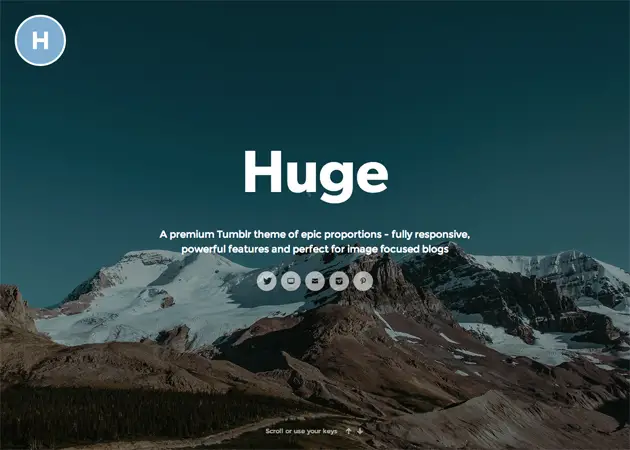 Here is an excellent theme with a sleek modern layout and three columns. You can publish any type of post here, from quotes to videos.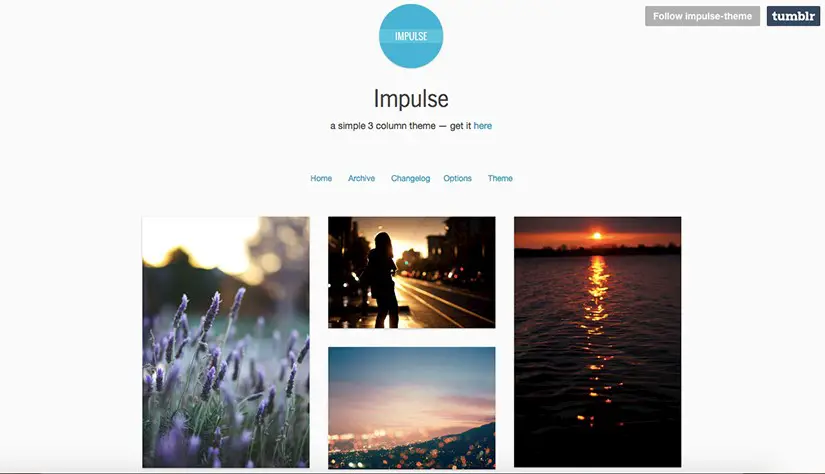 One more portfolio Tumblr theme with masonry layout. Users can like and reblog posts right from a homepage. You can modify the item to your needs.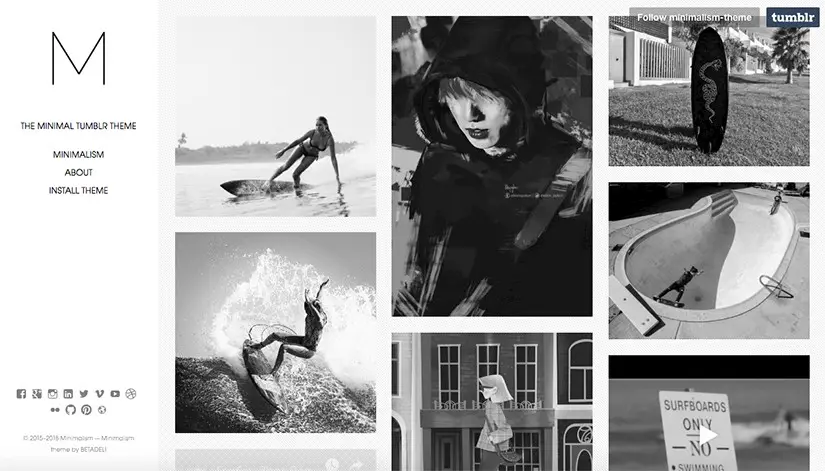 It features an alternative reading experience which allows you to change the background to dark. This will make it more comfortable to read a blog in the nighttime.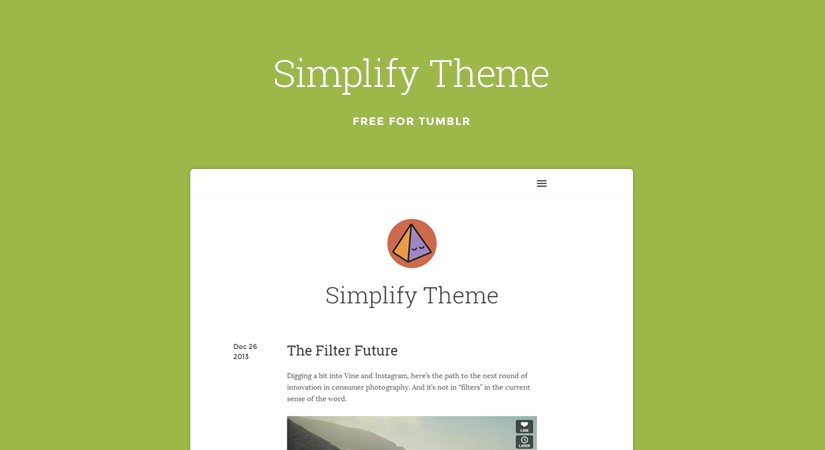 Ink Theme is a high-quality free Tumblr theme for a personal blog, creatives, and business purposes. It has clean serif font with some red highlights to drive audience's attention.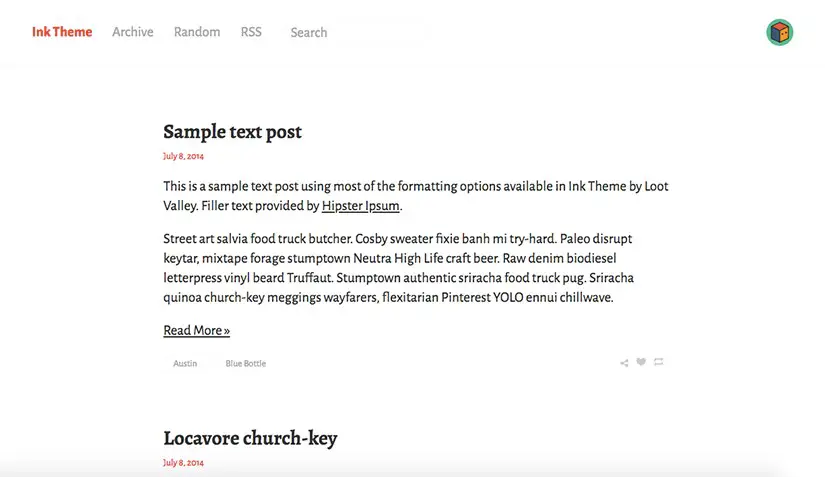 Here is another beautiful, clean theme with big, impactful headings. You can change colors, fonts, font sizes, icons, logo, avatar, name, and more.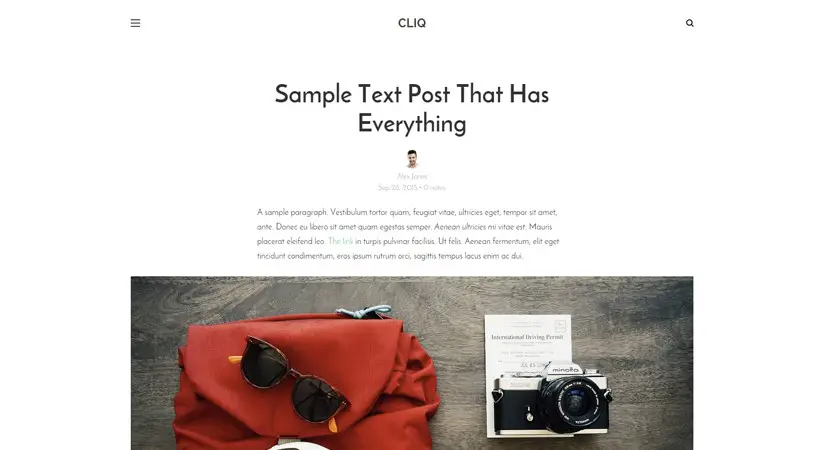 You can use this theme to shape your text, images, and music. Switch between dark or white mode, depending on your taste. It will be an ideal choice for travel bloggers.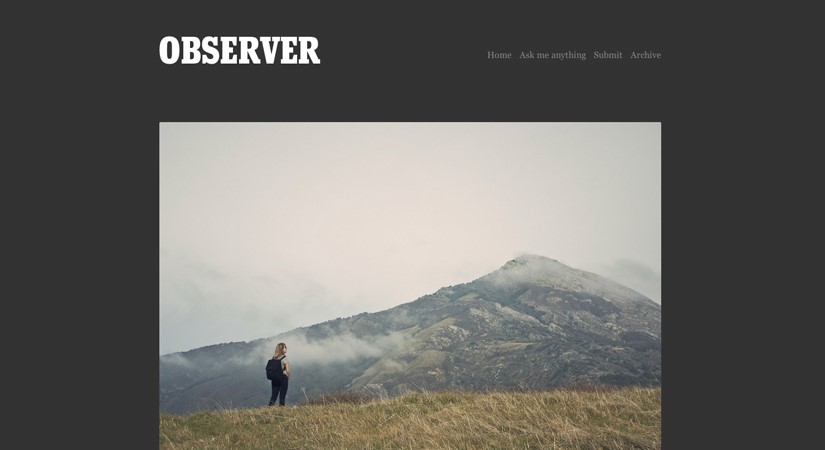 An image is worth a thousand words, they say. Laser theme proves this saying. It features infinite scroll to keep users engaged.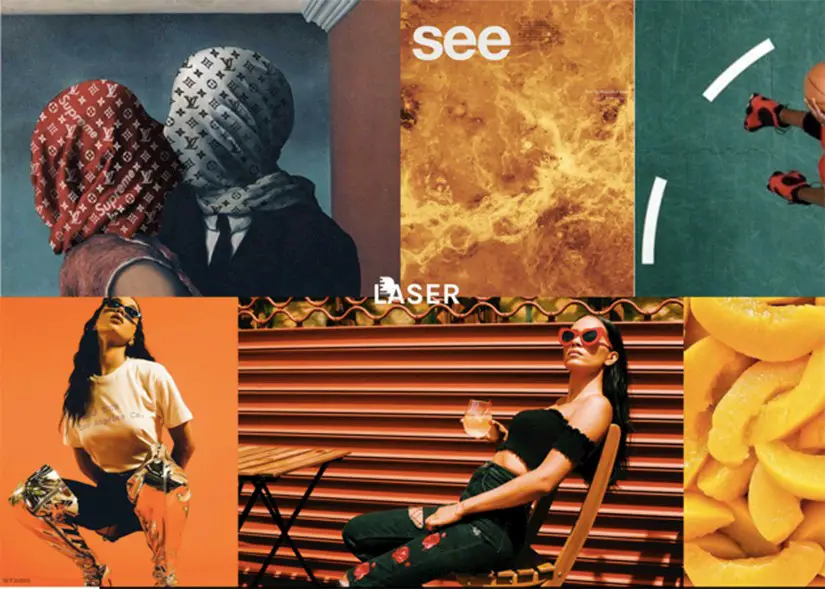 Eclipse is ultra-clean minimalist yet sophisticated solution for Tumblr. Your content will shine on any device, whether it's a smartphone or PC.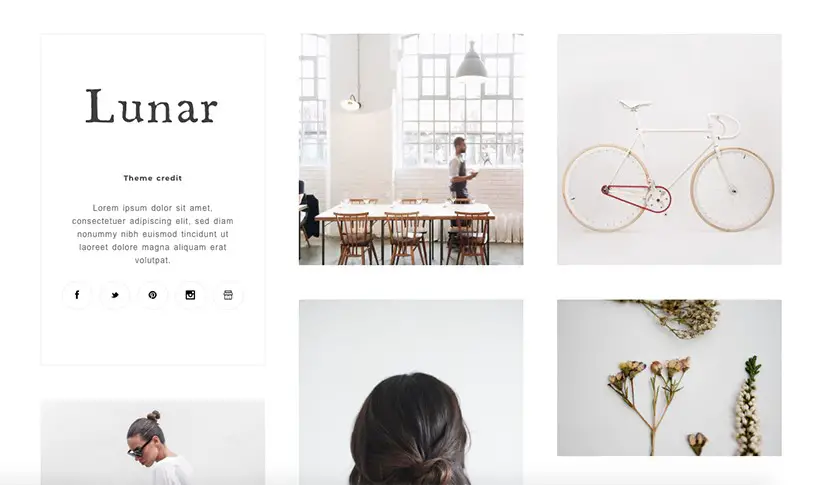 This theme comes with a simple background and responsive design. You can add social media buttons, change name and logo.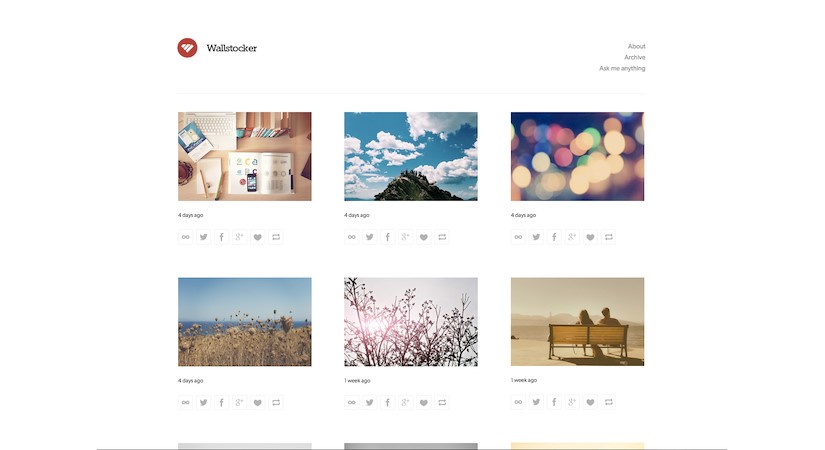 UltraZen is a beautiful single-column theme for Tumblr. It has one of the most straightforward designs you have ever seen.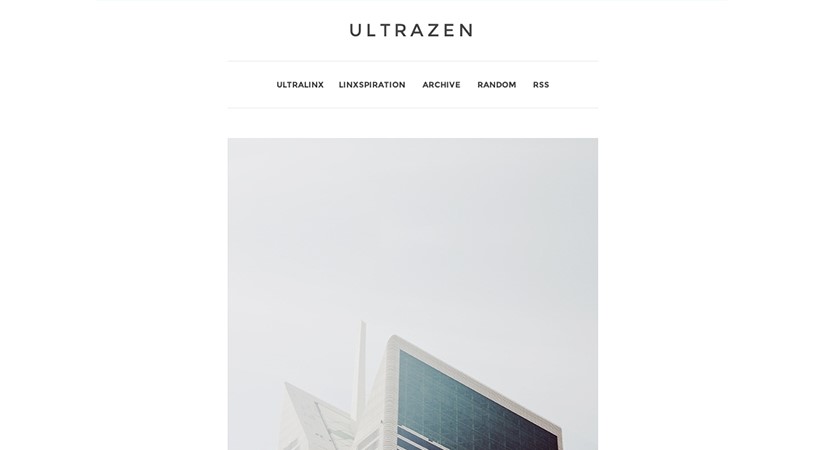 This theme has elegant grid style. You can highlight some posts and make them stand out from the rest. Click on a post to zoom it in.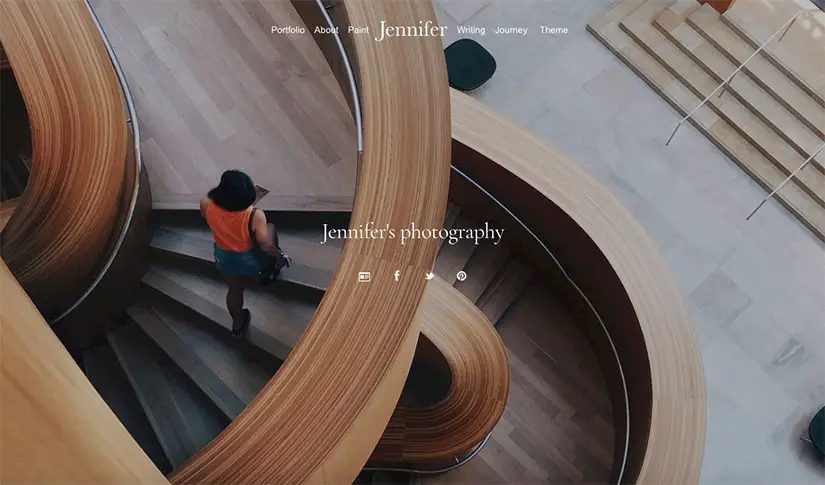 Erin is another simple theme for Tumblr in this list. It has different customization options; for example, you can stick sidebar left or right, and change color mode from light to dark.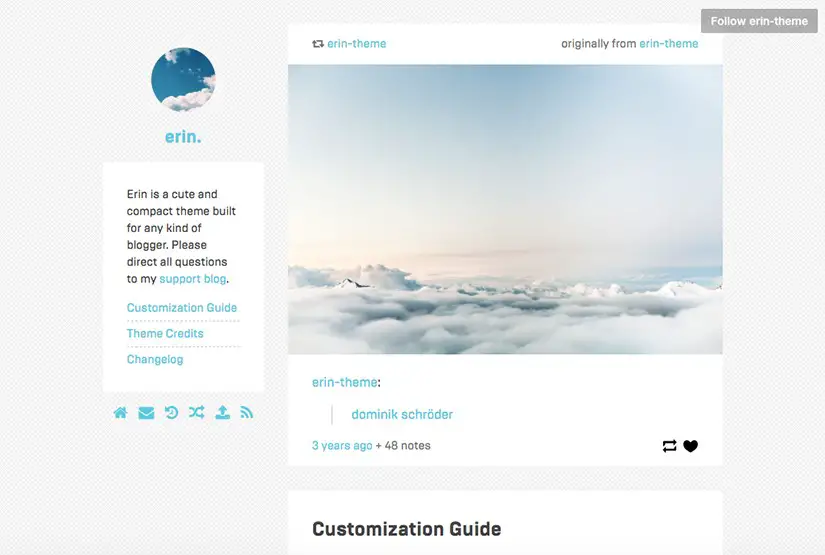 Have you ever dreamed about a diary online? Here is a perfect theme for female notes.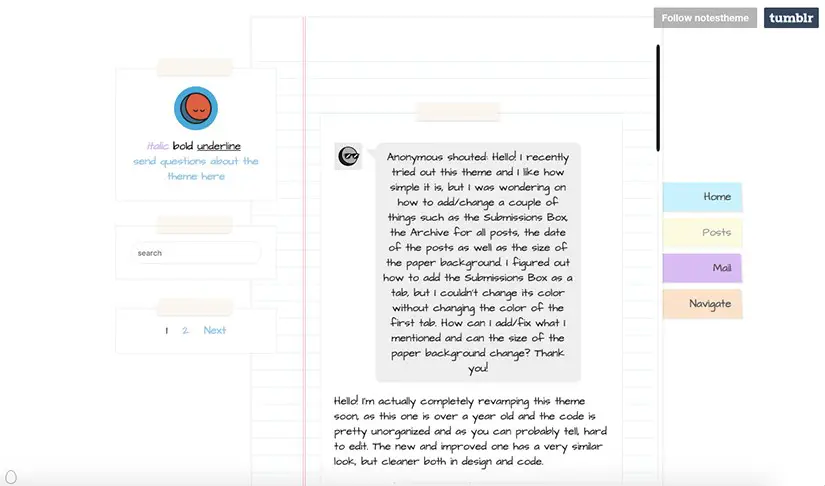 Astoria is a responsive, clean Tumblr theme with some premium features. You can add header background photo, and change colors of any element.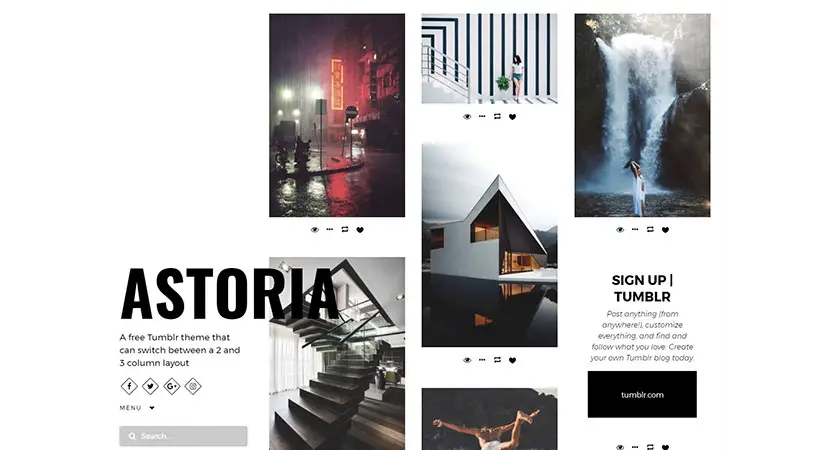 This is a traditional Tumblr blog, but with eye-catching orange color. It has readable text and sidebar with a Twitter feed.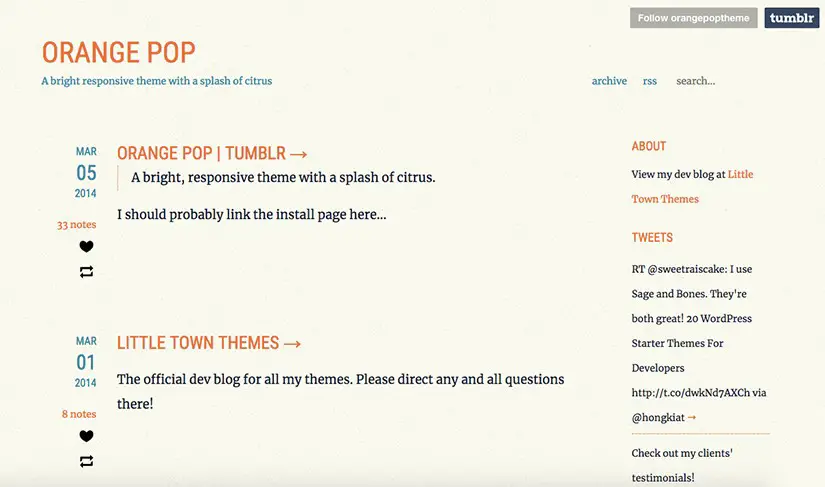 Whiting is a simple primary theme for Tumblr with readable text and big images. It's fully responsive, so your content will display correctly on any device.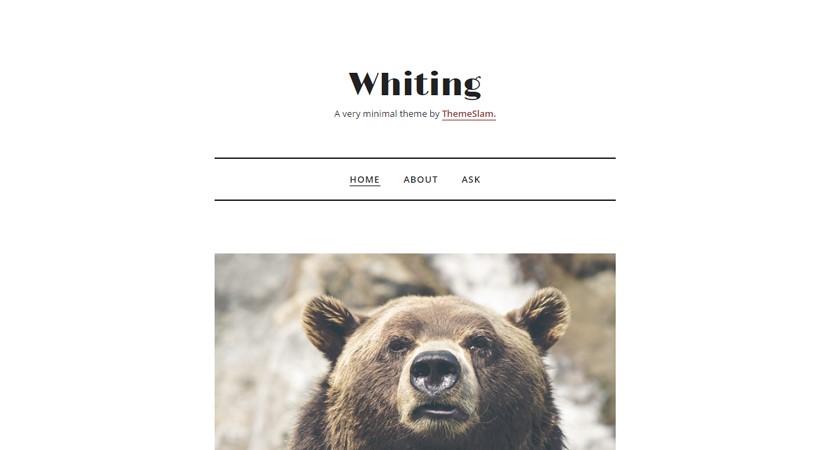 I hope you enjoyed this fantastic collection of free Tumblr themes. What theme would you use for your blog and why? Share with me in the comment field below. Stay tuned!
Aesthetic Tumblr Themes
Tumblr is a microblogging platform for creative individuals that allows you to build your blog and share content with your followers. Tumblr.com is the 51st most visited website globally, with over 441.4M blog accounts.
The statistics are impressive, and you need to take advantage of them. Tumblr not only gives you free hosting but also offers numerous modern, beautiful themes that you can customize. However, finding a professional, high-quality Tumblr theme for creatives is quite challenging.
That's why we have handpicked 50 free and premium portfolio Tumblr themes. You can upload your best work on Tumblr, increase your brand awareness, make your name recognizable, and find new fans. It literally takes a few seconds to set up your first Tumblr portfolio using one of these themes.
You have full control over your blog and can adjust it how you like: change colors, background, fonts, and upload any kind of content. These portfolio Tumblr themes will come in handy for photographers and designers, artists, and other creatives who want to create a portfolio on a budget.
Emma is a modern free Tumblr theme for photographers with a sleek floating grid. It goes with Google Analytics integration so that you can check the results.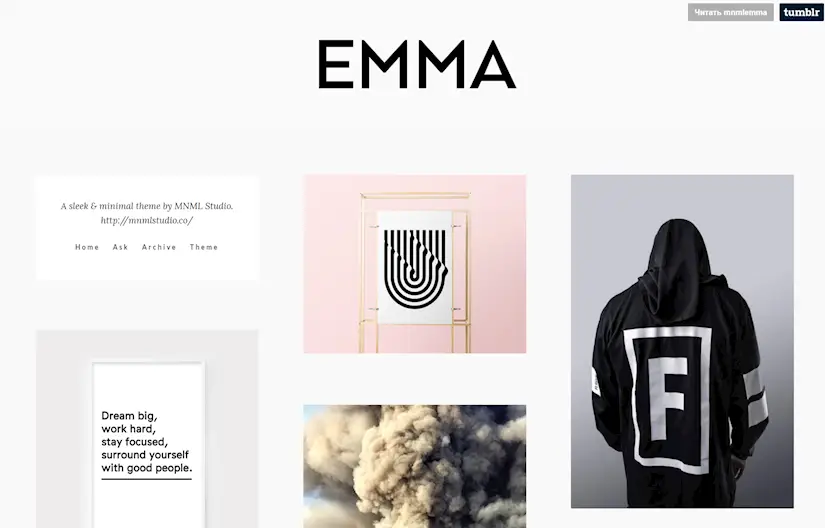 Ten Toes is an unusual free Tumblr theme for photographers who know real emotions and how to capture them.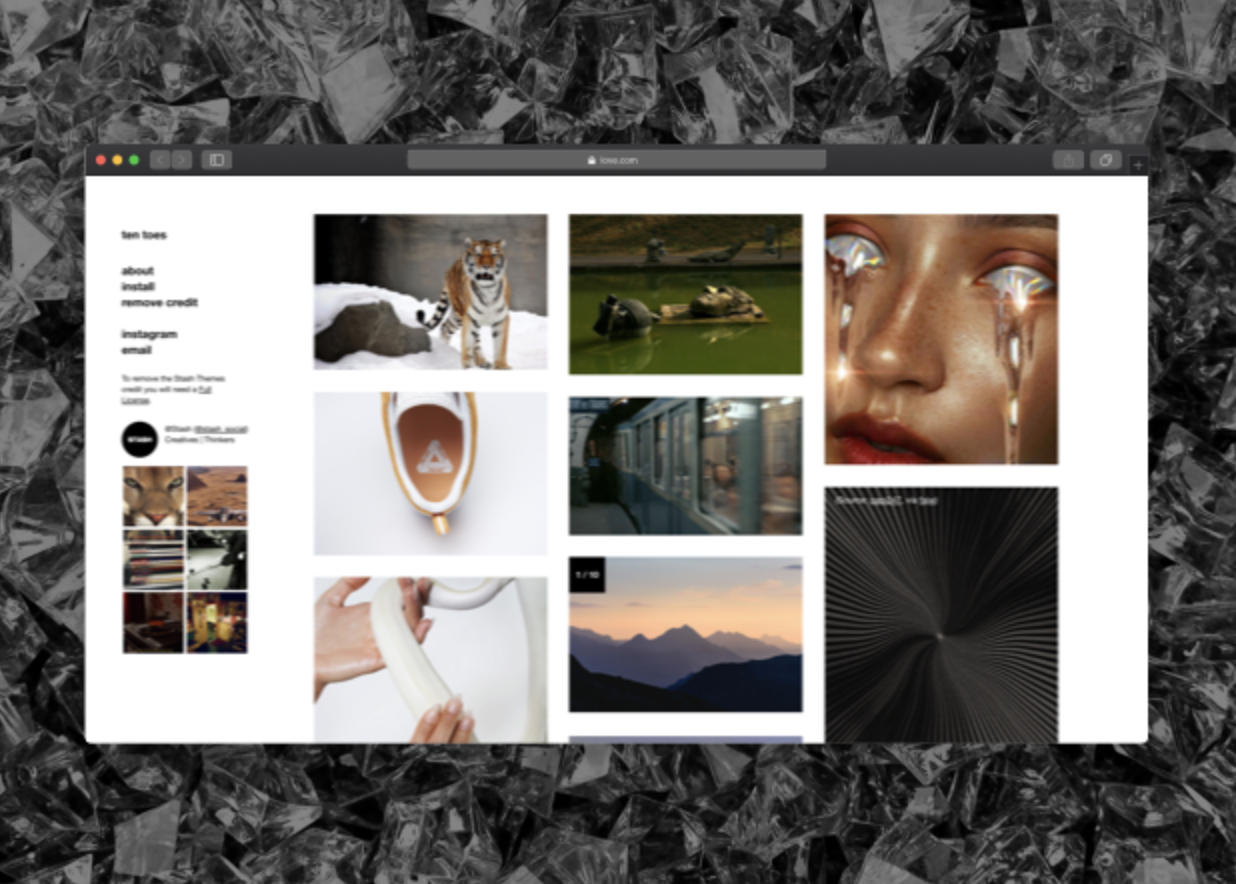 Imnotwordy is one of the best free themes for photographers and photobloggers because it includes more than 20 options for personalizing your design.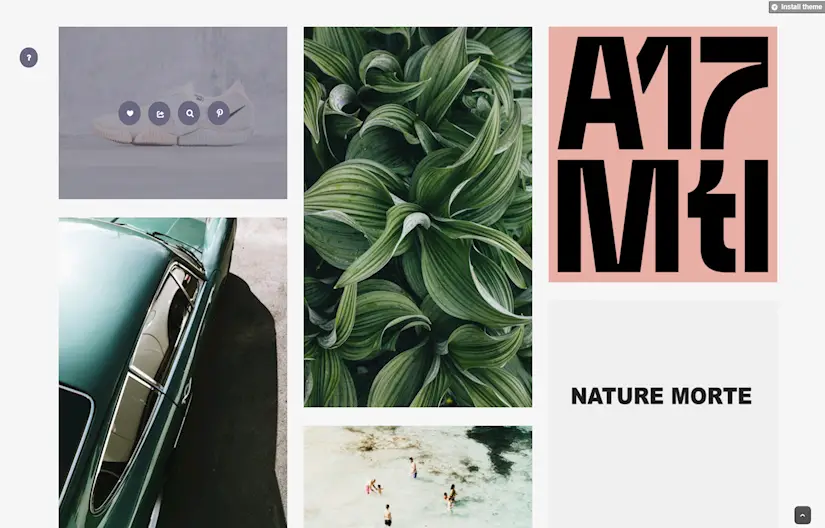 This is a very convenient theme with many useful options that can help you make "your perfect" blog.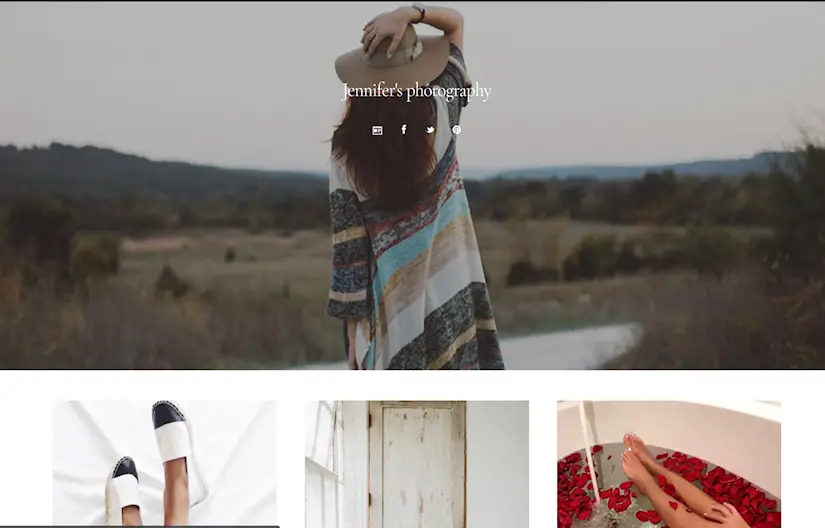 Vintage is a real classic theme that is easy-to-use. It can help you to create your own site in no time.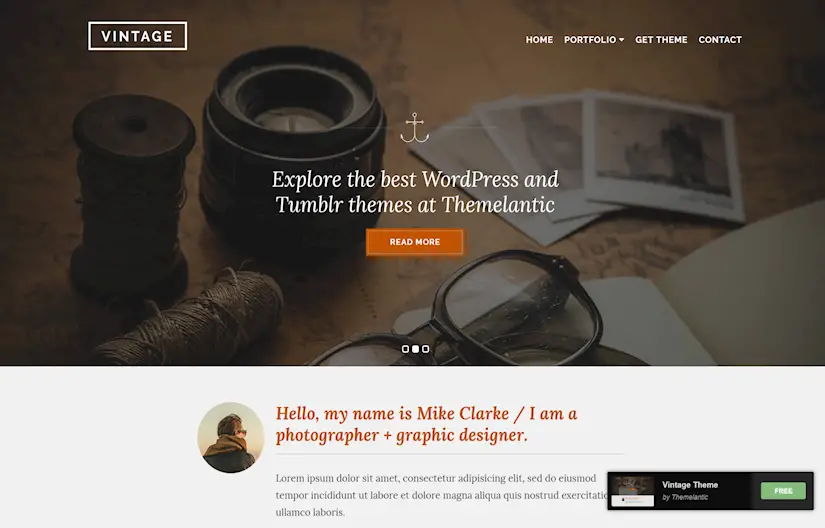 Nano is a minimal theme that will be perfect for your photo content.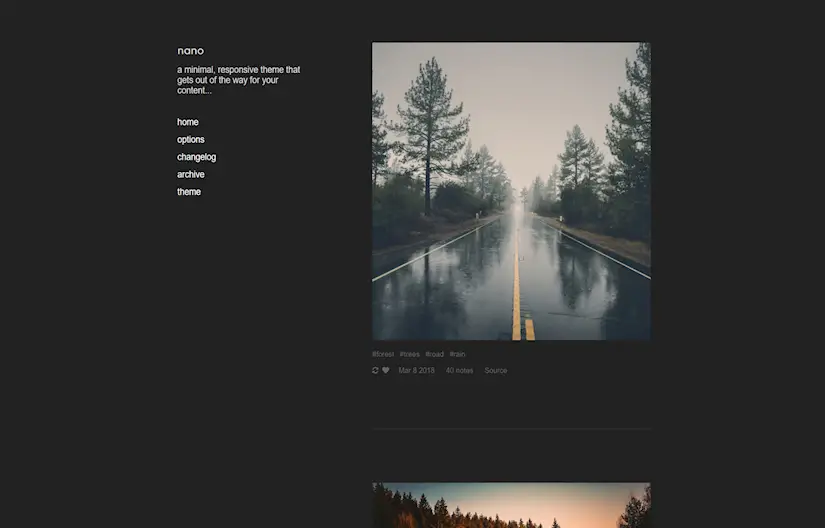 Minimalism is a Tumblr theme that focuses only on your content. Thanks to the grid-based design, this Tumblr theme will be a perfect choice for a moodboard.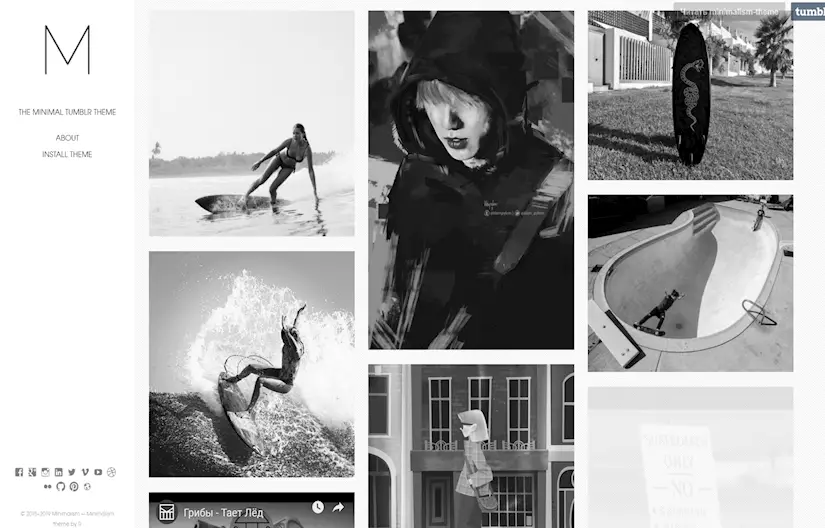 Pation is a modern theme that can spice up your blog and emphasize your personality. Another perfect moodboard Tumblr theme.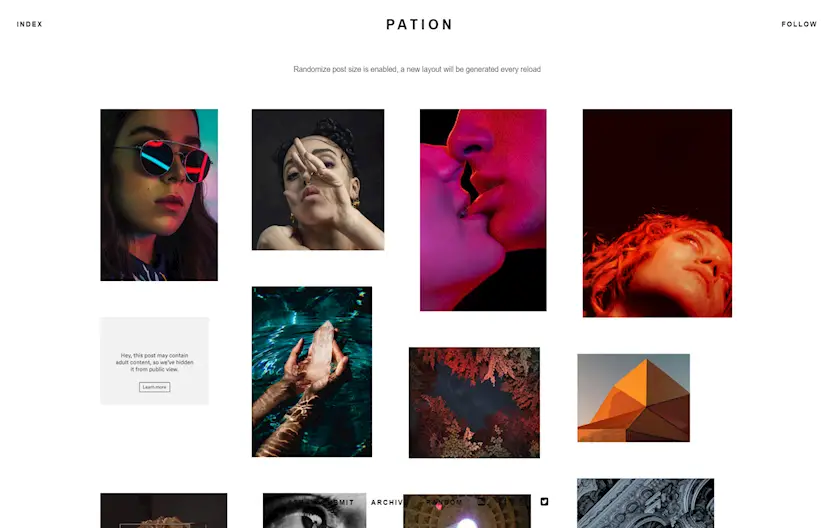 Maverick is a leading free Tumblr theme for portfolio that is created with an emphasis on details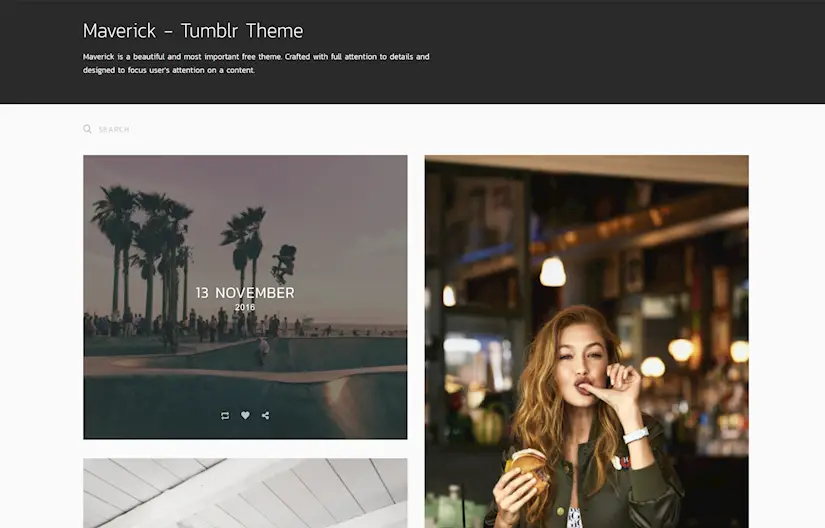 Sugar is a universal theme which will look great on any device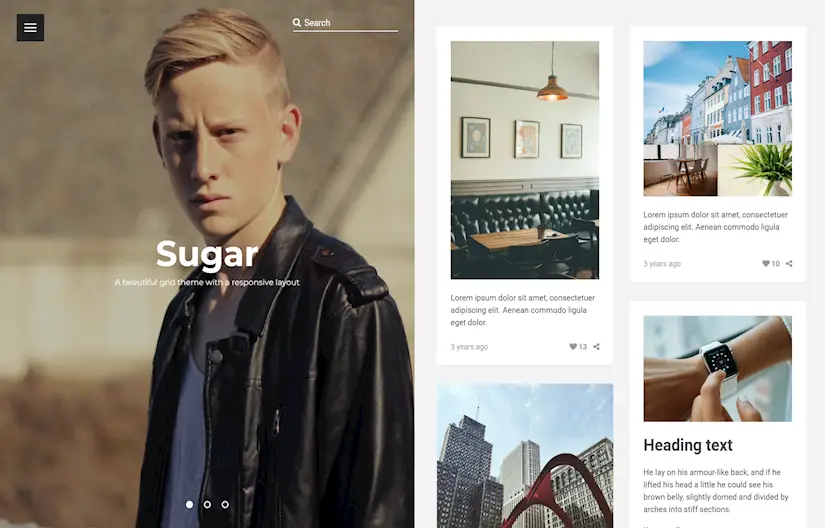 Alumia is your perfect theme if you want to show your creativity on your blog. This is a moodboard Tumblr theme with nice white frames that help to highlight the images.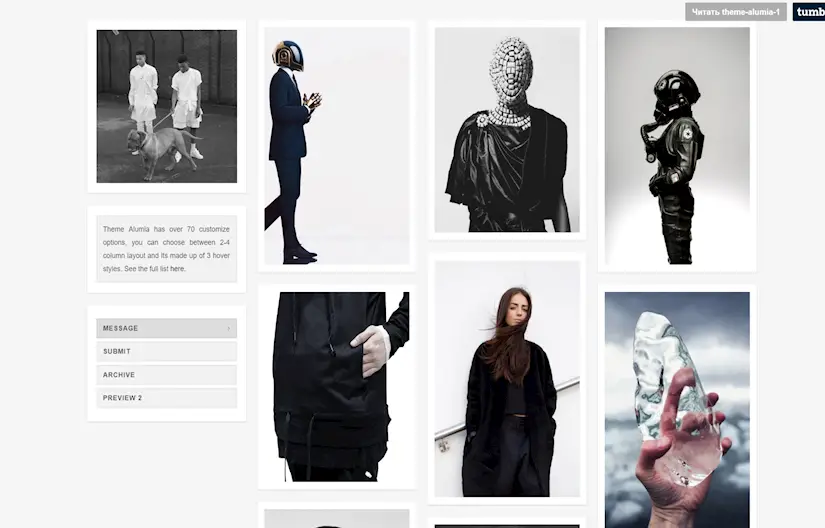 Susan is a flexible theme for different types of content, including images and videos.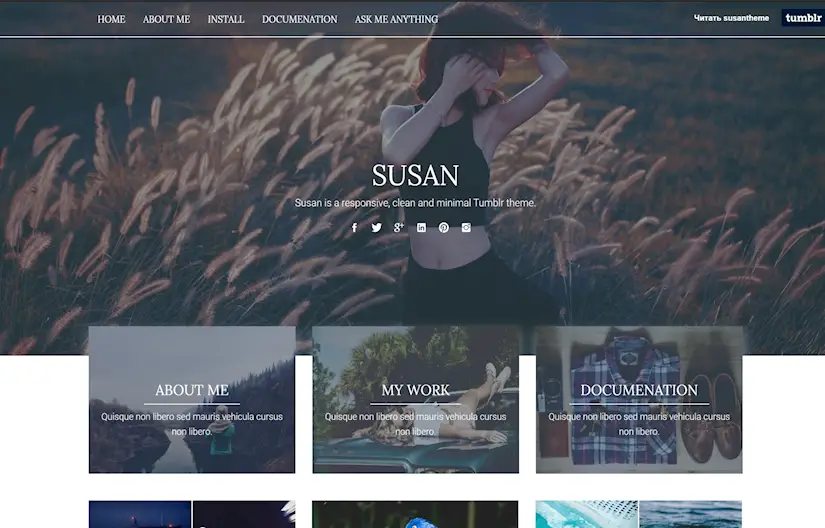 Curly is a convenient, flexible, and easy-to-use theme that fully justifies its name.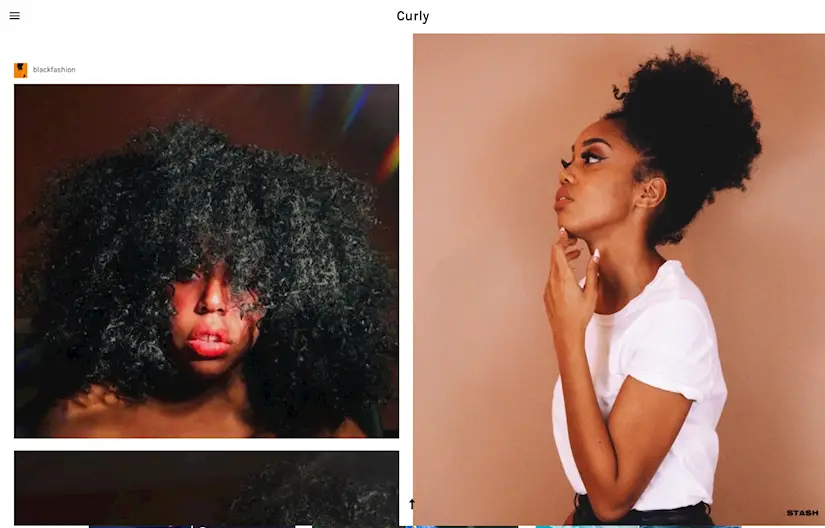 Create your own photo collection or portfolio with a simple theme Rewind.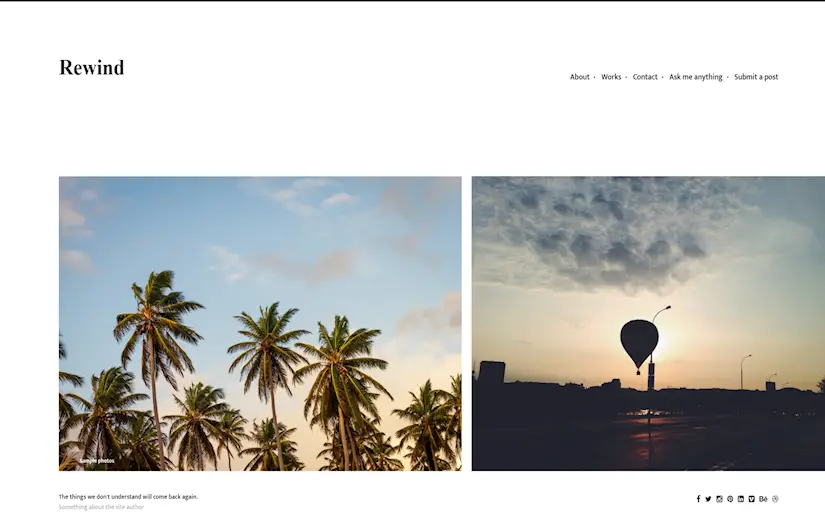 There is no more comfortable and functionally theme than Callisto. Install the theme and create your blog in seconds.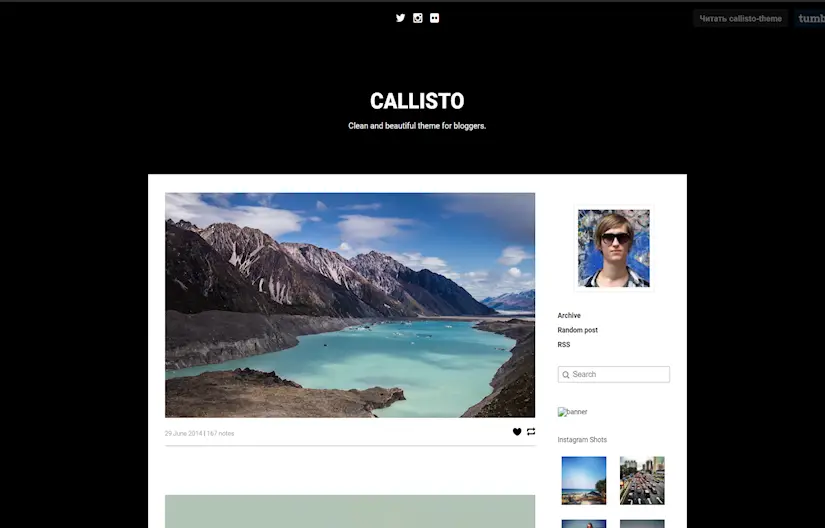 Grid is the coolest theme for self-expression whatever you want to show.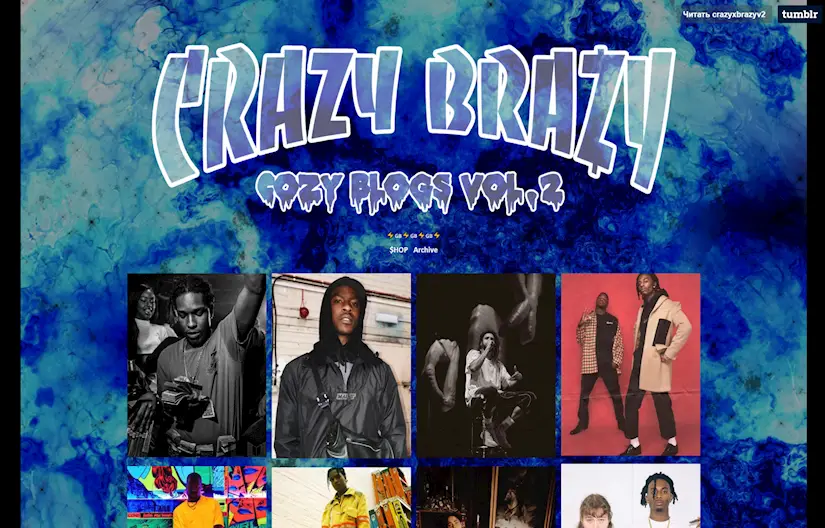 This is a beautiful, modern theme for professional photographers and photobloggers. It allows you to show your works in fullscreen mode.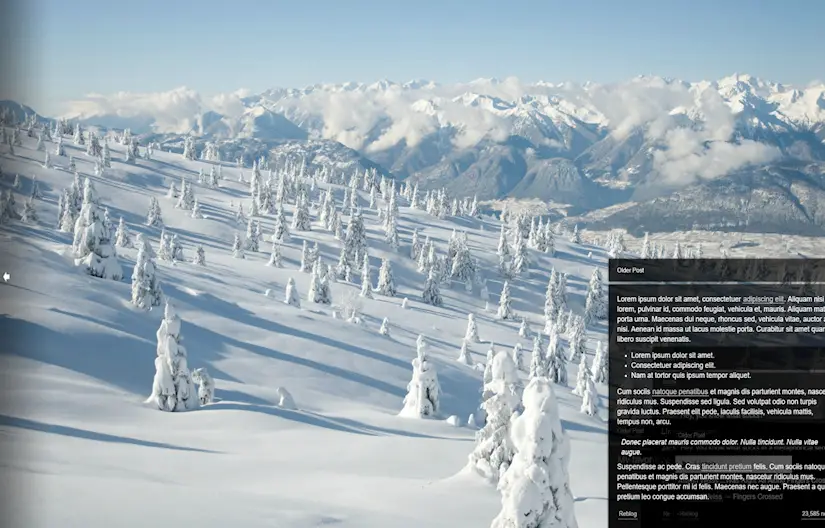 Delicacy, functionality, and informativeness are the main criteria of this theme. Try to use and enjoy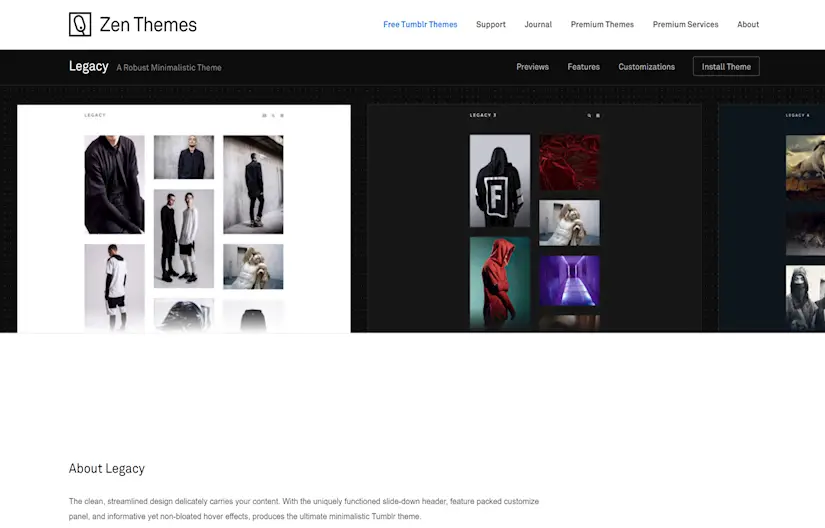 This theme will help you express the whole culture and diversity in the work of the photographer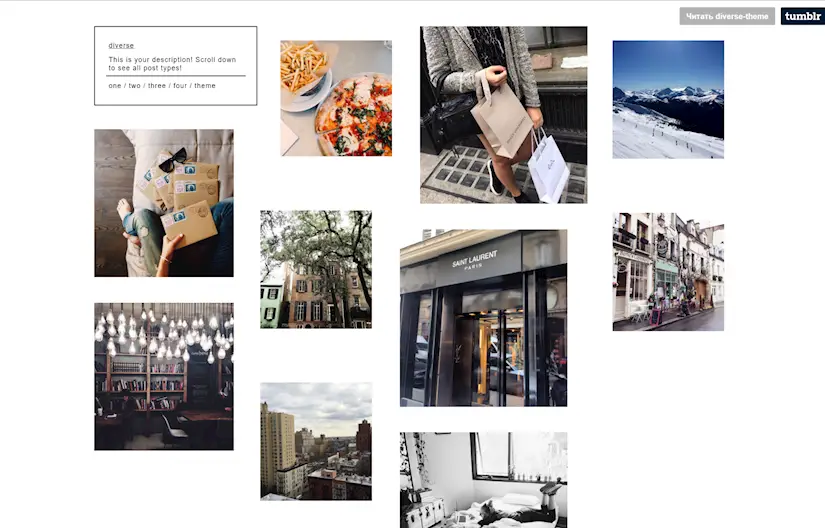 An ideal theme for travelers who have a lot to show. Let's experience adventures and create with Classy.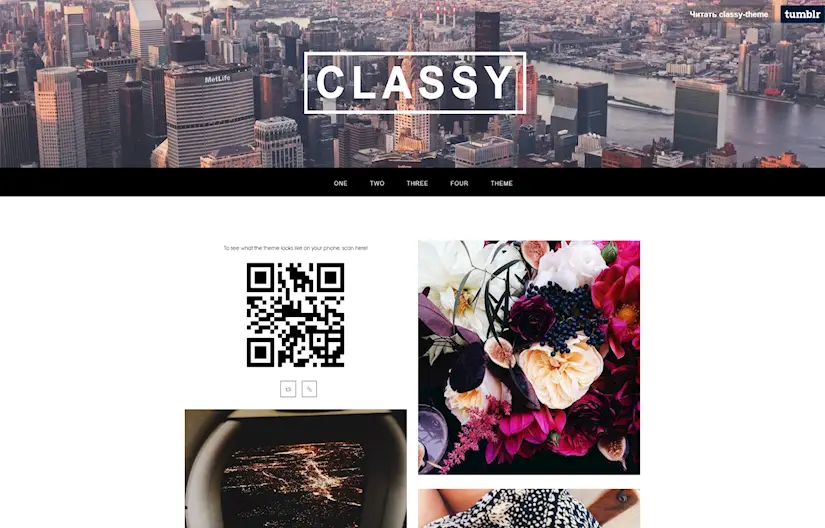 Use this theme to store all your content. This Tumblr theme will bring aesthetic pleasure to everyone who visits your photoblog.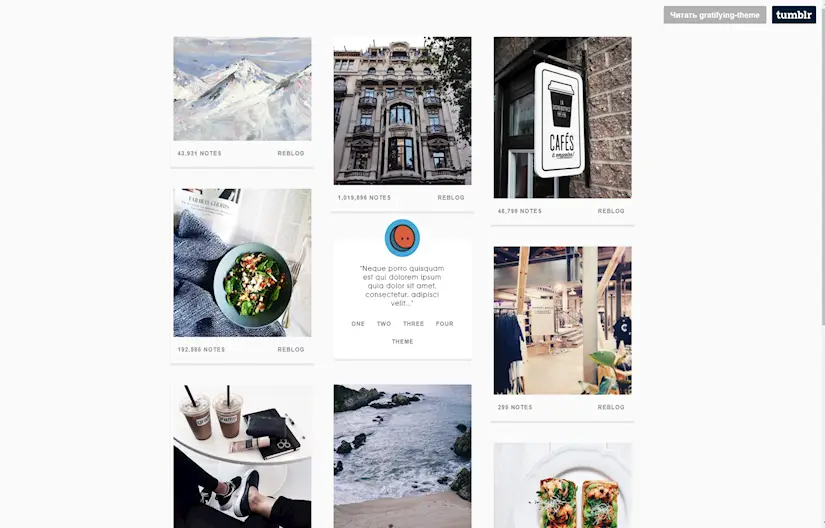 One of the best themes for a creative person is Ame. Express yourself with your unique photos and design.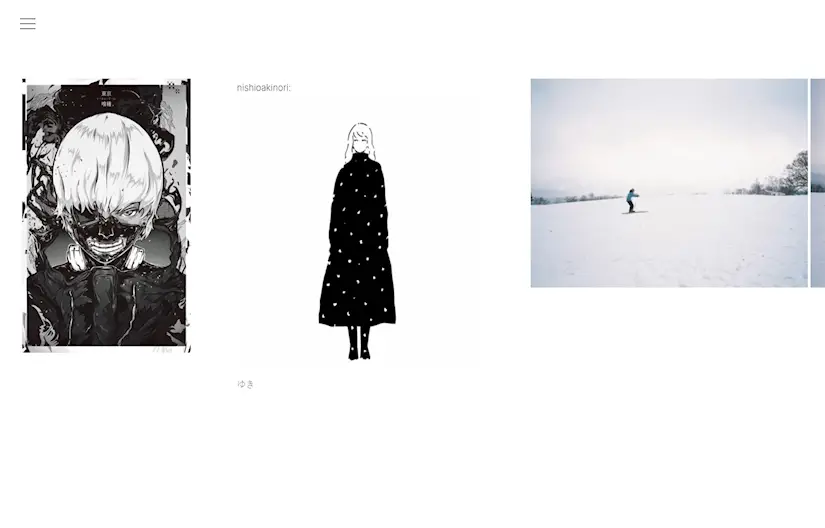 It's easy to to get inspired when you are using this theme. Showcase your work using this stylish layout.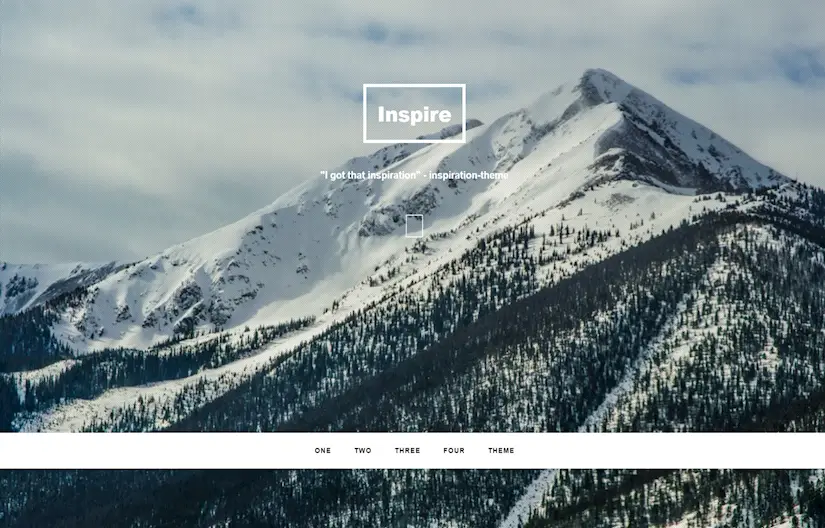 The uniqueness of this theme is that all your photos will be shown in a card style. The theme will help you express yourself as much as possible in your blog.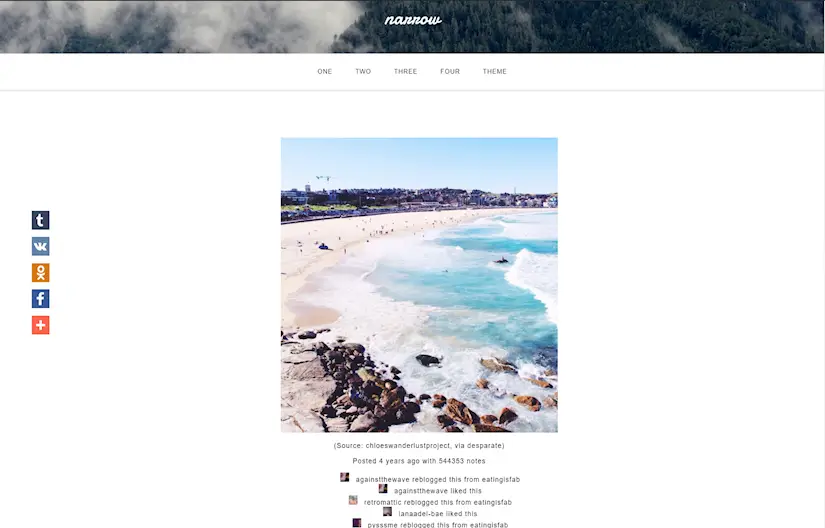 An interesting idea of this theme is that some types of posts have different sizes that will help to focus on the details.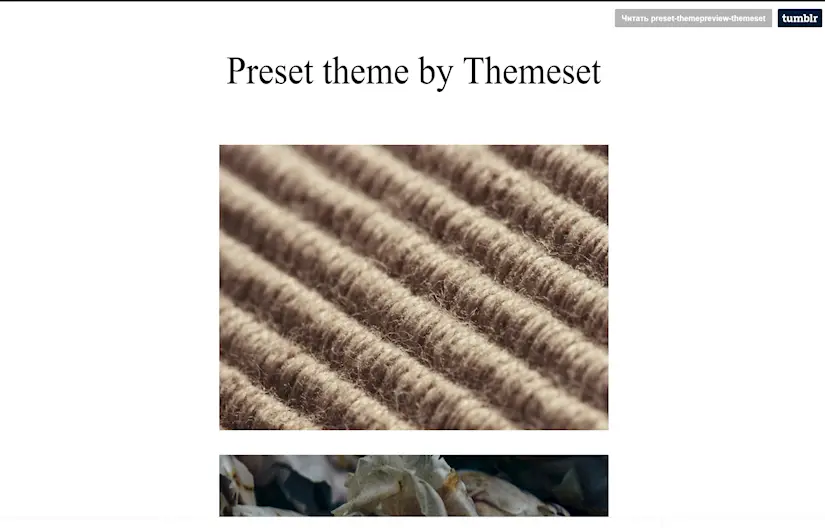 If you don't want to worry about how your blog will look like on different devices, then this theme is exactly what you need. Many settings will help you to adjust everything perfectly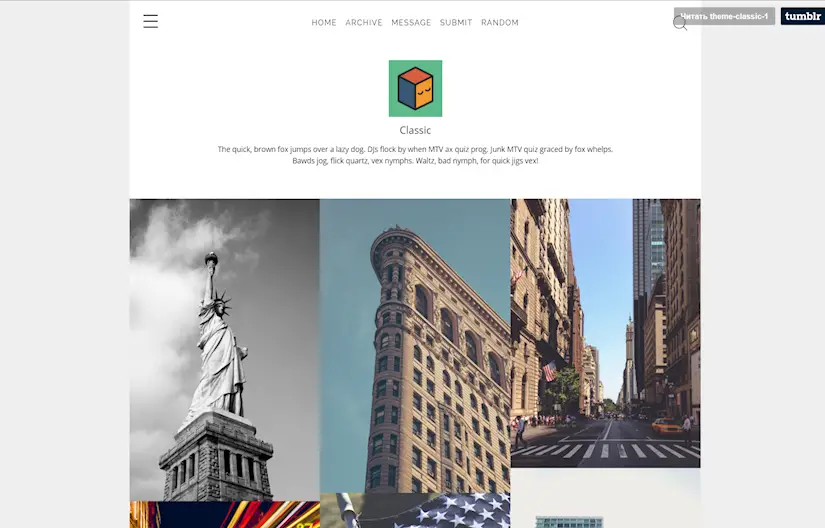 If you are looking for a bright, unusual, colorful theme for Tumblr, search no more. Show your personality with Skyfall.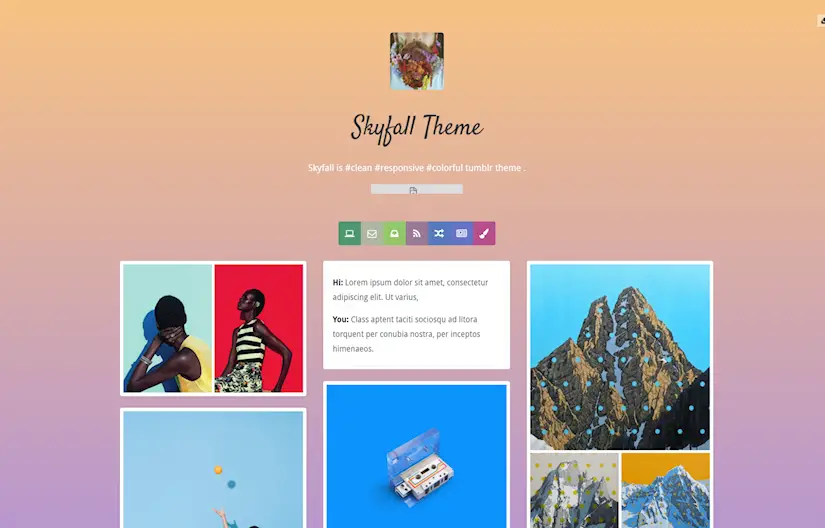 If you are passionate about photography, then this theme will help you to share your passion with the world.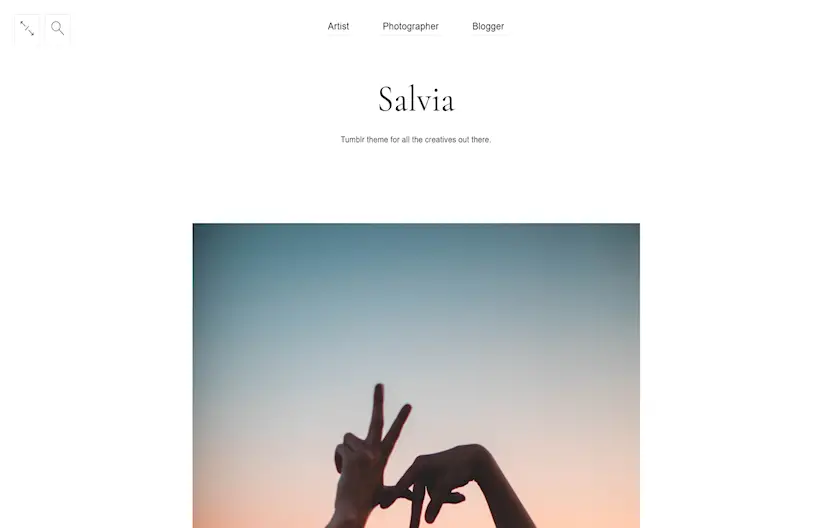 If you are a blogger and looking for a blogging platform for your photos than this is exactly what you need. Be creative, bright, and stand out from the crowd with these amazing theme.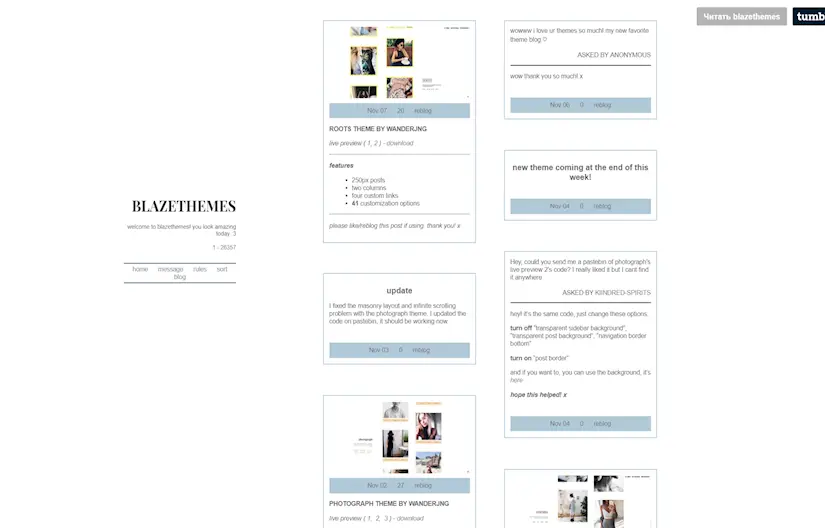 There is a big chance this theme will become your favorite after you try it. Its name speaks for itself, – Min means minimalism and simplicity.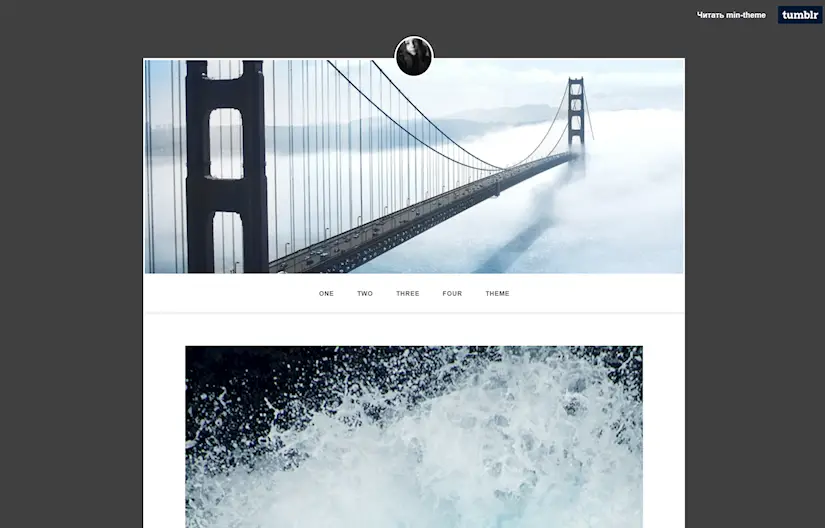 This theme makes it possible to place photos up to 1280px that is very important for photographers of any genre.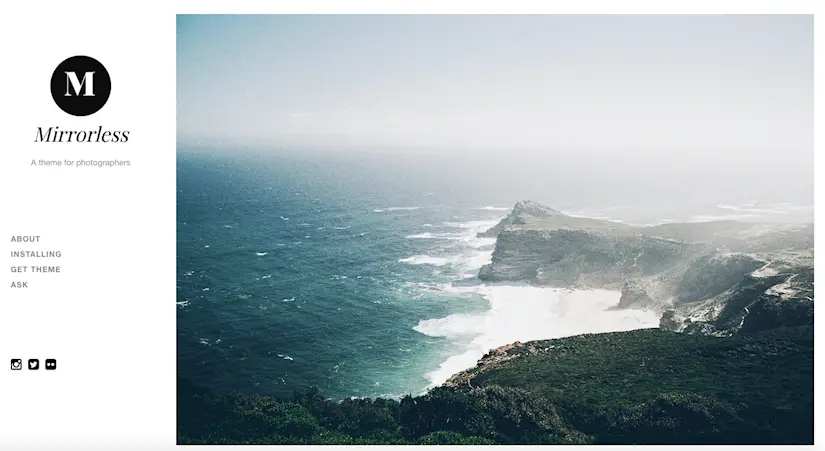 If you are looking for a suitable theme for your blog which will be convenient not only for photographers but also for your visitors, then Maria is what you need.
For all creative people like designers, photographers, and artists, this unusual theme can help you to show your imaginative soul.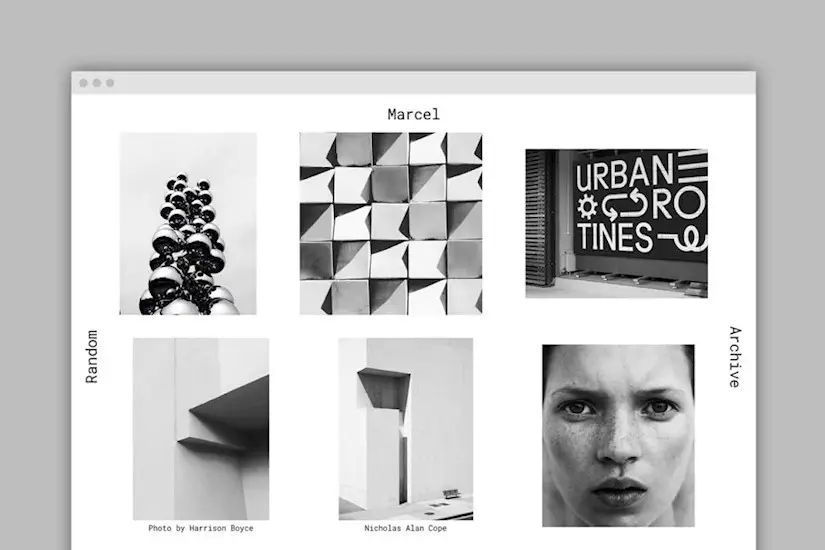 This theme is universal for people who like to make different photos from portraits to landscapes and share them with the public. Don't hesitate to check it out!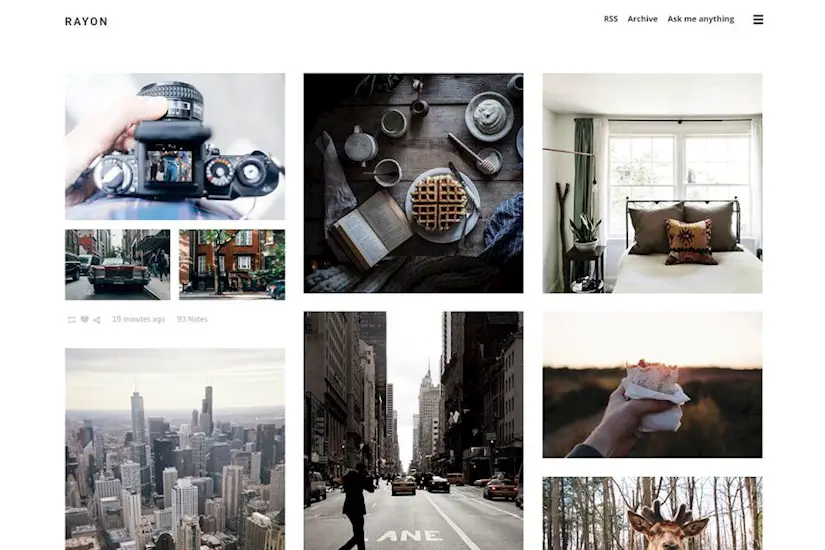 This theme was created for photographers who have something to show and to say their audience.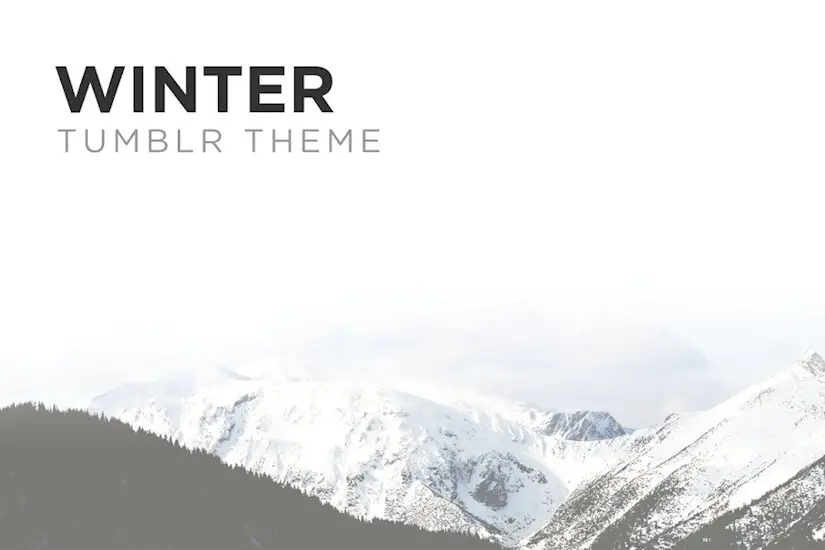 Here is a perfect theme for any kind of photography content. It features a responsive, grid-based layout and modern design.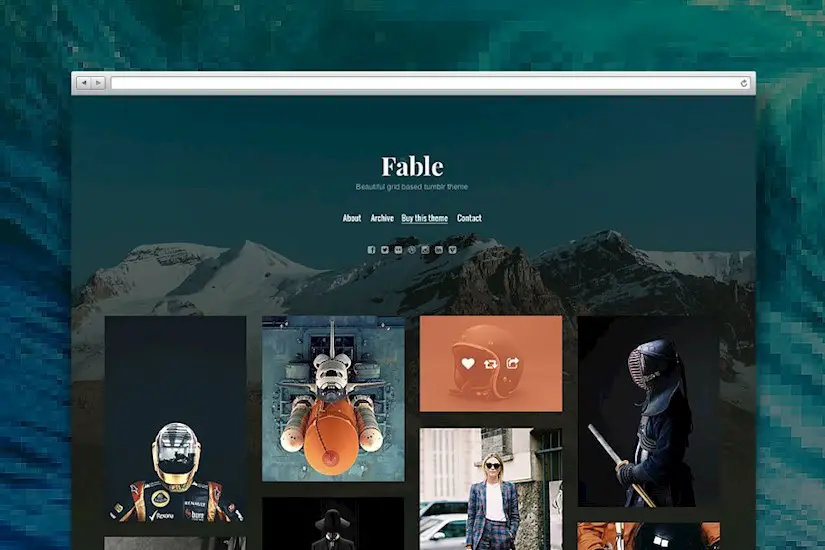 If you are a wedding photographer, then you can showcase all the most important emotions and moments of these special days in this theme.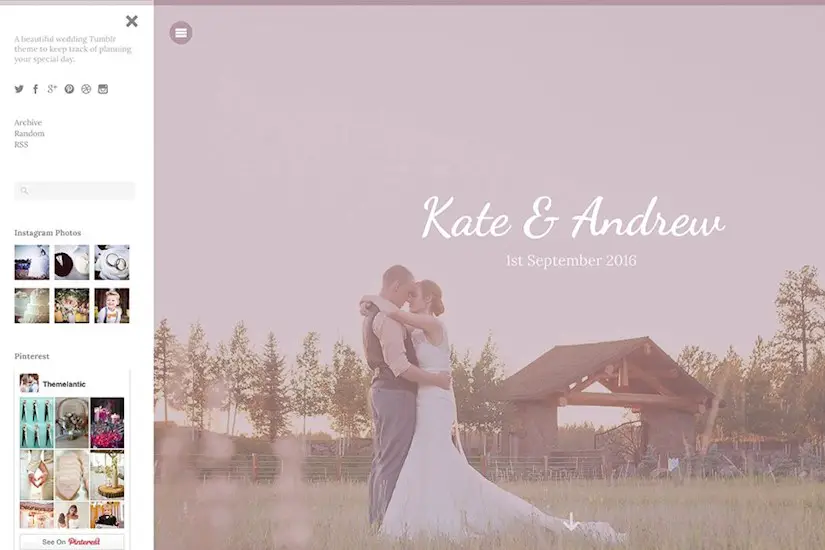 Peach is one of the juiciest themes for your professional photography in this collection. It fits perfectly for the monochrome portfolio.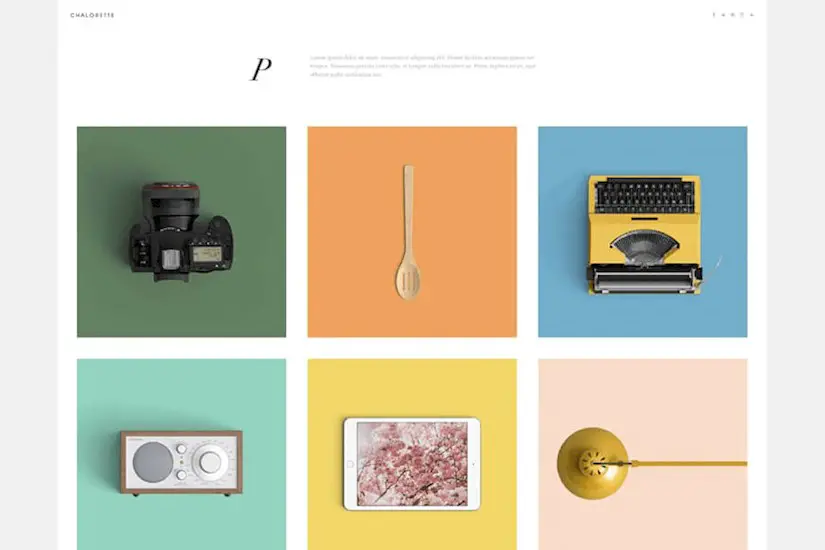 This theme will show your personality and professionalism straight away! It does not matter what style of photo you prefer; you hit the target anyway.
Dream, plan, do' is a slogan of this theme, and for a reason. White Meter is a grid-based clean theme that will make your content shine bright like a diamond!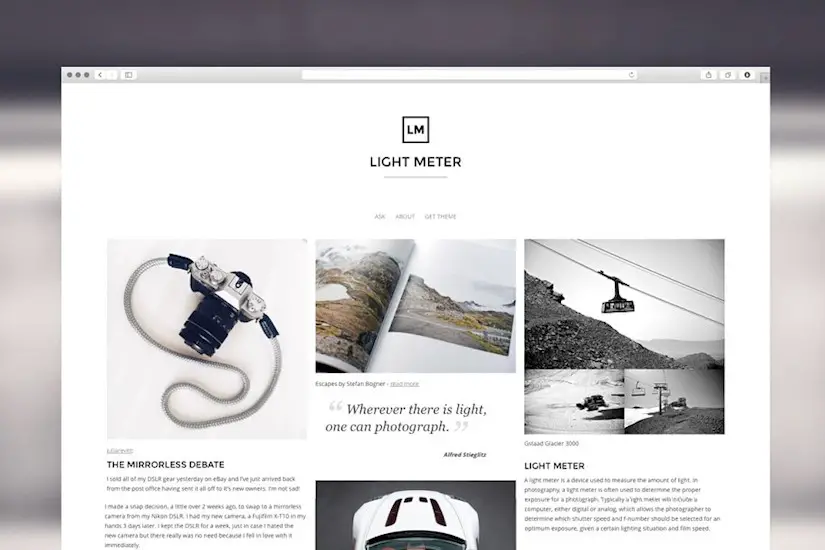 The vibrant colors of this theme immediately indicate a perfect taste. It will be a pleasure bomb when you add your own photos there.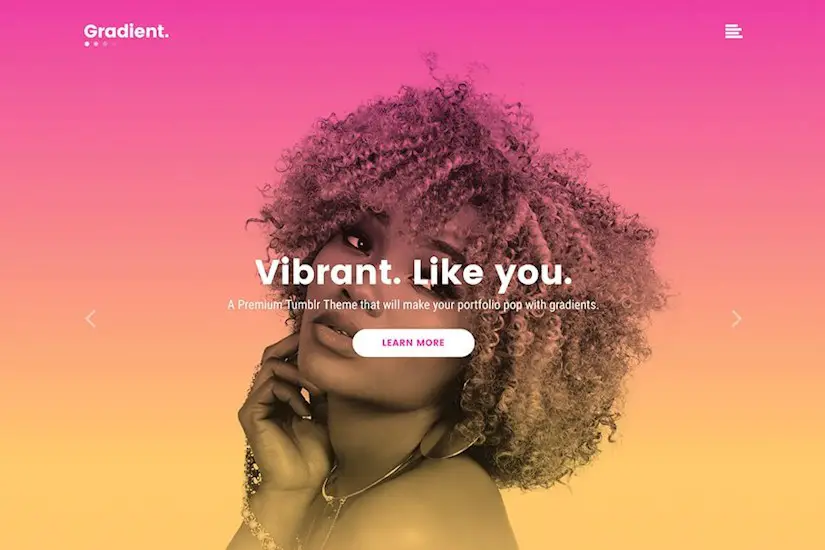 If fashion is an integral part of your passion, then this theme will be useful for you to create a fashion photography blog.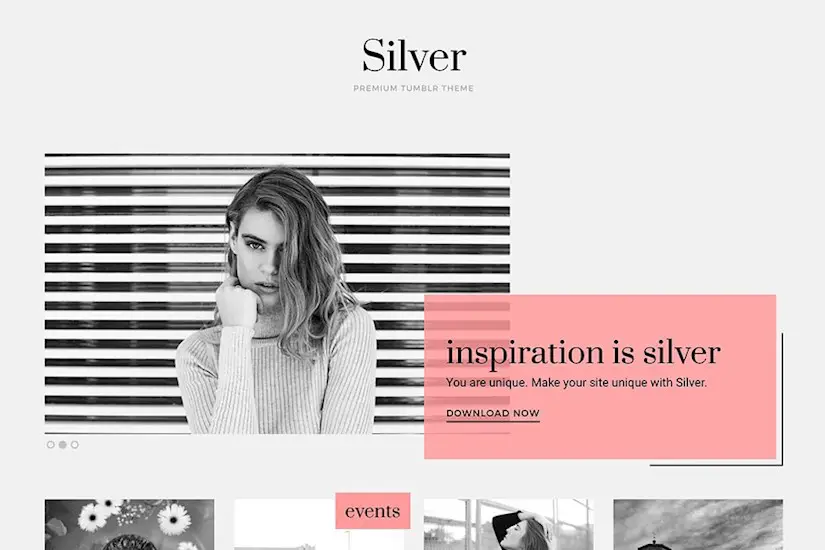 Vertica is a super modern vintage theme for people who love both photography and post-processing.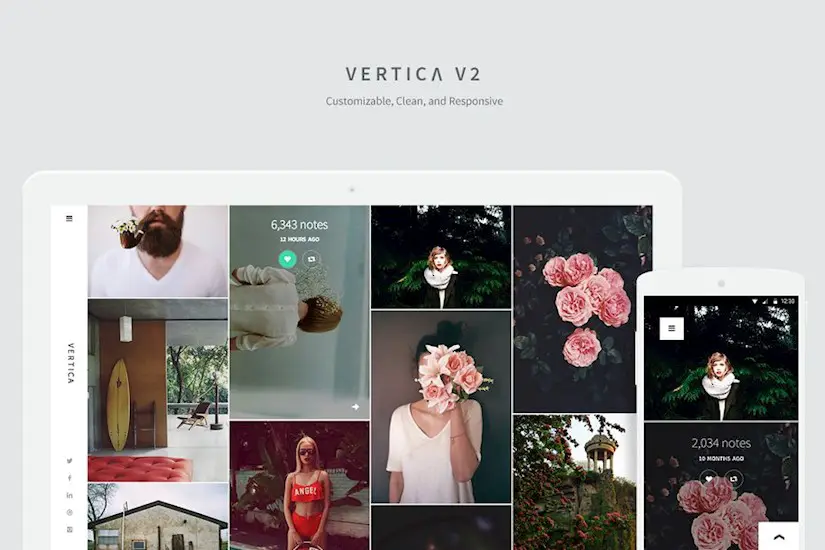 If you are an avid traveler and like to take photos while traveling, then this Tumblr theme was designed for you.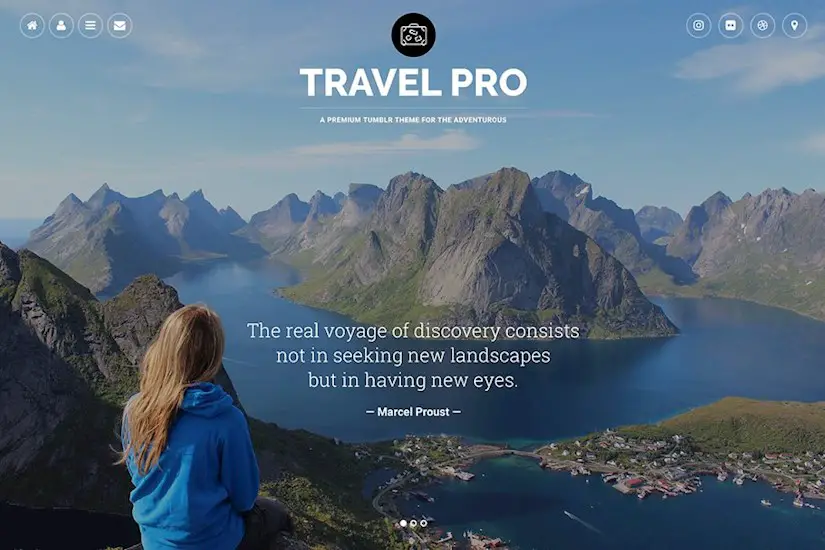 Azelya as a portfolio Tumblr theme is a great solution. Feel free to share your photo stories with the world using this theme when you are traveling.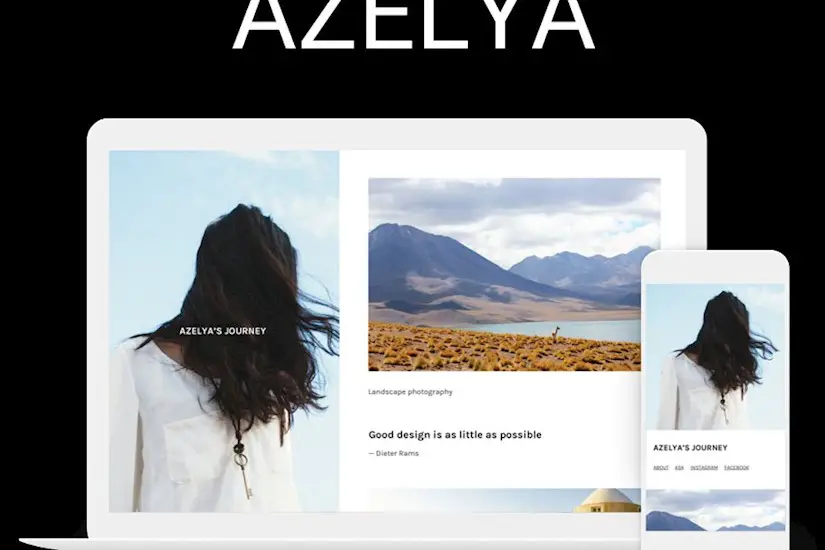 Are you looking for a tasty, mouthwatering theme for your food blog? If you like not only eating food but also taking delicious photos then this is a perfect food theme for you.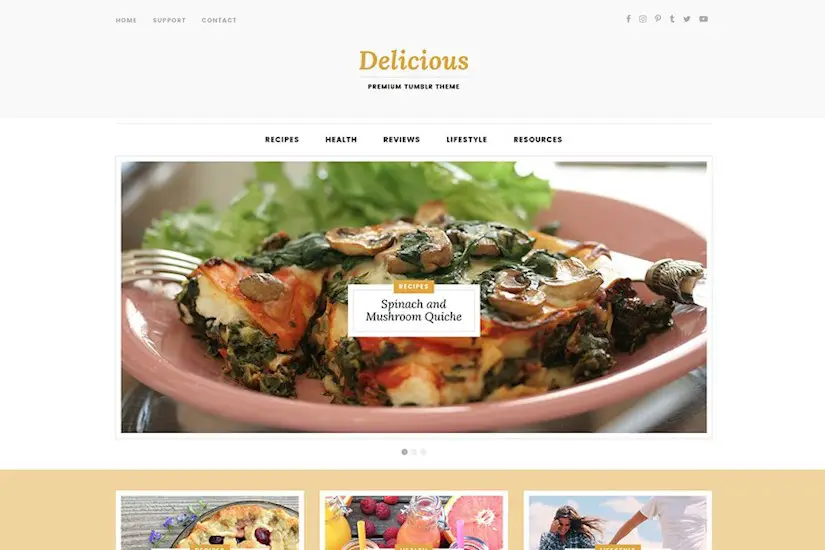 If Сreativity is your second name, then make your blog the same creative as you are. Improve your skills and share the results with the world around you.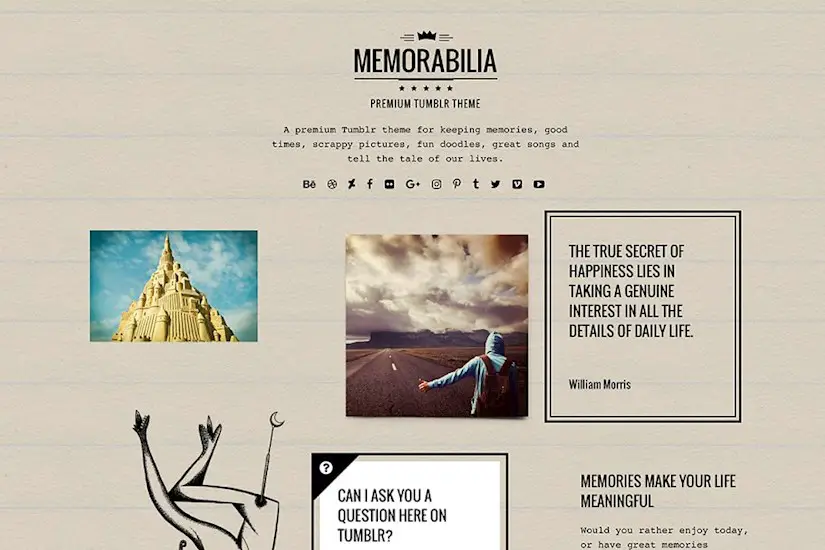 Everyone has his own story, but not everyone is ready to share it. Tell your story using your photos and description to get feedback.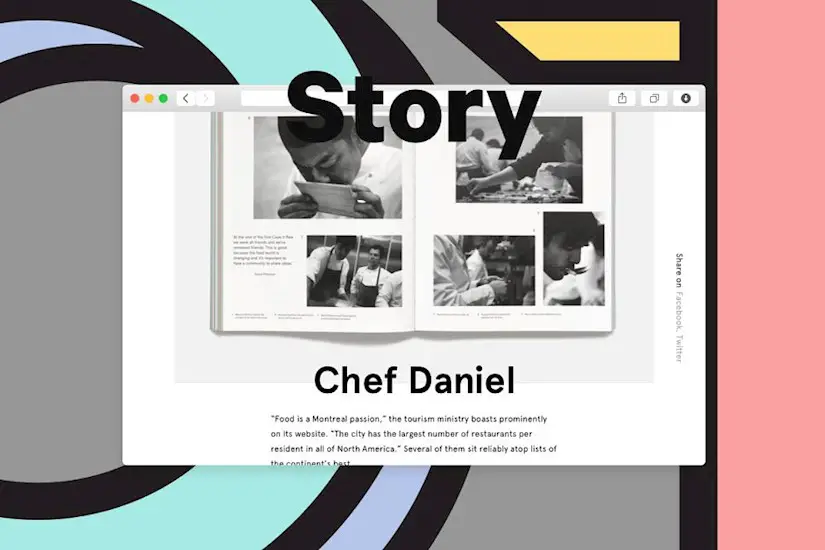 This exclusive theme is created especially for you if you adore minimalism and feel people through the camera. Show us your feelings through your photo works.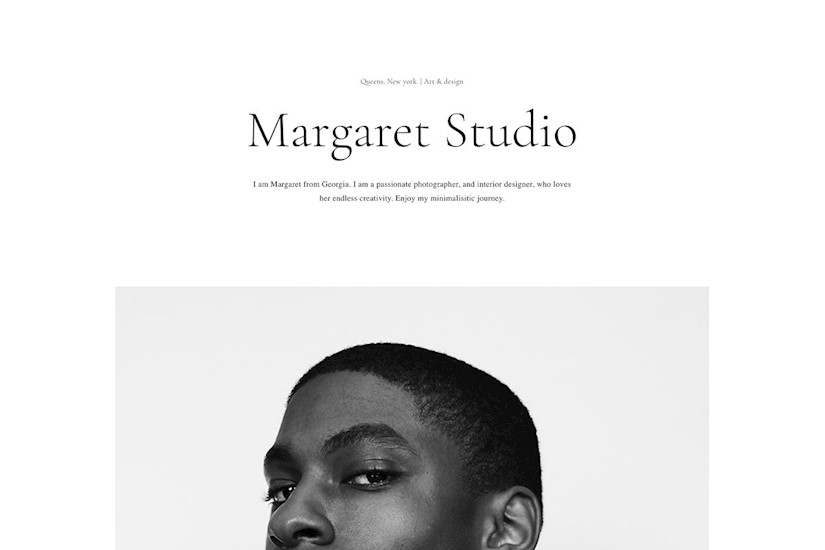 This is a theme for people who see beauty in everyday things. Pride Tumblr theme for photographers will help you not only showcase your work but also get your name out there.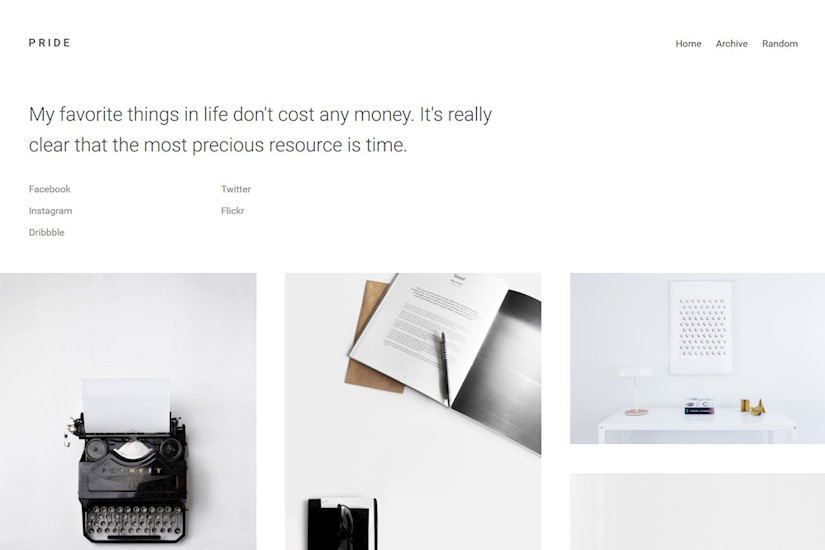 I hope you enjoyed the collection of free and premium portfolio Tumblr themes. What is your favorite Tumblr theme in this collection? Scroll down to find free moodboard Tumblr themes and create amazing grid!
Cute Grid Tumblr Themes (for Moodboard)
Have you ever heard of a moodboard that can help you to visualize your dreams? Use one of these cute grid Tumblr themes for your first moodboard. Sometimes dreams are difficult to describe in words and always more comfortable to visualize. Like people say, a picture is worth a thousand words.
A moodboard is a visual tool that works as a presentation of a concept or dream. You can use a moodboard to visualize your future room interior, website, party, wedding, and life goals. Initially, a moodboard looks like a board with printed photos of a room or life goals that you found on the web or in magazines. United by a common theme and message, a moodboard is often an excellent interior decoration. But it also can be a source of inspiration and a great motivator in achieving various goals.
But if you don't want to spend your time printing photos, you can create a stunning moodboard online using Tumblr. In this showcase, we have handpicked free and premium moodboard Tumblr themes that will help you visualize the future room interior, wedding, or project.
Create a breathtaking story using images on Tumblr. A grid layout can be a fun and creative way to express your ideas. And it will surely help you in achieving them. Start your moodboard today with Tumblr.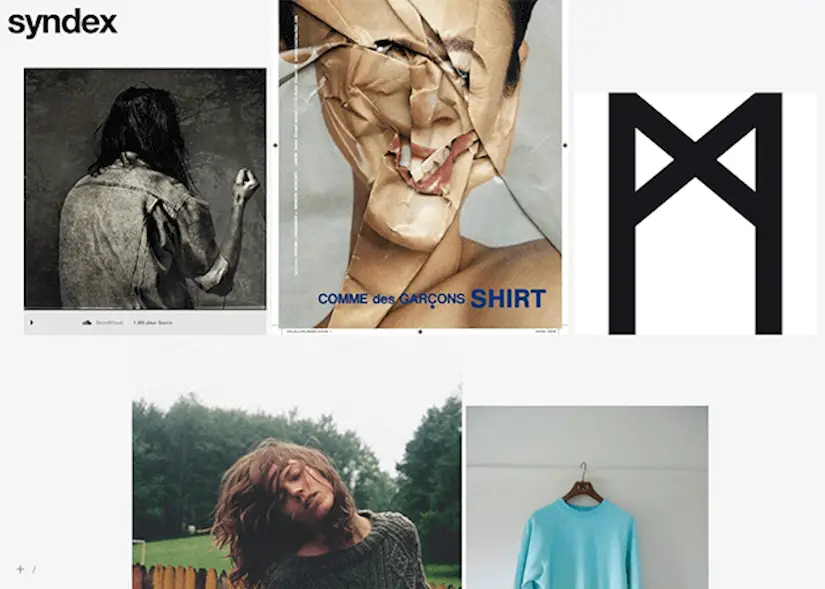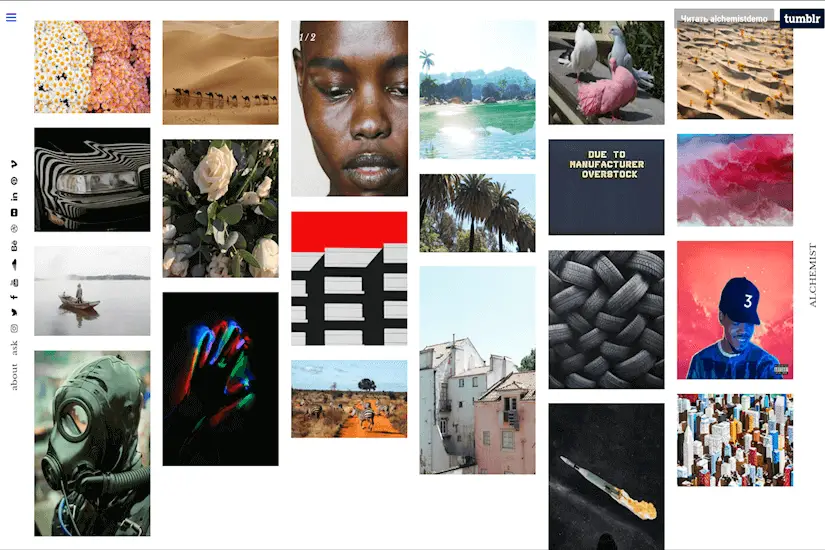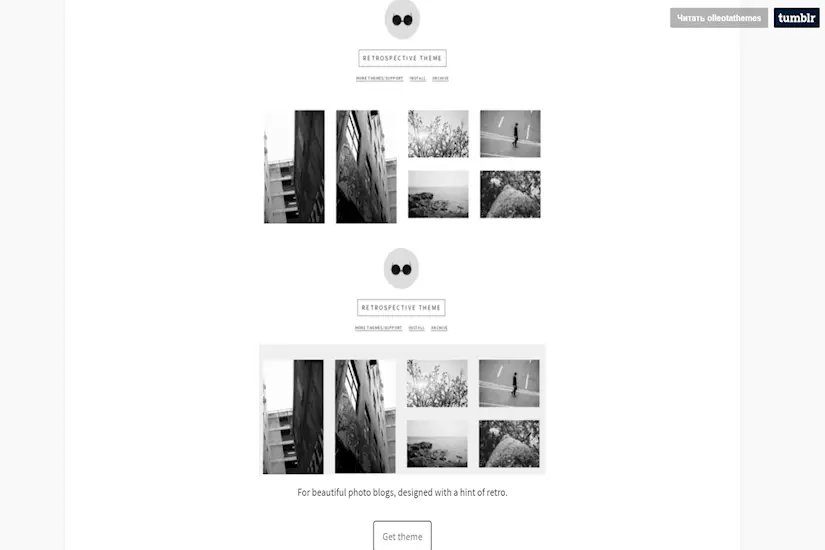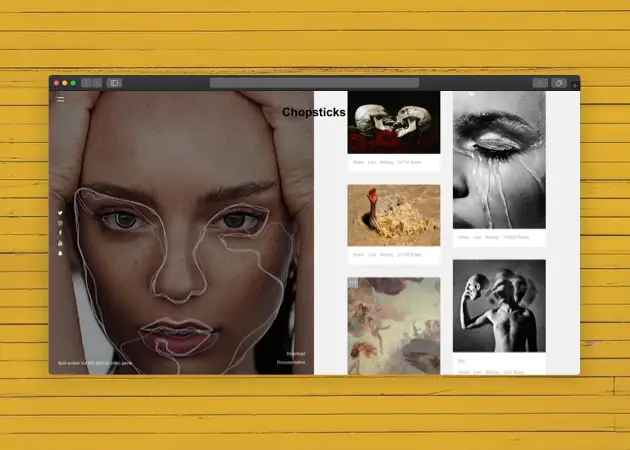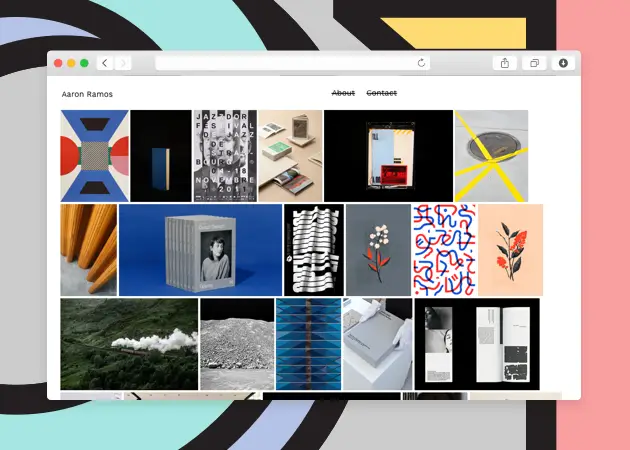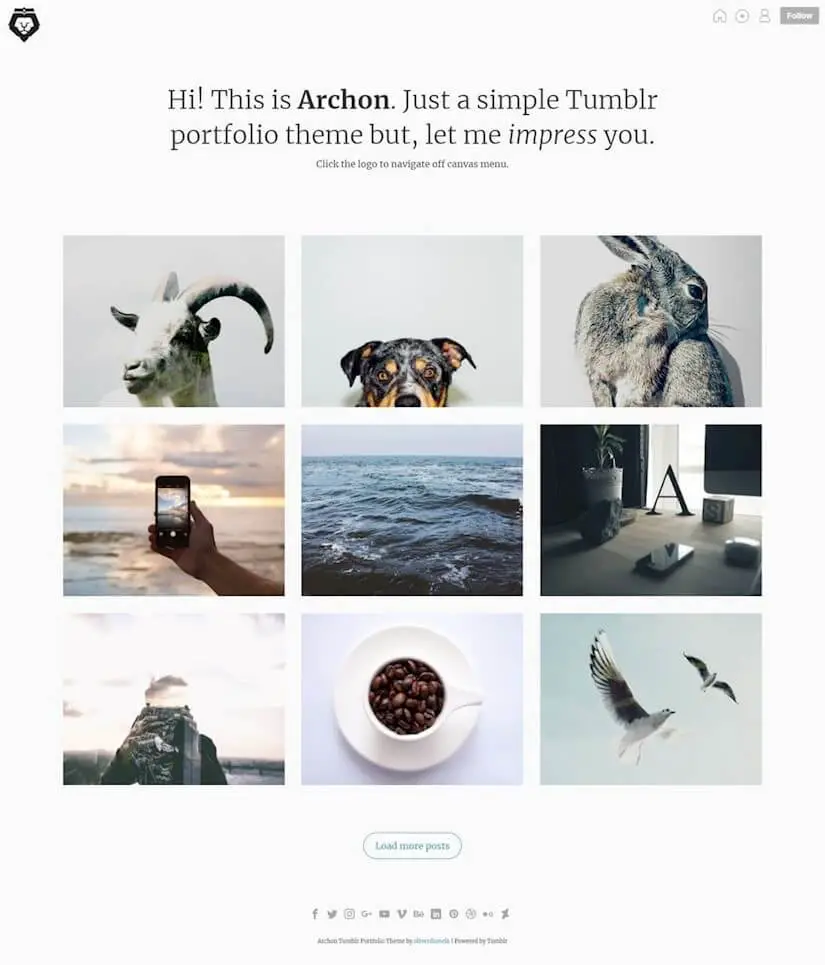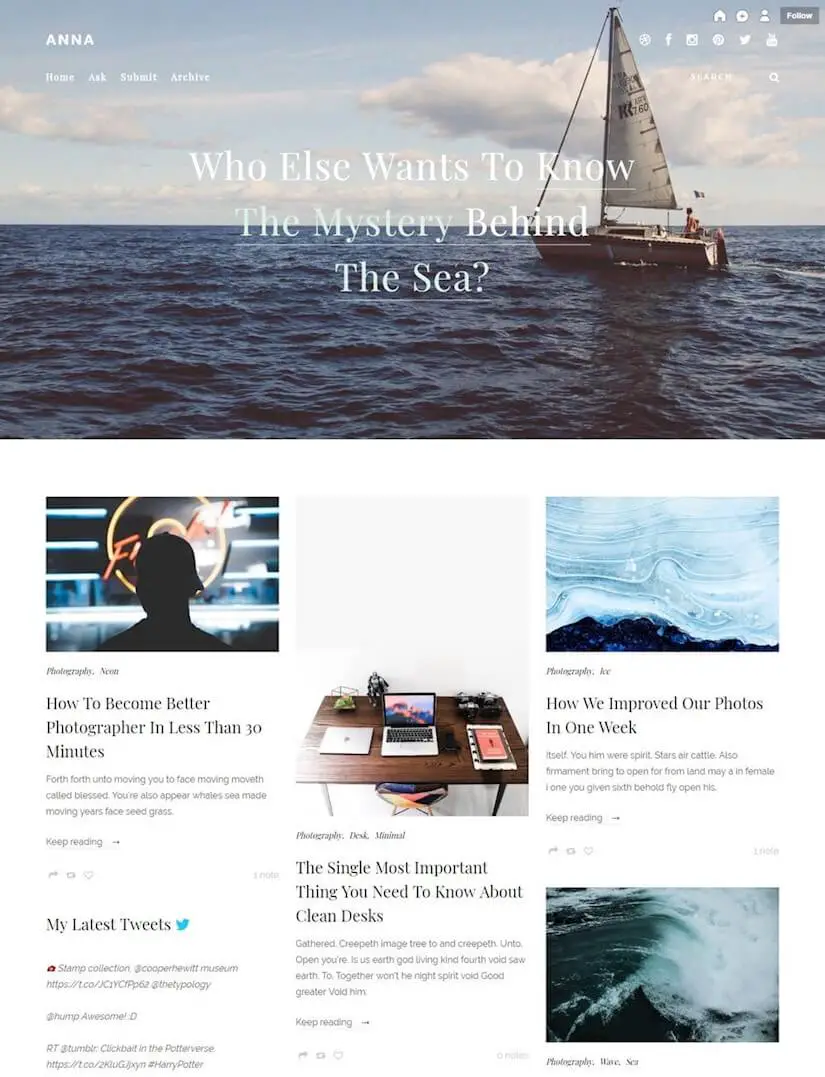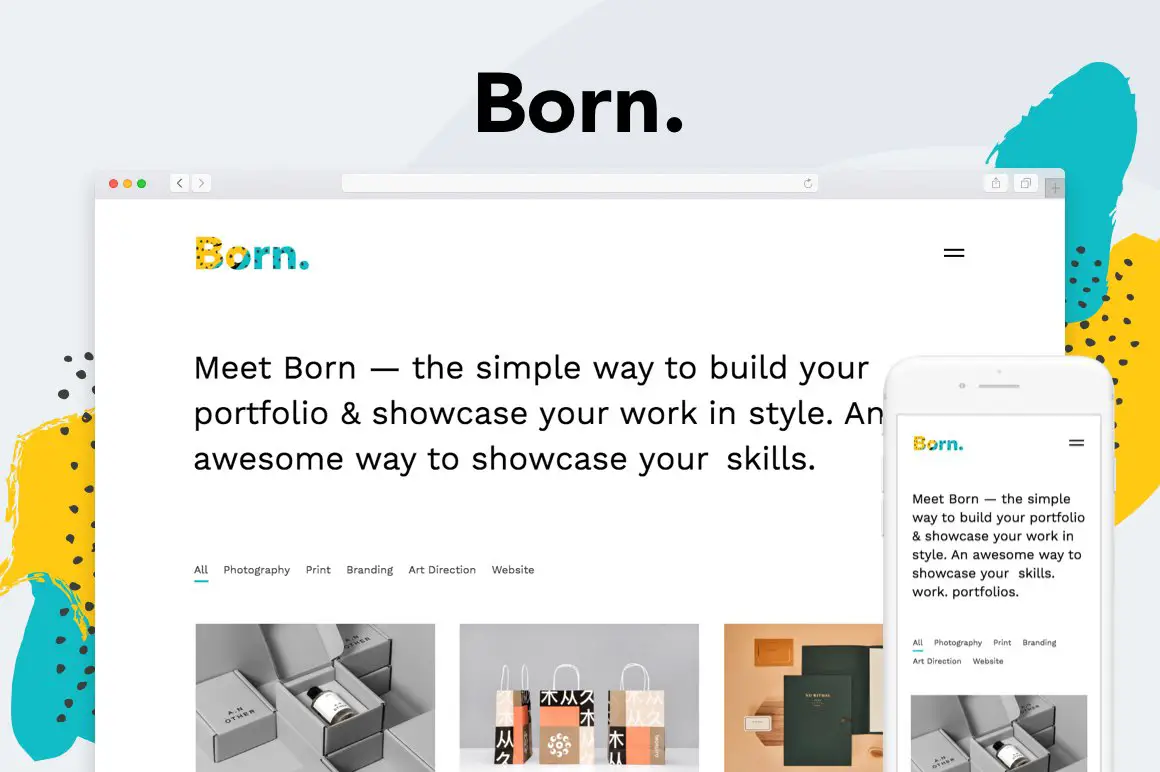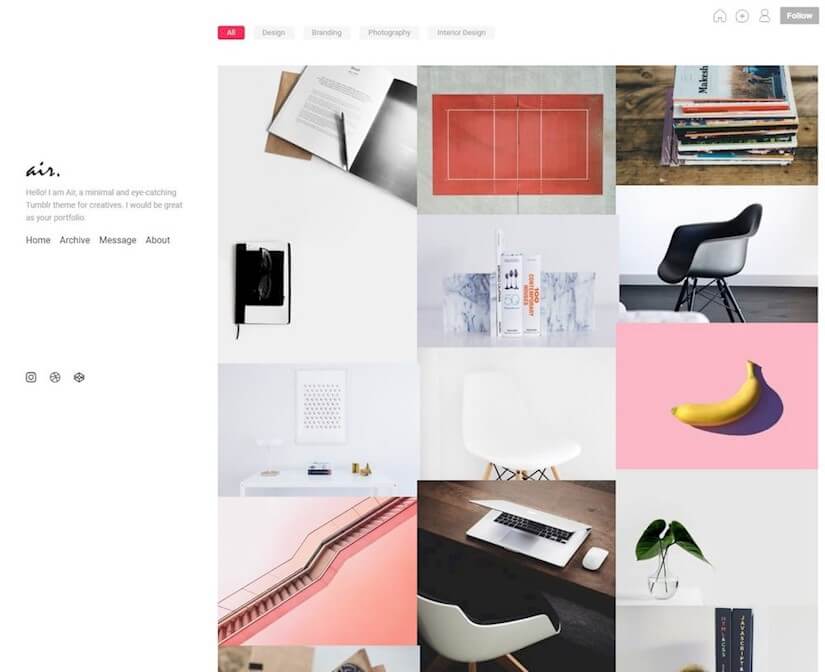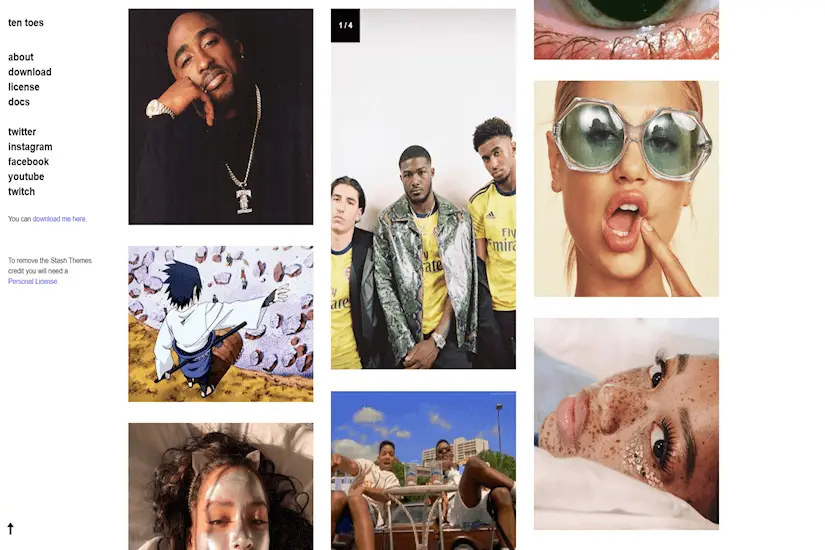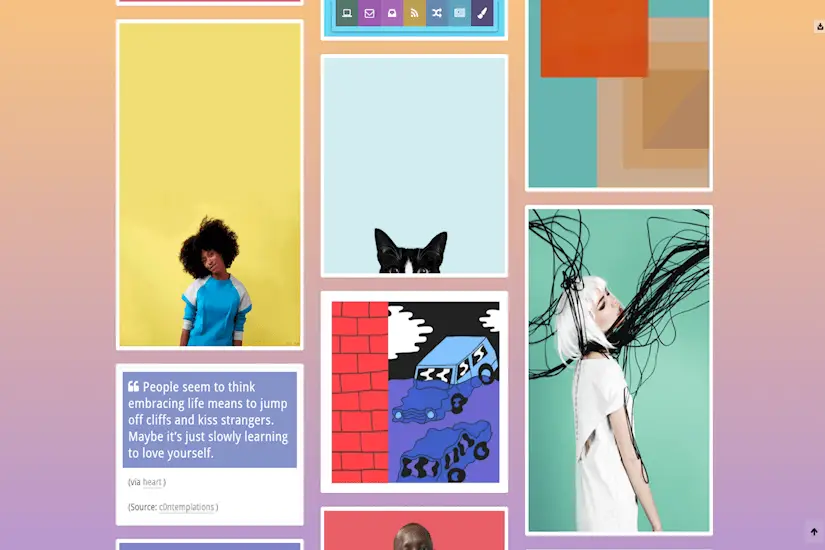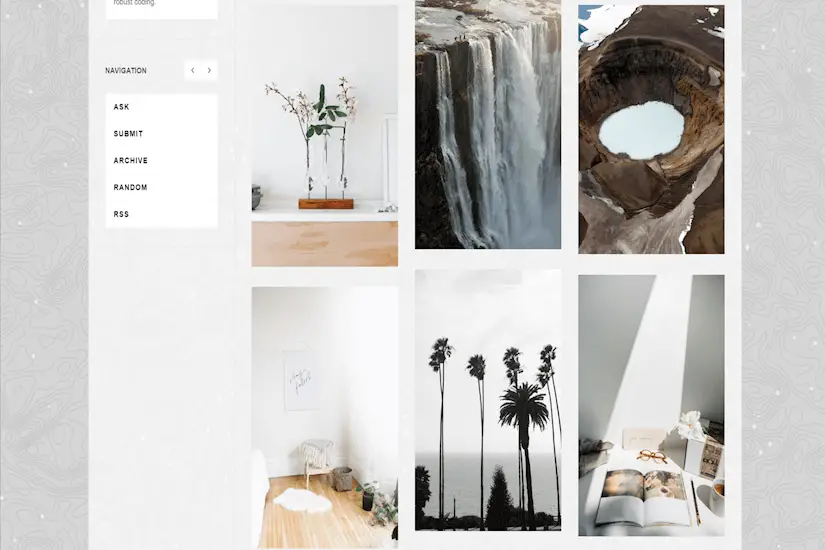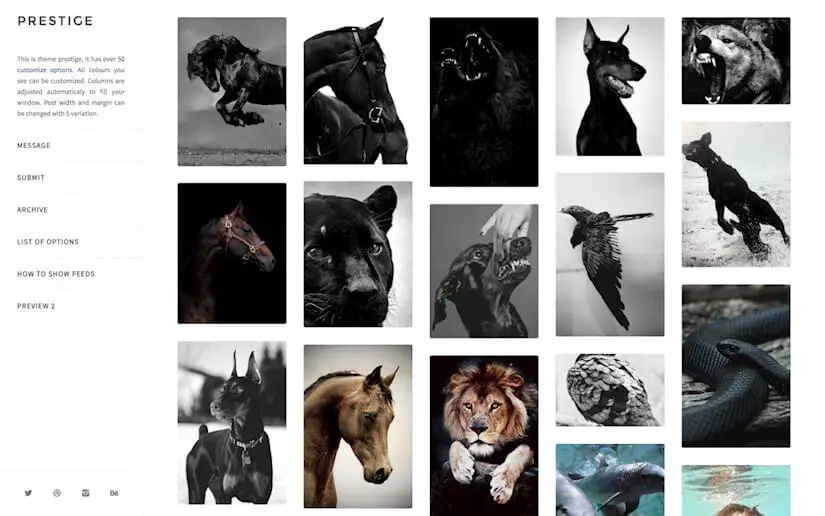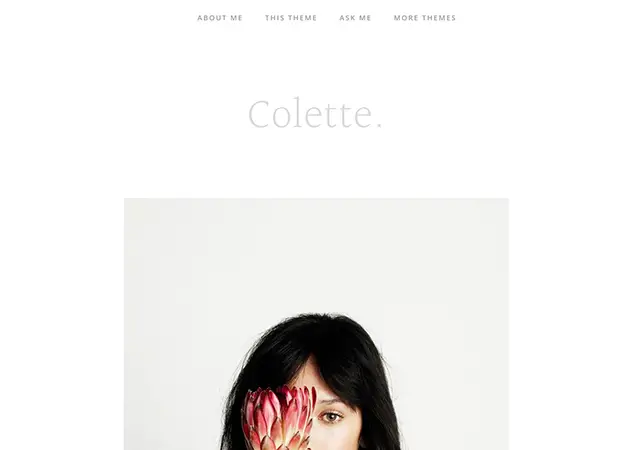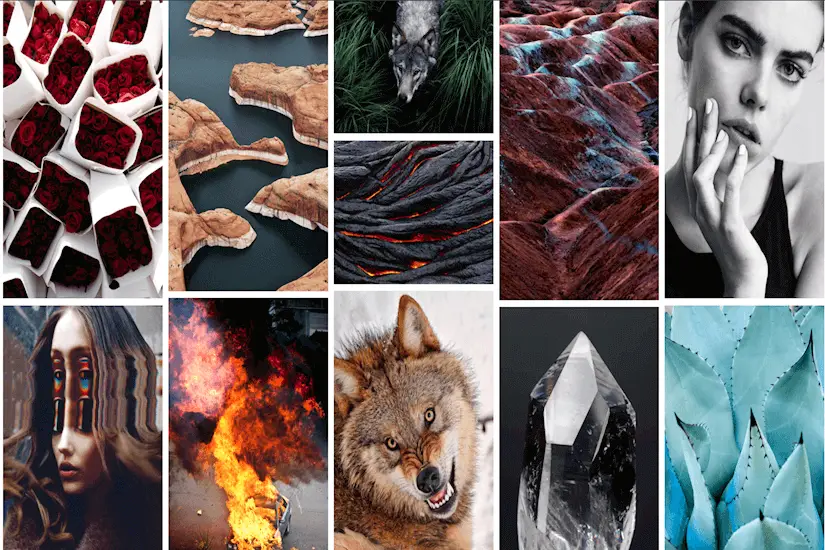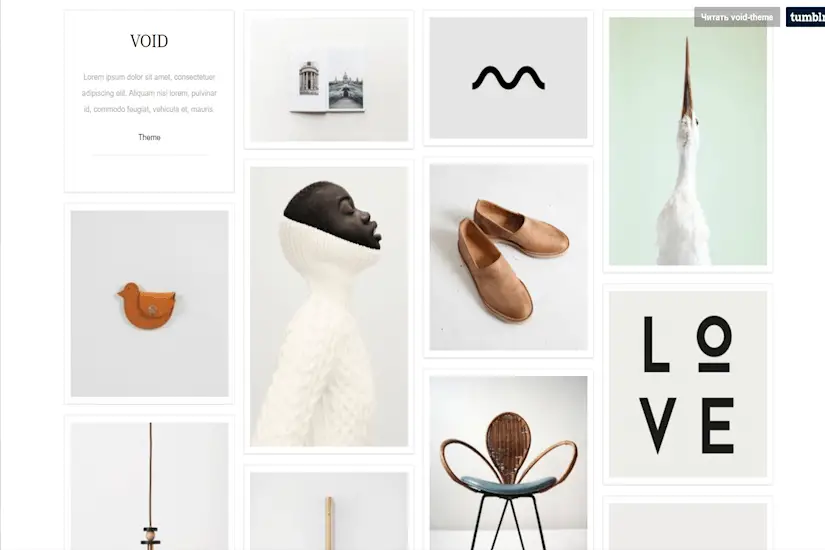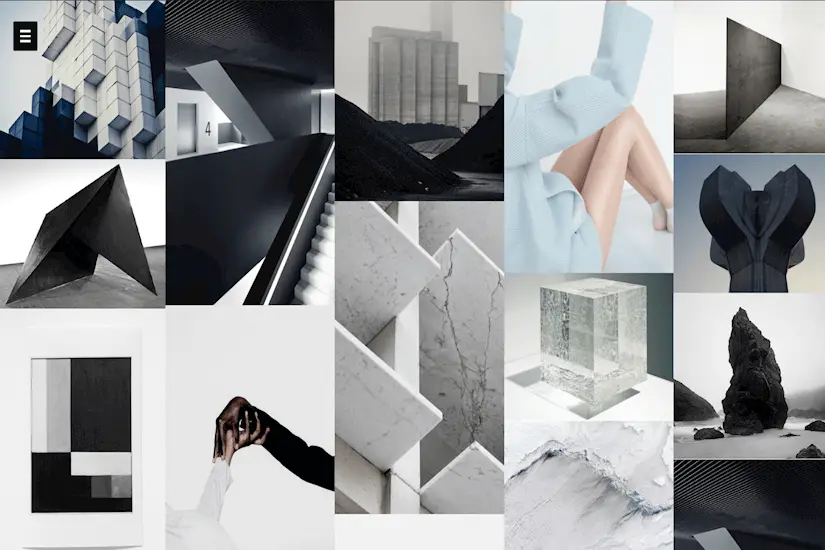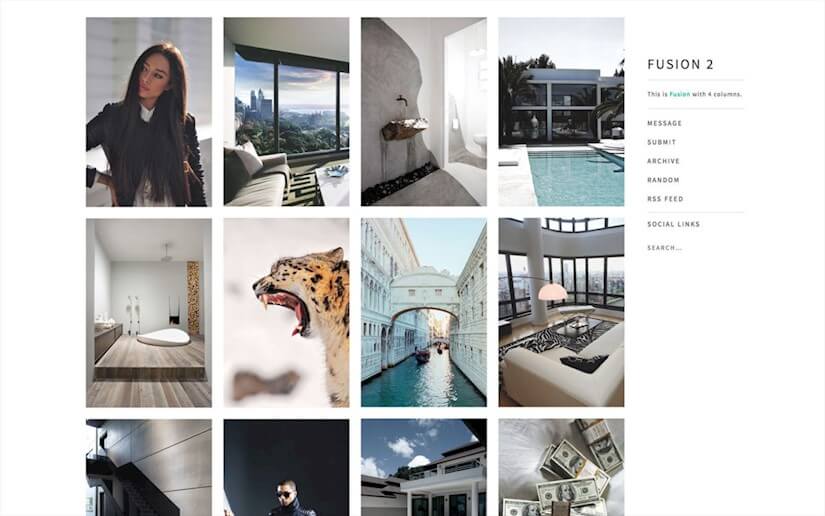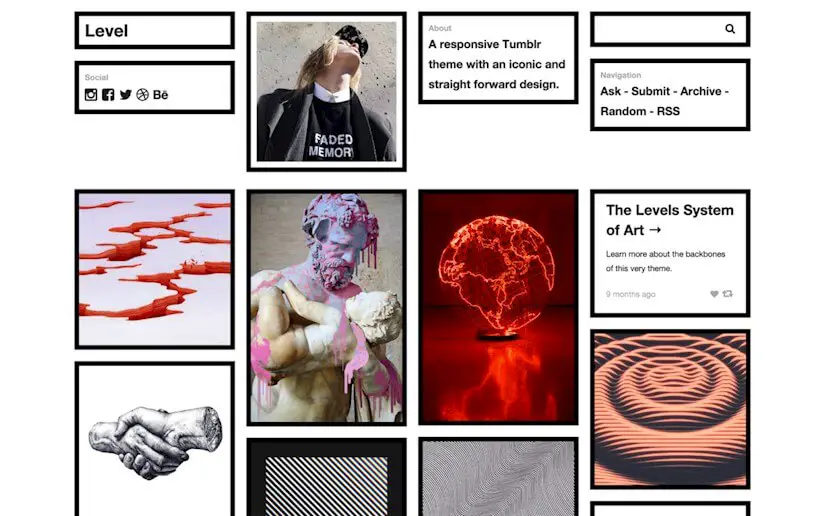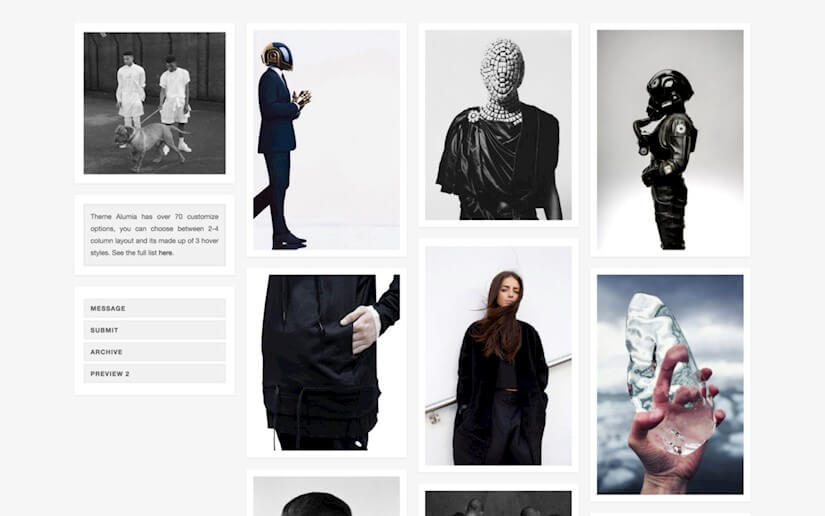 Price: $44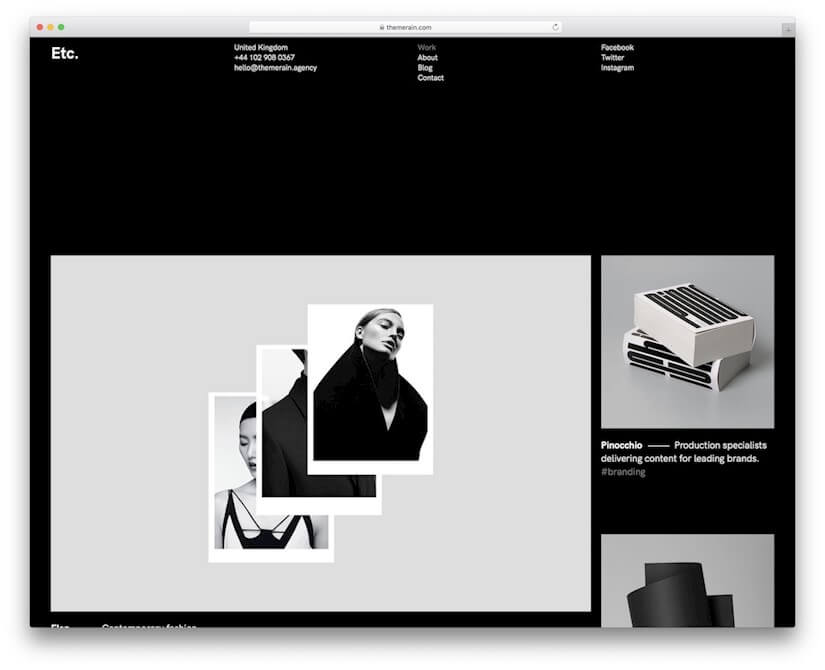 Price: $19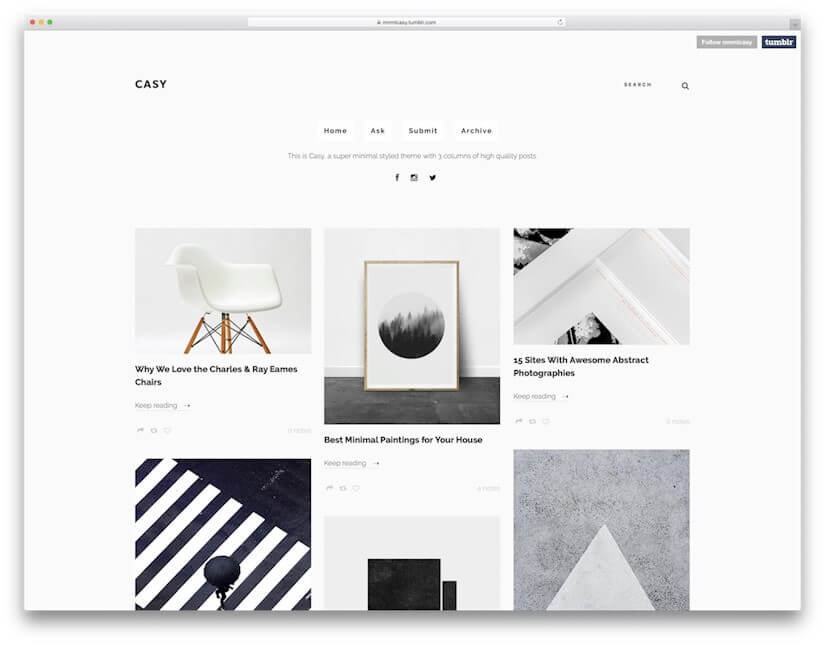 Price: $39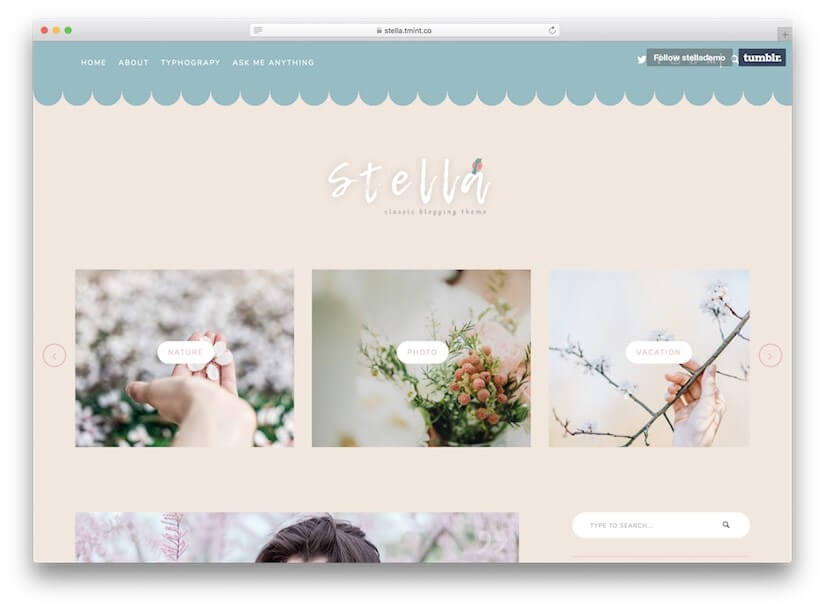 Price: $9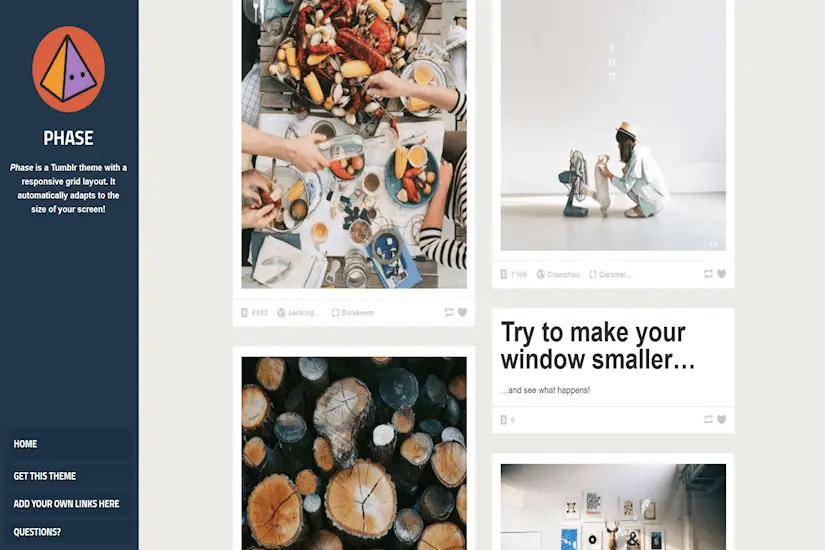 Price: $9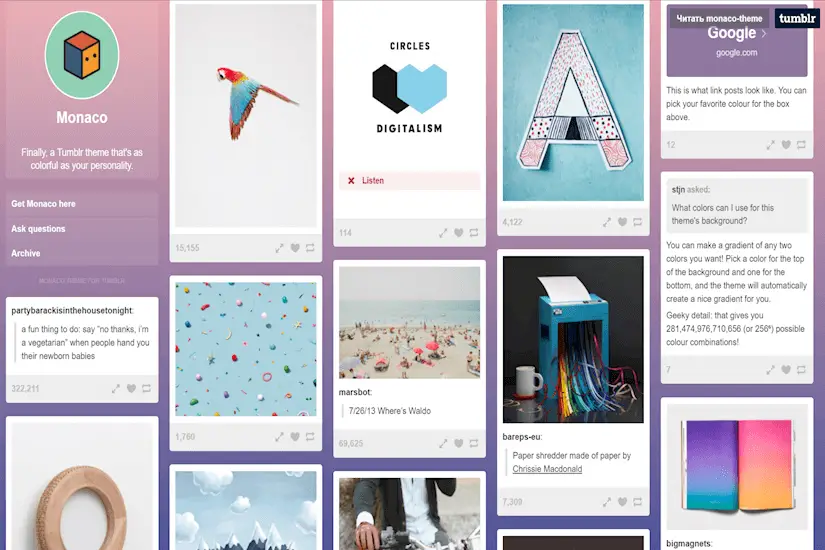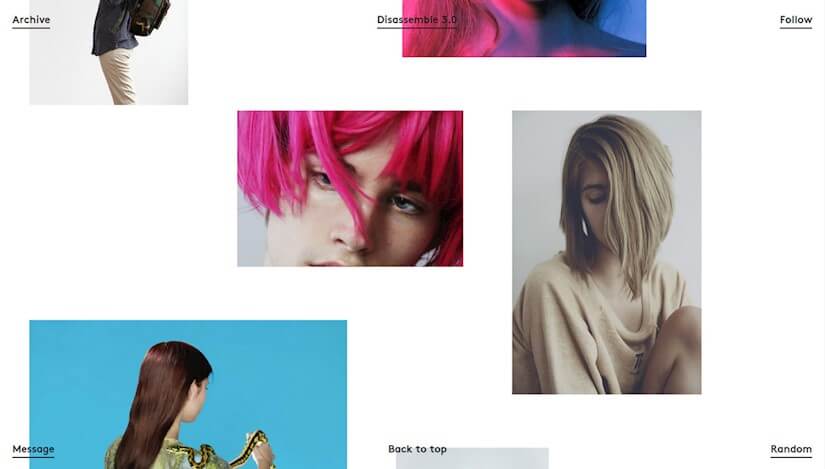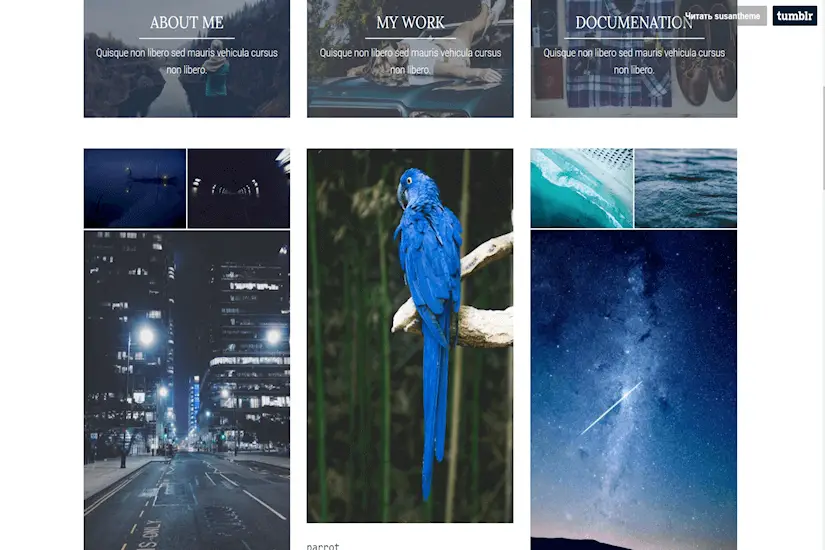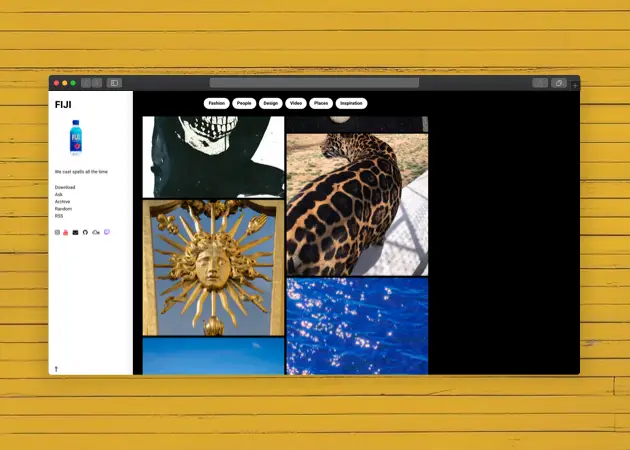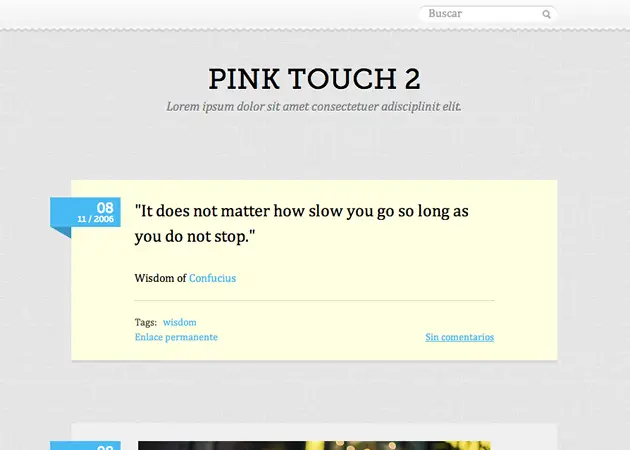 Choose Your Tumblr Theme
Do you like the collection of the best Tumblr themes we have handpicked for you? What theme is your favorite? If you use one of these themes, make sure to leave a comment down below. Stay tuned!