No matter if you are a graphic designer, a blogger, a marketer, or an artist, you definitely know both Canva and Photoshop. Both applications are top-rated and have a vast number of active users. 
According to recent research, Canva has more than 30 million active users every month, to be more precise. 
Moreover, creators worldwide have made more than two billion designs on the platform so far. On the other hand, Adobe's Photoshop is the leading graphic design and photo editing app for years. In fact, more than 90% of the world's creators use Photoshop at least once per week.
Because both apps are extremely well-known, we have created this article to analyze their differences. Thus, we will explore all the things you need to know if you don't know which design software is the best fit for your needs. 
So, what is the best app for creating designs, Canva or Photoshop? Let's start by comparing their feature differences:
What is the best tool for creatives: Canva vs Photoshop?
Unfortunately, answering this question isn't an easy task, mainly since all people have different skills and needs. 
Thus, we could say that Canva is better for beginners or Social Media marketing, and Photoshop is better for logo designs, branding campaigns, etc. 
Still, before we conclude an answer, we will compare Photoshop and Canva when it comes to the following parameters: 
Ease of use, 
flexibility, 
performance, 
photo-editing features, 
design features, and 
pricing.
1. Ease of Use 
Although both apps are perfect for creating graphic designs and visuals, they have an extremely different UI (user interface). 
Canva is a pretty straightforward platform where you can create designs and edit your photos in no time. 
On the other hand, Photoshop, as professional desktop software, has a steep learning curve.
The only thing that both apps have in common is that you start designing by selecting your canvas' size. 
After that, Canva allows you to use numerous templates, fonts, colors, and images by utilizing an easy-to-learn, drag and drop process.
Creating a Canva design is relatively easy, even for those of you who never used a graphic design program in your life. 
On the flip side, Photoshop is harder to learn and much harder to master. Although it requests time and devotion from your side, you unlock the exciting world of graphic design and its unlimited possibilities once you practice. 
Still, when it comes to ease-of-use, Canva is the winner.
2. Flexibility – Online platform (Canva) vs. Desktop Software (Photoshop)
Although Canva has a desktop version, too, most people use it as a web platform. Thus, if you choose to use Canva, you won't have to download it and install it on your devices. 
You can also design on Canva through your mobile phone or tablet, as the brand has developed a fully-functional app for Android and iOS. 
Therefore, Canva is a better solution for those who need a flexible, online design app.
Photoshop is a desktop software, meaning you have to download and install the app via Adobe Suite.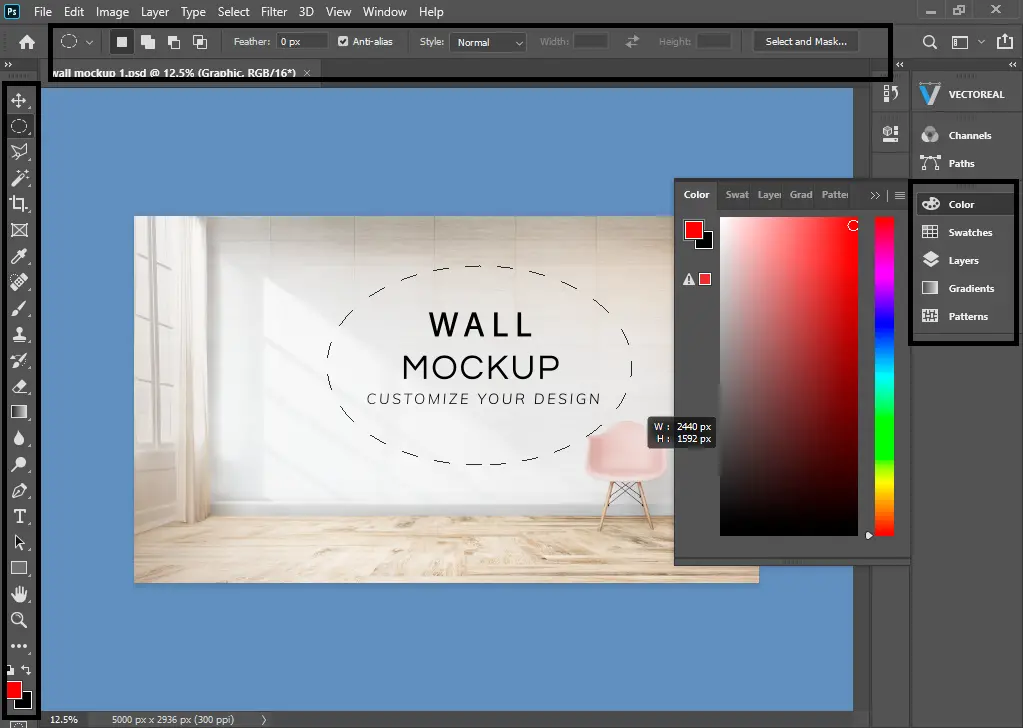 Photoshop is a performance-demanding software app, but you can use it locally (even if you are offline). 
If you need an app that allows you to design even without an internet connection, Photoshop is the best way to go.
3. Performance
As mentioned above, Photoshop is very demanding desktop software. 
Likewise, it would help if you had a relatively strong Windows or Mac device to run it without lags.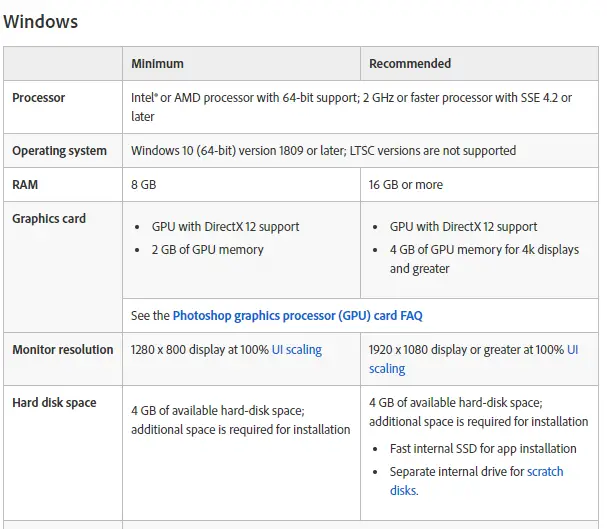 On the other hand, Canva is the lightest design app on the market. 
No matter if you want to create designs via your PC or laptop, the only requirements are a strong internet connection and a suitable browser (Edge, Firefox, Chrome, Safari).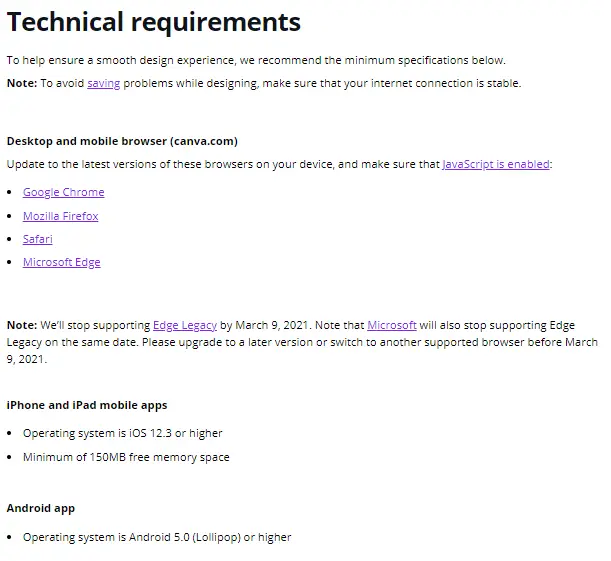 Thus, Canva easily wins on this comparison, as you can use it with pretty much any laptop or desktop.
4. Photo Editing Features
Although Canva was the winner in most of the previous features, Photoshop is simply the best software on the market when it comes to photo-editing and design capabilities.
Likewise, Canva provides a toolbar, which includes a combination of simple photo-editing tools:
Effects: This allows you to apply some effects like premade mockups, pixelated looks, etc.
Filter: This allows you to apply some basic photo filters like Epic, Festive, Summer, etc.
Adjust: This allows you to make adjustments to the basic parameters of your photo (Brightness, Contrast, etc.).
Crop: This allows you to crop the image.
Flip: This allows you to flip your photo (horizontally or vertically).
When it comes to photo-editing through Photoshop, the app includes endless features for you to explore and utilize.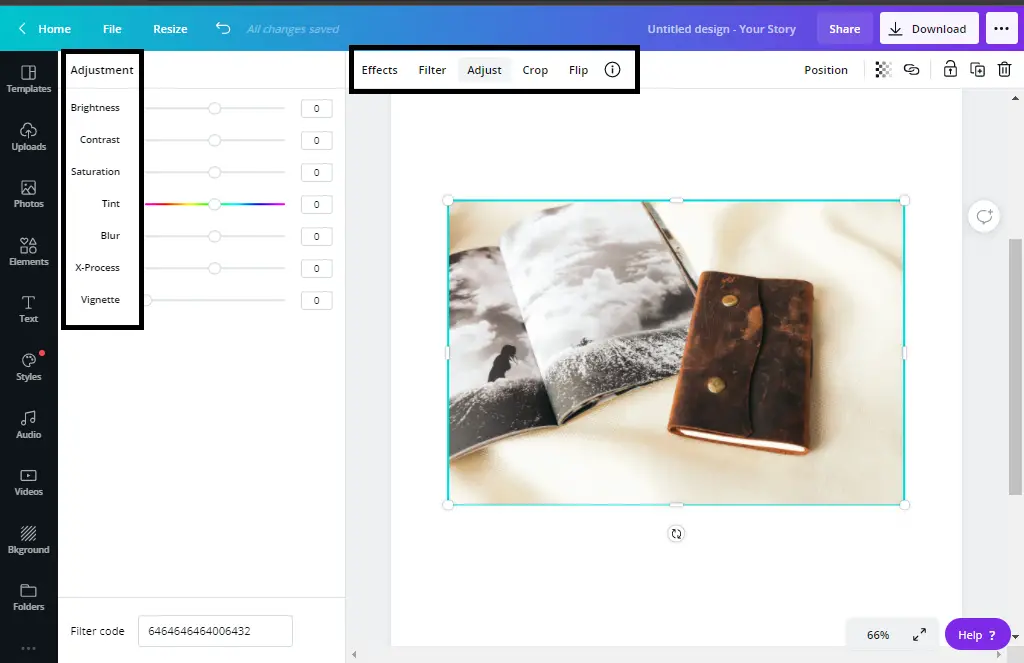 Apart from all the features that Canva includes, Photoshop allows you to process any photo ( JPEG, TIFF, RAW, etc.), which is why all professional photographers prefer it. 
Photoshop has numerous photo-editing features that Canva doesn't. For example, via photoshop, you can reduce a photo's noise, fine-tune the brightness and contrast by adjusting its levels and curves, create multiple masks and combine many photo layers, etc.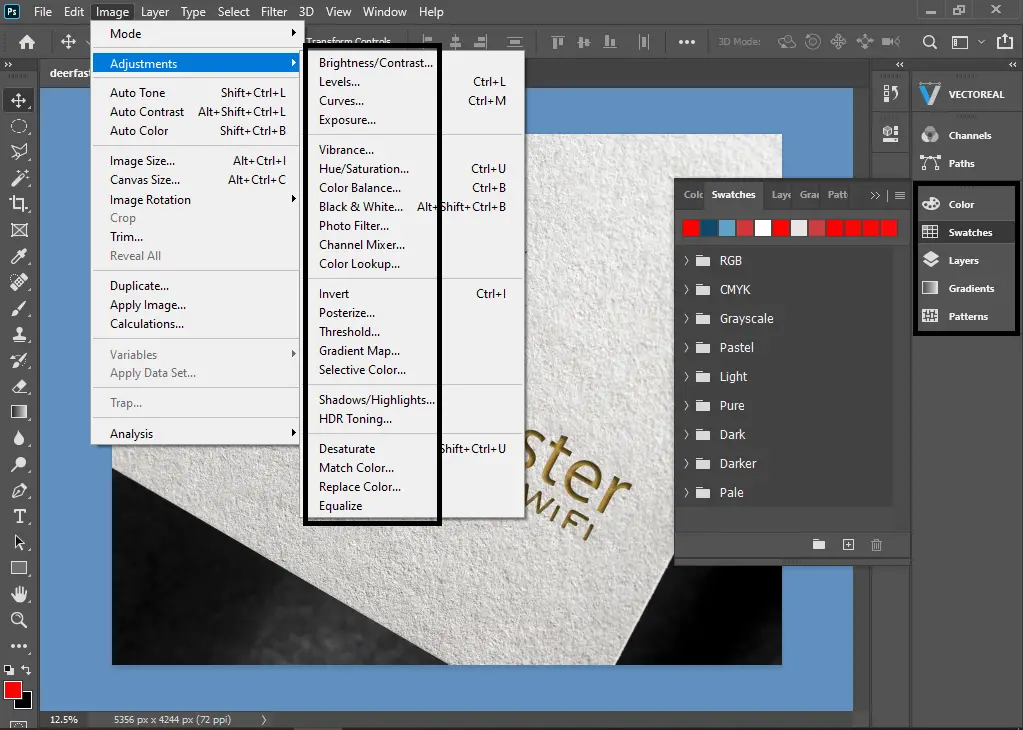 Therefore, Photoshop is a more advanced photo-editing tool, it is the clear winner of this comparison.
5. Design Features 
As it concerns the overall designing experience, both apps are great in a different way. 
Canva is a great platform to create unique designs quickly. All you have to do is pick a canvas size from the predefined sizes (e.g., Instagram story) and start designing. 
Canva has numerous features that you can add, like premade templates, photos, text styles, backgrounds, and ready-made elements (e.g., shapes, charts, gradients). 
All those features can be easily customized and altered by changing colors, transparency, layer order, etc.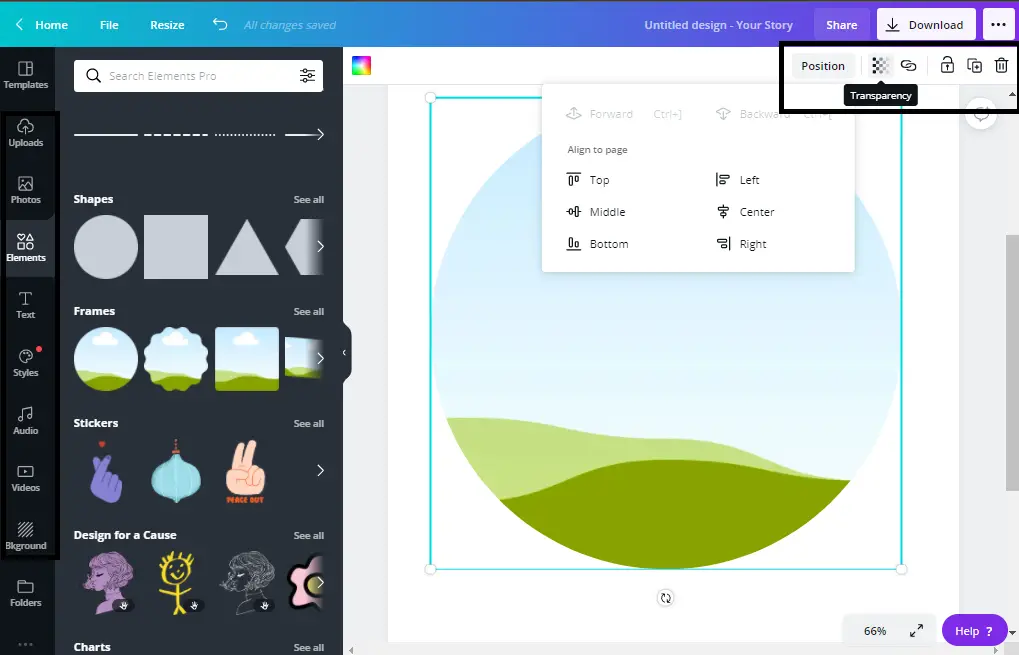 On the flip side, Photoshop is a top-tier tool specially developed for designers, artists, and photographers. 
For this reason, Adobe's software includes countless advanced design features that Canva doesn't:
Drawing capabilities: Photoshop includes a pen tool and a wide collection of brushes for drawing.
Masks and layers panels: For detailed, complicated designs.
Smart objects
Top-tier Color management 
Numerous export formats
Plugins and Extensions: With Photoshop, you can install (or even create) numerous Plugins and Extensions to lift your design experience.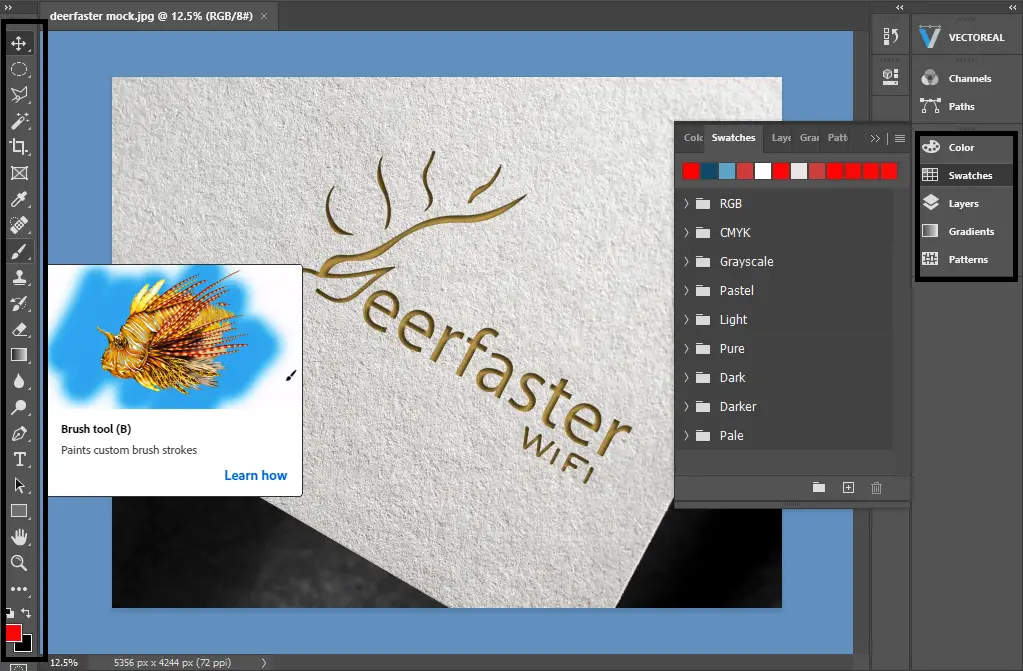 We could say that Photoshop is the winner of this comparison too. 
However, Canva is actually a better option for beginners, bloggers, and people with limited experience. In fact, many of you will never need the countless, advanced design capabilities of Photoshop. So we could say that this is a tie.
6. Pricing Plans 
Canva is available in three different plans: 
Free
Pro ($9.95 per month)
Enterprise ($30 per month)
Because Canva has a free version, it is a great tool for those of you who are beginners. With the free edition of Canva, you can create and download as many designs as you need and access a limited number of templates and photos. 
Of course, you can always upgrade to one of the premium plans in the future if you need more features. 
On the other hand, Photoshop is a subscription software that doesn't include a free plan. 
Thus, if you want to use Photoshop, you have to pay a subscription to one of the following plans:
Photoshop only: ($20.99 per month)
Photography plan: ($9.99 per month) 
Maybe for some people, Canva wins this round as it offers a free plan. 
On the other hand, Photoshop is a professional design tool that comes at a similar price to the Canva Pro plan. Accordingly, this comparison is a tie too.
When should you use Canva?
Now that we have analyzed all the differences between Canva and Photoshop, it is time to explore how Canva is a better option than Adobe's software. 
In a few words, Canva is the best app for those of you who:
Are not professional designers or photographers: Canva is the best way to create top-tier designs without previous experience.
Need to create a unique design quickly.
Want to create designs for your social media accounts.
Don't have a powerful laptop or desktop.
When should you use Photoshop?
Even though Canva is a great alternative to Photoshop, Adobe's software is still the most advanced graphic design app. 
So, Photoshop is simply the best design software for those of you who:
Want to create top-tier, unique designs that stand out. 
Have (or want to improve) a great design skillset.
Need professional designing and photo-editing features. 
Want to manipulate RAW files and export projects in many formats.    
Canva vs. Photoshop: Final Conclusion
We explored all the parameters that influence this ultimate comparison. The truth is that both Canva and Photoshop are the best design apps, but for different people. 
Thus, although Photoshop is the best software for creating advanced visuals and graphics, it is mainly developed for professionals. Likewise, Canva is by far the best choice for those of you who don't have advanced editing skills and need to create amazing designs quickly. 
To sum up,  Canva and Photoshop are top-tier apps, and you won't regret using one (or both) of them.
Do graphic designers use Canva?
Although most professionals use Photoshop, this doesn't mean that Canva can't come in handy to a designer. 
For example, many creators use Canva for relatively small projects like blog post images, social media posts, etc. Thus, having Photoshop and Canva is a smart solution for any graphic designer.